Alex DeBear is a 16-year-old birder from Naperville. He has a deep love for all things nature related, including photography, citizen science and creating art with natural elements.
What makes him so extraordinary, though, is his own brand of give-and-take with the forest preserves — he takes beautiful photographs and gives back by picking up litter left behind by others. In fact, he first came to our attention when another preserve visitor contacted us to tell us how impressed she was with him. At that very moment, he was out picking up trash with supplies he ordered with his own money. He doesn't have his driver's license yet, so he often walks from his home to the preserves and back.
In the year he has lived in DuPage County, he has spotted about 120 species of birds; altogether he has seen 150. Like other birders, he enjoys seeing his life list grow and reaching milestones he didn't think possible. He has enjoyed connecting with the local birding community and credits it with teaching him a lot. His most exciting find is the black-necked stilt, a newly recorded species at Springbrook Prairie Forest Preserve in Naperville. Another species he'd really like to see — the elusive and rare pileated woodpecker. We have no doubt he'll get to add that one to his life list soon!
Alex hopes to pursue a degree in environmental science and become a park ranger (eventually hoping to work at Everglades National Park in Florida to be a part of its conservation efforts), but until that day comes, you can find him outside every single day after school and on the weekends, exploring the forest preserves.
Here's his story.
Alex with his Canon Rebel T7 and 70-300mm lens.
Catching the Nature Bug
I have been interested in nature since I was very young. It started off with dinosaurs and quickly turned to reptiles, rocks, volcanoes, outer space, and, of course, birds.
The rest of my family isn't "outdoorsy," but that's OK with me because it allows me to explore at my own pace for as long as I'd like.
Discovering DuPage Forest Preserves
I moved to DuPage County from Austin, Texas, in the summer of 2020. Living near Springbrook Prairie, I decided to go exploring. Later on, I discovered more of the amazing forest preserves around the county.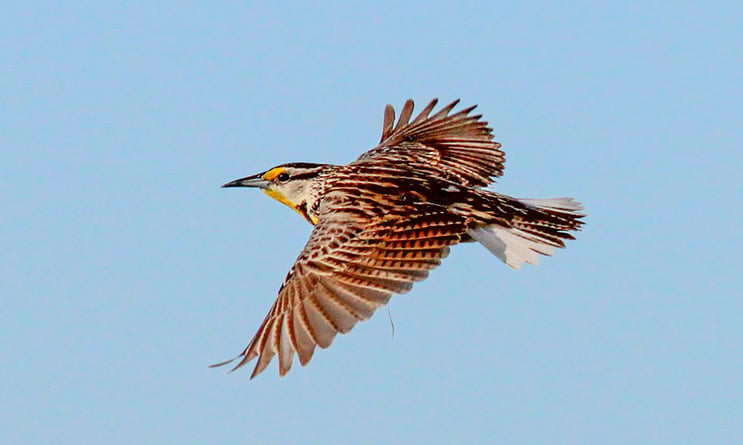 An eastern meadowlark in flight. Photo by Alex DeBear
Favorite Preserve and Time to Visit
My favorite forest preserve is Springbrook Prairie. It's an absolutely enormous area with a ton of opportunity for exploring. I know it like the back of my hand. It's a very popular spot and is easily accessible. Year-round it's a gorgeous location. The prairie habitat is stunning to observe.
My favorite season to visit is spring. When the migration kicked into full force this year, I got to witness it in all its glory.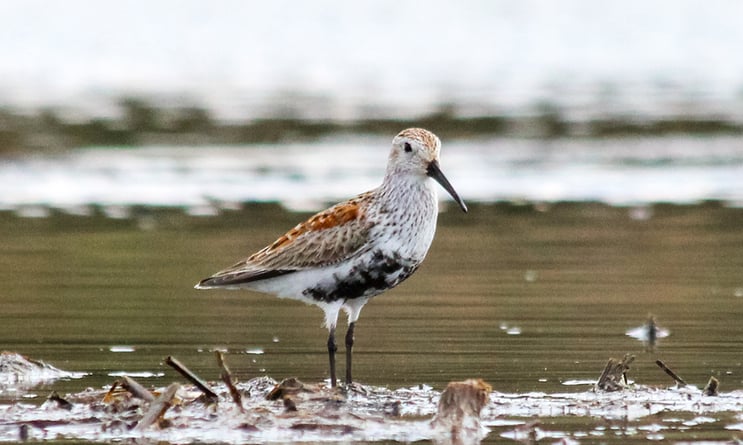 A Dunlin in breeding plumage. Photo by Alex DeBear
What Brings Him Back Time and Time Again
There is always something new to see in the forest. What has me coming back to the preserves is the variety. There is so much to see. Whether it be the ducks, the deer, or even the dead (things like animal skulls and bones can teach us a lot and provide a fascinating insight into the habits and lifestyle of an animal), you're guaranteed to be granted a new experience while out and about.
When I visited one of my favorite preserves recently, I was upset with just how much waste was present. So many others like myself visit the area so frequently. It pains me to observe the birds and other wildlife have to endure wading through trash.
One day I ordered some cleaning supplies and got to work the next day. I severely underestimated the sheer amount of trash present. Often I've gone out there to clean. Every little bit of work matters. I've cleaned a good amount up throughout my time doing it, but my work isn't finished yet.
I don't do it for recognition. I do it because nobody else will. I've accepted that at this point, although I'd really hope for that to change. The most common item of waste I've found are plastic shopping bags and styrofoam. Hundreds are splayed across riverbanks and floating in the water. It's awful.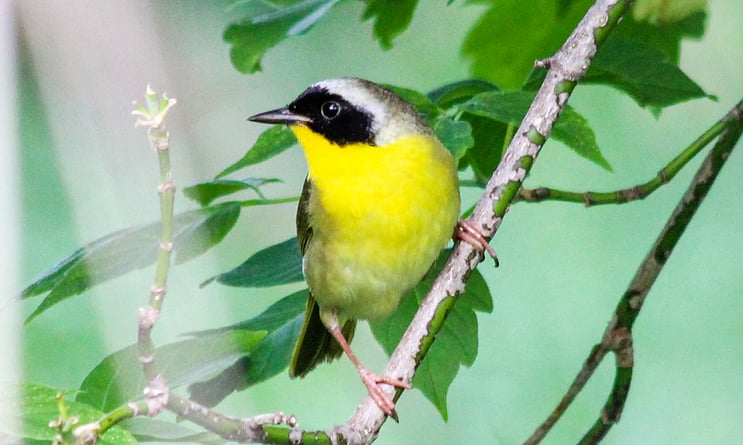 A common yellowthroat. Photo by Alex DeBear
Favorite Thing to Do in the Preserves
My favorite thing to do by far is birding. Studying behavior, taking photos and cataloguing my finds are all part of the experience. Learning about the behavior of the wildlife around me has been very fun. I've also met some amazingly talented individuals who have taught me a thing or two.
The birding community here in Chicago is wonderful. I would not be in the position I am today had I not met them. In DuPage, there are dozens of people who go birding regularly and provide fantastic information. The community that surrounds it, especially those from the DuPage Birding Club are some of the best photographers and observers I've met. They've all taught me a number of things.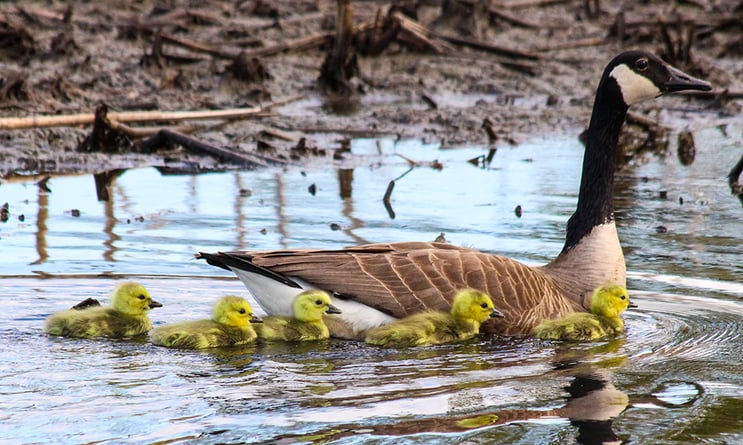 A gaggle of Canada geese. Photo by Alex DeBear
Nature's Lesson and How Nature Inspires
Nature has taught me to be quick, observant, aware, and most importantly, patient. Nature allows me to take risks and delve into the unknown. Nature inspires me by offering the reminder that there's something much bigger than myself out there.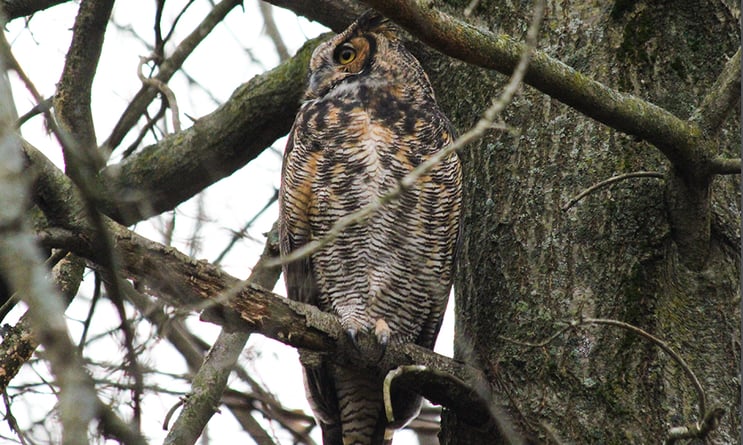 A great horned owl. Photo by Alex DeBear
Favorite Nature Quote
"If we save our wild places, we will ultimately save ourselves."
~ Steve Irwin
This quote speaks to me greatly, due to how painfully relevant it still is in this day and age. He was absolutely right. We as people are starting to care less and less about preserving the life we have on Earth. The mentality will lead us to our doom.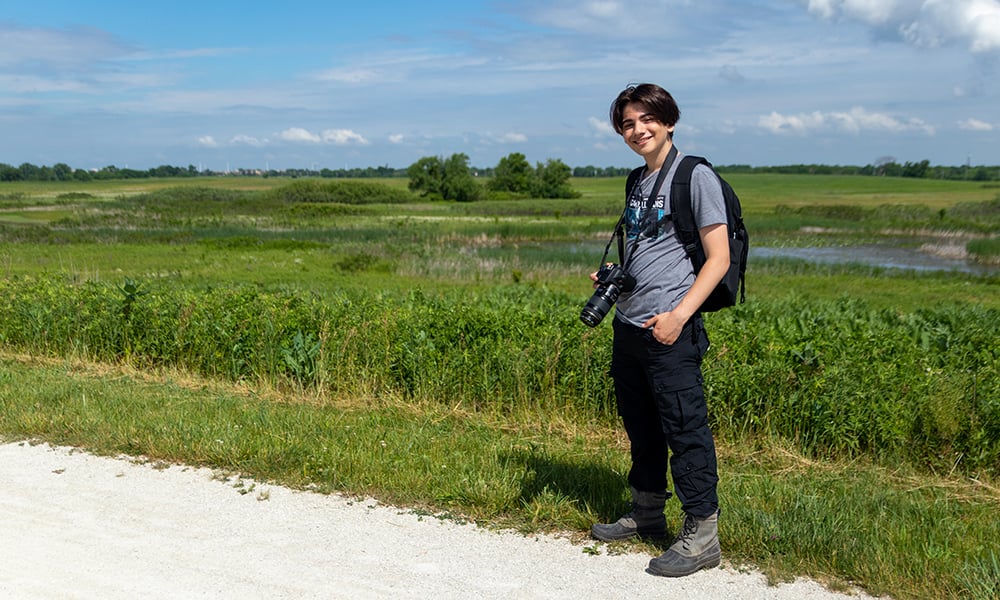 Advice to Others
Get out there, you won't regret it. Taking those first steps into the woods will let you see unbelievable things.
If you have a fun or unique way of catching nature in our preserves and would like to be featured in a "Catching Nature" blog, please contact Deb Humiston at dhumiston@dupageforest.org.