They come from all walks of life, but they bond over their common love of exercise, the great outdoors and nature.
Naperville Hiking, Biking and Outdoor Enthusiasts is a meetup group that gets together regularly to hike in DuPage forest preserves and beyond. Last year they offered more than 300 hiking, biking and other events. Meetup is an online forum that connects people with groups of people with common interests and hobbies.
Their members are working professionals, retirees, part-time workers and caregivers, to name a few. Most of them range in age 40 to 70+, although all ages are represented. Some are single; some are not. What all members have in common is the desire for camaraderie and exercise in the great outdoors.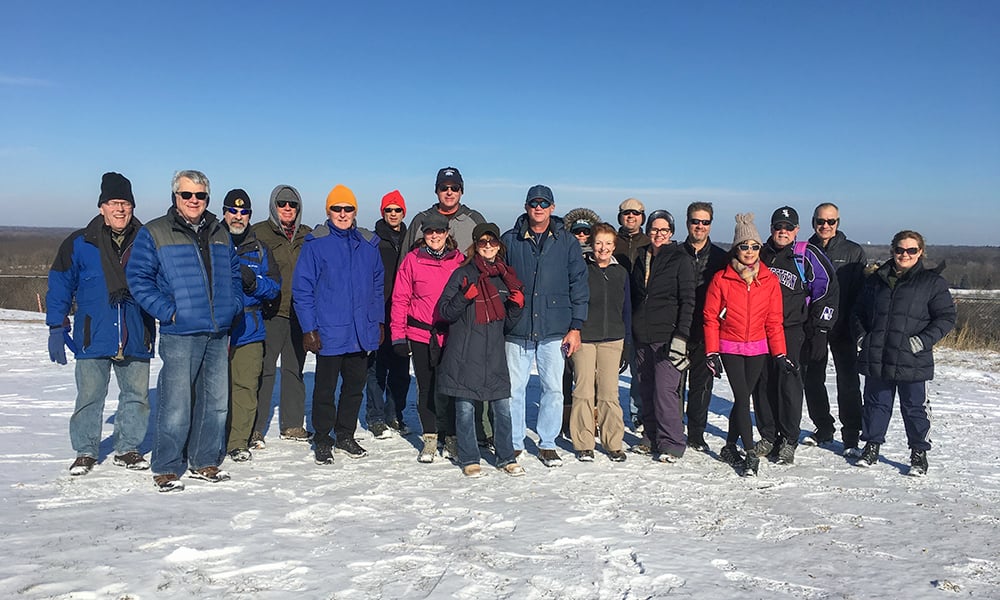 The group stops atop the Mt. Hoy tubing hill at Blackwell Forest Preserve during one of their winter hikes. (Photo courtesy of Anne H.)
While there's definitely a social component to the group, they also respect each other's privacy. Most go only by their first name on their meetup profiles.

"DuPage forest preserves have been part of the group's outings since our beginning," said Lary, a Bolingbrook retiree who is one of the group's organizers. "They are the preferred destinations of our meetup group since many of our members are from DuPage County."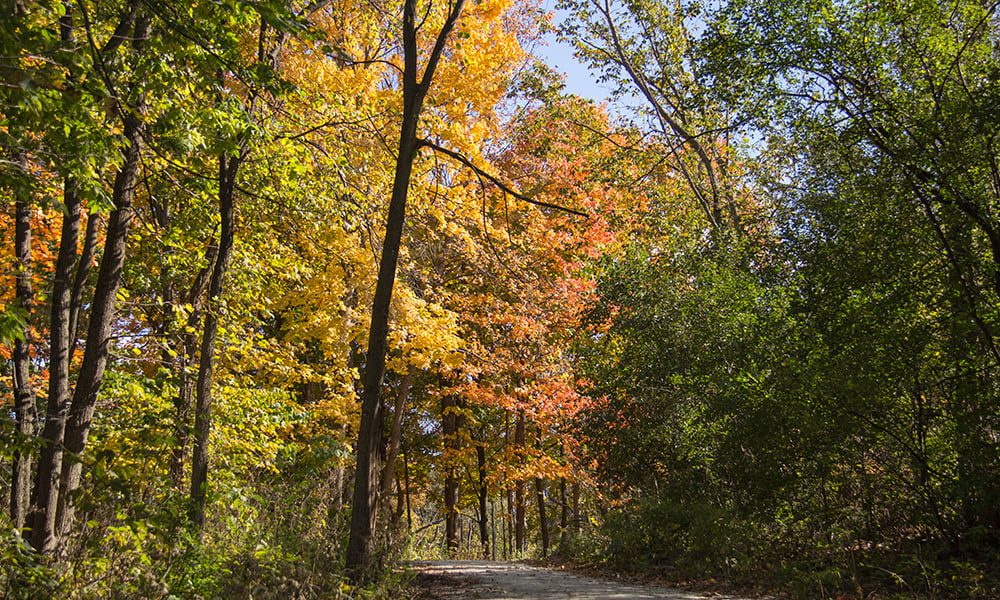 Lary started winter hiking in December 2008 and was looking for suggestions for things to do one weekend. A friend mentioned they were going hiking at Fullersburg Woods Forest Preserve in Oak Brook with a hiking meetup group.

Lary joined meetup and went on the hike. "I was ecstatic to find something athletic to do during the winter and be outside," he said. He joined the Naperville hiking meetup group in January 2009 and "began to learn the trails in the DuPage forest preserves. "I was made an assistant organizer in September 2010 and led my first hike at Greene Valley Forest Preserve in November 2010."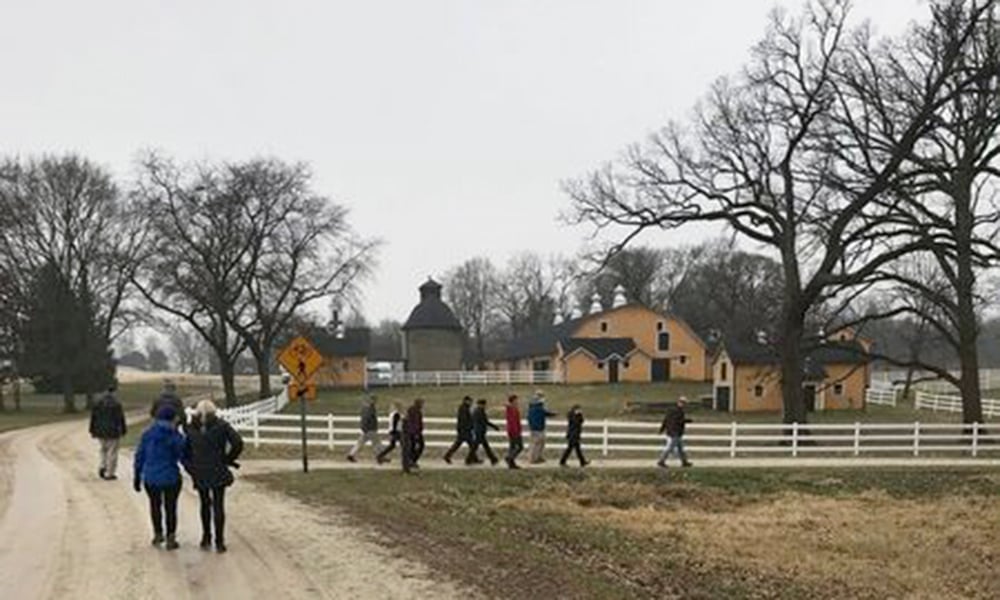 Members of the group on a hike at St. James Farm Forest Preserve in Warrenville. (Photo courtesy of Anne H.)
Since then, Lary has led hikes as well as biking, snowshoeing and cross-country skiing events for the group in all DuPage forest preserves with trails over three miles long.
"We enjoy the differences from the wide-open Springbrook Prairie to the tree-lined trails of Fullersburg Woods and the activities they can visit after the hikes at Danada and Kline Creek Farm. No two hikes are alike and we try to move around the trails so we aren't repeating trails that often," Lary said.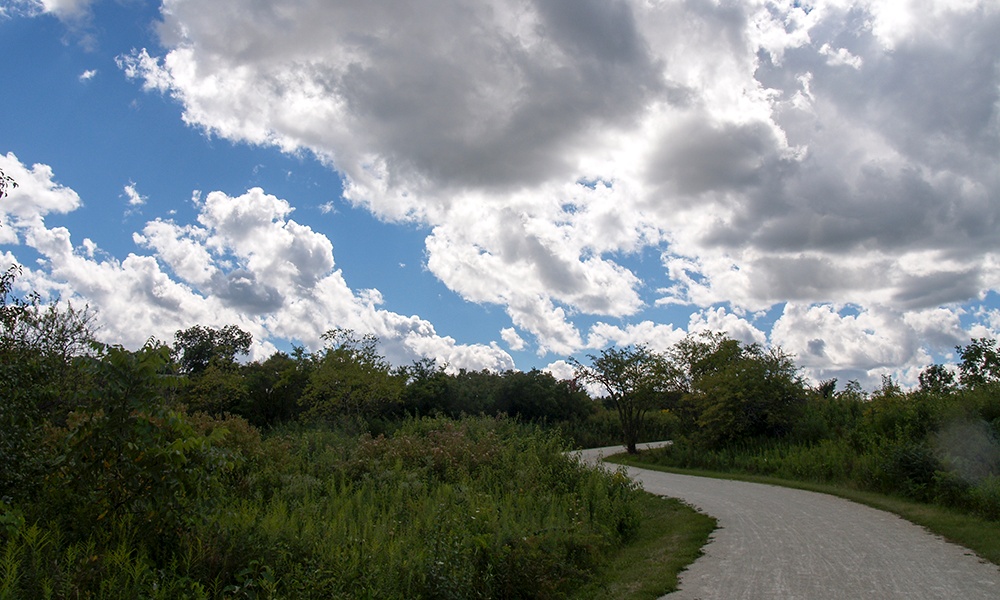 The group is active year-round with hiking, biking, kayaking, snowshoeing and cross-country ski outings. It averages about 20 events per month in the winter and about 35 events per month in warmer months. It currently has 3,872 members, with about 500 of those active participants in 2018. The group is open to all, Lary said.

"I feel very fortunate to live in north Naperville close to Herrick Lake, Blackwell, St. James Farm and the Illinois Prairie path," said Jill, a Naperville retiree. "I enjoy pointing out to our hikers how these preserves are connected. We have many hikes that cover more than one forest preserve, like today."
We caught up with them for a recent 5-mile hike through Warrenville Grove and St. James Farm. They move fairly quickly (over 3 mph) and don't let a little ice, snow, puddles or mud stop them, so ice and snow traction cleats are recommended if you go.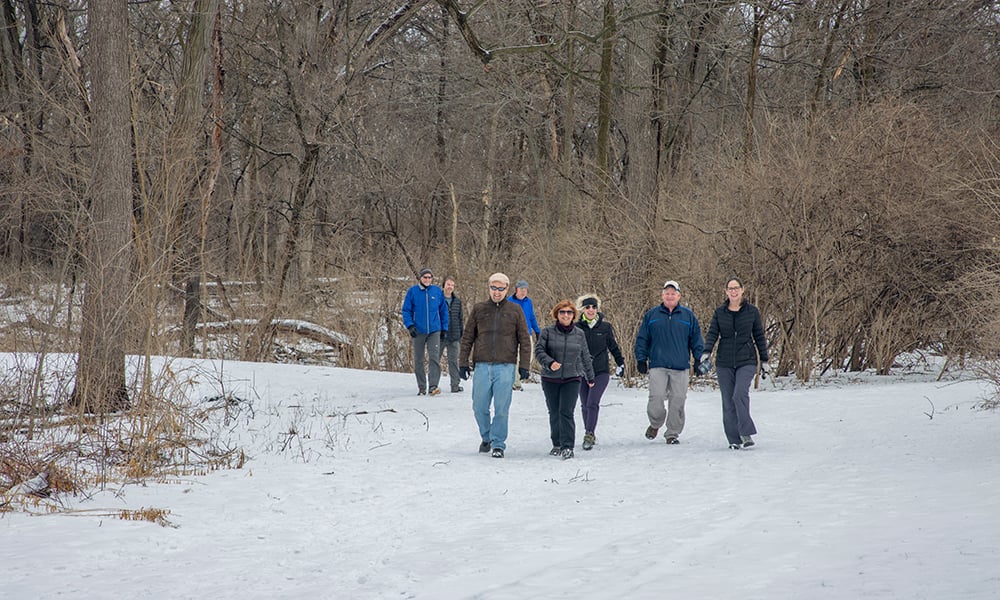 The group on a recent hike at Warrenville Grove Forest Preserve in Warrenville.
Lary and Jill said they love being able to hike in nature.
"I was raised to be outside. I spent my youth riding my bike around the block when I was young, and then around town as I grew older," Lary said.
"I've always enjoyed nature and loved summer camp as a child and then as a camp counselor," Jill said. "As an adult I completed the naturalist certificate program at Morton Arboretum to broaden my knowledge of the flowers, trees and wildlife of the forest preserves. As a hike leader I love creating opportunities for others to experience nature."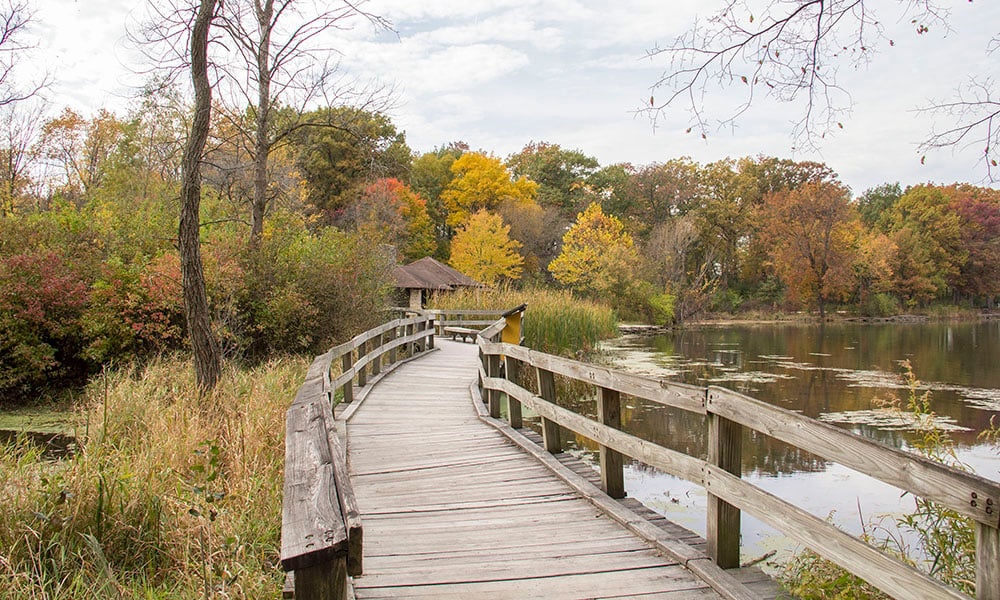 The extensive trail network throughout the preserves is perfect for getting a workout outdoors.

"I know as I get older I have to exercise to stay in shape. I need to be able to move and see the beauty of nature or I won't work out. I love seeing the creatures, unique plants and the water in the forest preserves. They all help me relax."

"I often lead hikes on Sunday morning when I know many people traditionally attend church," Jill said. "Being in nature with others is a spiritual experience for me."

Their advice to others? "Get out and visit the preserves to see their beauty," Lary said. "Illinois and DuPage County have provided a wealth of land set apart from the growth of suburbia where animals roam, plants grow and you can find your own bliss. Visit more than one to see which ones bring you the most pleasure, and then come back to see the changes in all seasons."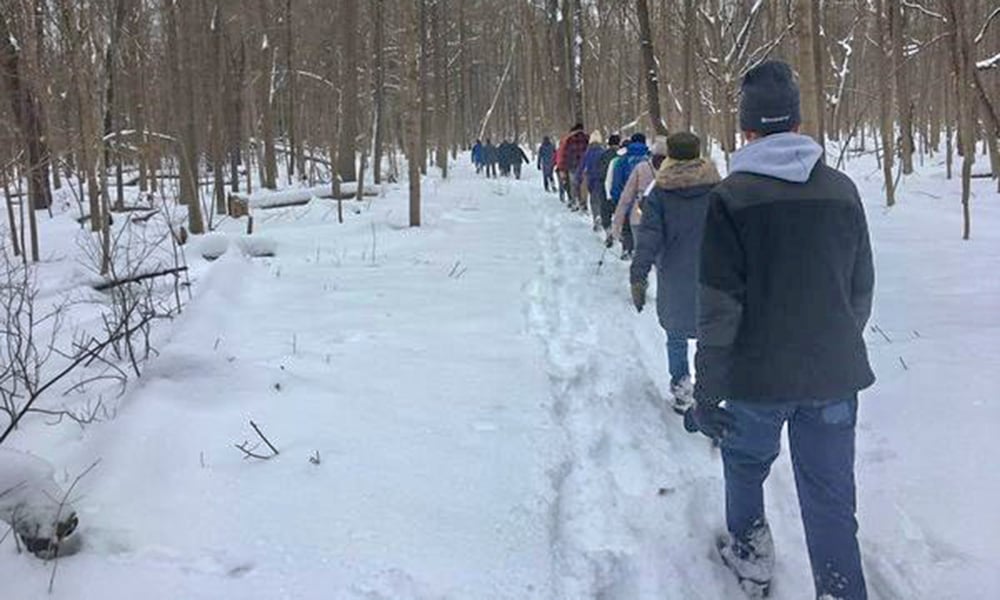 (Photo courtesy of Anne H.)
If you have a fun or unique way of catching nature in our preserves and would like to be featured in a "Catching Nature" blog, please contact Deb Humiston at dhumiston@dupageforest.org.