Volunteering at Danada Equestrian Center in Wheaton the last six years has been a blessing for Deb Yatka.
"Being outside in the beautiful forest preserves, interacting with other volunteers, learning about native plants, trees, insects and animals has been inspiring," said Yatka, a Naperville resident who has also been a volunteer gardener at St. James Farm in Warrenville the last two years.
Yatka has worked as an associate in relocation for many years and has been lucky enough to work from home the past two years. Her other hobbies are hiking, biking, nature photography, cooking, and making jewelry.
Here's her story in her own words.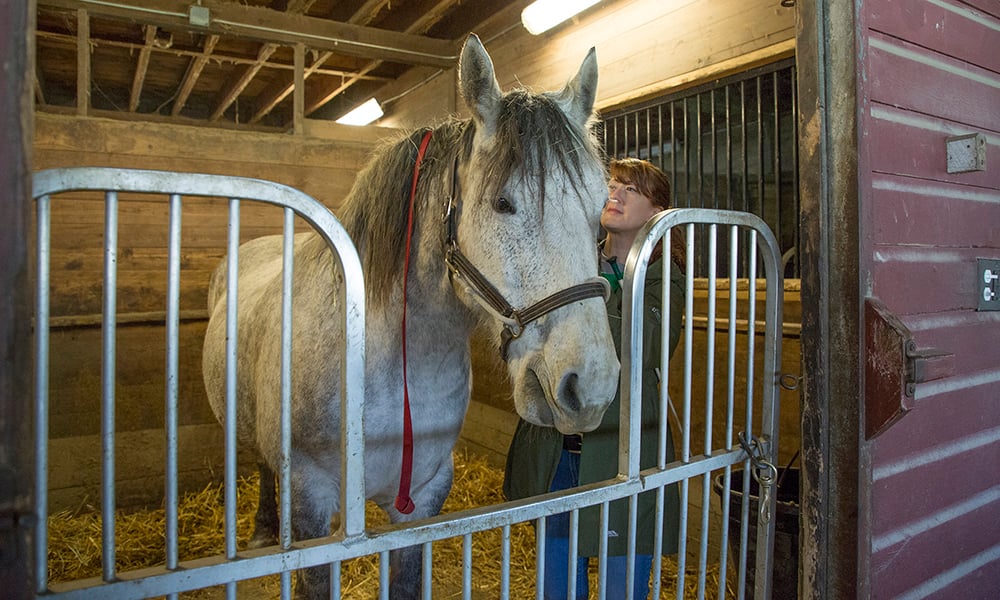 Catching the Nature Bug
My grandparents had a cabin in northern Wisconsin. I remember going up there every summer to swim in the lake, play in the sand, and collect rocks. My grandfather used to fish. When I was really little, I felt so bad for the fish he caught, I used to sneak them from his bucket and let them go back in the lake. He thought a raccoon had gotten into his bucket.
But as I got older I developed an appreciation for the food Mother Nature provided with fish fries and supper clubs.
I still love going up there when I can. The music of the wind through the forest, the call of the loon, seeing deer or an eagle flying is a joy. It's incredibly peaceful to me to be in that kind of environment.
When I'm in the forest preserves I get the same feeling.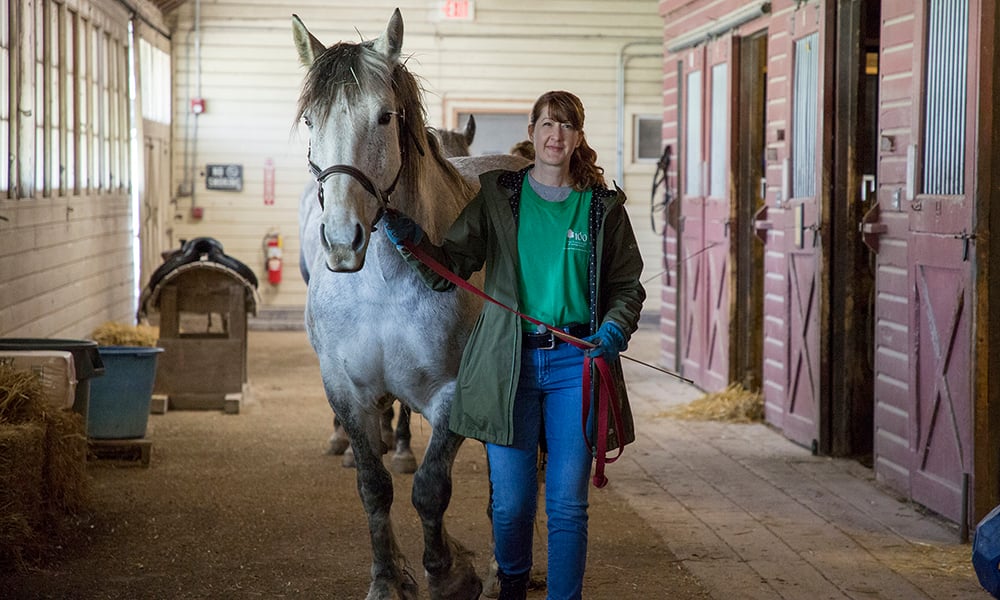 Discovering DuPage Forest Preserves
I've hiked the trails previously, but I didn't start volunteering until I spoke with some of the volunteers at Danada Equestrian Center. I saw a sign for horseback riding lessons, and since it had been years since I rode, I thought I'd give it a try. The volunteers at the time would help us beginners groom and saddle horses for our lessons and they were incredibly nice. We started talking and they told me about volunteering, and I decided to sign up.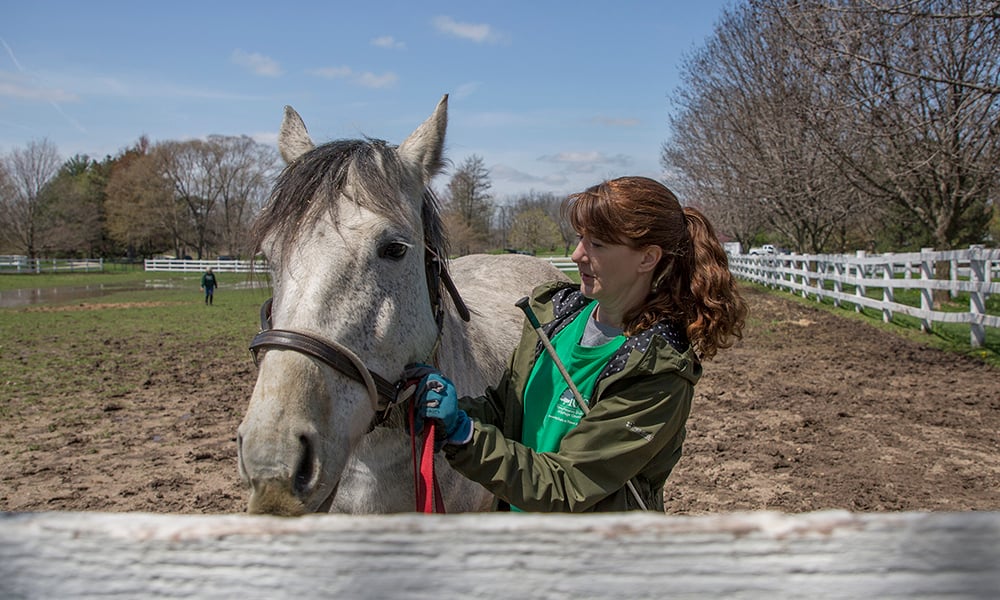 Favorite Preserve and Time to Visit
I would say Danada Equestrian center is my favorite. If I'm not volunteering or walking the trails in the evening, I usually visit and watch the horses out in the pastures; it is really relaxing. The sunsets are stunning and the fall colors there are spectacular. Many times I've brought my camera, sketchbook and chair late afternoons/evenings to sketch the horses and mature trees in the area.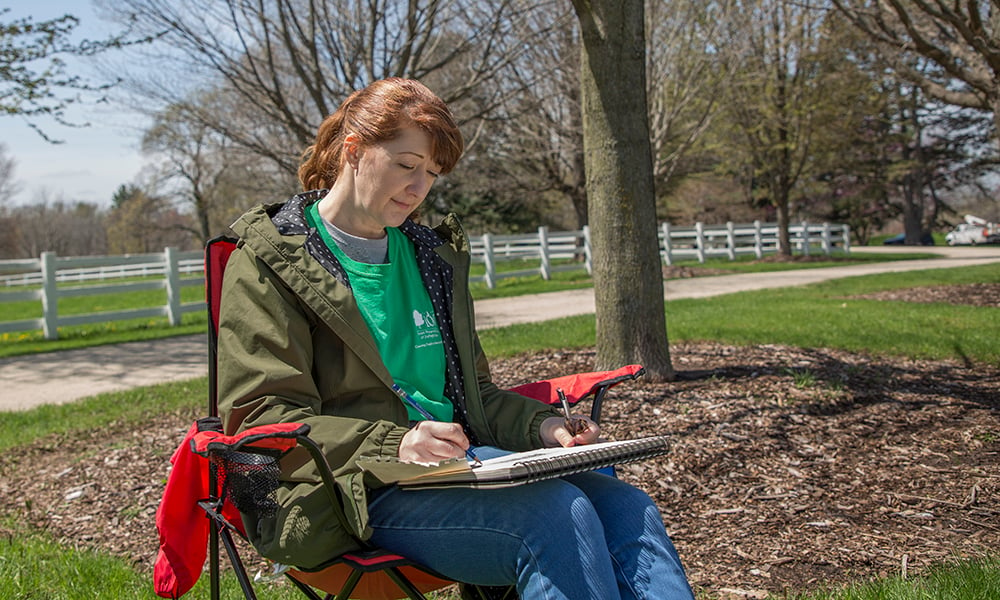 What Brings Her Back Time and Time Again
The beauty of the preserves is very inspiring and peaceful. It keeps me coming back. Besides the trees and sunsets, sometimes you'll spot an eagle flying high above the trail or other animals like hawks, deer, or turtles. St. James Farm also has beautiful native plants and flowers that attract butterflies. It's amazing to see them on summer mornings.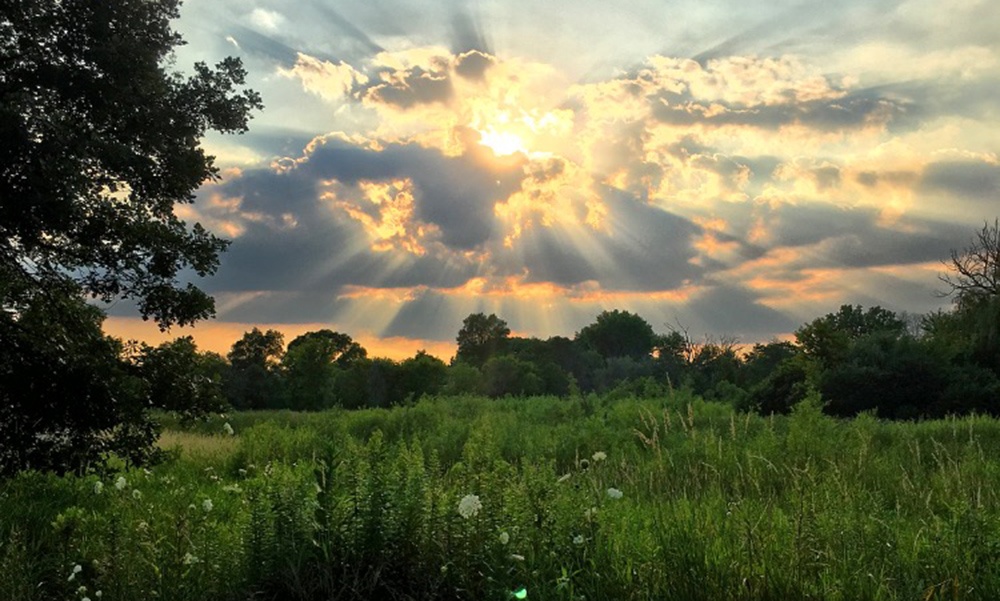 Favorite Thing to Do in the Preserves
Walking or biking the trails. Or if I just want a quiet walk, I bring my camera to see if I can spot any wildlife or capture a moment of the horses relaxing or playing.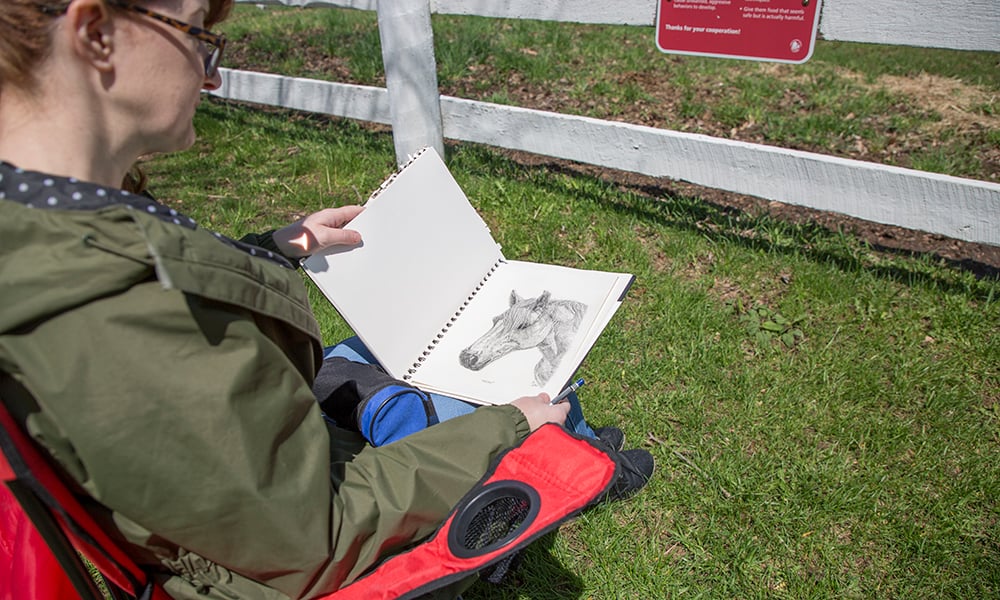 Nature's Lesson
Nature has taught me to be patient and calm. Nature is on its own timeline. Sometimes I get impatient for spring or the more dramatic fall colors, but Mother Nature always has a way of surprising us with things we may not see every day, like sandhill cranes flying in a big group high above, or turtles basking in the sun. Being around horses I've also learned it's best to be patient and calm, you really get to learn their personalities, earn their trust, and hopefully become friends with a few of them.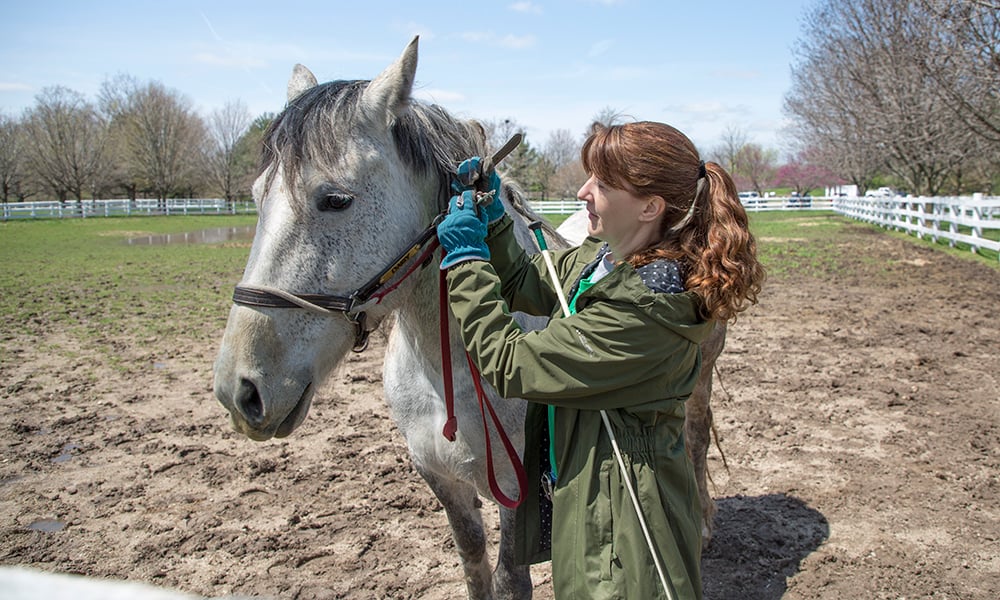 How Nature Inspires
Nature inspires me to see what's in front of me, to take time to watch, and appreciate it in the moment.
A while ago, Danada Equestrian Center asked volunteers to draw pictures to give to people who donated to a fundraiser for a new foal, Duke, who was born there. I brought my camera around a lot and did a few drawings of young Duke with his mom, Daisy, growing and exploring the new world around him. It had been years since I drew anything, and I kept finding more inspiration from the horses at Danada, and I'm still drawing.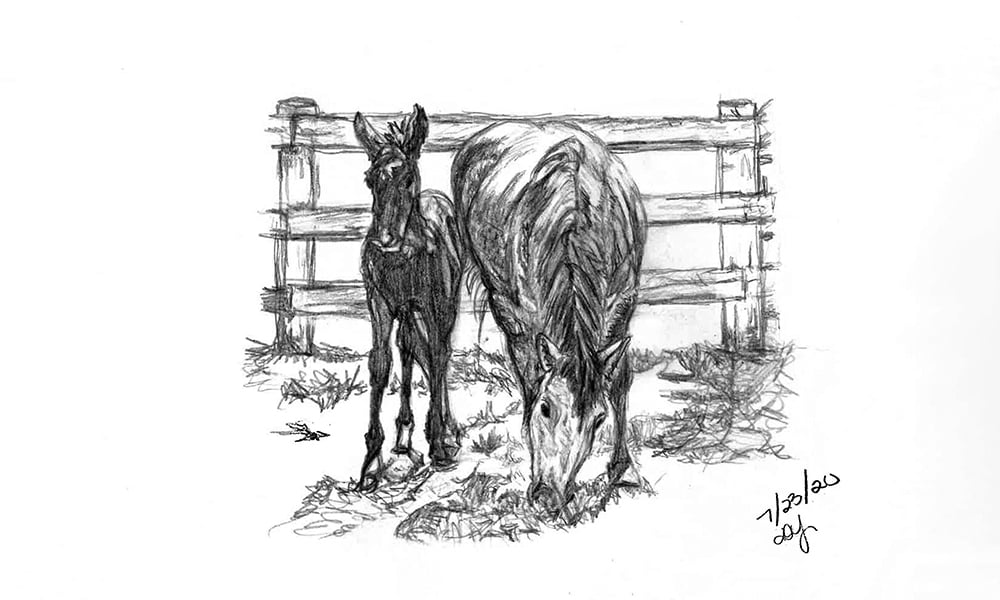 Deb Yatka's drawing of Duke as a foal with his mom, Daisy.
Favorite Nature Quote
"I believe the world is incomprehensibly beautiful — an endless prospect of magic and wonder." Ansel Adams
That's what I feel when I'm out in the forest preserve. It's all around if you look, and it's all an "endless prospect of magic and wonder."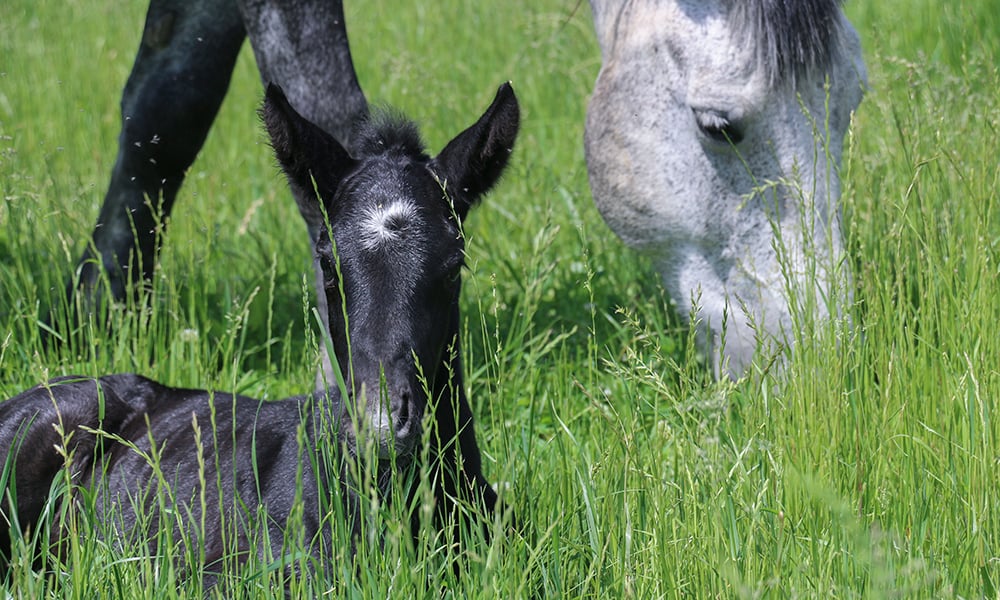 Duke as a foal in 2020 with his mom, Daisy.
Advice to Others
Go for a slow trail walk with no headphones and your phone turned off to quiet your mind, relax, and take a deep breath. Be present.
Deb Yatka's drawing of June.
If you have a fun or unique way of catching nature in our preserves and would like to be featured in a "Catching Nature" blog, please contact Deb Humiston at dhumiston@dupageforest.org.