Glenn Gabanski vividly remembers feeding a mountain chickadee a sunflower seed by hand while visiting his sister in Lake Tahoe.
"Suddenly I wanted to learn more about birds," Gabanski said. "When I got back home I started looking at the birds in my backyard."
And so began Gabanski's love of birding. Since the early 1990s, he has been monitoring and banding birds at Waterfall Glen Forest Preserve in Darien, "which allowed me more opportunities to hold a bird in the hand."
The banding effort, now done by the District's department of Natural Resources, is part of Monitoring Avian Productivity and Survivorship (MAPS), a continent-wide program coordinated through the Institute for Bird Populations in Point Reyes, Calif. Started in 1989 with 16 stations, the MAPS program has grown to more than 1,200 stations, including one started in 1991 at Waterfall Glen by the volunteer Chicagoland Bird Observatory. The Waterfall Glen station is the longest-running station in Illinois and one of the longest-running stations in the continent-wide MAPS program.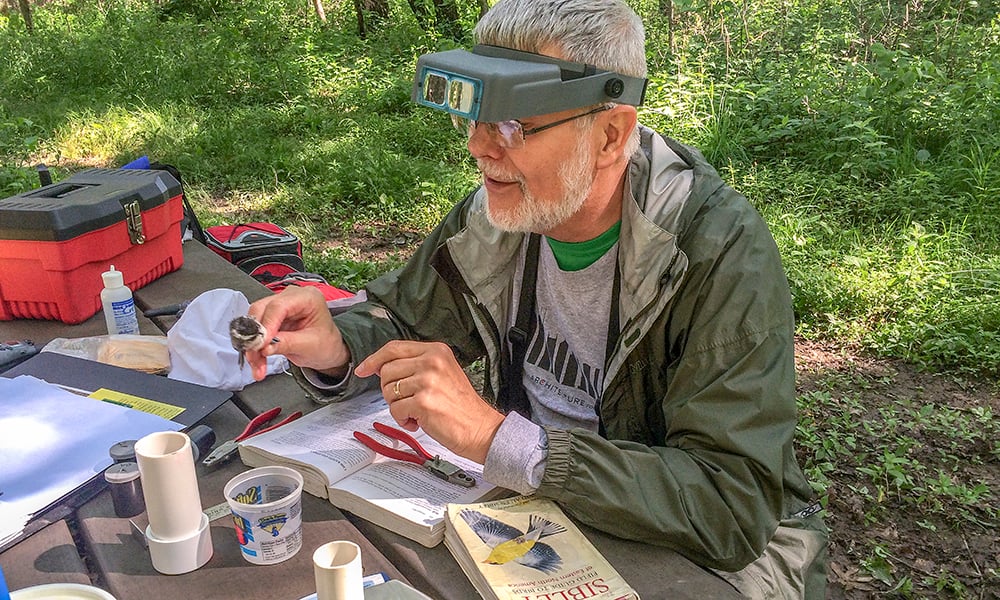 Gabanski with a bird caught at Waterfall Glen as part of the District's work with the MAPS project. He fits captured birds with numbered metal leg bands and records species, gender, weight, age, feather condition and breeding evidence before releasing them.
Gabanski also just finished serving as treasurer of the Bird Conservation Network for 15 years, and has been a volunteer in the Bird Division of the Field Museum since 2005.
His main interests are music, reading, travel, birding and bird conservation. "I sing in a church choir and two regional choirs, take piano and pipe organ lessons and attend musical performances," Gabanski said. He and his wife, both retired math teachers, "love to travel to Europe and also have a condo in Tucson we visit twice a year. We love to hike in the Sonoran Desert."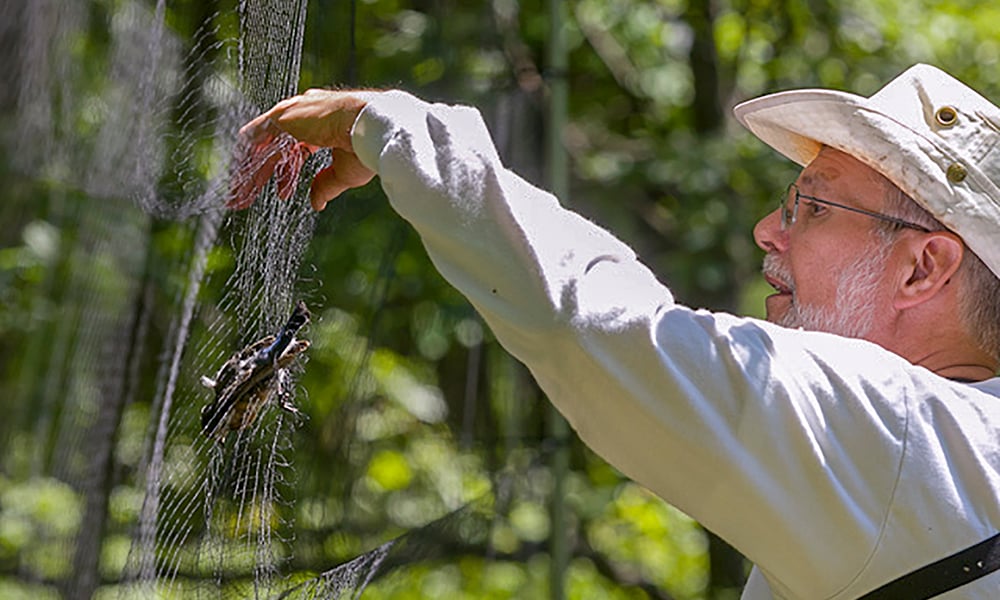 Gabanski removes a bird from mist netting at Waterfall Glen Forest Preserve in Darien as part of the District's MAPS project.

Discovering Nature
"I've always liked being out in nature," Gabanski said. "I was born and grew up in Chicago, and our family often went to the Cook County forest preserves for picnics. I was a Boy Scout and went camping. I didn't start visiting DuPage forest preserves until my wife and I moved to Darien in 1982."

Catching the Nature Bug
"In a way I caught the nature bug as a kid, but I think it really began when I got into birding around 1990" during a visit with his sister in Lake Tahoe.
"She had me hold out my hand with a sunflower seed in it," Gabanski said. "Suddenly a mountain chickadee landed on my hand, picked up the seed in its beak, and flew up to a tree to eat it. Suddenly I wanted to learn more about birds.
"When I got back home I started looking at the birds in my backyard," he said. "At the time, I was so new to birding I didn't know that female house sparrows look different from males. I thought they were different species.
"Now I regularly send in reports from my backyard to Project FeederWatch run by the Cornell Laboratory of Ornithology," he said.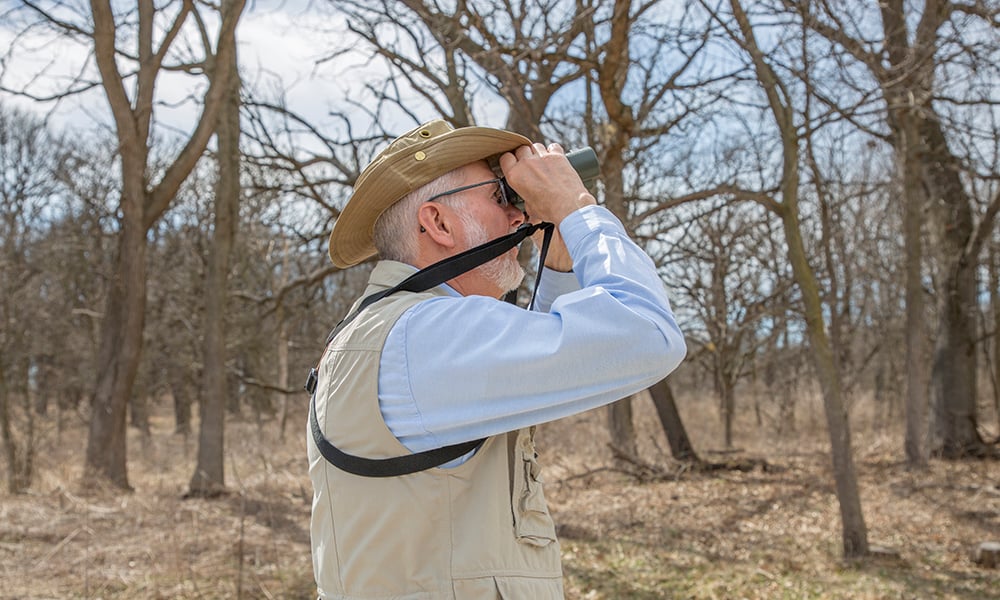 What Brings Him Back Time and Time Again
Gabanski also does bird point counts for the District's Natural Resources department to help inventory and monitor bird populations. He tallies all birds detected by sight or sound at a certain location during a specific period of time.
"I like combining birding with science, since the data these two activities generate can be used to study bird populations and the effects of humans on birds," Gabanski said. "And I go simply when I need to get away from our urban/suburban habitat."

Favorite Nature Activities
"It's a toss-up between birding activities and walking, however, I usually count birds when I'm in the preserves, even if I am just going for a walk."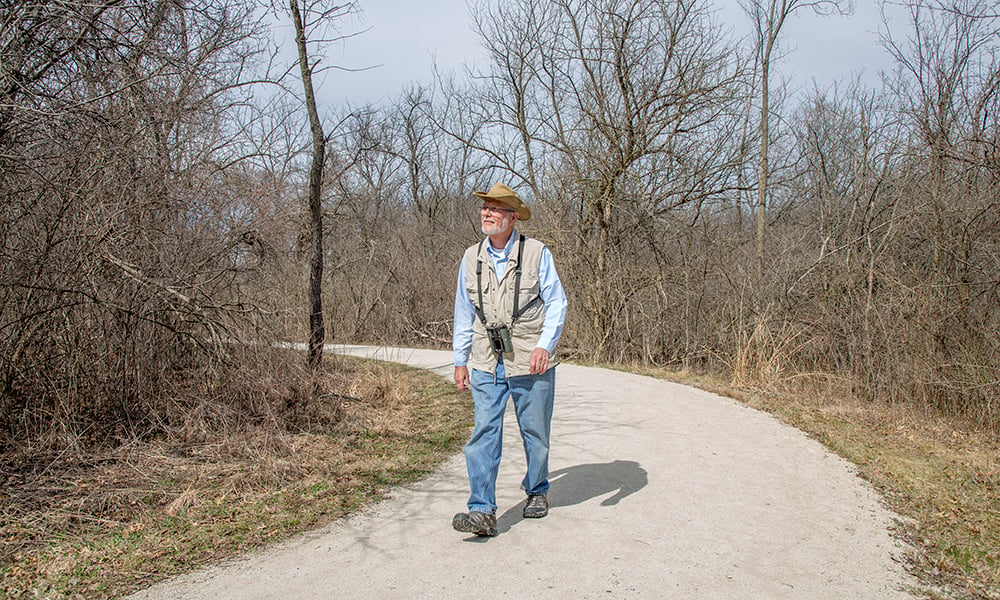 Glenn Gabanski on a recent hike at Oldfield Oaks Forest Preserve in Darien.
How Nature Inspires
"Nature reminds me of what took eons of time to evolve into systems of balance but could be destroyed by humans in a relatively short time,' he said. "A tree or plant community often takes decades to mature, but can be destroyed in minutes by a chainsaw or bulldozer. And these alterations are often permanent.
"Nature inspires wonderment in me, and an appreciation for its beauty. And it inspires me to want to preserve and protect what is left," Gabanski said.

Advice for Others
"Just make the effort to get out into nature. Visit preserves, local and state parks, national parks, wildlife refuges, conservation lands — anywhere we humans haven't substantially altered the landscape," Gabanski said. "Look around and listen during your visits. I hope you will begin to marvel and appreciate the beauty and complexity of the eco-systems. I hope you will be inspired to learn more about nature and eventually to support efforts to preserve, restore and maintain what little we have left that is truly natural."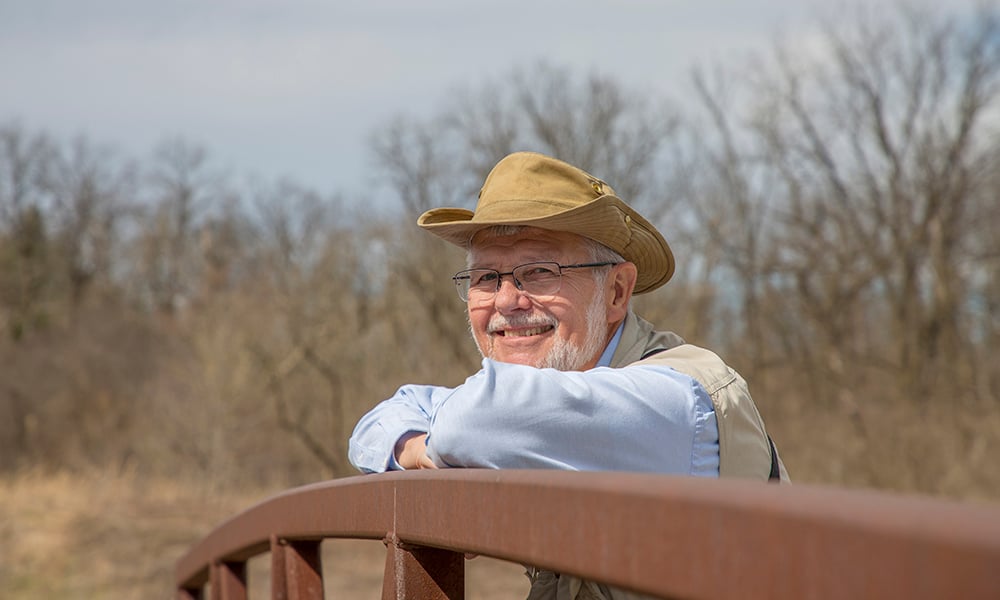 If you have a fun or unique way of catching nature in our preserves and would like to be featured in a "Catching Nature" blog, please contact Deb Humiston at dhumiston@dupageforest.org.