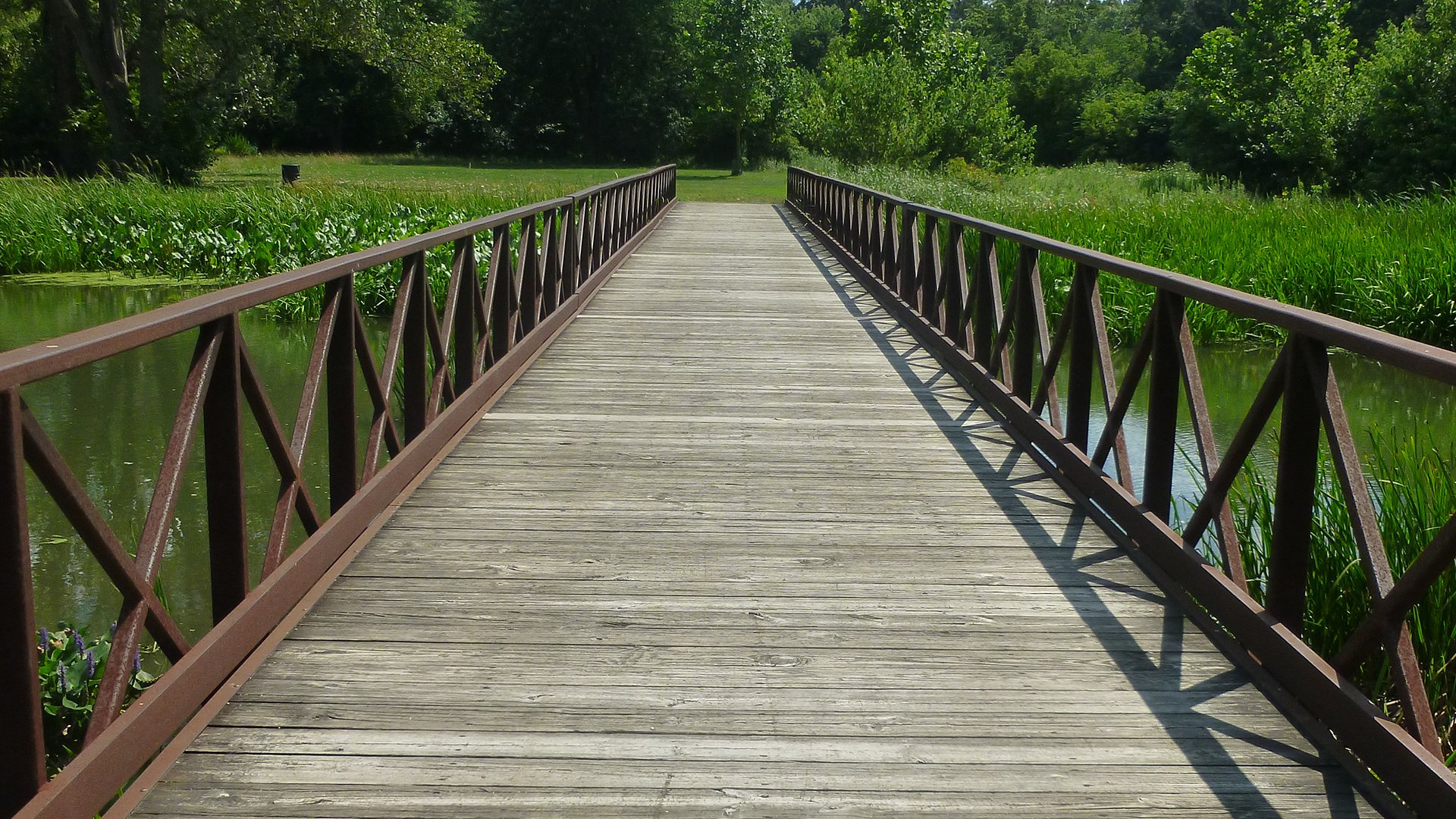 Churchill Woods
Glen Ellyn
Maps
The main entrance is on the south side of St Charles Road 0.25 mile west of Route 53.
The picnic shelter entrance is on the south side of St Charles Road 0.1 mile west of Route 53.
The south entrance is on the north side of Crescent Boulevard 0.25 mile west of I-355.
Hours
The preserve is open one hour after sunrise to one hour after sunset.
General Info
Dogs are allowed at the forest preserve but must be on leashes under 10 feet long. Alcohol is prohibited. Read our complete rules and regulations.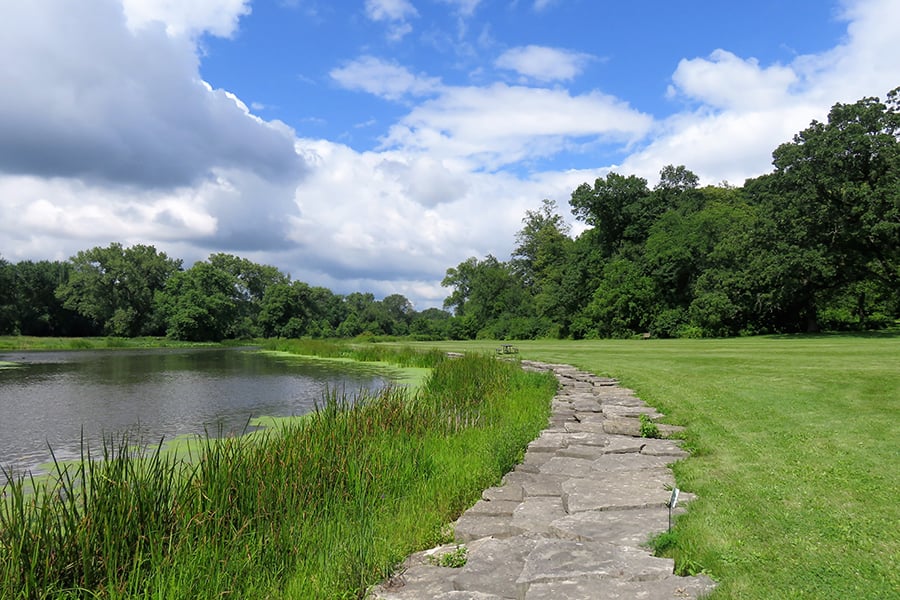 Natural Features
At 255 acres, Churchill Woods Forest Preserve in Glen Ellyn is one of the county's smaller forest preserves and home to an impressive range of habitats. Its Babcock Grove surrounds visitors in a savanna of bur oak, white oak and black maple trees. Churchill Prairie Nature Preserve contains one of the county's few remaining native prairies and is home to several state endangered and threatened species. Churchill Woods features a one-mile trail for biking, hiking, horseback riding and cross-country skiing in the winter; picnicking, birdwatching and a youth-group campground.
Babcock Grove is home to a rich variety of native plants, including Dutchman's breeches, red trillium, bellwort, mayapple, wild strawberry, yellow touch-me-not, and hairy hog peanut, a legume with peanut-like nodules that grows in a former grazing area for hogs.
Churchill Prairie is the second largest native prairie in the county. (West Chicago Prairie is the largest.) It's in a sand-and-gravel outwash plain swale of the DuPage River Valley embedded in the surrounding Valparaiso moraine.
In 1993, the Illinois Nature Preserves Commission gave the prairie an extra level of protection by designating it as the Churchill Prairie Nature Preserve. District staff and Natural Resource Management volunteers spend countless hours a year restoring this rare habitat, using prescription fires, brush clearing, seed planting and other restoration techniques to encourage the growth of native plant species.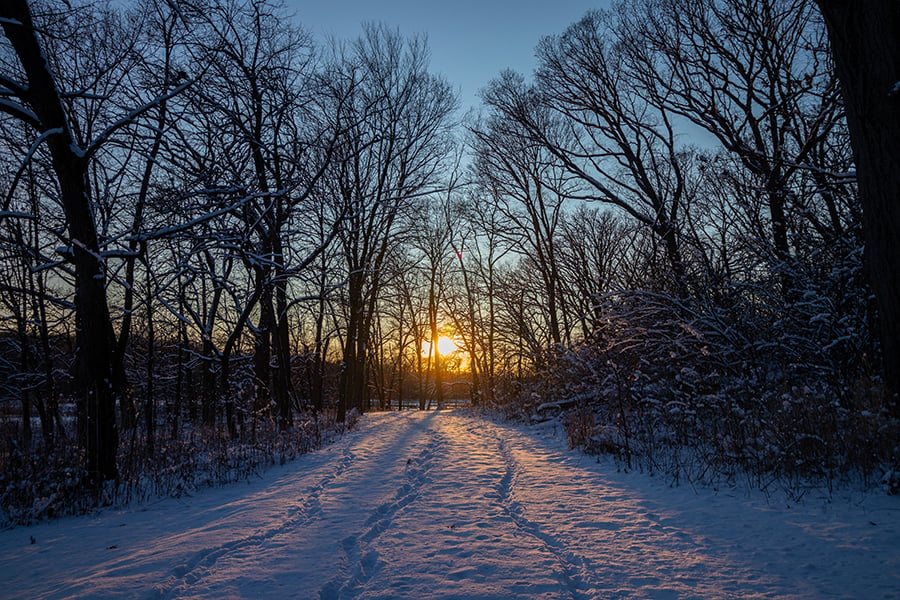 History
A community of about 500 Potawatomie Indians lived in present-day Churchill Woods as they waited for the U.S. government to send them west of the Mississippi River, as mandated by the 1833 Treaty of Chicago. The treaty provided for the United States' acquisition and settlement of the last remaining American Indian land in Illinois, including land that would eventually become DuPage County.
In 1834, Winslow and Mercy Churchill settled on the western edge of today's Churchill Woods after leaving Syracuse, N.Y., in search of rich farmland after their own farm was purchased for the Erie Canal. The Churchills became prosperous farmers who earned a prominent reputation among the citizens of developing Glen Ellyn and Lombard as well as Milton Township, which they helped to establish. Their combined claims stretched from present-day Route 53 on the east, North Avenue on the north, Main Street in Glen Ellyn on the west, and Crescent Boulevard on the south — all bought for $1.25 an acre.
Babcock Grove is named for brothers Ralph and Morgan Babcock, two of the county's first settlers of European descent. Some of the grove's white oaks date back to the 1830s, a time when settlers left seedlings untouched as they logged mature oaks for new plank roads. (Some say Deacon Winslow Churchill complained about the noise from the horse-drawn traffic that clattered over the planks on St. Charles Road keeping him awake at night.)
The Forest Preserve District acquired the first portion of Churchill Woods from Eliza Churchill in 1935. Its final significant acquisition, which included the 65-acre prairie on the north side of St. Charles Road, was in 1968.