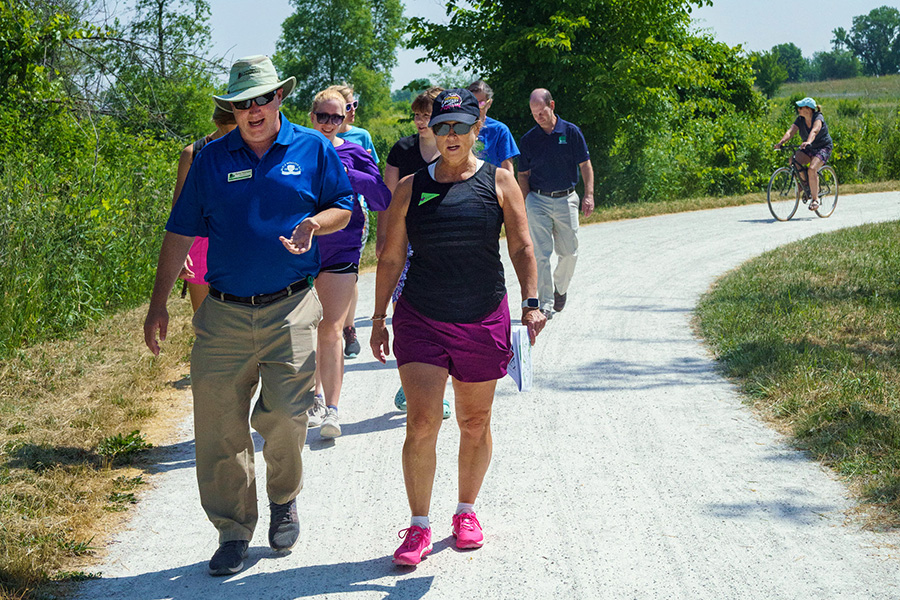 News Release
Neighborhood Celebration Marks Official Opening of New Cromwell Trail at Danada
Local residents gathered June 10 to dedicate new trail connection
On Saturday, June 10, the Forest Preserve District of DuPage County joined local officials and community members to celebrate the official opening of a new 0.4-mile multipurpose limestone trail at Danada Forest Preserve in Wheaton. The segment, which connects Cromwell Drive at Butterfield Road to the Danada-Herrick Lake Regional Trail, provides a safer and more convenient connection between regional forest preserve trails and Wheaton's bicycle network.
The ceremony took place at Forest Preserve District headquarters at Danada and included Forest Preserve District President Daniel Hebreard, District 2 Commissioner Tina Tyson-Dunne, District 3 Commissioner Linda Painter, District 4 Commissioner Jeff Gahris, District 5 Commissioner Barbara O'Meara, and District 6 Commissioner Al Murphy. Also attending were state Sen. Laura Ellman; preserve neighbors from the Stonehedge Community Homeowners Association, whose support for the project helped the District secure $200,000 from the Illinois Department of Natural Resources Recreational Trails Program; and other invited guests and trail enthusiasts.
President Daniel Hebreard noted that the project is the result of years of collaboration with Forest Preserve District partners and expressed his enthusiasm for the new amenity. "We hope that the time spent on all the District trails and in the forest preserves helps you nurture connections with nature and with one another today and for years to come," he told the crowd.
Commissioner Gahris explained how the trail provides access to a chain of 3,700 acres of open space that includes Danada, Herrick Lake, Warrenville Grove, St. James Farm, and Blackwell forest preserves. "Walking, hiking, biking, and absorbing nature's sights and sounds are all beneficial to our individual health and wellbeing. Making it easier for people to choose walking and biking by providing and maintaining trails can help more of us realize those well-being benefits," he said.
The Forest Preserve District of DuPage County has been connecting people to nature for more than 100 years. More than 5.5 million people visit its 60 forest preserves, 166 miles of trails, seven education centers, and scores of programs each year. For information, call 630-933-7200 or visit dupageforest.org, where you can also link to the District's e-newsletter and Facebook, Twitter, Instagram, YouTube, and TikTok pages.
# # #