Boating
Whether you rent one of our boats or bring your own, you can enjoy several DuPage forest preserves from the water.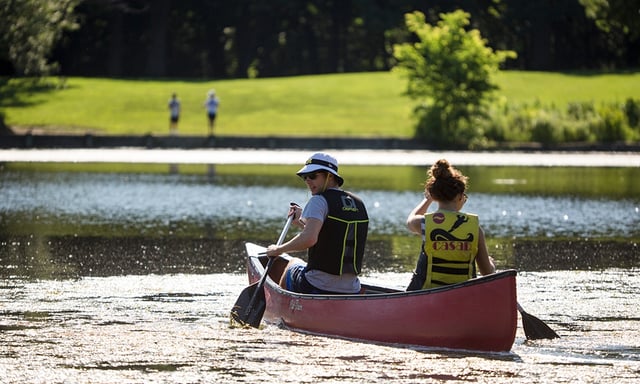 Boat Rentals
You can rent canoes, kayaks and rowboats with cash or credit card at Blackwell and Herrick Lake.
Rowboat, canoe or kayak
Boat with trolling motor (Blackwell only)
$10 per hour
$15 per hour

2018 Schedule Rentals end one hour before closing.
Bringing Your Own Boat
You can use your own watercraft on four forest preserve lakes.
Silver Lake at Blackwell (boat ramp)
Round Meadow Lake at Hidden Lake (carry-in only)
Mallard Lake at Mallard Lake (carry-in only)
Deep Quarry Lake at West Branch (carry-in only)
The rules and regulations section has complete details, but you basically need four things:
The Right Kind of Boat
Nongasoline-powered boats, canoes, kayaks, or multichambered inflatables with factory-installed hardened floors and transoms less than 20 feet long (sailboats on Silver Lake, too) are allowed.
An Illinois Water Usage Stamp or State Registration
You can buy water usage stamps at sporting goods stores or at Visitor Services at 3S580 Naperville Road in Wheaton Monday – Friday 8 a.m. – 4:30 p.m. For complete state boating requirements, visit the Illinois Department of Natural Resources boating webpage.
A Forest Preserve District Private Boating Permit
DuPage resident $35 per year or $7 per day
Nonresident $45 per year or $9 per day
You can purchase daily permits with cash at lockboxes at each launch site and with cash or credit card at the Blackwell boat rental building, when open.
Annual permits are valid January – December only and are available at the Blackwell boat rental building and online.
For other options, download our private boating permit application (PDF) or call Visitor Services at 630-933-7248 Monday – Friday 8 a.m. – 4:30 p.m.
The Right PFDs
You need one well-fitting, Coast Guard-approved personal flotation device for each person on board, and children under 13 must wear theirs at all times. If you're in a canoe or kayak, the Forest Preserve District requires you to wear a PFD regardless of your age.
Private Boating Rules & Regulations
The Forest Preserve District has found nonnative, invasive zebra mussels in four lakes at three preserves: Deep Quarry and Bass lakes at West Branch, Mallard Lake at Mallard Lake, and Eagle Lake at Hidden Lake. You can help stop their spread no matter where you boat or fish.
Remove all plants, animals and mud from boats, equipment and trailers.
Drain all water from your boat and gear and dry everything thoroughly with a towel.
Empty all bait buckets in garbage cans or dumpsters before leaving the lake. (You can't see juvenile zebra mussels with the naked eye.)