More than a dozen ecologists from local conservation agencies toured the 1,800-acre Springbrook Prairie Forest Preserve in Naperville recently to explore and learn more about the high-quality grassland habitat that has been transformed into a birder's paradise by the Forest Preserve District of DuPage County.
The field visit, hosted by the Forest Preserve District of DuPage County, included scientists from the forest preserve districts of Cook, Lake, Kane, and Will counties, The Nature Conservancy, College of DuPage, Citizens for Conservation, and Audubon Great Lakes, which coordinated the tour.
The group of ecologists meets a few times a year to tour local grassland bird habitats and discuss regional trends and best management practices in an effort to increase positive impacts on local populations and share their efforts and findings with the public.
The topic took on increased importance in light of a recent study published in the journal Science that shows a 29 percent decline in bird populations in the United States and Canada since the 1970s, with grassland birds being the hardest hit.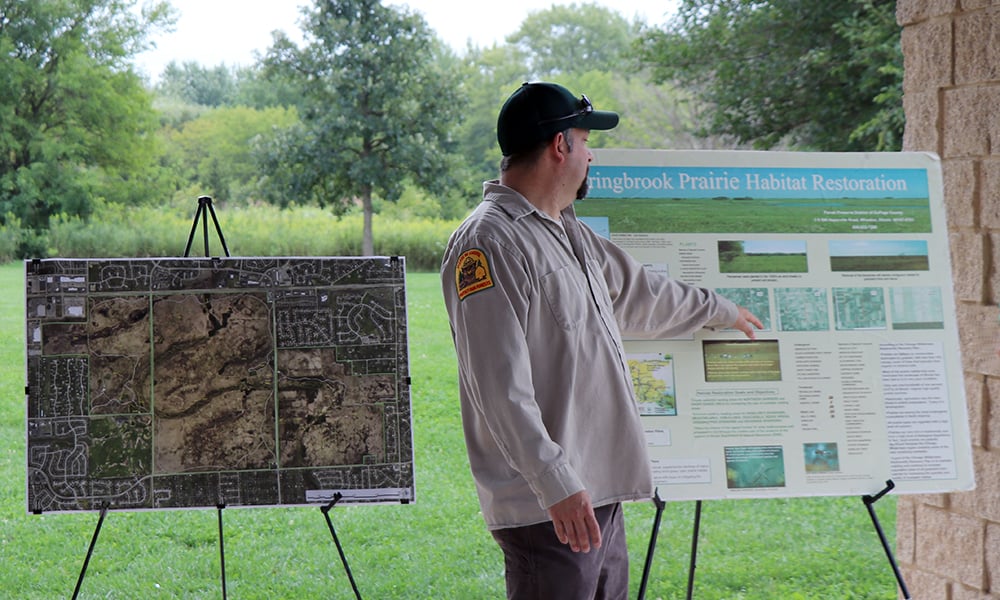 Ecologist Brian Kraskiewicz discusses Springbrook Prairie's layout and the District's history of managing the land.
Before the tour, Forest Preserve District ecologist Brian Kraskiewicz and longtime Springbrook Prairie volunteer steward and bird monitor Joe Suchecki gave a brief overview of the preserve and its management history.
Visiting ecologists noted that the preserve's amenities — and the majority of its trees — are located along its periphery for the benefit of grassland birds. Suchecki said that he'd like to see all trees removed from the preserve's interior to maintain the area as an open grassland preserve, but noted that some shrubs are allowed for shrub-nesting species.
Next the group headed out for a tour of the preserve, the District's third largest and predominantly a wide open, grassland prairie, stopping at four distinct monitoring sites.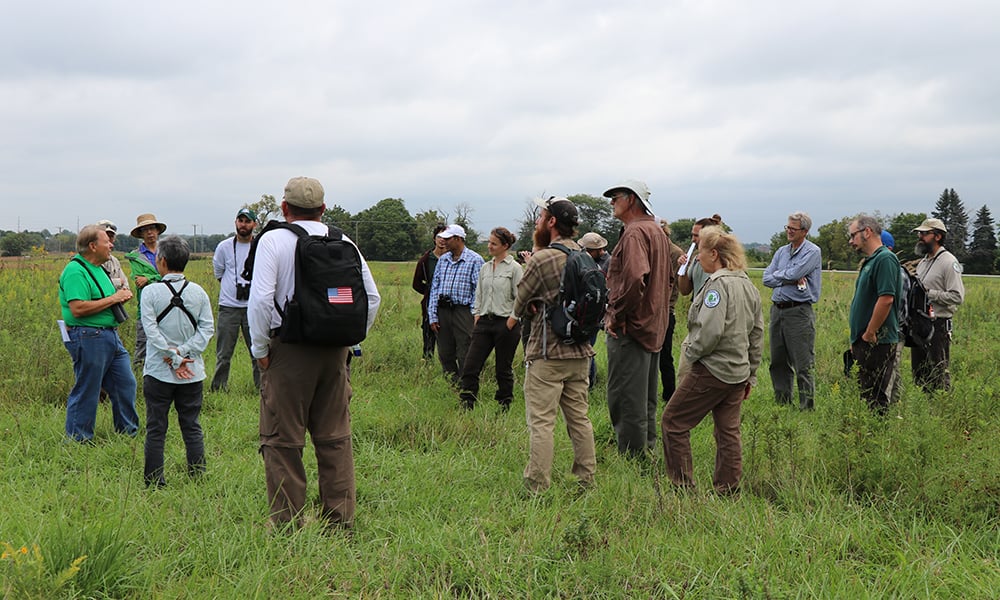 A total of 236 species of birds have been documented as either breeding or flying over Springbrook Prairie — now considered one of the area's premier grassland birding areas — since continuous monitoring efforts began there in 1994. These counts include 14 state-endangered species, 5 state-threatened species, 42 Illinois species in greatest need of conservation and 22 DuPage species of special concern.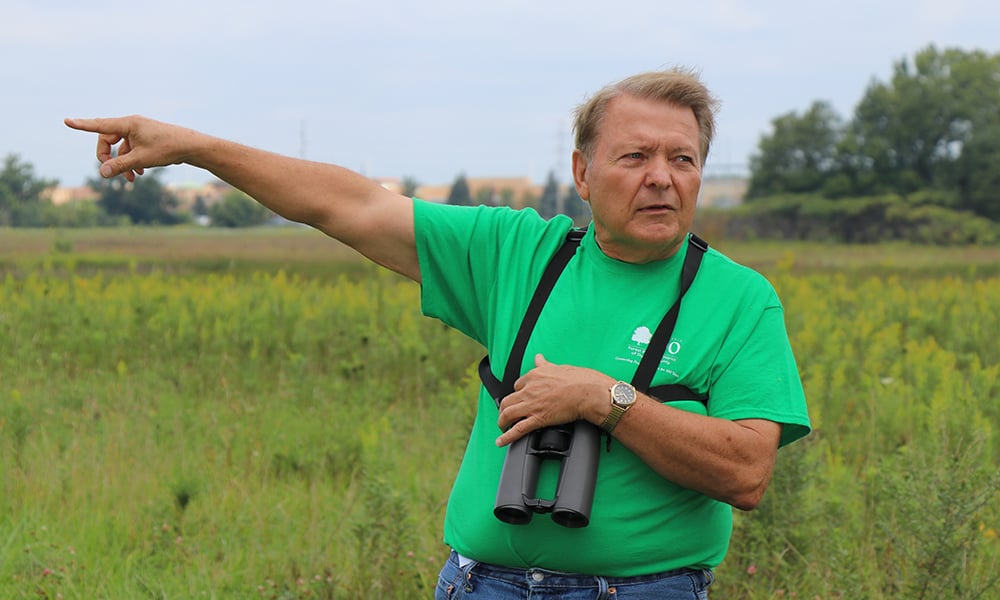 Springbrook Prairie volunteer site steward and bird monitor answers questions at one of four tour stops.
The first point the group visited, a cool-season-grass area with minimal restoration (some mowing for sweet clover and goldenrod and infrequent burns), actually contains the highest diversity and density of grassland birds of the four points. "One of the conclusions I made was the birds like Eurasian grasses better," Suchecki said of this surprising discovery. "That wasn't popular with botanists, but what's great for grassland birds is not necessarily great for butterflies."
Monitors have observed large populations of bobolink, Savannah sparrow, and Henslow's sparrow at the site. Recently they've also observed increases in red-winged blackbirds and common yellowthroat.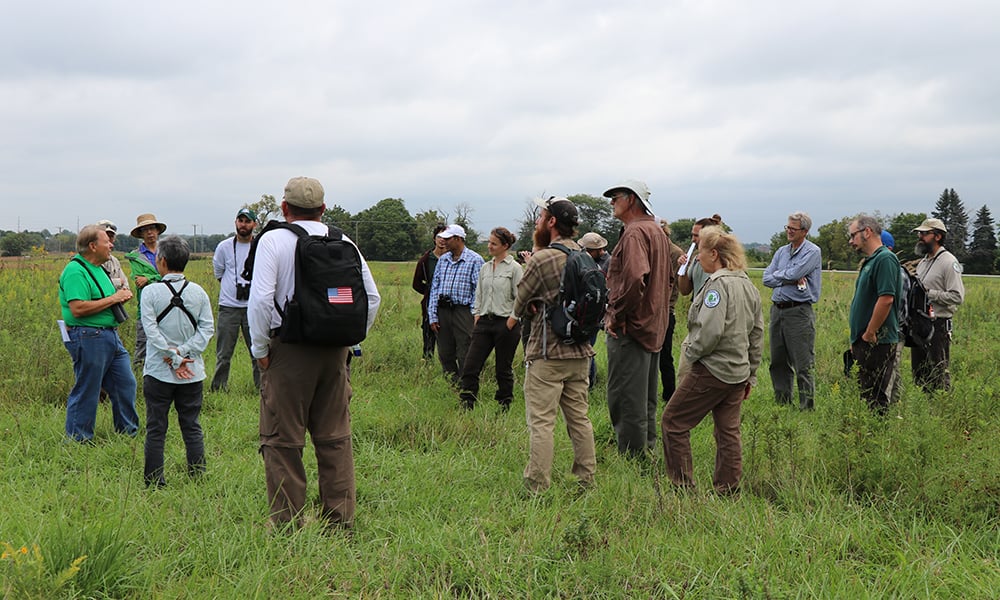 The second stop was a cool-season grass area adjacent to the preserve's trail and an area restored with native seeds in 2007 as part of a stream restoration project. Originally, good populations of bobolink and Savannah and grasshopper sparrows were observed at the site. Currently red-winged blackbirds and song sparrows predominate the location. The changes have been attributed to the proximity of the trail and the turnover to taller vegetation.
The third area visited was originally cool-season grasses with a significant number of shrubs and trees. The trees and shrubs were cleared and shortgrass natives like little bluestem, side oats and prairie dropseed were planted in the area in the late 90s and early 2000s. The area is burned frequently to clear it of invasive woody species and mowed in an effort to control the tall goldenrod that grows there. The site produces good populations of grassland birds, including high numbers of bobolinks, Savannah sparrows and Henslow's sparrows. Recently it has also saw an increase in common yellowthroat and red-wing blackbirds; the increase is believed to be related to efforts to control the spread of goldenrod there.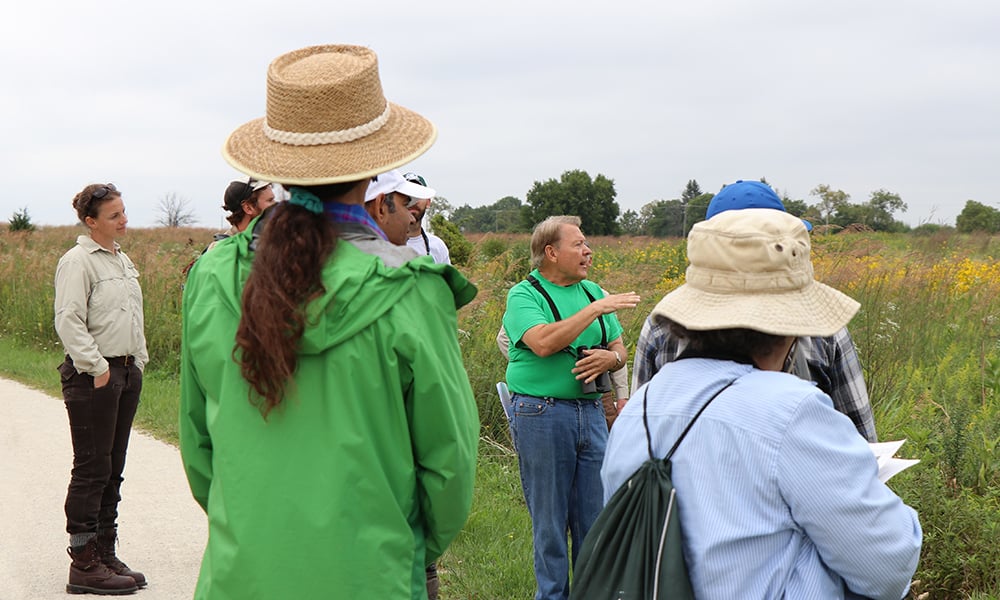 The fourth and final monitoring point ecologists visited was an area that the District has restored with taller native grasses, including big bluestem and Indian grass. It's adjacent to a wetland and meadow restoration project and is burned frequently and mowed to control the goldenrod growing prevalently. Monitors have noted some grassland birds, including bobolink, Henslow's sparrows and Savannah sparrows, but the red-winged blackbirds and song sparrows predominate the area. They have noted an increased number of swamp sparrows in the area since the stream restoration work.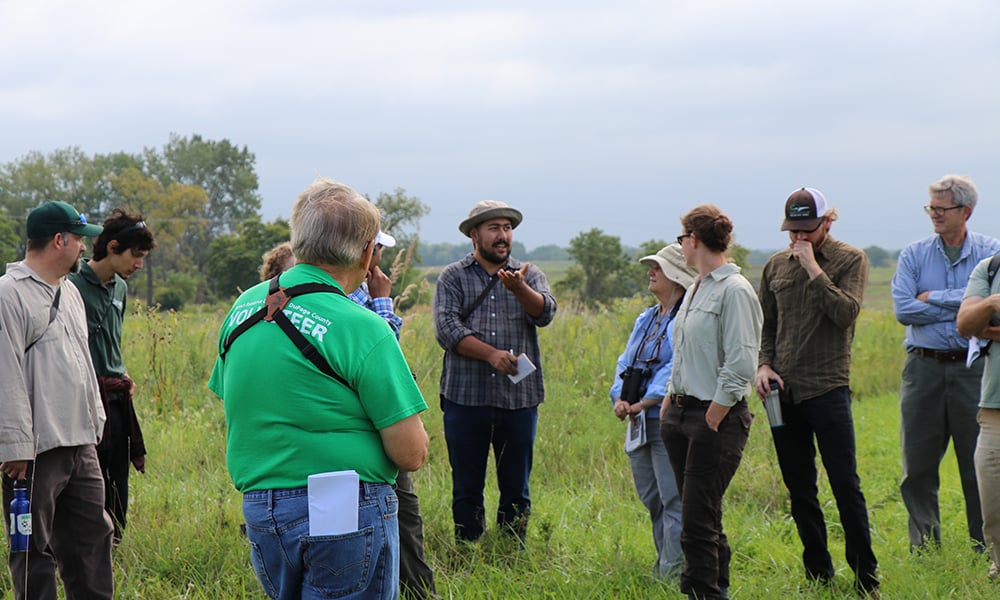 Ecologists asked frequent questions and jotted down notes, eager to determine the formula for success at this preserve. Ultimately, some of their questions were deemed "million-dollar questions" because the answers are elusive. Questions like how to balance human, financial – even native seed – resources when they're all limited; how to accomplish all of this in high-population areas; and how to manage an area to sustain its appeal to ground nesters for long periods of time. Although these questions remained unanswered, we sure are glad there are folks out there asking them.