The warm weather and long days of summer invite people to be outdoors, and what better way to enjoy the outdoors than by having a picnic.
DuPage forest preserves offer hundreds of picnic tables and inviting places to spread a blanket. Whatever picnic fare and outdoor activities you enjoy, there is a picnic spot just for you in the DuPage forest preserves.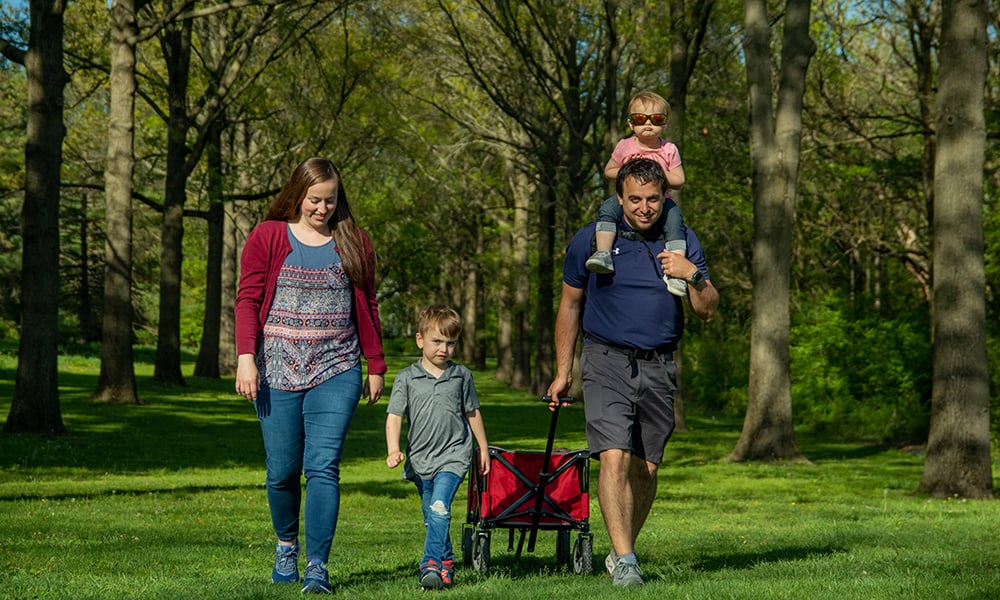 No. 1 Top Spot
By the numbers, the most popular picnicking location in DuPage forest preserves is the lakeside north shelter at Blackwell Forest Preserve in Warrenville because of its amenities, including grills, electrical access, and proximity to flush restrooms.
But there are many other great picnic spots throughout the forest preserves, and they're not all defined just by their amenities. We asked some District staff to share their favorite places, food and activities to enjoy on a picnic. (We discovered that staff really like sandwiches!)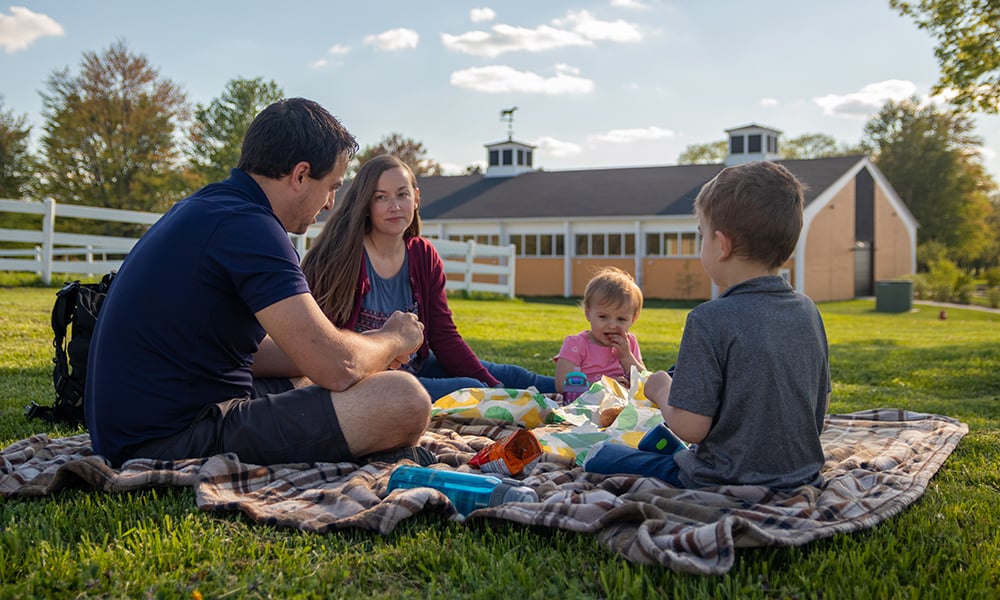 A Historical Venue
Kathryn in Visitor Services enjoys picnicking at the historic shelter at McDowell Grove Forest Preserve in Naperville. "I love sitting at the small shelter and eating lunch and listening to the water," Kathryn said.
This limestone shelter was built in the 1930s by the Civilian Conservation Corps and overlooks the West Branch DuPage River. When asked about her favorite picnic fare, Kathryn said she enjoys light fare such as cheese and crackers, and fruit.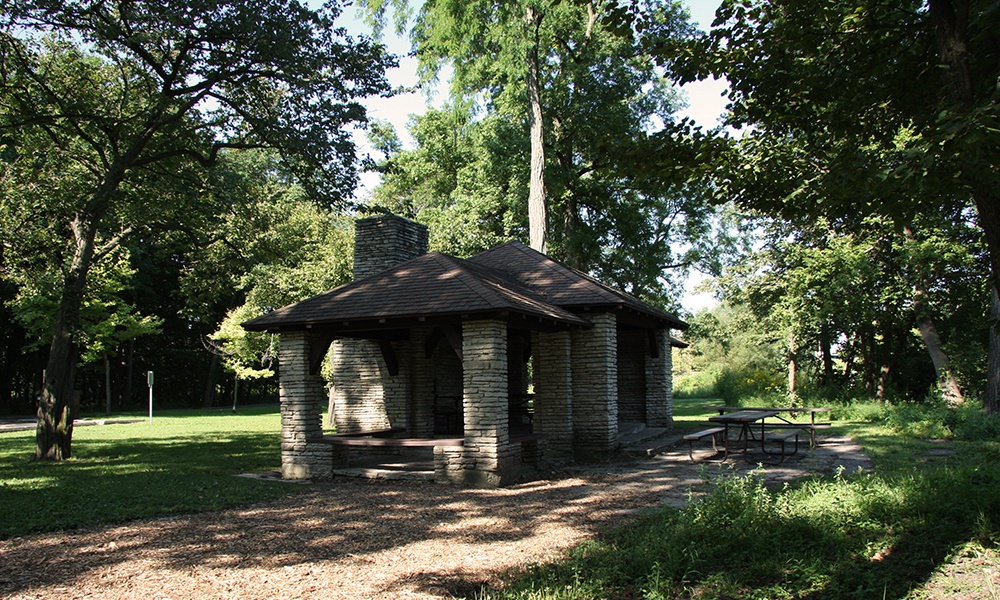 Plenty to Do at Pickerel Lake
Environmental interpreter Glenn's favorite picnicking spot is Pickerel Lake at Pratt's Wayne Woods Forest Preserve in Wayne. "During the summertime the smell of barbeque fills the air and there is great camaraderie among preserve visitors."
There are also many great outdoor activities to enjoy after their meal, such as fishing in the lagoons, hiking, and birdwatching. "I love that I can eat a freshly made sandwich with my family while listening to the songs of red-eyed vireos and wood thrushes echoing through the nearby woods."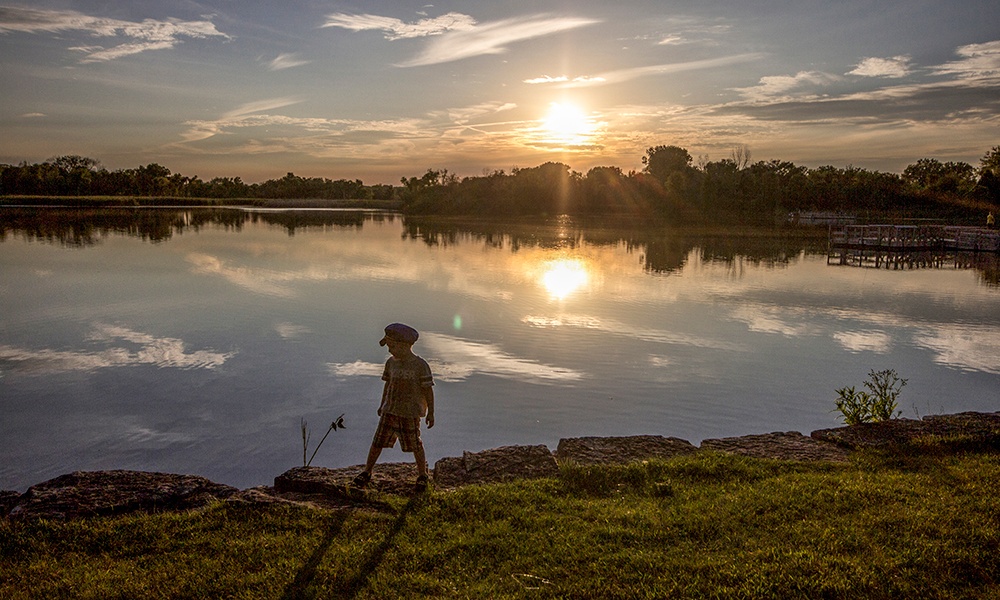 Fall Leaves Fun
Kelly in Visitor Services recalls one of her favorite picnics. "I took my kids to Mayslake Forest Preserve in Oak Brook on a beautiful fall day. There was a lovely backdrop of perfect fall colors."
After laying out a blanket by the lake and eating bologna sandwiches and fruit, Kelly and her kids went geocaching throughout the preserve. "It was perfect. My kids loved playing in the leaves."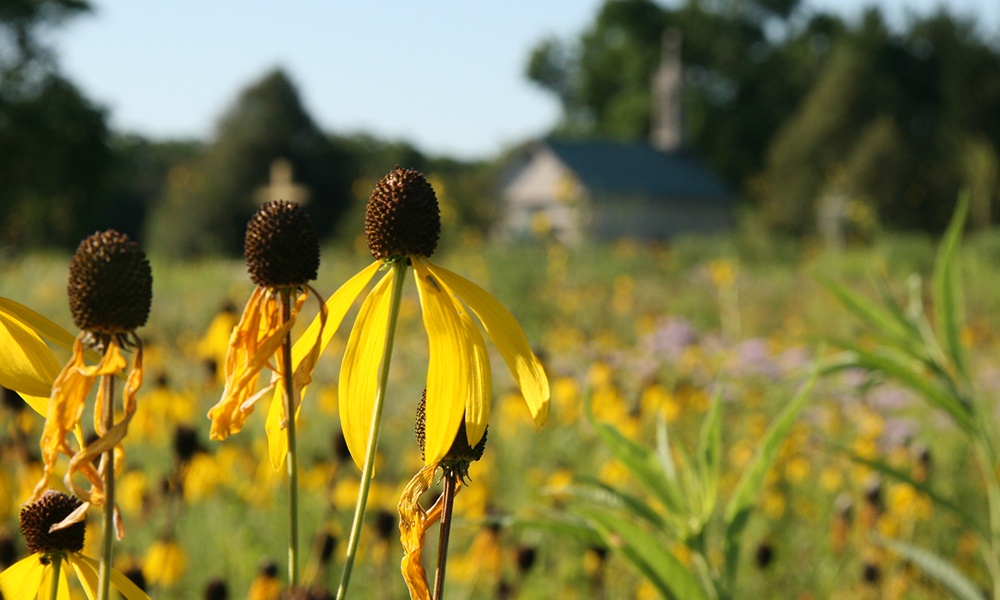 Heavenly Herrick Lake
District ecologist Scott sums it up well. "Every day's a picnic around here!" Working in the field gives Scott the opportunity to eat his lunch outdoors nearly every day. Scott has been to every DuPage forest preserve and his verdict: "I really like Herrick Lake Forest Preserve in Wheaton."
Scott enjoys his homemade sandwich, fruit and water while taking in the stunning scenery. "You have the lake surrounded by beautiful woods. You have pines and oaks and you can easily walk the trail around the lake."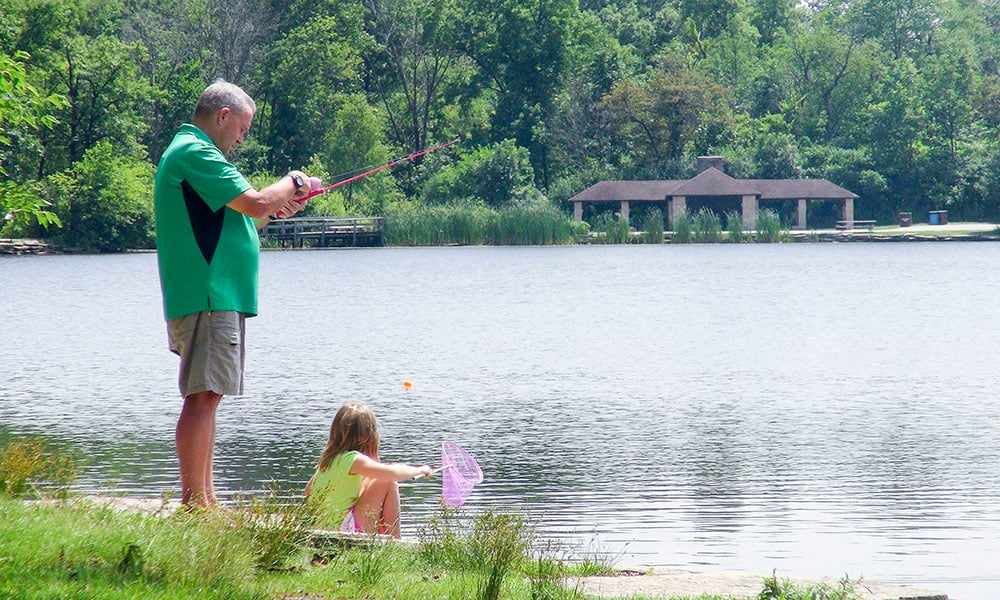 Picnic Grove in the Shade
Environmental interpreter Jen likes to picnic at Churchill Woods Forest Preserve in Glen Ellyn. There is a reservable shelter, groves of picnic tables shaded by huge trees and plenty of open space to spread out a blanket.
"Wherever you settle in, you have a scenic view of the East Branch DuPage River." Jen likes to ride her bike (the trails at Churchill connect to the Great Western Trail) and usually brings along an apple, jerky and a book for taking a break.
"I like to hop off my bike and relax against a tree for a while, taking in the sights and sounds of nature." When heading out for a picnic, she grabs a blanket, a picnic basket and always has a frisbee to toss around.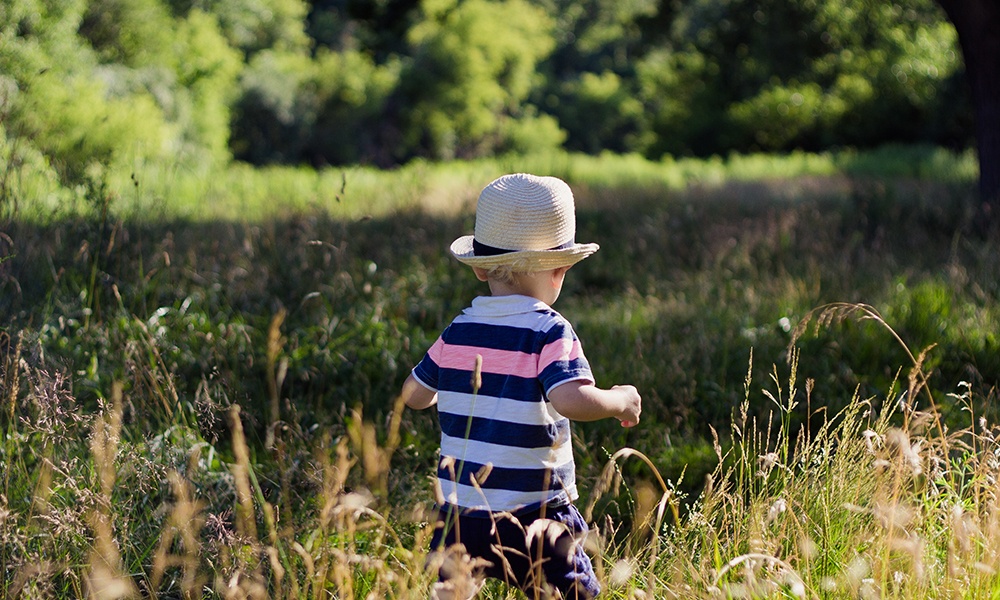 Find Your Favorite
There are many more places to explore in DuPage forest preserves! Discover your own favorite preserve picnic spot this summer. Remember to keep your area clean and put trash in the appropriate garbage or recycling containers. After you pack up, make sure the area looks as it did when you arrived, so others can enjoy their picnics too. Remember too that alcoholic beverages are prohibited.
Outdoor enthusiasts who want to picnic with more than 25 people or reserve a shelter or picnic area must apply for a picnic permit at least three full business days in advance. Reserve a picnic area online 24/7 up to a year in advance. 
For other options, download our picnic area permit application (PDF) or call Visitor Services at 630-933-7248. Phone reservations must be made at least three full business days in advance.