Heidi Carpenter
History buff, nature photographer, tree lover
I've loved nature from the time I was a small child. I moved from the north suburbs to Chicago to go to Columbia College and lived there for eight years.
In 2008 we moved to Lisle to be close to our horse. It didn't take me long to discover the Danada Forest Preserve trails across the road from the barn. Back then, I ran long distances, so I spent many weekends running on and exploring the trails of the DuPage forest preserves near my home.
I'm married and our "kids" are three cats and a horse. I work in digital marketing, and outside of my day job I enjoy writing, photography, reading, and watching movies with my husband and our cats.
What Brings Me Back Time and Time Again
The changing seasons and beauty of the trails and forests. I'm also fond of particular trees and the history of the preserves and enjoy visiting them regularly. Besides trees, I'm particularly interested in the Native American history around here. I know they were on land that is now Hidden Lake Forest Preserve, and I am sure they were on the land presently occupied by my horse's stable. Hidden Lake is stunningly beautiful and I love the energy there, and am very glad it's mostly been left as is, especially the area northeast of the groomed limestone trails. I love learning about what the land was used for before its current iteration.
I became interested in photography when I was a preteen, and I've had an interest in history (especially the unusual or darker sides of it) for even longer. I particularly enjoy old legends or lore and like pulling these legends apart to examine their sources and determine how much basis in truth they have.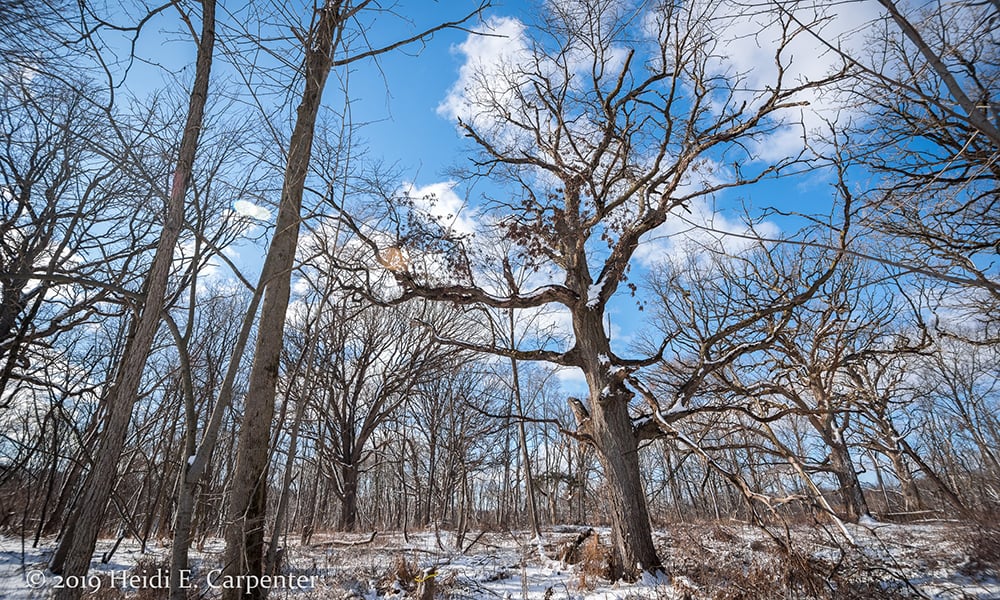 Bare trees in the winter at Hidden Lake Forest Preserve in Downers Grove. Photo by Heidi Carpenter

Catching the Nature Bug
I've been fascinated by nature for as long as I can remember! My grandfather was a geologist and a photographer, and one of my favorite photos of his shows a two-year-old me crouching down to examine a boulder twice the size of me.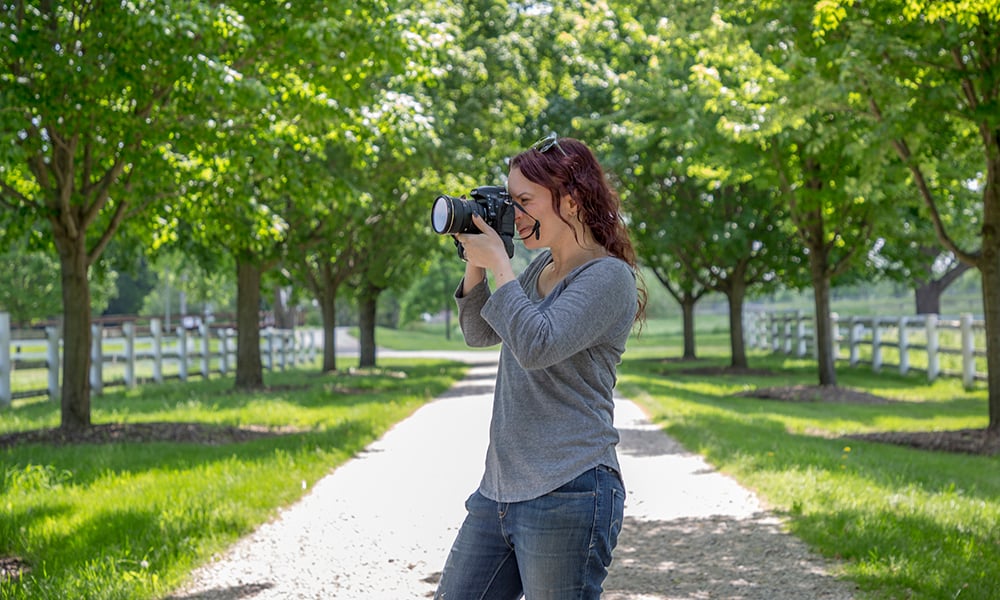 Carpenter lines up a shot during a recent visit at Danada Equestrian Center in Wheaton.

Favorite Nature Activities
I enjoy taking photographs and going for hikes or runs. It's even better if I can haul a camera along on a long hike — you never know what you will see out there!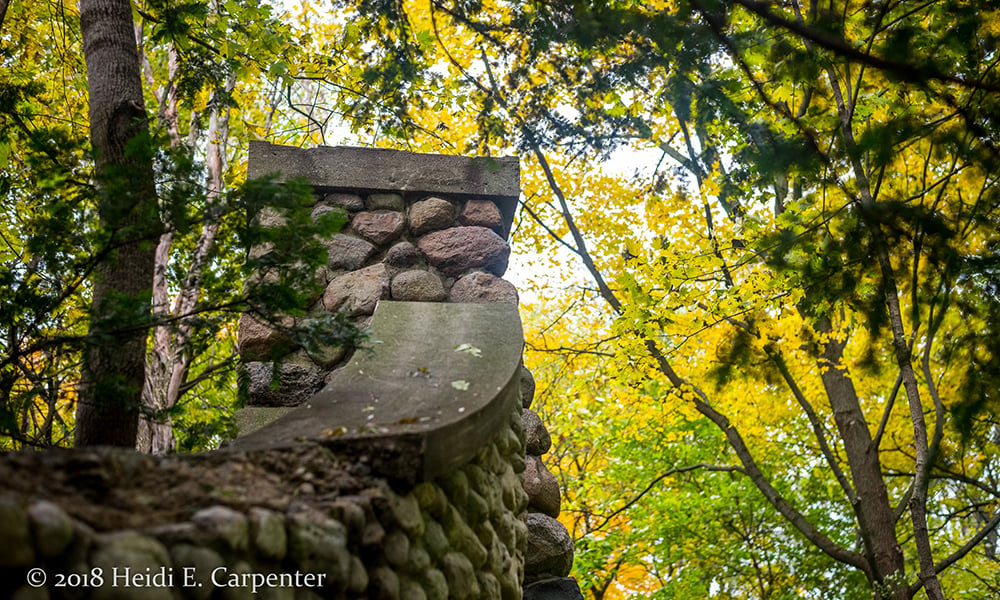 Carpenter uncovers evidence of Hidden Lake's history with this stone wall. Photo by Heidi Carpenter

How Nature Inspires
If you slow down and take the time to truly observe the land in the woods and on the prairies, you'll see that nature has secrets to reveal to you. The faraway enormous old tree in the middle of acres of wild prairie grasses. Trees and shrubs crowding around old concrete blocks in the middle of the woods. An old hornet nest hanging over a quarry-turned-bog. Deer watching you from afar. Ladies slippers and puffball mushrooms growing in the dappled shade.
Nature forces you to slow down and take it all in, because you never know what you will see around the next bend or over the next hill. It may simply be more trail, or it may be one of the most beautiful things you've ever seen in your life, and it will turn into a beloved memory you can carry for the remainder of your time on this earth.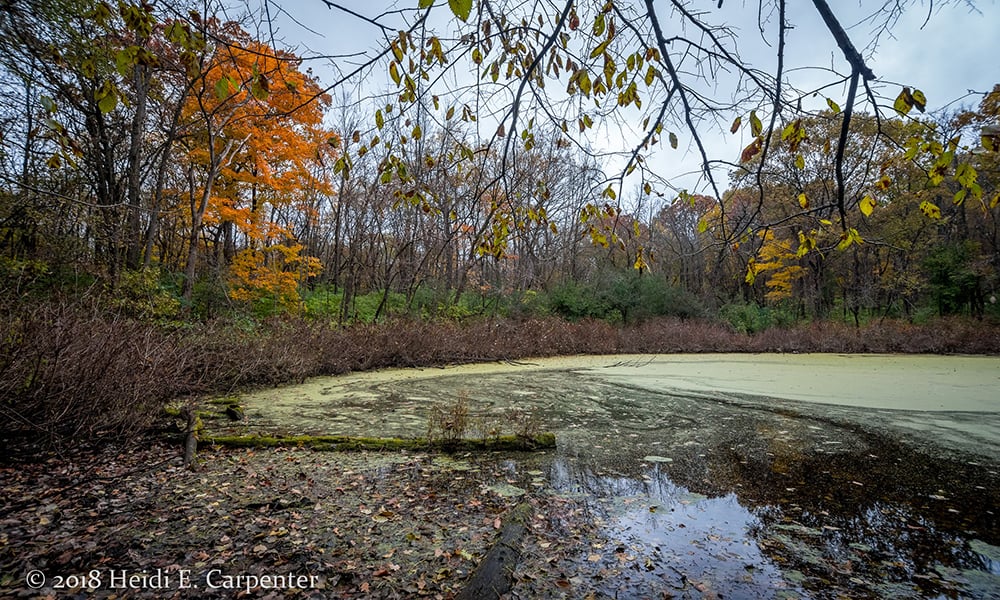 A fall scene at Hidden Lake Forest Preserve in Downers Grove. Photo by Heidi Carpenter

Advice to Others
Plan adventures in nature with no urgent obligations hanging over your head. Treat nature as a reward for yourself, and it will repay you in spades.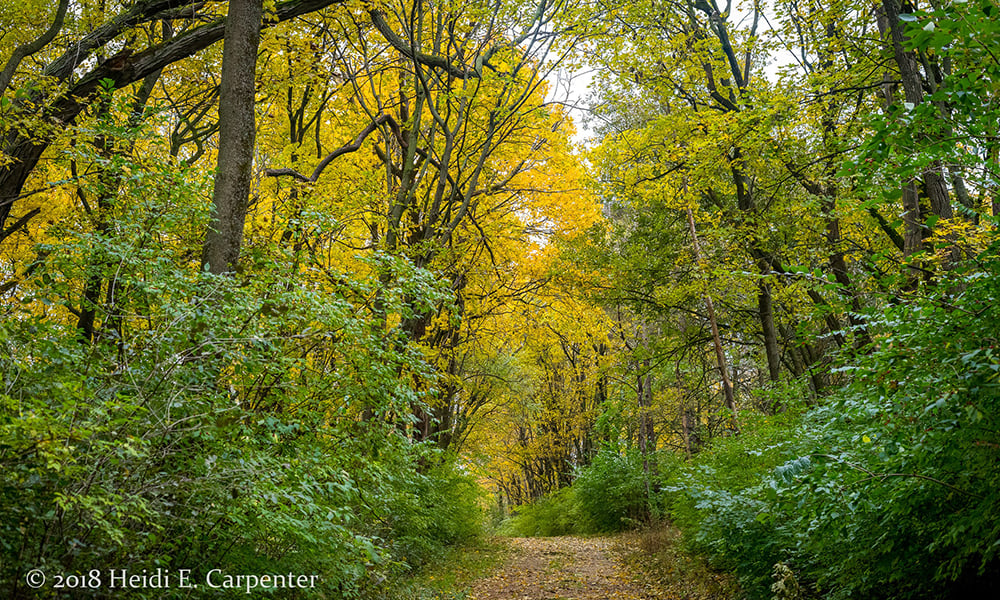 A beautiful fall scene that Carpenter captured at Hidden Lake Forest Preserve.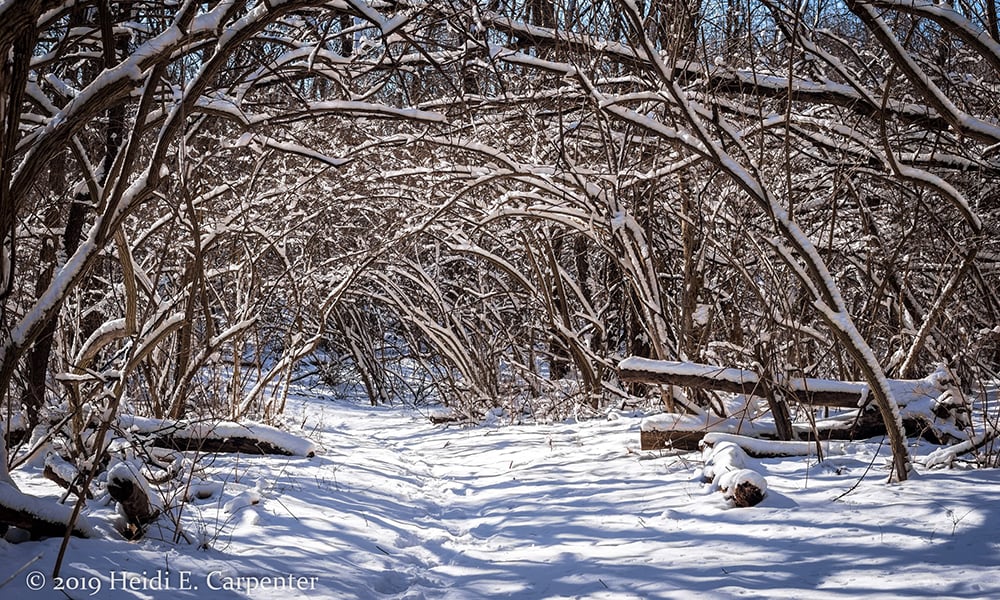 A tranquil winter scene at Hidden Lake Forest Preserve. Photo by Heidi Carpenter
If you have a fun or unique way of catching nature in our preserves and would like to be featured in a "Catching Nature" blog, please contact Deb Humiston at dhumiston@dupageforest.org.