Jeff Smith braves howling winds and brutal cold to scour the skies for migrating hawks from atop the Greene Valley scenic overlook, and he wouldn't have it any other way.
Smith is a longtime volunteer with the Greene Valley Hawkwatch group, a dedicated group that meets daily atop the 190-foot overlook from Sept. 1 through Nov. 30, diligently scouring the skies with binoculars and high-powered scopes in search of migrating hawks.

They look for approximately 15 different species of raptors, including turkey vulture, osprey, bald eagle, northern harrier, sharp-shinned hawk, Cooper's hawk, northern goshawk, red-shouldered hawk, broad-winged hawk, red-tailed hawk, rough-legged hawk, golden eagle, American kestrel, merlin and peregrine falcon.
They submit their findings to the Hawk Migration Association of North America as one of more than 300 affiliated raptor monitoring sites throughout the United States, Canada and Mexico. Data collected from the sites helps track long-term population trends of these raptors.

Here's Smith's story.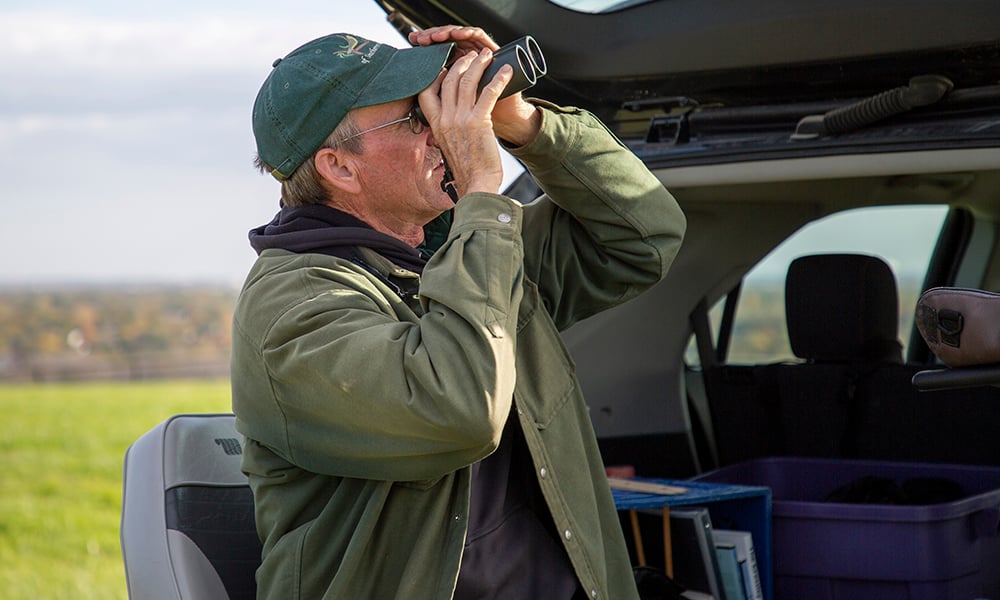 My Background

I have been a DuPage County and Woodridge resident since 1983. I have a grown daughter who lives in Brooklyn with my toddler granddaughter.

I have worked outdoors all my life in golf course maintenance and am currently employed by the Westmont Park District. When not birding, I like biking and just recently started researching my family roots.


Discovering DuPage Forest Preserves
In the early 1990s Audubon International began the Cooperative Sanctuary Program for golf courses and other large properties. It encouraged and helped land managers provide habitat for wildlife. That's when I began taking notice of birds, butterflies, and animals using the property. In 2005, I joined the DuPage Birding Club where just about every weekend I would take advantage of their field trips visiting the numerous DuPage forest preserves.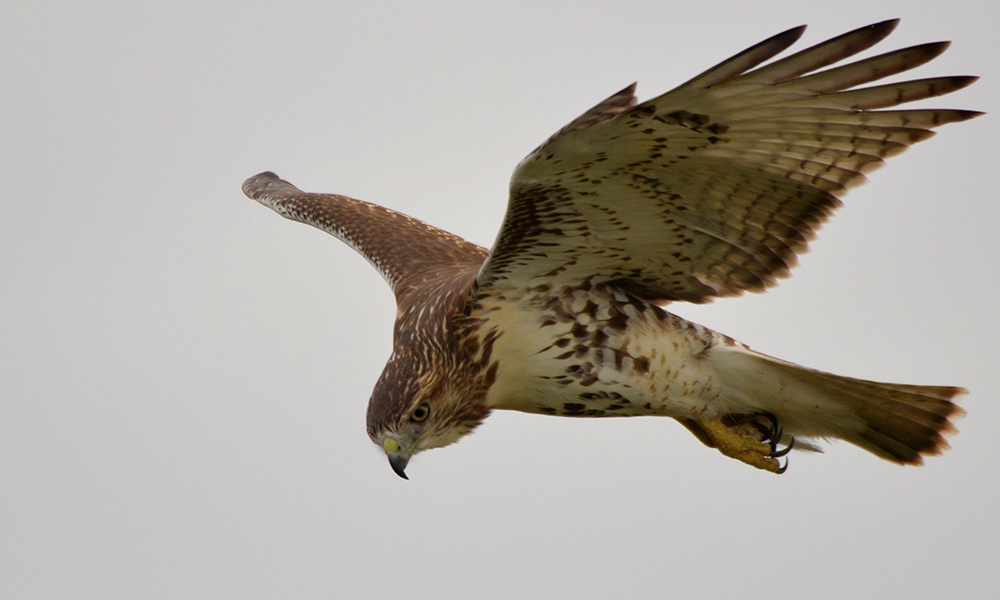 A red-tailed hawk scans the ground as he flies over the Greene Valley scenic overlook. Photo by Katherine Howard
What Brings Him Back Time and Time Again
I keep coming back to see what's new. As the seasons change, so do the birds. You never know what you might see. I used to walk my dog around Greene Valley Forest Preserve. We once saw a bobcat as we turned the corner on the trail. Another time I was watching a great horned owl perched low on a snag when a deer with a very large rack walked up right next to the owl. Of course, I did not have my camera.
Catching the Nature Bug
I was raised in what my grandfather called "the sticks," now known as Homer Glen in Will County. Growing up in the country, we were always trying to catch frogs, toads, crawfish, snakes, etc. We also spent a lot of time hunting, fishing, camping and boating.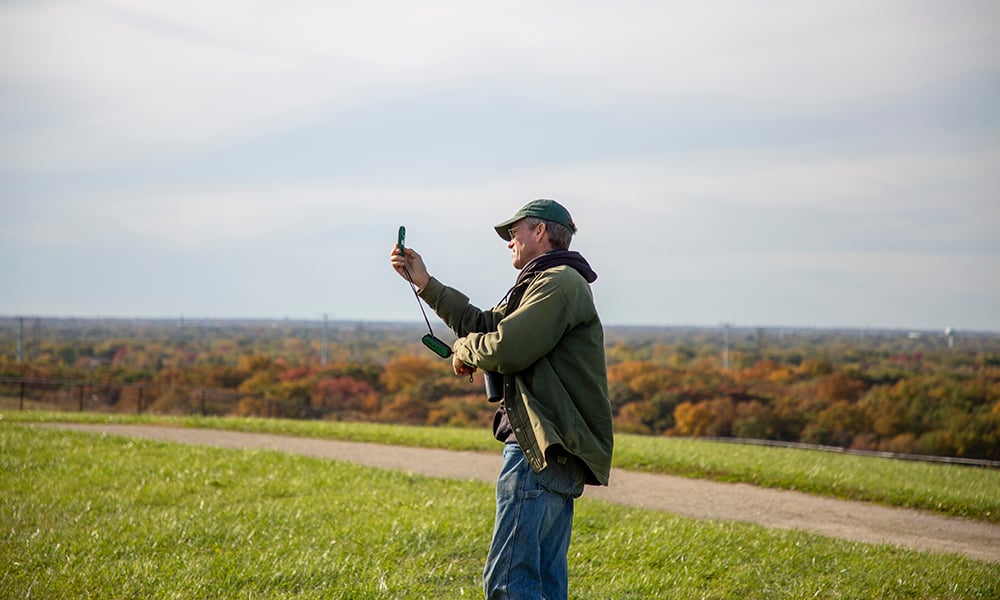 Smith measures the wind speed and direction while atop the Greene Valley scenic overlook.
Several years ago I worked across the street from Springbrook Prairie Forest Preserve in Naperville. I compiled a nice bird list over the years from birds that would cross the road from the prairie.
One January day I discovered a state-endangered barn owl roosting in our equipment shed. When it stuck around for several weeks, I built a nest box and hung it in the shed. The owl disappeared for several weeks but returned with a mate.
They successfully raised 5 young over the next 2 years. These were the first and only records of barn owls nesting in the county. Unfortunately, the male died during a long polar vortex and the female gave up on the site.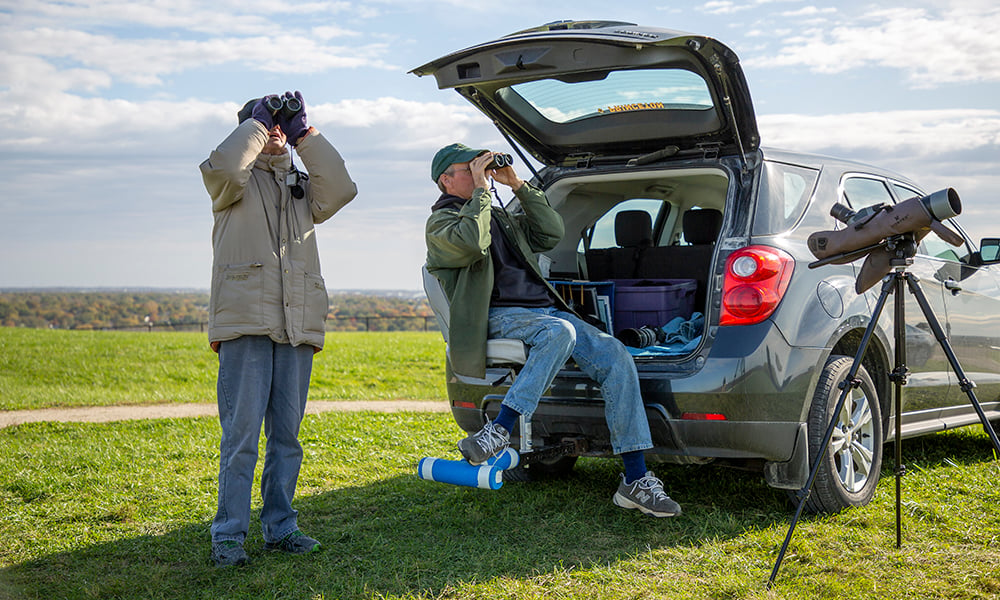 Smith sits atop a swivel seat from a fishing boat that he rigged to attach to the rear of his SUV to help him scan the skies for migrating hawks. With him is Bob Fisher, another Hawkwatch volunteer.
Favorite Thing to Do in the Preserves
Most everything I do these days involves birding. Sometimes I walk, other times ride my bike. But my favorite is just sitting atop the scenic overlook at Greene Valley during our hawkwatch season. On weekends I get to educate visitors about hawks and other birds while scanning the skies for raptors. Other times it's quiet except when gashawks (jets) fill the sky.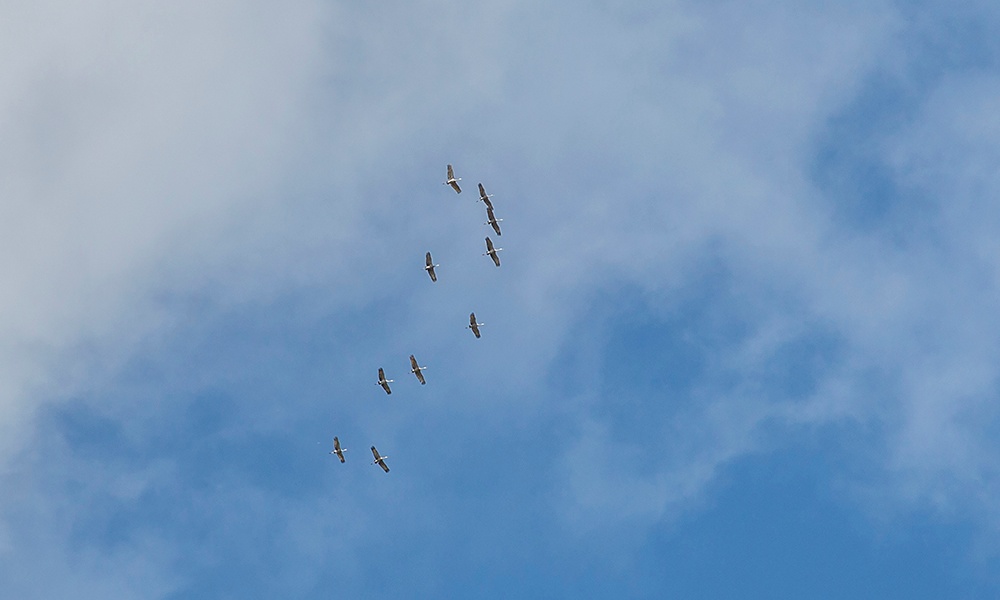 A flock of sandhill cranes head south over the scenic overlook.
How Nature Inspires
I don't know that I am inspired by nature but I am influenced. I have changed practices at work due to what nature has shown me. If a dead tree poses no danger, then I leave it stand for the woodpeckers and other birds to use. I try to use native plants wherever possible as research shows birds prefer landscapes with higher percentages of natives.
Advice to Others
Put down your phones, take the earbuds off and let all your senses take in what nature has to offer.
Those interested in becoming a member of the Greene Valley Hawkwatch group can contact District Stewardship Program Coordinator Cindy Hedges at 630-876-5929 or chedges@dupageforest.org.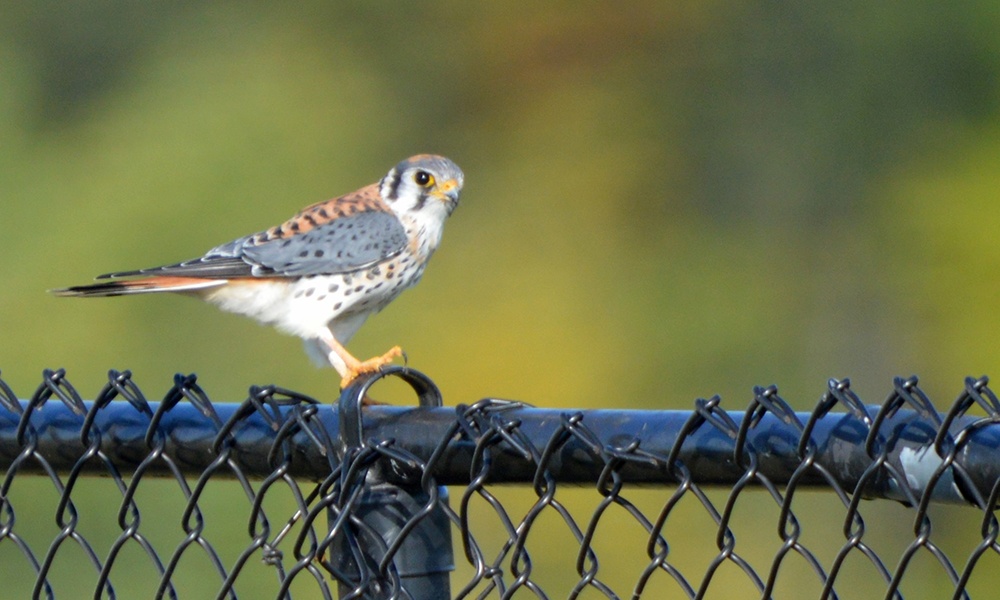 An American kestrel perches on the fence atop the Greene Valley scenic overlook. Photo by Katherine Howard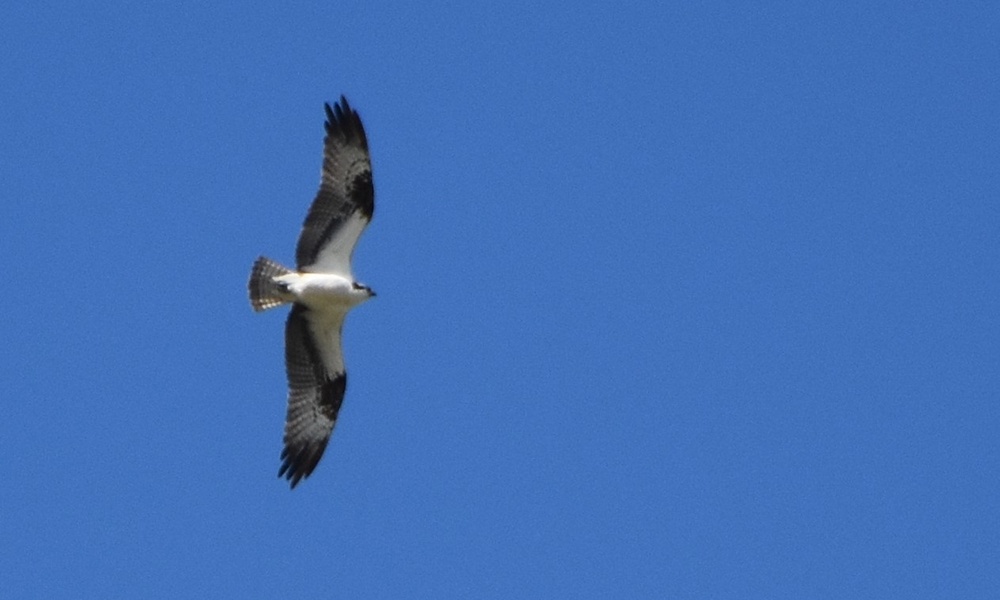 An osprey flies over the Greene Valley scenic overlook recently. Photo by Katherine Howard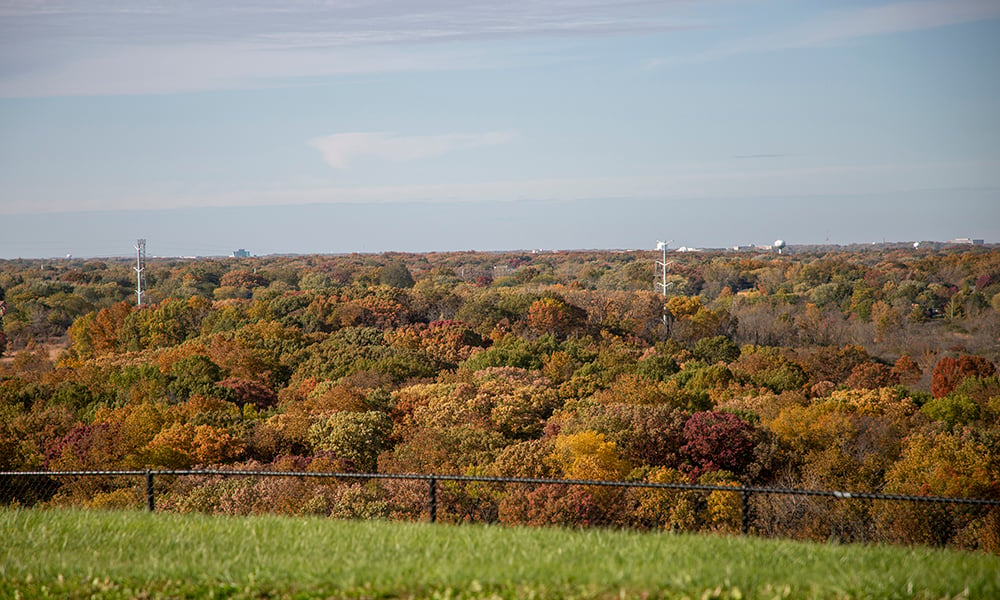 The view from atop the Greene Valley scenic overlook on a brisk fall day.
If you have a fun or unique way of catching nature in our preserves and would like to be featured in a "Catching Nature" blog, please contact Deb Humiston at dhumiston@dupageforest.org.