Their neighbors call them "the post office" because "neither snow nor rain nor heat" keep June Lincoln and her husband of 37 years, Chuck, from exercising in the DuPage forest preserves year-round. When it comes to appreciating and making good use of the natural areas that are quite literally in their backyard, they deliver!
Here's what June says about how she and Chuck connect to nature day after day.

Catching the Nature Bug
My husband and I have lived in the middle of the Timber Ridge Forest Preserve in West Chicago since 1982. Our backyard abuts the forest preserve, and we have always had our share of wildlife wander in and out of our yard from the woods.
Many years ago a fox and three kits played in the yard and were really fun to watch. Skunks are also interesting to watch — from a distance! Chuck often takes pictures of the wildlife. We both take notice of the owls and hawks that sail in and around our house.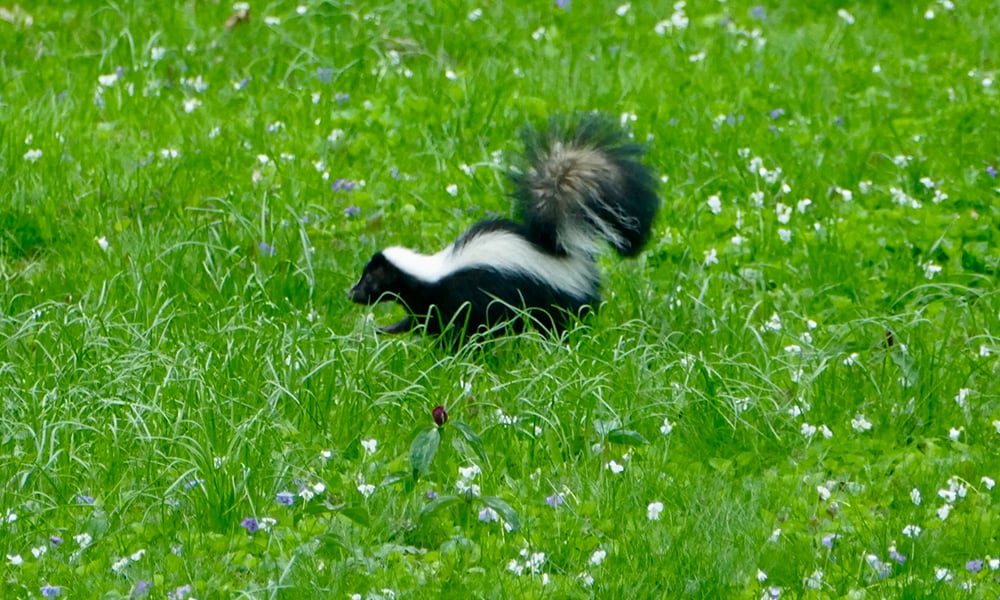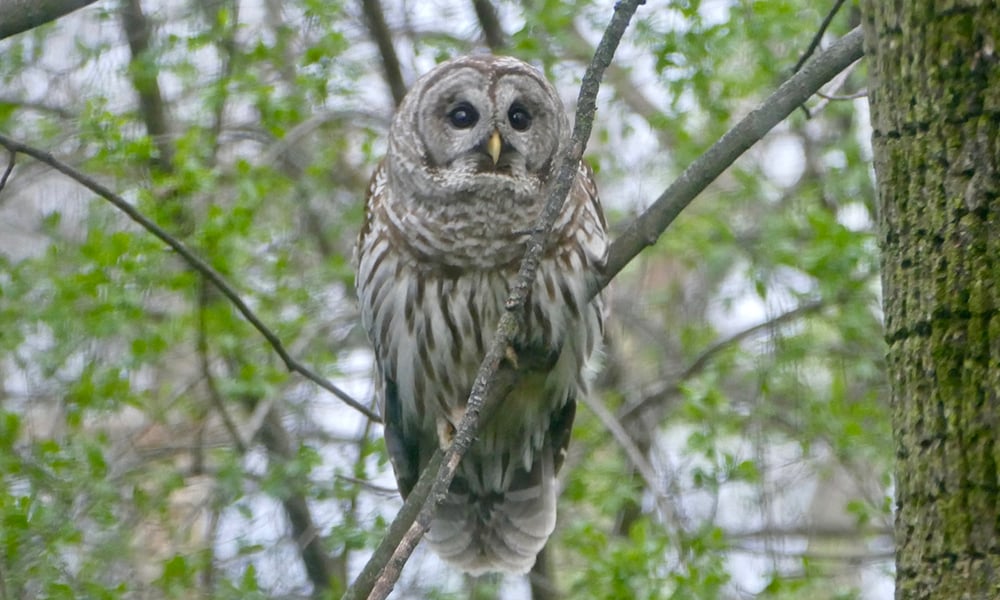 Chuck enjoys photographing the wildlife they encounter in their yard and on their forest preserve visits. Photos by Chuck Lincoln
Before we had children we became big fans of the Illinois Prairie Path, which is less than two blocks from our home. We're avid joggers (getting slower every year) and less avid bicyclists who appreciate the convenience of not having to transport our bikes anywhere in order to get on them and ride for miles. The Prairie Path, of course, travels through a lot of interesting forest preserve land.
When the kids were little, we took turns going out. Biking, hiking, jogging, walking, all these great forms of exercise are free in the forest preserves. And getting your heart rate up outdoors just seems so much healthier than doing it inside.
Favorite Experiences
Timber Lake at the corner of County Farm and Geneva roads — which has recently been cleared of invasive species — is a joy to pass on our jogging or biking route. This spring we were amazed by the white pelicans that laid over there for a week or so. It's not often that we Midwesterners get a chance to see coastal birds like that!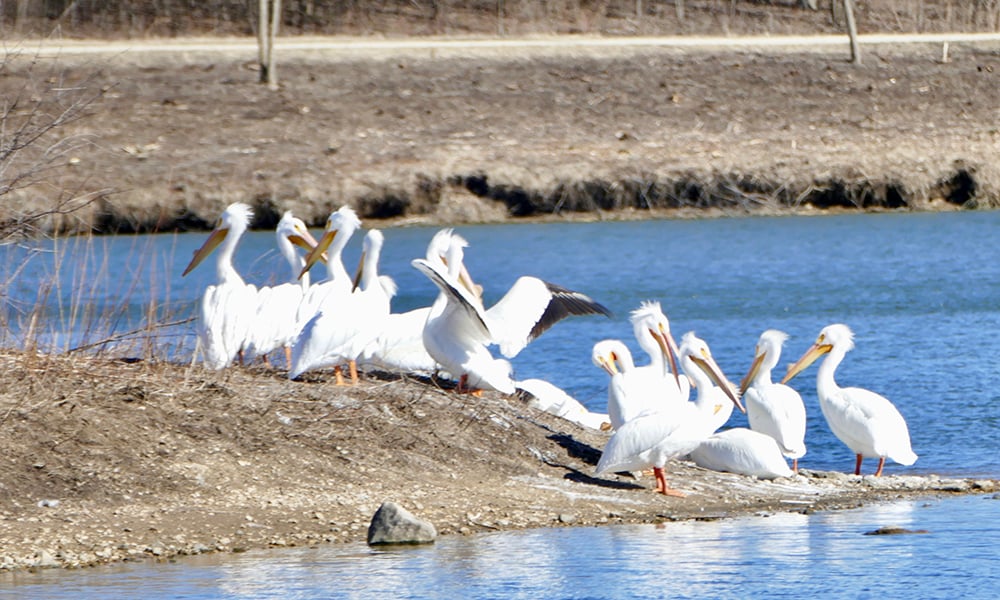 White pelicans that June and Chuck passed by at the newly cleared Timber Lake. Photo by Chuck Lincoln
We're also within walking distance of Kline Creek Farm in West Chicago, and our two children grew up during the development of the farm. Now our grandchildren love going there and interacting with the animals and learning from the blacksmiths and other volunteers. Of course, we learn along with them!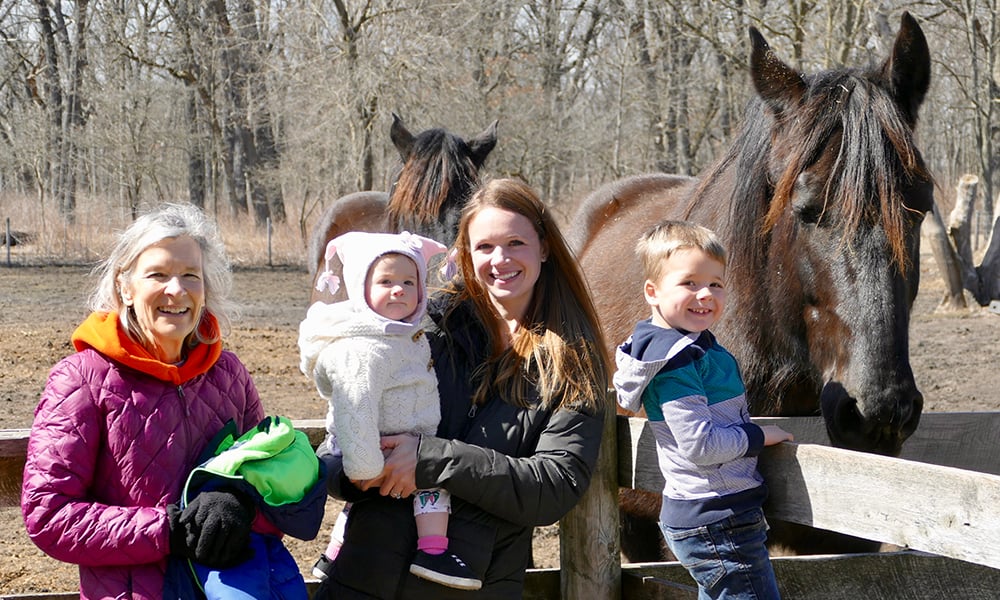 June and daughter Susan and grandchildren Evelyn and Gavin at Kline Creek Farm last spring. Photo by Chuck Lincoln.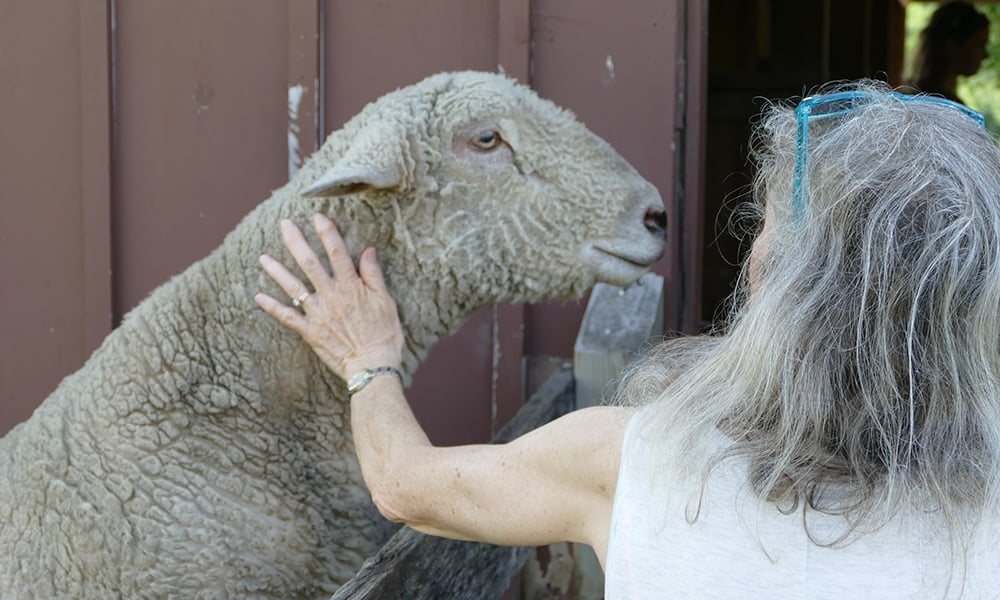 June pets an appreciate ewe at Kline Creek Farm during a visit. Photo by Chuck Lincoln
A few summers ago, I was hiking at Herrick Lake Forest Preserve in Wheaton with a friend and when we were about as far from the parking lot as you could get, we noticed a big storm brewing in the west. Being out on the flat prairie, we had a marvelous view of these storm clouds mounting and darkening. It was very dramatic. We got wet, for sure, but it was exciting and memorable!
Braving the Elements
Chuck and I run pretty much every single day, except when the grandkids are visiting and breakfast has to be on the table pretty early! Each of us urges the other to get out and hit the trail.
In the winter, zero degrees is our cutoff, though. We run just after we get up, and I think we retain a lot of heat from just being in bed. When it's really cold (and especially windy) we use scarves or neck gaiters to cover our faces so only our eyes are exposed. We're not trying to be fashionable when we run, so we just layer on the clothes needed to keep warm.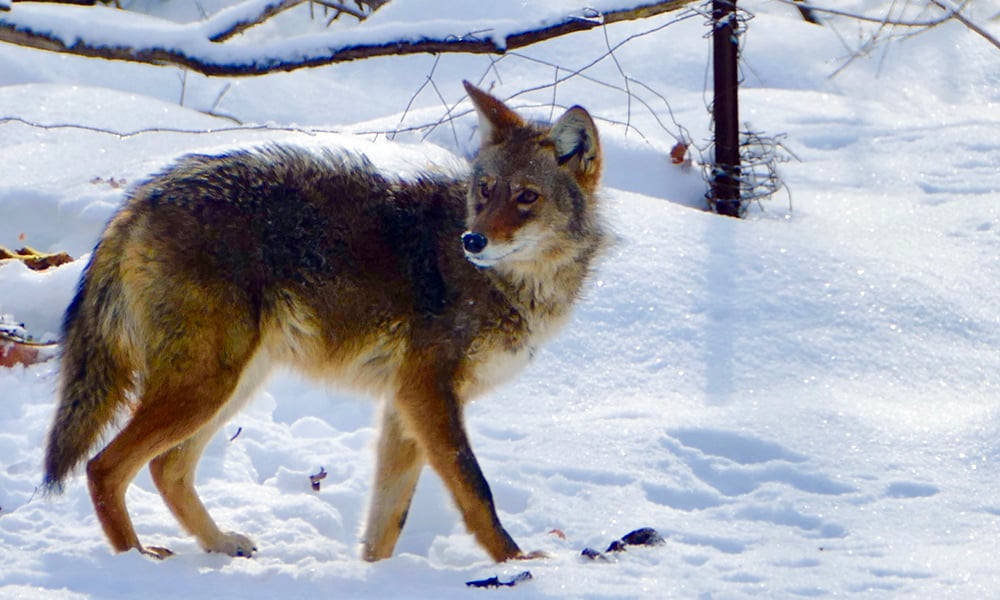 A coyote passing through the Lincoln's backyard adjacent to Timber Ridge Forest Preserve. Photo by Chuck Lincoln
When it's hot, we run early before the heat becomes a factor. By running as soon as we roll out of bed, we don't have a chance to think about whether what we're doing is ridiculous or not!
What Brings Them Back Time and Time Again
I know how important exercise is, and being able to do it in the outdoors makes it much easier to stay on a regimen.
There's that first "real" fall day, when it seems really crisp and fresh out, which is so nice. Then there's that first spring day, when you don't have to wear jackets and long pants. Those are probably my favorite times of the year.
Winters can seem long in Illinois. As a cross-country skier, I appreciate both the Prairie Path and the groomed trails in the DuPage forest preserves. Herrick Lake provides a particularly nice loop for skiing.
We are so fortunate to have access to forest preserves so close by. It keeps me sane!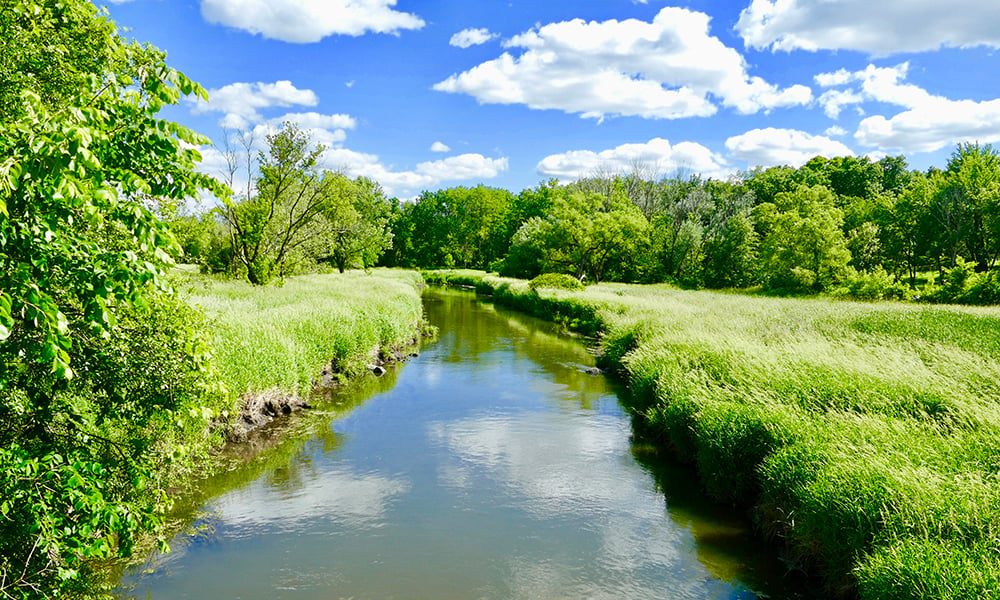 A view of the West Branch DuPage River in Timber Ridge Forest Preserve. Photo by Chuck Lincoln

If you have a fun or unique way of catching nature in our preserves and would like to be featured in a "Catching Nature" blog, please contact Deb Humiston at dhumiston@dupageforest.org.