Nature and the outdoors help Rick and Lisa Hootman keep mentally, physically and socially active. They like hiking, bicycling, cross-country skiing, reading and attending academic classes and lectures.
"Our interests are mostly related to the outdoors," they said. "We have great interest in topics on science, natural history, gardening, astronomy, and history in general, and these subjects often are the focus of our reading, classes, and explorations."
During the growing season, vegetable gardening and working in the yard take up a lot of their time. They also enjoy traveling whenever possible, oftentimes tent camping at national and state parks around the U.S.
"There's so much to explore in the U.S. so we don't often travel internationally, but we were able to visit England, Scotland, and Iceland in recent years, which have amazing national parks, trails, and natural history to discover," they said.
Lisa is a biology and environmental science teacher at Westmont High School. Rick is retired from The Morton Arboretum, where he spent his early career in research and later in the Arboretum's administration.
They both grew up in the Chicago area and now live in Warrenville. They have two grown children: a son who is a technical sergeant in the U.S. Air Force in northern California, and a daughter who works for a consulting firm in Wisconsin doing historic preservation surveys and research.
Here's their story.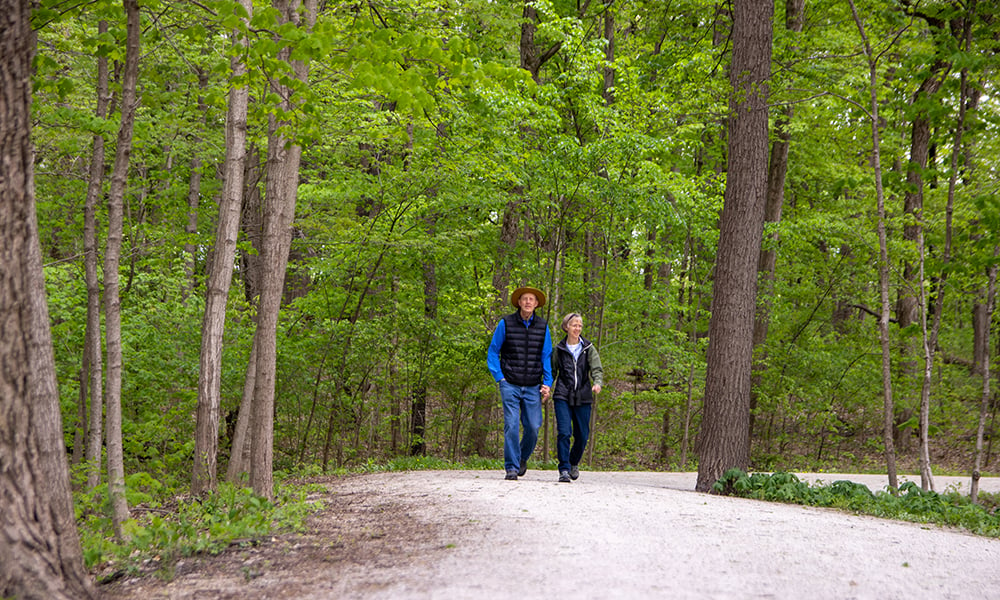 Rick and Lisa Hootman enjoy hiking at Warrenville Grove Forest Preserve in Warrenville.
Catching the Nature Bug
Rick's family didn't travel a lot when he was growing up, but every two or three years they took wonderful cross-country trips, mostly west. Stopping at places like Yellowstone, the Redwoods, Mt. Rainier, the Rocky Mountains, and the Mojave Desert at 112 degrees, as well as seeing the clear night skies in Kansas away from light pollution generated a sense of awe.
Lisa also didn't travel much growing up, but she spent many childhood growing seasons helping her mom in their vegetable and wildflower gardens, learning about growing plants and identifying bird songs.
"We've tried to instill in our kids an appreciation for nature through travel, hikes, and exploration, and Lisa uses her classroom to emphasize with her students the importance and value of the natural world."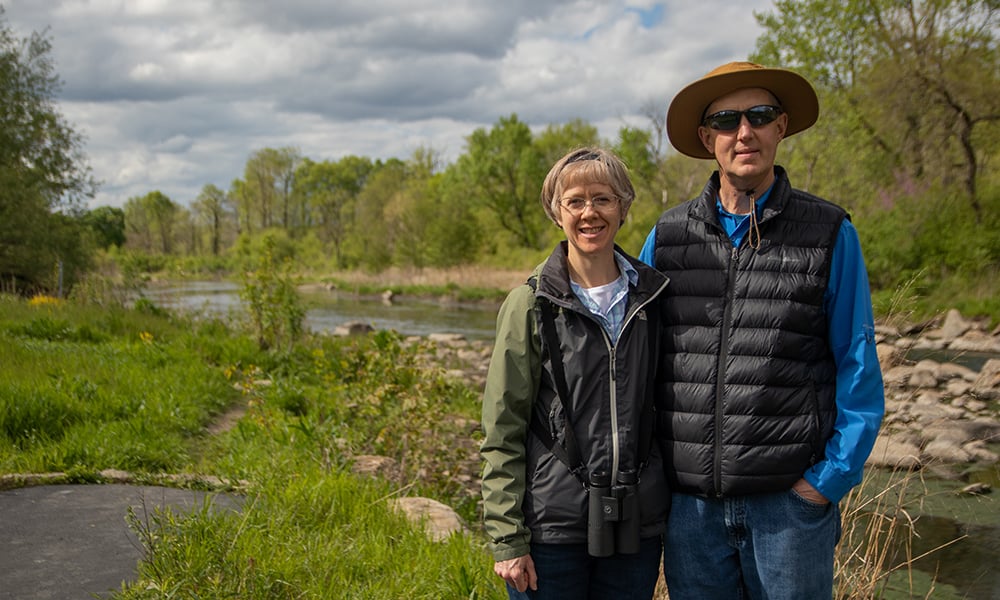 Lisa and Rick Hootman pause in front of the West Branch DuPage River at Warrenville Grove Forest Preserve.
Discovering DuPage Forest Preserves
We've always taken advantage of the forest preserves — and the Arboretum, of course — as places to relax, hike, watch for wildlife, and look at trees, wildflowers, and other plants. But when we moved to Warrenville in 2001, several of the preserves became much easier for us to access because of their close proximity to home. We are literally bounded by Warrenville Grove, Blackwell, Herrick Lake, St. James Farm, and McDowell Grove forest preserves, all within walking distance or a short bike ride.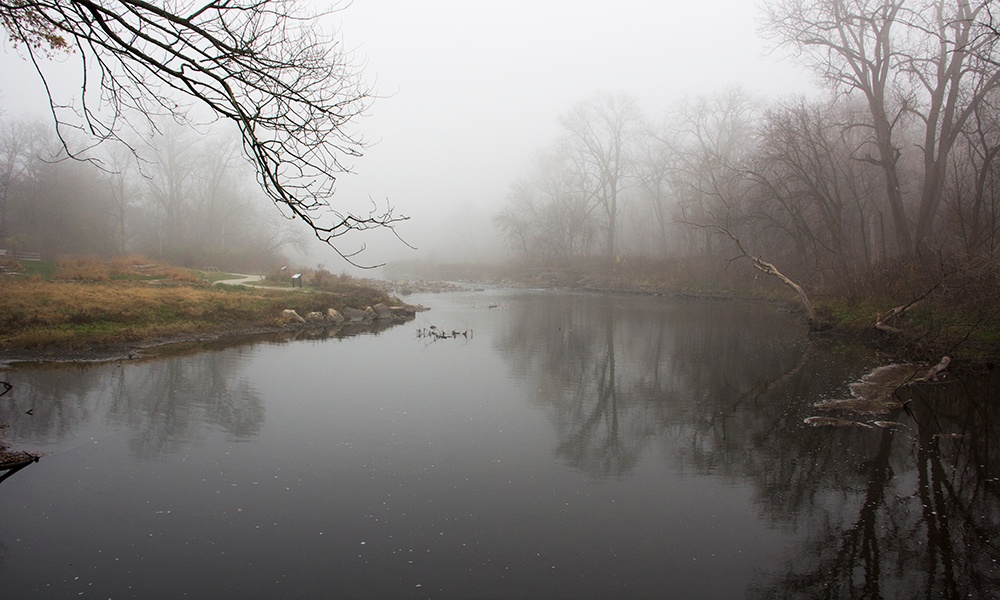 A foggy scene along the West Branch DuPage River at Warrenville Grove Forest Preserve.
Favorite Preserve and Time to Visit
For us, every season offers interest in the preserves. Other than lightning, weather doesn't deter us from the outdoors. We just dress accordingly. We appreciate the spring wildflowers, summer trees and prairie plants in full grandeur, fall colors, and the peace and solitude of a cold winter hike. Each preserve has nice trails and facilities as well as interesting aspects of natural history and regional and U.S. history.
Our favorite sites are mainly the preserves nearest us. Warrenville Grove is an interesting little preserve with mature oaks, wildflowers, and the West Branch DuPage River running through it. A tributary stream to the river provides a wonderful display of skunk cabbage in the spring, and interpretive panels share information about remnants of a 19th-century grist mill on the river. The McKee Marsh section of Blackwell is a nice waterfowl birding spot and a favorite place for cross-country skiing, and the top of Mt. Hoy in Blackwell offers great long-distance views.
St. James Farm has been an interesting addition to the preserve system, and staff have done great work there restoring native landscapes and adding new trails. (We hope that the south section of St. James Farm will soon be developed with trails!). Historic buildings from the Brooks McCormick era and prior add an intriguing element.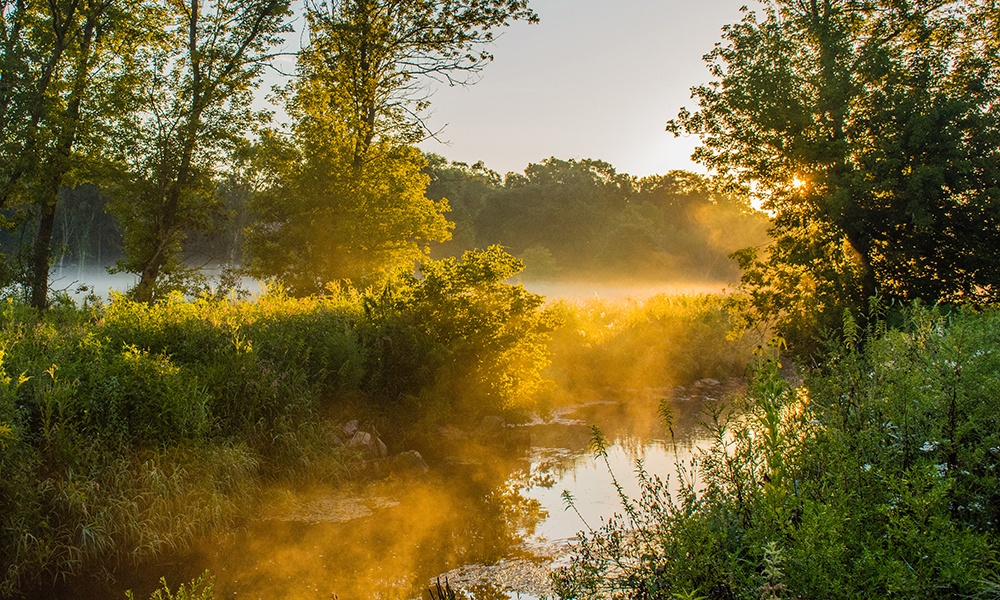 A foggy morning scene at St. James Farm Forest Preserve.
What Brings Them Back Time and Time Again
The trails and facilities are well maintained, and quick access to the preserves from our house makes them especially inviting. We appreciate the diversity of the ecosystems within the preserves, especially as the staff have incorporated burning and other management techniques to improve the diversity of native plants, birds, mammals, insects, and other wildlife.
Within each preserve near us, as well as others, there are large, old oaks and walnuts, many that are pre-settlement in age. They're inspiring. Each preserve also has historic elements that are fun to explore. What also is key to visiting often are the physical health benefits of hiking, biking, skiing, and fresh air, and the emotional benefits of the outdoors.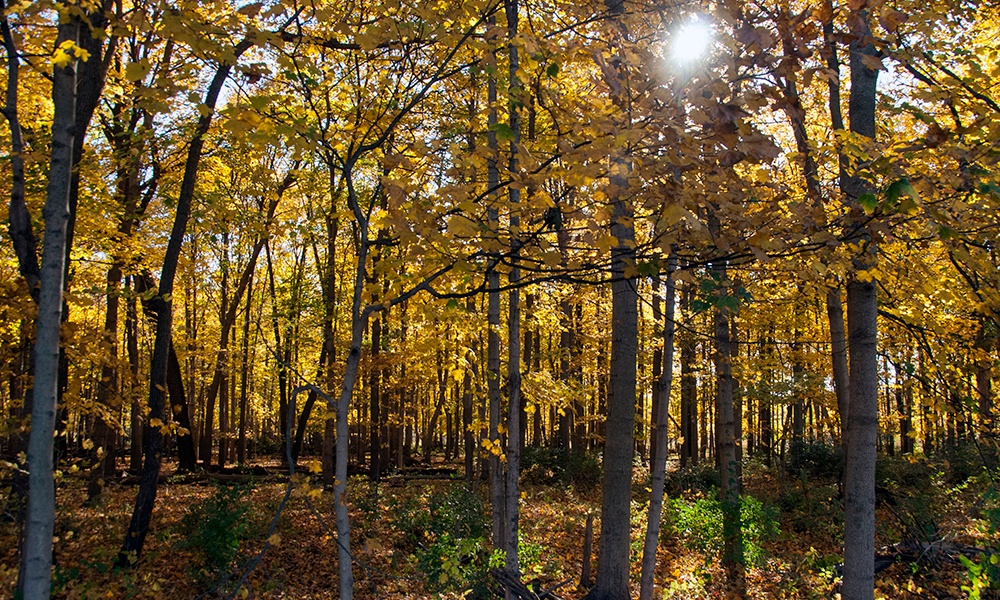 Fall colors on full display at McDowell Grove Forest Preserve in Naperville.
Favorite Thing to Do in the Preserves
It depends on the season and where we go. We spend most of our time hiking for the exercise, but we also bike and ski. Birdwatching and identifying trees, wildflowers, and other plants are always favorite pastimes on our visits. That said, we've also taken advantage of canoe rentals at Herrick Lake and Blackwell as well as winter tubing at Blackwell.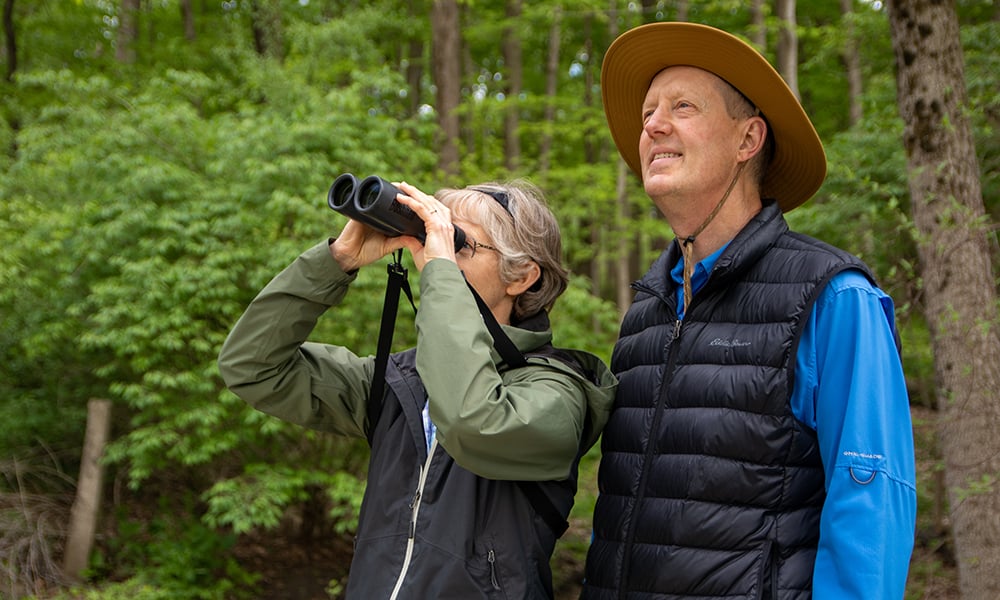 Nature's Lesson and How Nature Inspires
Natural ecosystems are easily damaged by human activity. And when we disrupt the balance of those systems, nature cannot easily sustain itself. Air, water, and soil become polluted and less functional. Subsequently, we lose plant and animal diversity, which may never return. In turn, humans suffer physically and emotionally because of the lost benefits of diverse, healthy outdoor environments. Taking care of nature is one of the best ways to take care of people.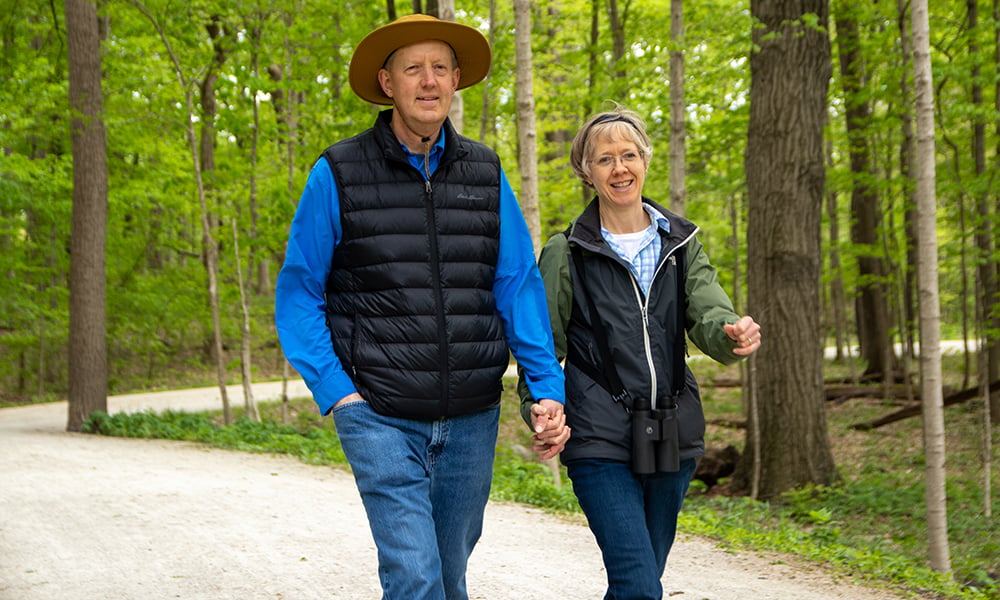 Favorite Nature Quote
There are a few we like.
"What's the use of a house if you haven't got a tolerable planet to put it on?" and "Simplify. Simplify."
~ Henry David Thoreau
We need to take care of the planet if we expect to have healthy places to live in the future and diverse, sustainable natural surroundings. It is so easy to clutter and complicate our lives with "stuff." Simplifying our lives relieves emotional and financial stresses while helping to sustain the natural environment. We appreciate the complexity but simplicity of the natural world.
"Plant trees."
~ J. Sterling Morton
Trees are essential to our lives. Among the benefits are a calming, aesthetically pleasing environment; improved air quality; shade for cooling; leaves to muffle sounds in noisy urban areas; and of course for edible fruits and nuts.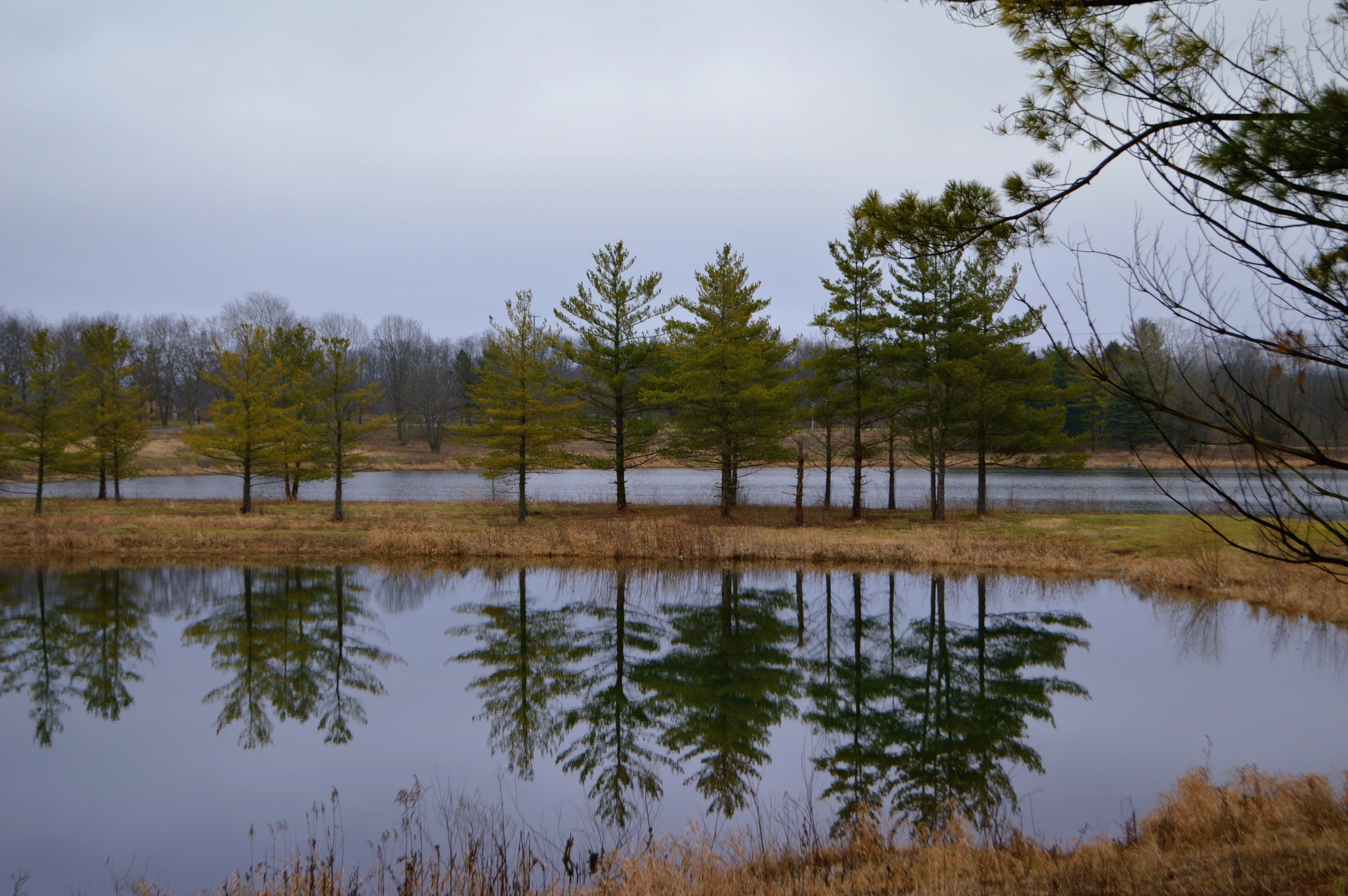 How Nature Inspires
If you take the time to learn how plants and animals have evolved to survive, either independently or by being dependent on each other, you can't help but be amazed. When you see the perfection of a bee's honeycomb, the tranquility of a flowing stream, the tenacity of spring ephemerals sprouting from frozen soil, or the grandeur of a white oak that's well over 200 years old, how can a person not be inspired?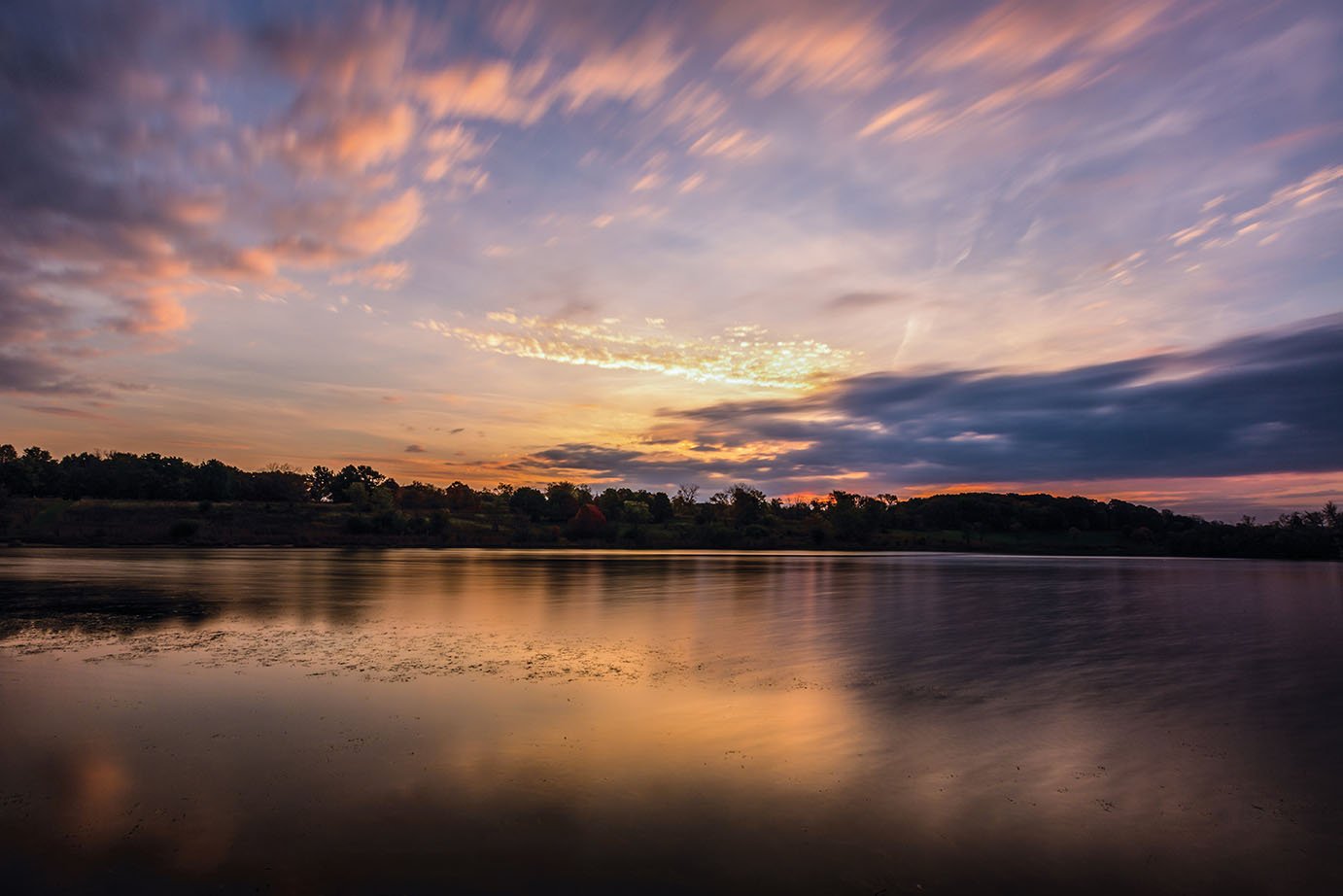 The sunset over Silver Lake at Blackwell Forest Preserve in Warrenville.
Advice to Others
Become curious; figure out what you like about being outside and learn what to look for and when. Listen to the sounds of nature and find out what they mean. Consider leaving your headphones at home so you can connect fully to the natural world around you. Let go of the distractions of everyday life and embrace the peace and calm that the preserves have to offer. Look and listen and learn.
Although we live in an urban area, the forest preserves and The Morton Arboretum provide tremendous outdoor resources for learning about the natural environment. We are very lucky that way. Try to get off the beaten path. Often the best and most revealing aspects of the natural environment are found away from the main trails and pathways.
Lisa and Rick Hootman on the bridge at Warrenville Grove Forest Preserve in Warrenville. It's one of their favorite spots.
If you have a fun or unique way of catching nature in our preserves and would like to be featured in a "Catching Nature" blog, please contact Deb Humiston at dhumiston@dupageforest.org.