Nancy Allured has been a DuPage Forest Preserve District volunteer since 2003, first at the native plant nursery at Blackwell Forest Preserve, then bird monitoring at Timber Ridge and then at West Chicago Prairie. She also reports bird data for several other preserves, including Greene Valley Forest Preserve, where she helps migrating hawks in the fall as part of the Hawkwatch program on the scenic overlook.
Before she retired from sales and marketing in the publishing industry, she spent her career indoors or traveling to hotels and client meetings. When she retired, she vowed she would spend the rest of her time outdoors. She and her husband live along the Illinois Prairie Path, so it's easy to jump right on to get to any number of area preserves.
Here's her story.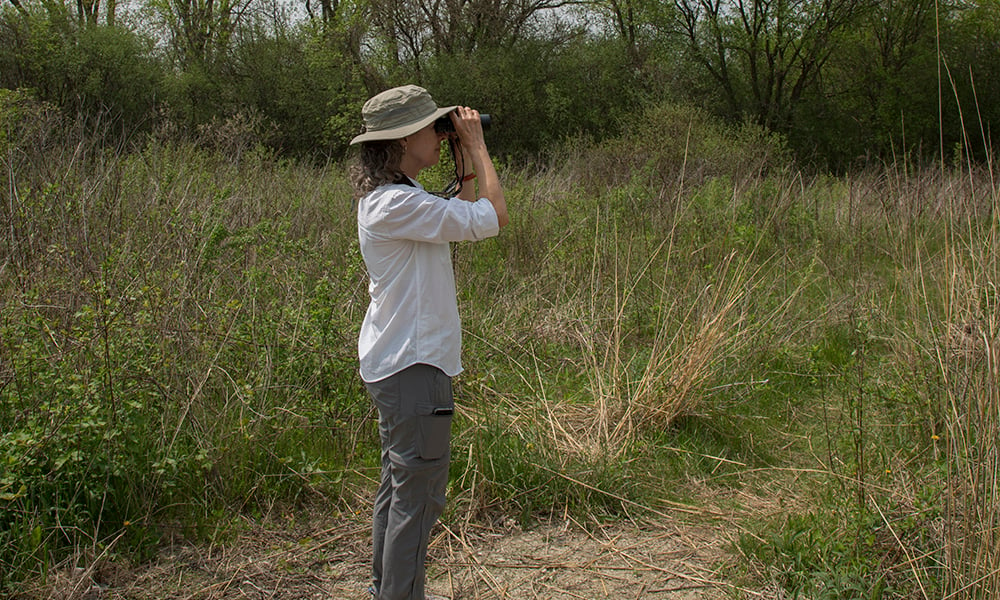 Catching the Nature Bug
I grew up in DuPage County, spending most of my childhood outdoors. As kids, my father took us hiking, swimming, skating, canoeing, and tent camping as often as possible. And my friends and I always spent time in the neighborhood fields, parks, and forest preserves.
But one of my favorite trees was right in my own back yard – the cottonwoods. I love the rustling of the leaves on a windy day and the cotton floating down from the tall trees in summer. I never minded all the raking we had to do in the fall.
While visiting my grandfather in Indianapolis I learned about birds and his fascination watching birds in his urban yard. He piqued my interest in birding early on. However, I never realized how much I would fall in love with birds and birding year-round.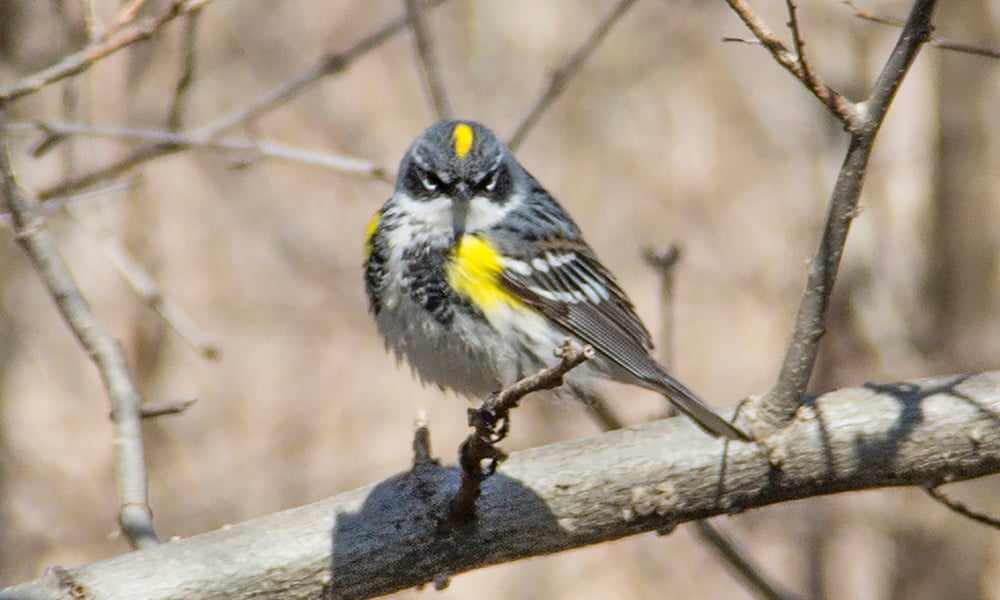 Discovering DuPage Forest Preserves
My family used the forest preserves for family outings when I was quite young. The only specific visit I can still picture — probably because it was so different — was an early morning breakfast at Herrick Lake Forest Preserve in Wheaton. This probably happened in early 1960s. My mother cooked up a large pot of hot oatmeal and bundled us all up for breakfast in the forest preserve.
I can still picture all 7 of us sitting at a picnic table under the big trees enjoying our bowls of oatmeal. It's pretty hard to imagine doing this myself, but that fit my father's idea of fun! My mom was a good sport.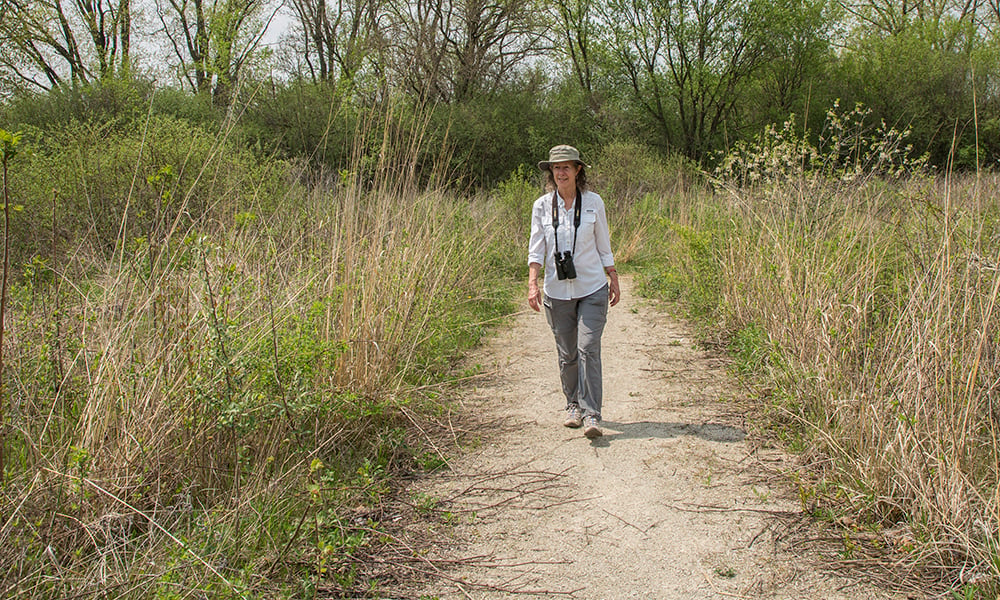 Nancy Allured walks at her favorite DuPage forest preserve, West Chicago Prairie.
Favorite Preserve and Time to Visit
Picking one preserve as a favorite is impossible. I love so many, and I live within walking distance of a few of them.
I love Timber Ridge Forest Preserve in West Chicago for the variety of habitats and therefore the variety of birds seen and heard there. Danada Forest Preserve in Wheaton is great for birding grasslands, lake, marsh, woods, and pastures. Herrick Lake Forest Preserve in Wheaton is my go-to for a nice bike ride or in winter, cross country skiing. The trails are extensive. St James Farm Forest Preserve in Warrenville is great for birding but also is so close to home that it is my go-to for a long walk all year-round. I use all the preserves year-round.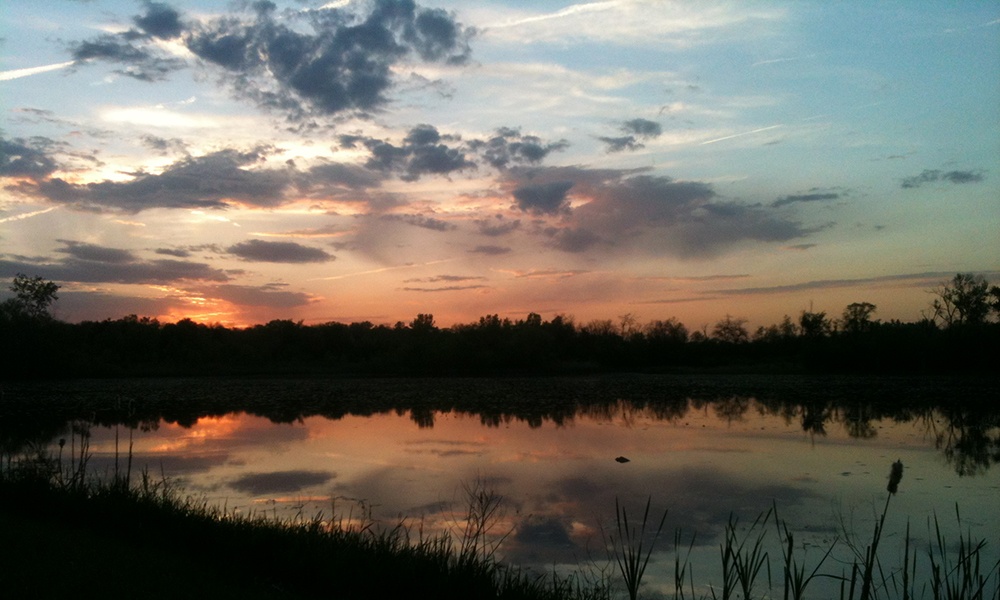 Sunset at Timber Ridge Forest Preserve in West Chicago.
And my favorite volunteer spot is West Chicago Prairie in West Chicago. I first discovered this site when the steward was looking for prairie restoration volunteers about 20 years ago. I loved going out and learning about the beautiful native grasses and native flowers there and helping to continue the work of the visionaries who worked there long before that. I am currently the bird monitor at West Chicago Prairie, and I love being there. It is the most peaceful of my favorites.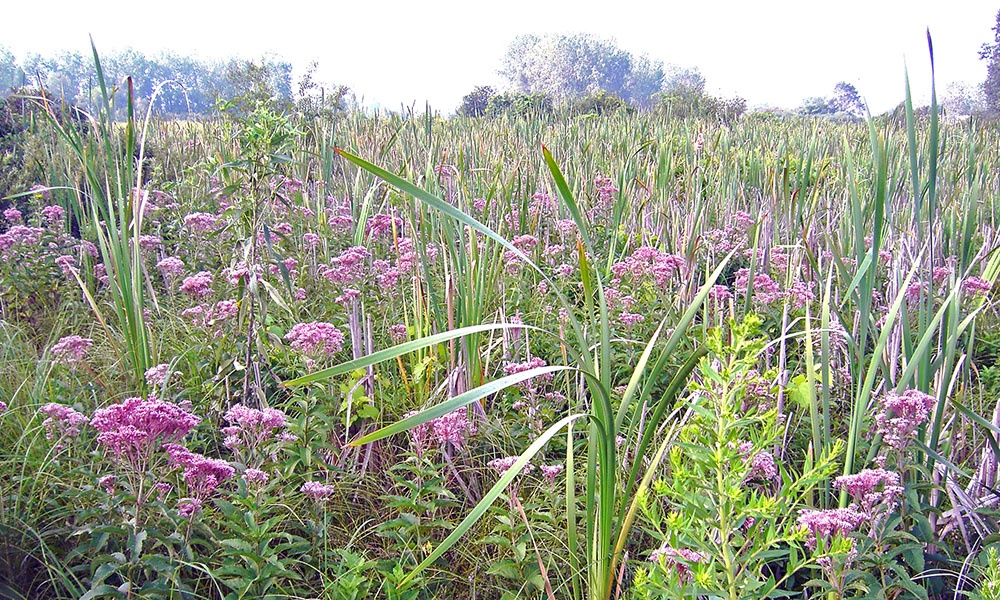 West Chicago Prairie in West Chicago.
What Brings Her Back Time and Time Again
I use the DuPage forest preserves for the sights and sounds of nature. The trees might creak on a windy day, the leaves might rattle, and the birds are always singing. Even the squirrels make their variety of noises. I always see something new when I stop, listen, and just watch. The preserves inspire me, bring me joy and calm my busy mind.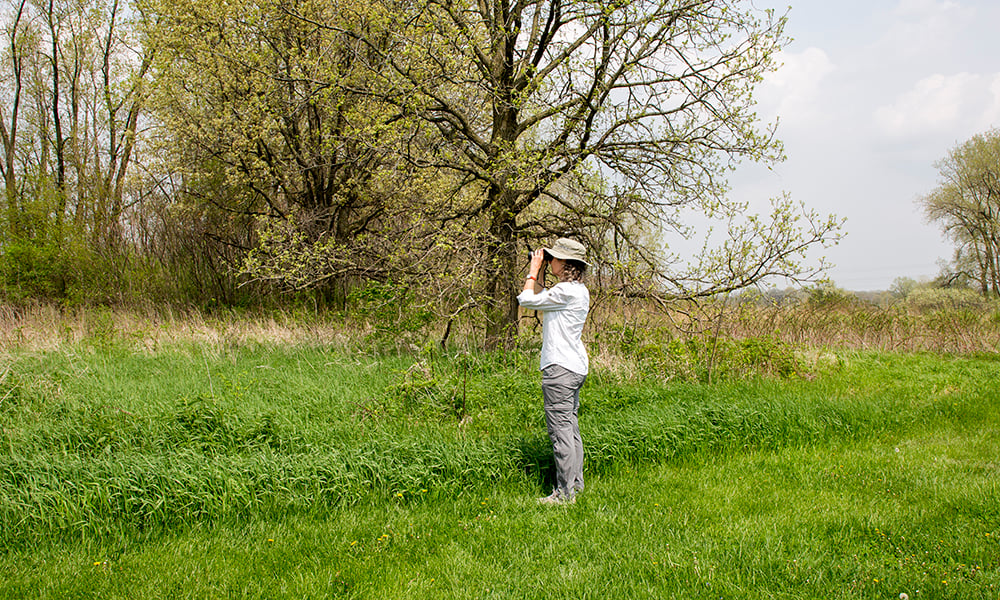 Allured bird watches at West Chicago Prairie.
Favorite Thing to Do in the Preserves
I walk in the preserves year-round. I bike most of the year until there is snow on the trails. Then I switch to snowshoes if it's very deep or cross-country skiing on the groomed trails. Winter is the most peaceful time of the year to use the preserves.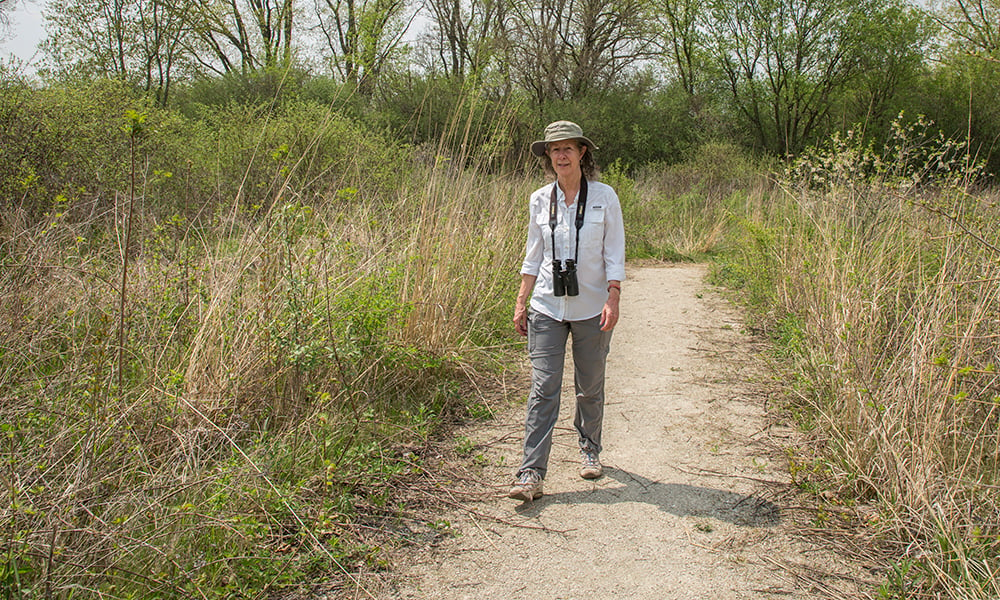 Nature's Lesson
The most important lesson from nature is how important it is for our health and wellbeing. Green spaces give us calm spaces to think and breathe fresh air and enjoy open skies. It restores my energy and helps keep me fit and healthy. I think it does that for all of us.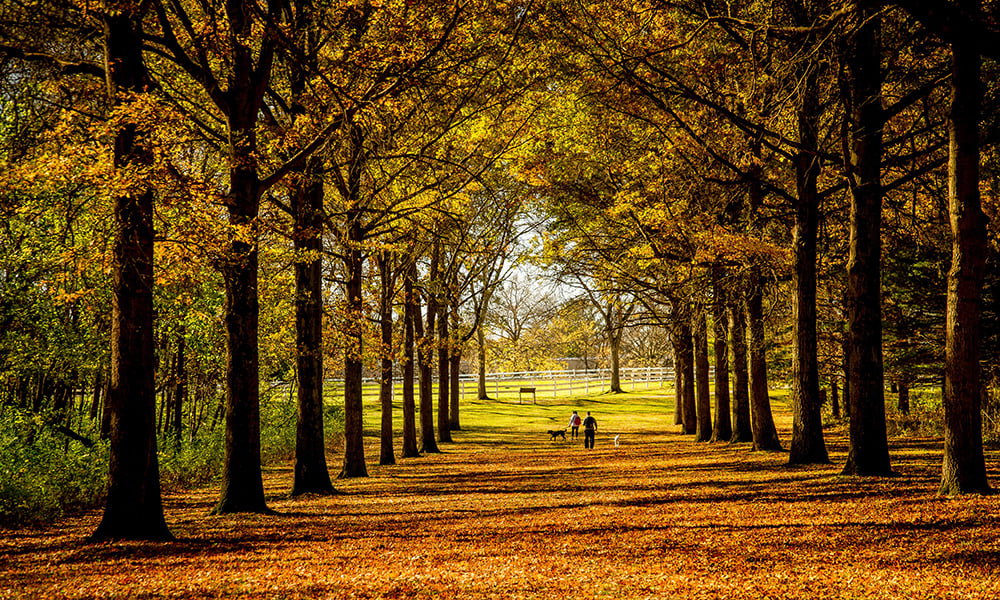 A fall view of an allee at St. James Farm in Winfield.
Advice to Others
If you're new to visiting the preserves, try visiting early in the morning when you'll see more wildlife and have the trails to yourself. This is when the sights and sounds are most obvious. It is also when the sun creates great shadows, the grasses might have drops of dew on them, the birds are singing, and you can just soak it in.
How Nature Inspires
So much in the forest preserves inspires me — to be in the woods is to have a full sensory experience. I enjoy being surrounded by the sounds of birds, and frogs, along with the smell of the earth. I study the shapes of things — leaves, insects, fungus — and enjoy how they fit together physically and the color spectrum of the forest floor.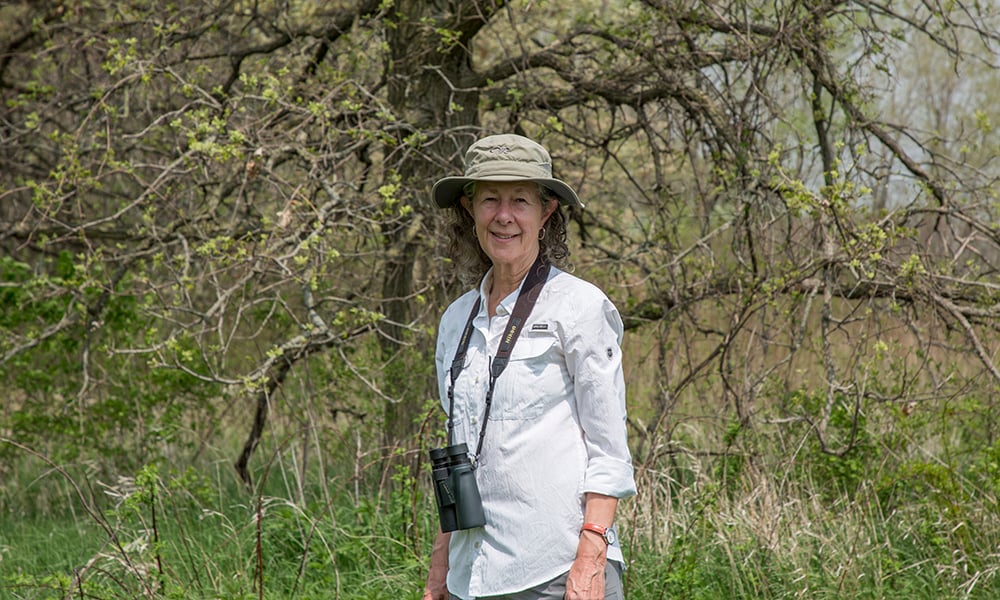 If you have a fun or unique way of catching nature in our preserves and would like to be featured in a "Catching Nature" blog, please contact Deb Humiston at dhumiston@dupageforest.org.