They argue with each other, have spirited debates and freeze their tails off, but they keep coming back for more.
They're the local Hawkwatch group that meets daily atop Greene Valley Forest Preserve's scenic overlook from Sept. 1 through Nov. 30, diligently scouring the skies with binoculars and scopes in search of migrating hawks.
Now in its 13th year, members count the number of hawks by species as they head south over the 190-foot overlook. They submit their findings to the Hawk Migration Association of North America as one of more than 300 affiliated raptor monitoring sites throughout the United States, Canada and Mexico. Data collected from the sites helps track long-term population trends of these raptors.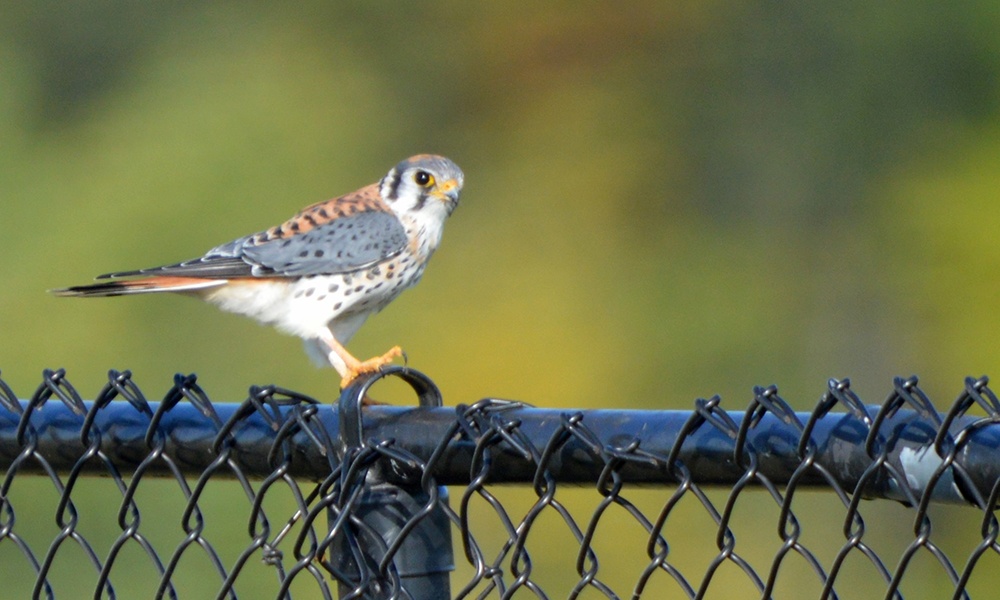 An American kestrel perches on the fence atop the Greene Valley scenic overlook. (Photo by Katherine Howard)
"From a scientific standpoint, it provides information on population changes," said Bob Fisher, a member of the DuPage Birding Club and Downers Grove resident. "For example, we've seen a noted increase in the number of bald eagles. Ospreys have also increased. American kestrels are declining."
Most are members of the DuPage Birding Club and the District's volunteer bird monitoring program.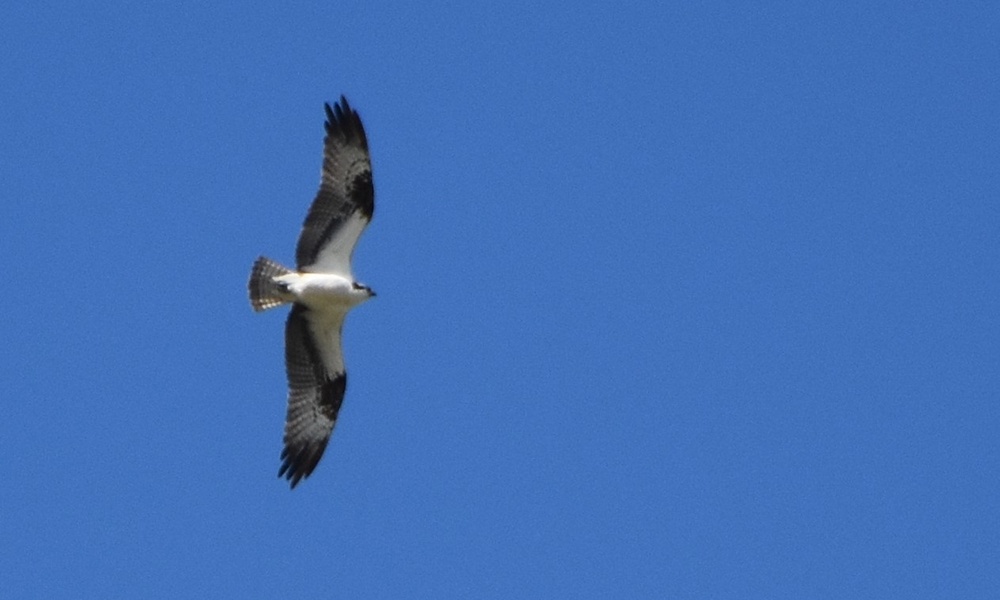 An osprey flies over the Greene Valley scenic overlook recently. (Photo by Katherine Howard)
They look for approximately 15 different species of raptors, including turkey vulture, osprey, bald eagle, northern harrier, sharp-shinned hawk, Cooper's hawk, northern goshawk, red-shouldered hawk, broad-winged hawk, red-tailed hawk, rough-legged hawk, golden eagle, American kestrel, merlin and peregrine falcon.
They also see many other migrants, including monarch butterflies, dragonflies and sandhill cranes.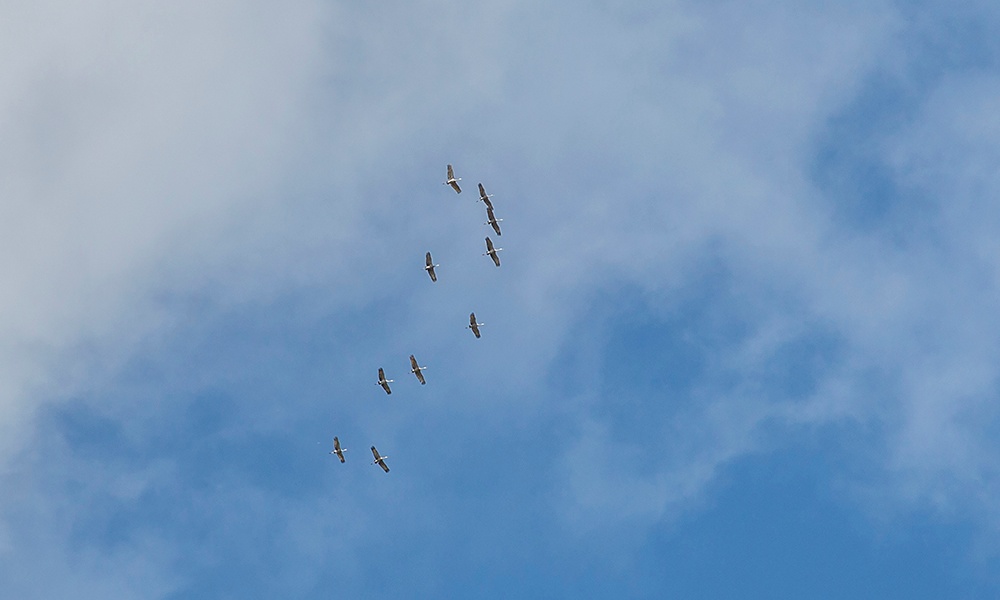 A flock of sandhill cranes head south over the scenic overlook recently.
As of Oct. 24, so far this season they've counted 890 turkey vultures, 423 broad-winged hawks, 314 sharp-shinned hawks, 235 red-tailed hawks, 68 ospreys, 62 bald eagles, 60 Cooper's hawks, 46 peregrine falcons, 40 merlins, 37 northern harriers, 12 American kestrels, 9 red-shouldered hawks and 1 rough-legged hawk.
"Virtually every broad-winged hawk leaves North America in the fall and winters in Central and South America," Fisher said. "Other migrants don't necessarily leave North America. The Harlan's hawk (a subspecies of red-tailed hawk) comes from northwest Manitoba! A lot of birds might migrate here in the winter."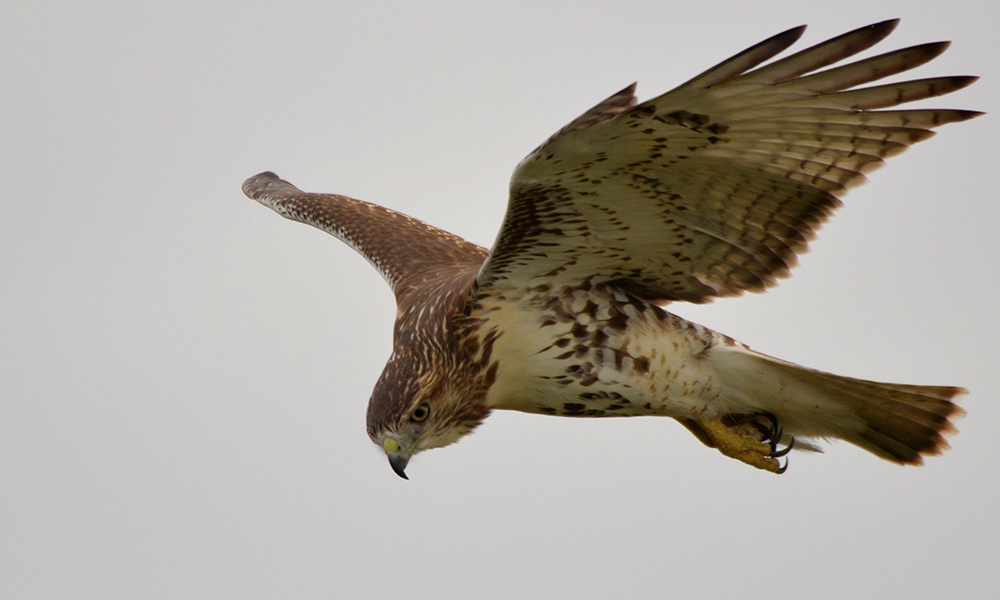 A red-tailed hawk scans the ground as he flies over the Greene Valley scenic overlook. (Photo by Katherine Howard)
They also have to determine from a bird's behavior whether it is indeed migrating or just flying around in search of a meal. The best days for spotting migrating birds are when the wind is out of the northwest and it's partly cloudy, Fisher said. Days with clear blue skies — called blue domes — are not the best for the Hawkwatch group.
"My wife Karen and I come out here almost every day unless it's raining or there's a heavy fog; it's a joint passion with us and an increasing number of our birding friends," Fisher said.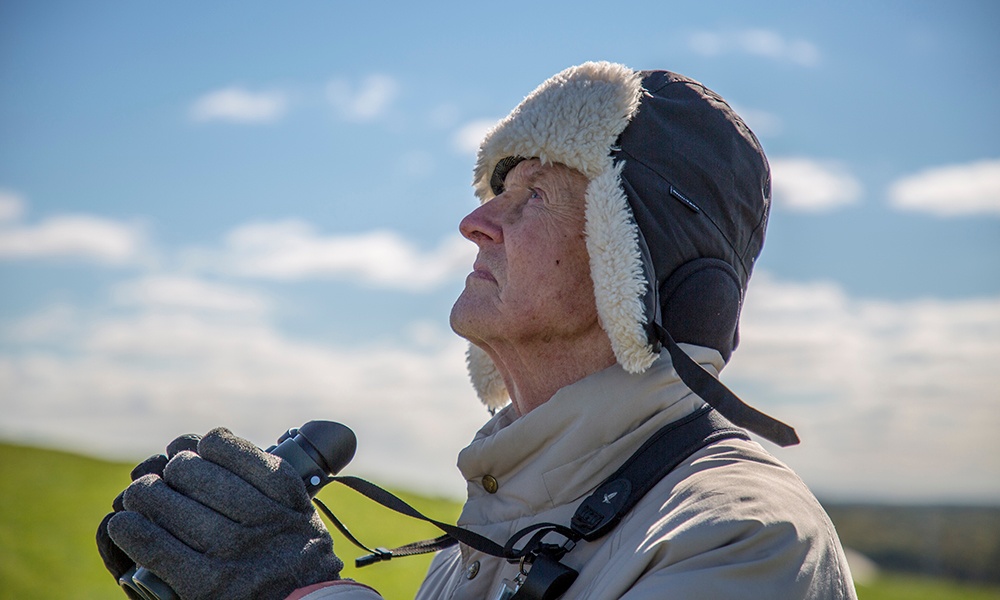 Bob Fisher scours the skies atop the Greene Valley scenic overlook in search of hawks.
Covered in blankets, warm winter coats, snow pants, trapper hats with earflaps, scarves and warm gloves and mittens, they catch up on each other's lives and swap stories all the while with their eyes to the skies. They've come up with colorful nicknames for area landmarks like "twin towers," "Woodridge on legs," "the Hyatt" and the "N building," which they use to help each other locate birds overhead.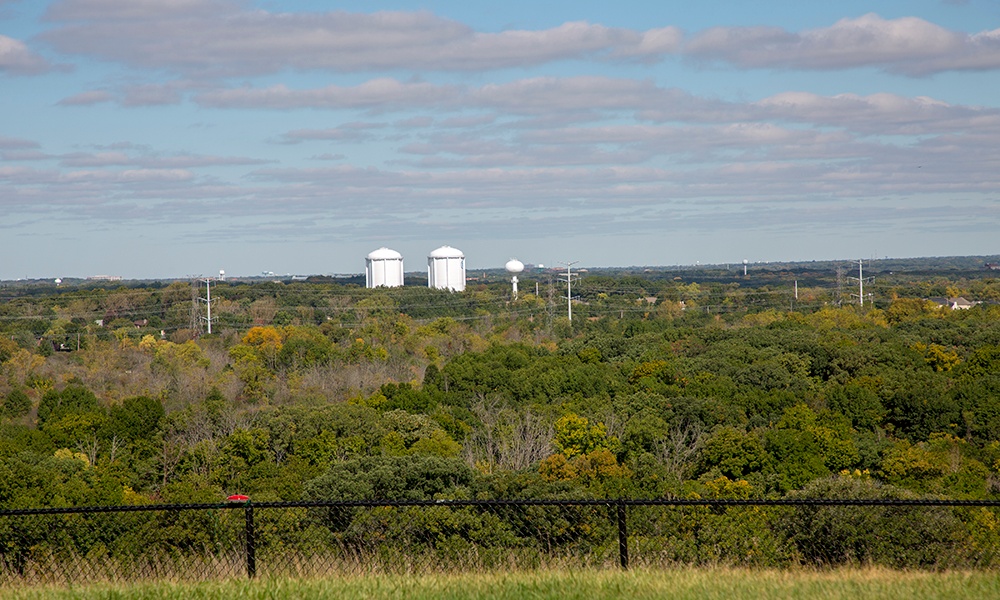 The so-called "twin towers" as viewed from atop the Greeene Valley scenic overlook.
"On slow days we sit up here and talk. We solve all of the world's problems," Fisher said. "You get hooked on it. It sort of gets in your blood. It's very peaceful up here. We get away from all the stuff that goes on 200 feet below."
Vicky Sroczynski of Darien, who is also a volunteer bird monitor with the District, comes out four or five days a week. "I've been doing it for 12 years and I love it. It's peaceful and it gets under your skin."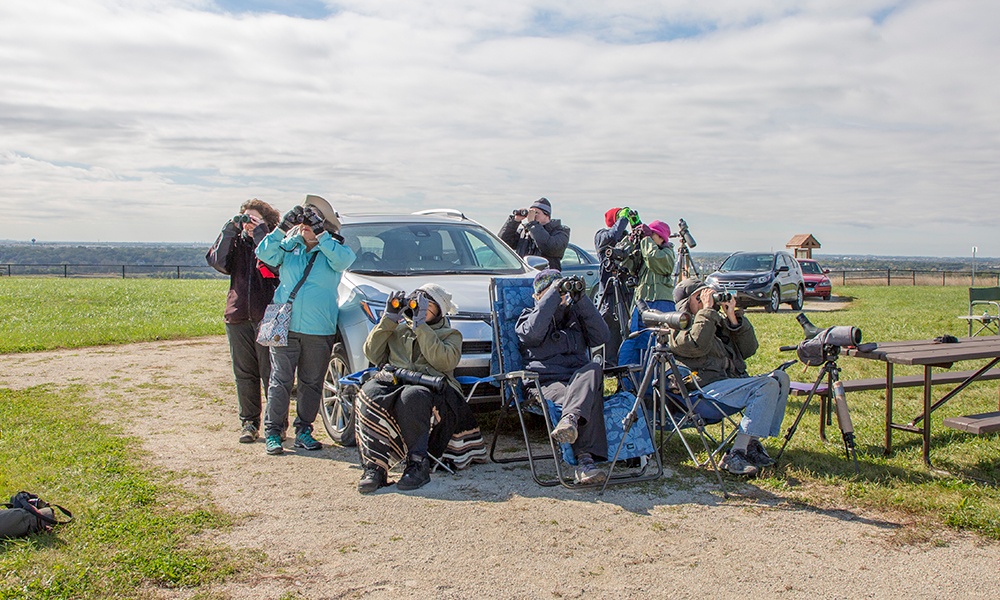 Karen Kasterin of Aurora, who has been part of the group for three years, said she loves the camaraderie, friendships and constant learning.
"You see everything, and then you don't want to leave because you're afraid you're going to miss something. Two years ago we had a short-eared owl," Kasterin said. "Now every time I get out of my car I look up. I can't believe how many bald eagles I've seen."
And sometimes they have spirited debates: Is it a sharp-shinned or Cooper's hawk? When soaring high overhead, sharp-shinned hawks tend to have a "no-head" look because they fly with their wings slightly angled forward, obscuring their small heads, Fisher said. A Cooper's hawk has a larger head and flies with its wings straight across.
"We have a lot of species ID debates. And sometimes, because of distance and other factors, we just can't be sure. Whoever is documenting that day wins," Fisher said.
"You're not looking at color, you're looking at how they fly," Sroczynski said.
In addition to documenting species and numbers, they record temperature, wind speed and direction and cloud cover.
Based on the Greene Valley Hawkwatch team's experience, members agree on one general observation: "Keen eyes are important," Fisher said. "Among our best hawkwatchers, women outnumber men."
Those interested in becoming a member of the Greene Valley Hawkwatch group can contact District Stewardship Program Coordinator Cindy Hedges at 630-876-5929 or chedges@dupageforest.org.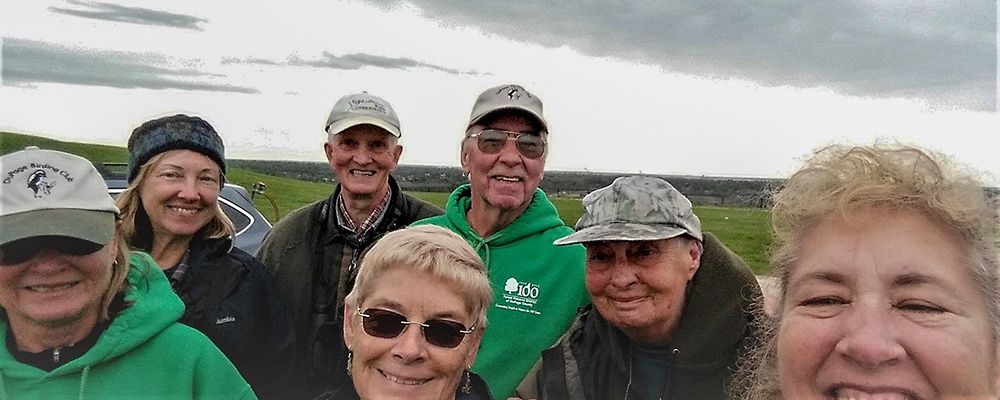 If you have a fun or unique way of catching nature in our preserves and would like to be featured in a "Catching Nature" blog, please contact Deb Humiston at dhumiston@dupageforest.org.