Linda Frey loves history, so it's no surprise to find her volunteering at our 1890s living history farm, Kline Creek Farm in West Chicago.
As a domestic arts interpreter, Frey shares life in the 1890s with visitors. "I try to provide them with information that leaves them thinking, 'Wow, I didn't know that!'" Frey said. "It also allows me to walk in my grandmother's footsteps, as she was born in 1890."

"My years as a volunteer here have given me the opportunity to live history in a way I had never imagined," she said.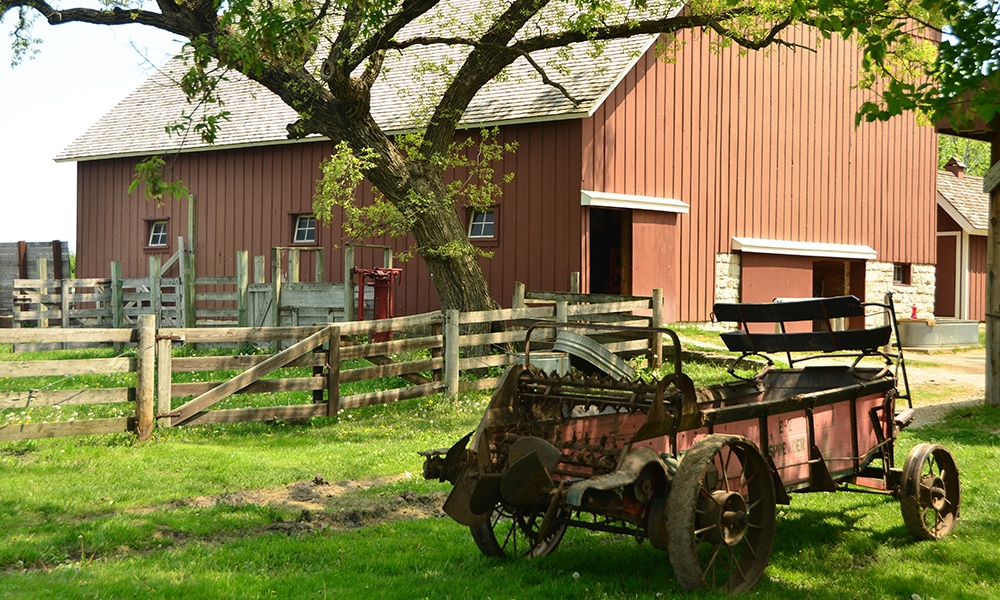 A volunteer since 2010, Frey considers herself one of Kline Creek Farm's biggest proponents. "I like to think I'm one of the biggest cheerleaders/recruiters for Kline Creek Farm," Frey said. "We had our roof replaced a while back and I ended up engaging a couple of the guys in conversations about Kline Creek Farm. I even handed out brochures!"

Volunteering at Kline Creek Farm lets Frey "time travel" and enjoy nature at the same time. "When I cross the bridge over the creek I can just feel my attitude change," she said.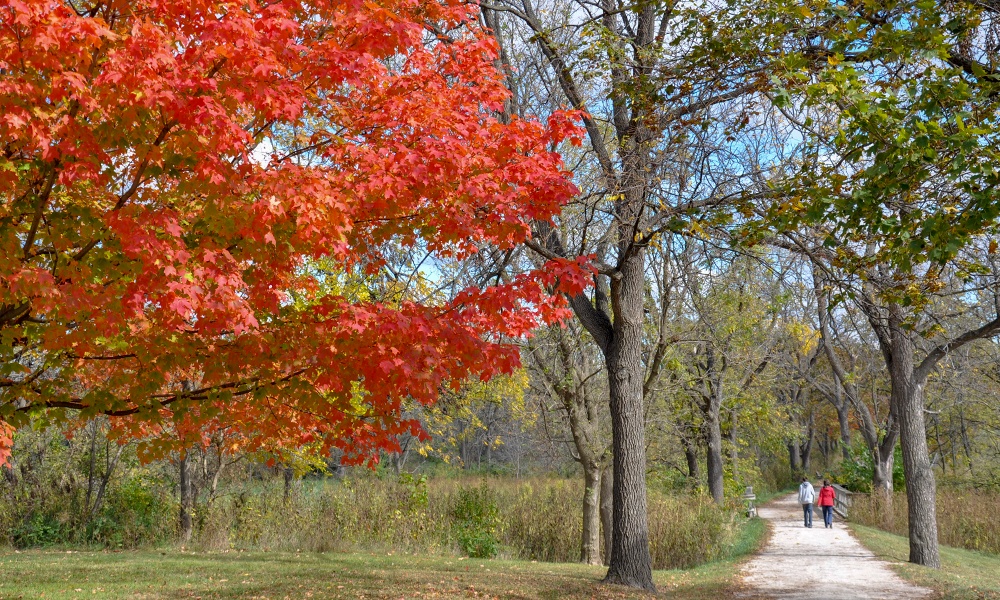 She loves the trees, grasses, birds and creeks in the preserves, and her favorite season is spring. "The preserves let me escape," Frey said. "Everything is so interconnected, and we as humans have such a huge impact on nature."

DuPage forest preserves offer something for everyone, Frey said. "If you want to time travel, visit Kline Creek Farm, Mayslake Peabody Estate in Oak Brook, St. James Farm in Warrenville and Fischer Farm in Bensenville. If you want to immerse yourself in nature, go to Herrick Lake in Wheaton, Churchill Woods in Glen Ellyn and Waterfall Glen in Darien. If you want to get up close to animals, visit Willowbrook Wildlife Center in Glen Ellyn and Fullersburg Woods in Oak Brook."

The best part of volunteering is helping people visualize what it was like in the 1890s. "The best days are when I see the lightbulb go off for a visitor, when I know they are having an 'Ah-ha' moment!" Frey said.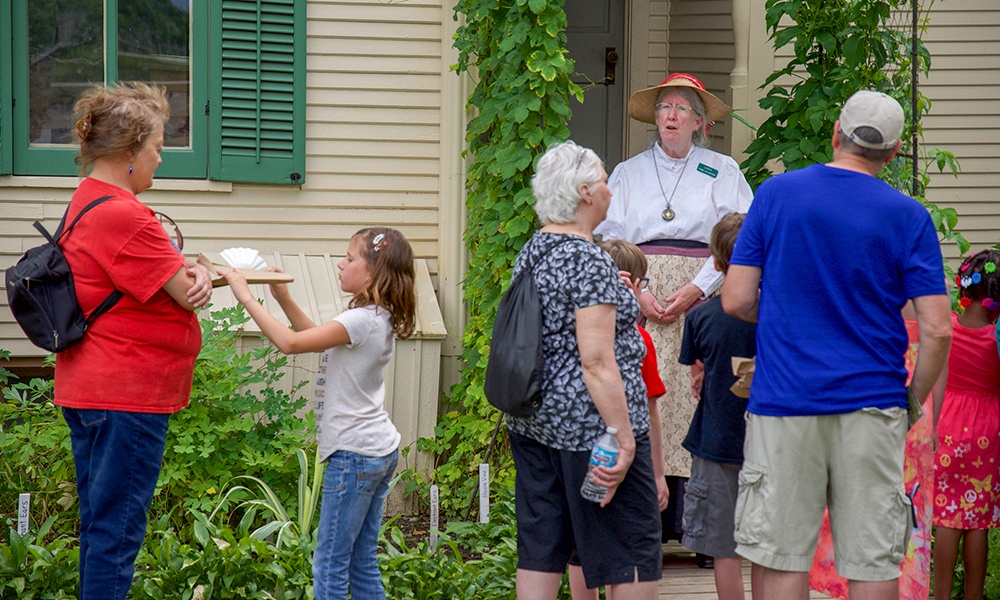 Frey wants people to realize they own the 60 DuPage preserves. "At the start of my tours I often ask, 'Who lives in DuPage County?' Well, welcome home — this is YOUR farm!"

Her 1,375 volunteer hours have left Frey with plenty of wonderful memories. "I was at the farm as we were preparing for 'Celebrating the Fourth' one year when we had an incredible storm come through," Frey said. "Most of us were sequestered in the basement and came out to a horrible scene of destruction. Countless trees were downed. We couldn't cross the bridge until it was cleared. It was unbelievable! But just as the Klines would have done, our modern Kline Creek Farm family pitched in to do what was needed at the moment."

In addition to volunteering at Kline Creek Farm, Frey leads tours at the Frank Lloyd Wright Home & Studio in Oak Park. "Did you know his house in Oak Park and the KCF house were both built in 1889? But they are as different as night and day," she said.

Frey describes herself an "idle nomad" but plans to change that soon when she retires and travels the country in an RV with her husband. "I have always enjoyed traveling, camping and hiking and exploring state parks," she said.

"So very many memorable moments of Kline Creek Farm & the best friends I could ask for will be going with me wherever I go," Frey said.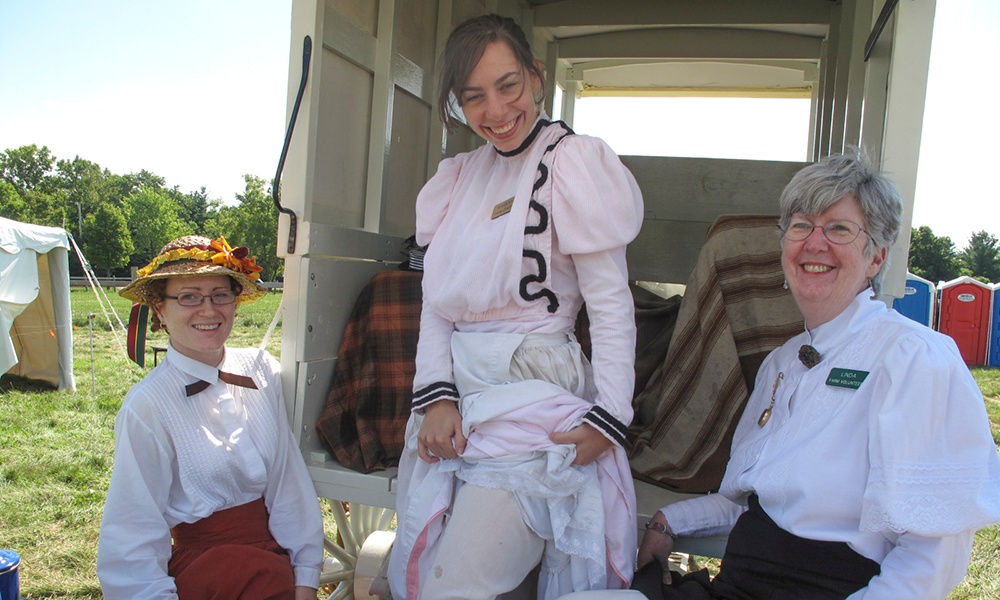 Linda Frey (right) with two other volunteers at Kline Creek Farm in West Chicago.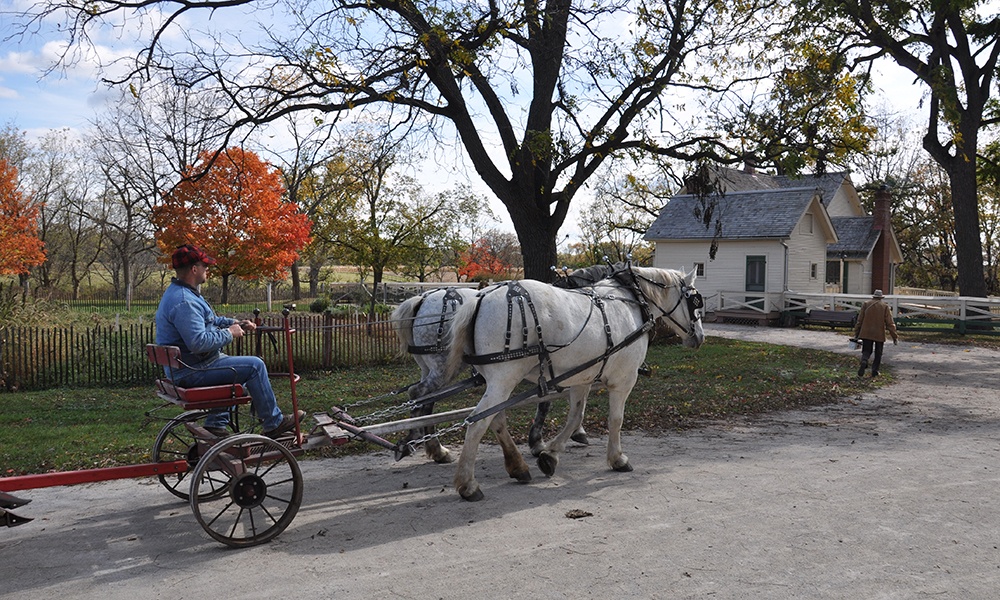 If you have a fun or unique way of catching nature in our preserves and would like to be featured in a "Catching Nature" blog, please contact Deb Humiston at dhumiston@dupageforest.org.