Brian and Joyce Ostberg are interested in all things history — natural history, pre-history, and general history. In autumn 2020, they started a YouTube channel, dubbed BeHistoric, where they share some of their history and pre-history interests.
Some of their historical explorations have led them to DuPage forest preserves, where they have discovered fascinating historical information.
The Ostbergs have lived in DuPage County since 1986, after moving here a few years after they married. Brian worked for 35 years as a computer scientist at Bell Labs in Naperville, where he helped design and build some of the most reliable and high-performance telecom components on the planet. Joyce is a molecular biologist by training, working at Abbott Labs for several years before retiring to raise their son and two daughters, now all grown up.
Here's Brian and Joyce's story.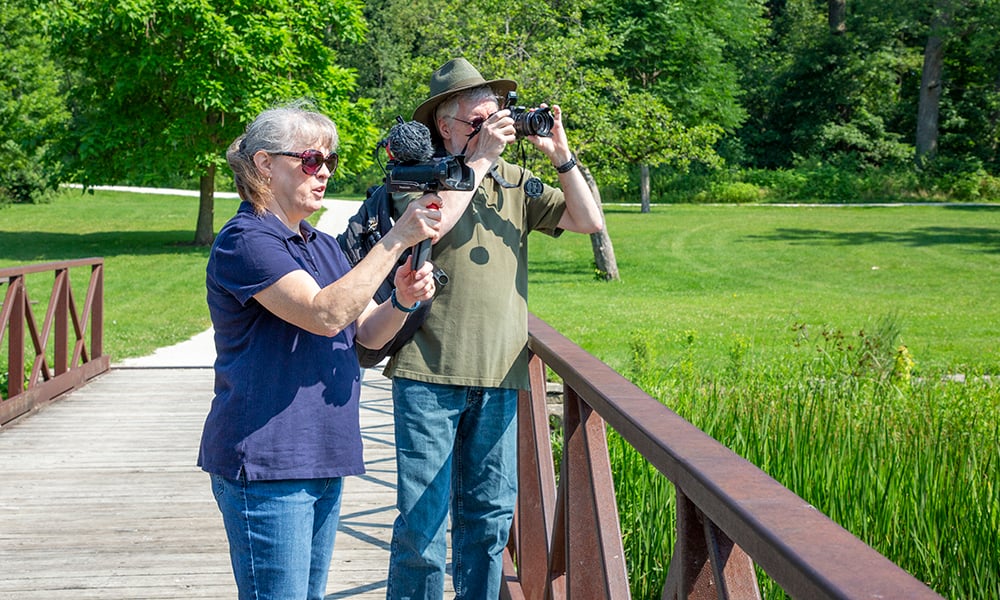 Joyce and Brian Ostberg capture photos and video of Churchill Woods Forest Preserve in Glen Ellyn for a video they're creating on the history of the preserve for their YouTube channel, BeHistoric.
Catching the Nature Bug
For both of us, it was when we were quite young. For Joyce, she fondly remembers visiting her grandparents' farm and taking hikes through the local woods. For Brian, he recalls the happy experience of his parents taking them on hikes through the local forest preserves, or while on family vacations.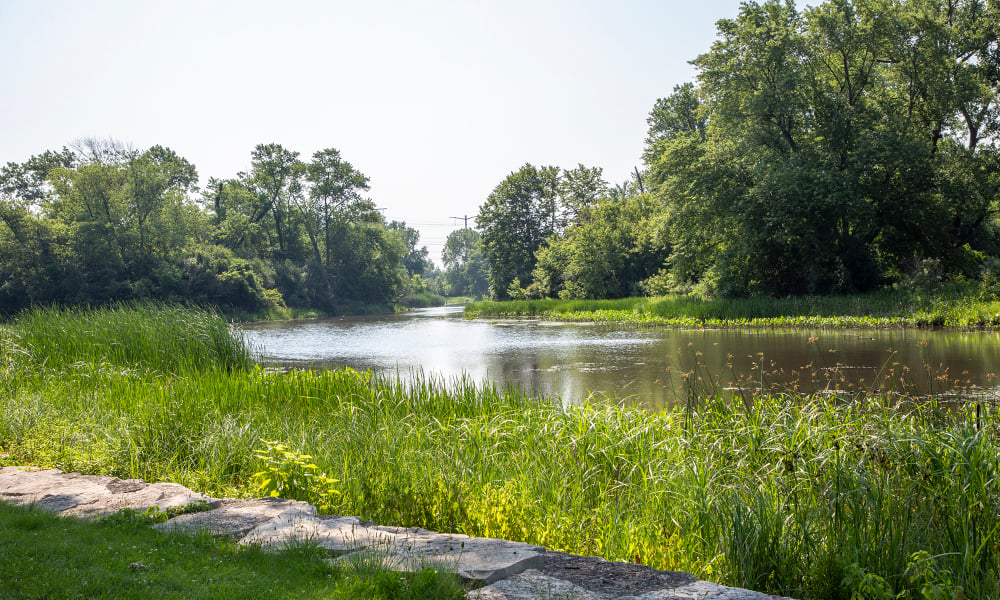 Discovering DuPage Forest Preserves
We started making trips to local forest preserves shortly after moving to DuPage County in 1986. While living in Villa Park, we would visit Churchill Woods. After moving to Wheaton in 1995, we've made countless trips to Blackwell, Herrick Lake, Winfield Mounds, Timber Ridge and St. James Farm, as well as single visits to several other DuPage forest preserves. In fact, Brian's bicycle commute to work would take him through Herrick Lake Forest Preserve two or three times per week, from May through October.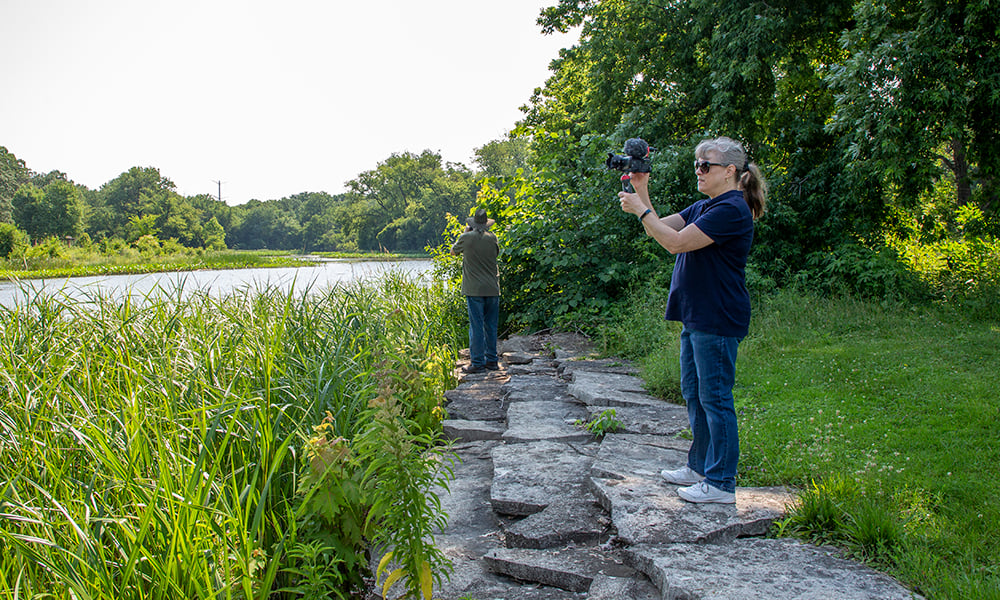 Favorite Preserve and Time to Visit
Early on, it was Churchill Woods in east Glen Ellyn where we would take the kids when they were very young. It is on a scale well-suited to young children: it's an easy walk and there's much to see and take in.
More recently, Winfield Mounds, Blackwell, St. James Farm and Herrick Lake are our go-to spots. They are all within easy reach of a bicycle ride, and all accessible from the Illinois Prairie Path.
Winfield Mounds offers serene views along the West Branch DuPage River, as well as the incredible Winfield Mounds themselves: they are the last remaining Native American mounds within DuPage County, and are easily accessible from the Illinois Prairie Path.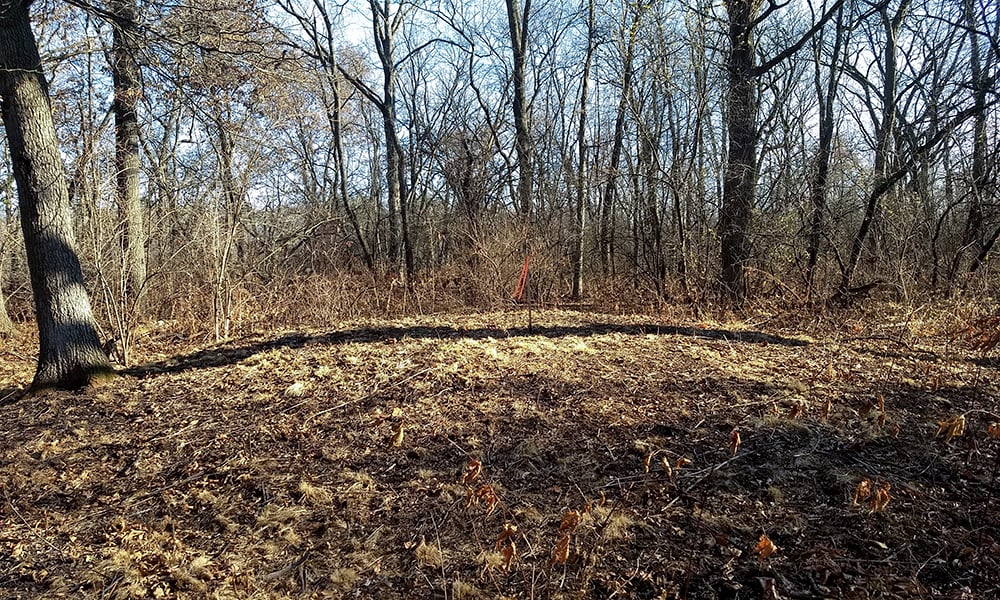 One of three conical effigy mounds built by indigenous people about 1,000 years ago at Winfield Mounds Forest Preserve in Winfield. They are the only documented account of burial mounds in DuPage County.
Both Blackwell and Herrick have incredible walking and bicycle paths that take you through a wide variety of scenery and changing topographies — scenic lakes with hills and valleys, forests and meadows. We especially like the early autumn, when goldenrod is in bloom, creating a golden panorama across the landscape.
What Brings Them Back Time and Time Again
We know that the quiet, solitude, and serenity are always there for us — a short car trip or bike ride away. It's a nice break from the bustle of suburbia and the ever-increasing traffic. Also, as Joyce has a love for gardening, the wildflowers and trees are of special interest to her.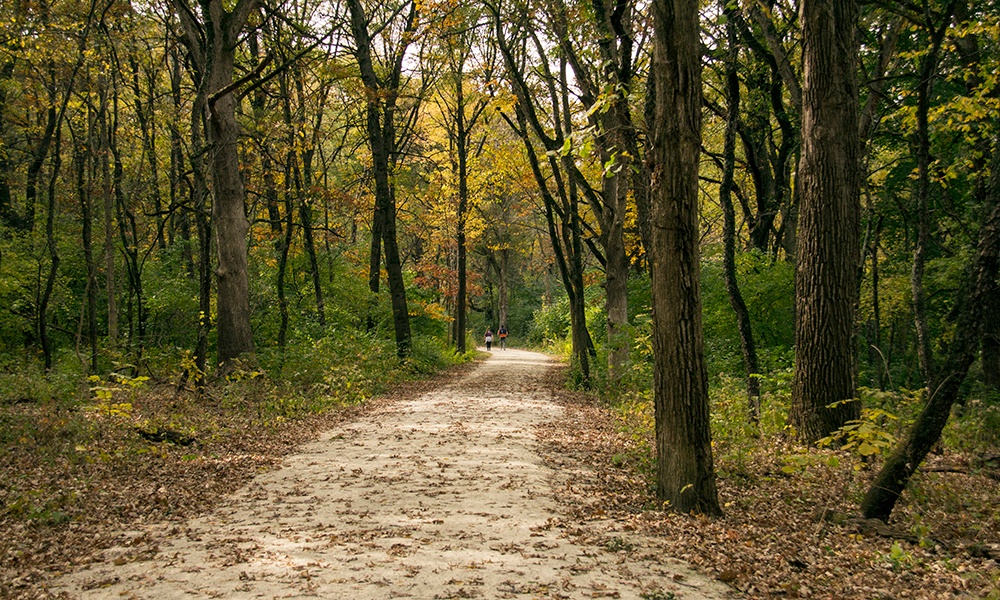 Favorite Things to Do in the Preserves
In addition to riding our bikes on the many forest preserve trails, lately our passion has been exploring and documenting some of the history and pre-history sustained in the forest preserves.
We've documented some of these adventures, such as the story of the Winfield Mounds, on our BeHistoric YouTube channel. Researching these stories and sharing them with others via our channel is something that we find to be a lot of fun and very rewarding.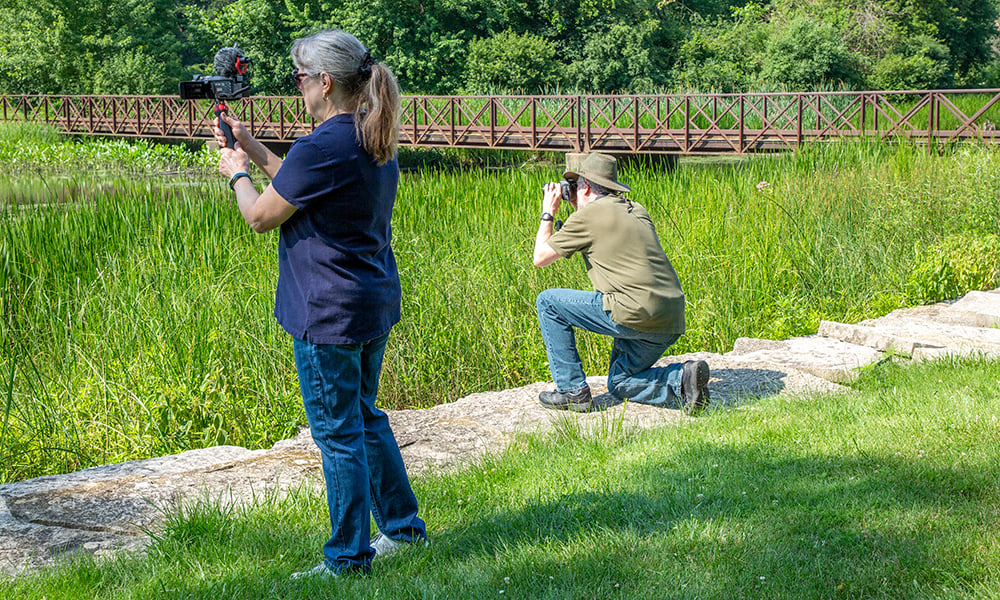 Nature's Lesson
Life goes through constant change and yet renews itself. Pick any meadow, forest, lake, or marsh in the forest preserves and you can watch it make dramatic changes through the seasons — the scenery, the sounds, and the smells — each season with its own harmony. And then every year, it unfailingly renews itself.
Our lives are much like that — go with the flow of the changes in the seasons of our lives — and know that every generation will renew.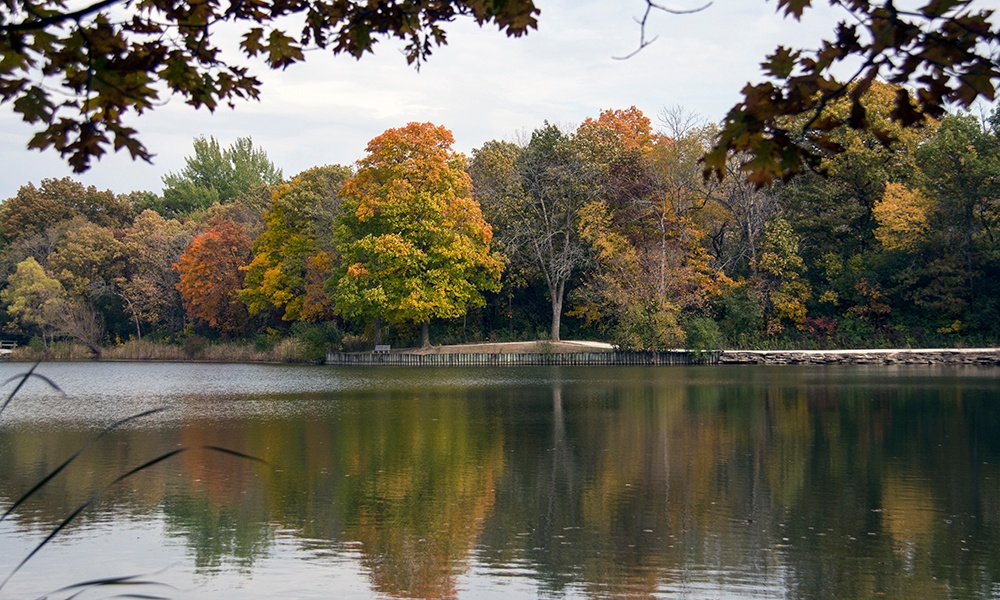 Favorite Nature Quote
Certainly the most memorable is Alfred Tennyson's "Nature, red in tooth and claw." It's a reminder that nature does what it does — what it has to do. It all gears together and works together.
How Nature Inspires
The constant changing of the environment reminds us to accept life's change of seasons and to see the beauty in it. DuPage forest preserves give us a place to relax, to renew, and to recharge. Finally, seeing the ancient topographies and landscapes in the forest preserves reminds us of what came long before we entered the picture — the world around us was very different 100 years ago and 10,000 years ago. The landscape conserved within the forest preserves gives you an inkling of that if you learn how to read it right.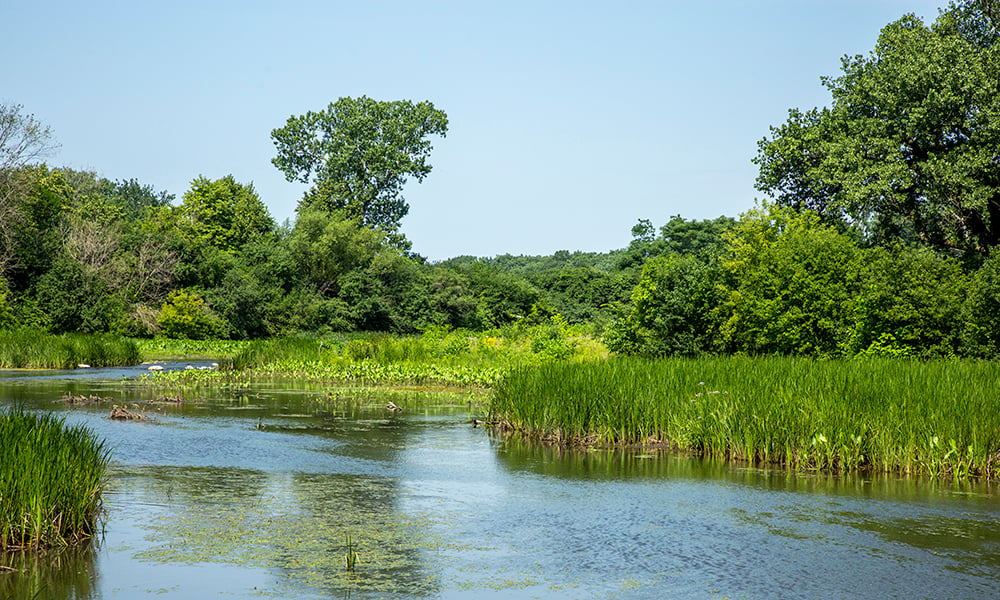 Advice to Others
First, dress appropriately. If you're going on a several-mile hike, wear comfortable shoes or boots. If walking through brush, wear long pants to avoid thorns and stickers. And a broad-rimmed hat shields your head from some of the intense summer sun.
Also, visit the forest preserves at the time of day and year conducive to your interests. For example, you'll see more wildlife closer to dawn and dusk than during the middle of the day. For photography, different times of day and different seasons can dramatically change the lighting and scenery. Finally, bring a camera and an open mind, so you can record your experiences and retain the memories of your visit.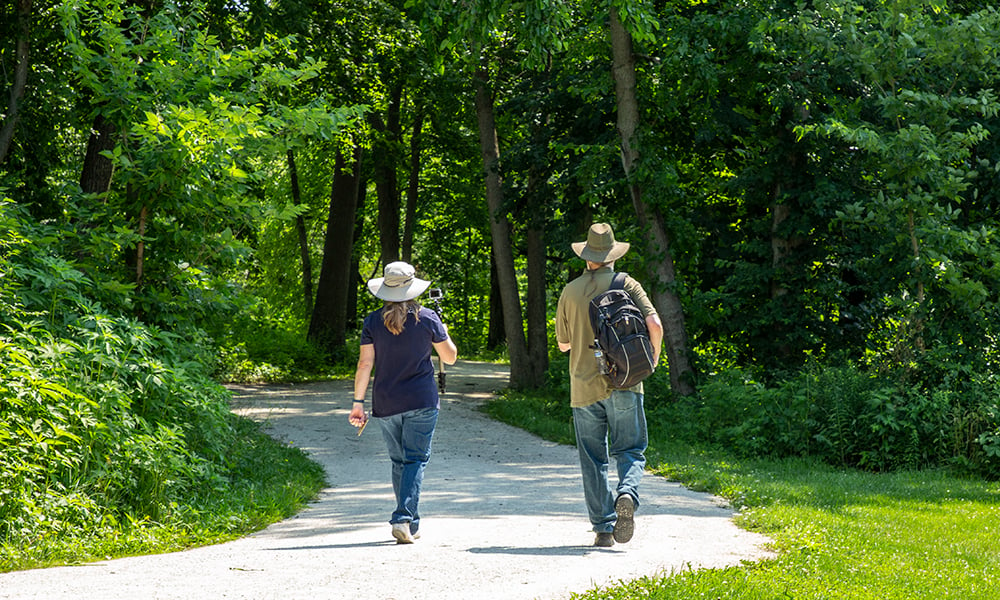 Joyce and Brian Ostberg head to an area of Churchill Woods that was previously home to about 500 Pottawatomie Indians.
If you have a fun or unique way of catching nature in our preserves and would like to be featured in a "Catching Nature" blog, please contact Deb Humiston at dhumiston@dupageforest.org.