Johnny Jannotti grew up with DuPage forest preserves as his playground. His childhood home was along the Illinois Prairie Path, giving him plenty of opportunities to connect to nature.
The lifelong DuPage County resident now lives in Glen Ellyn and makes and repairs stringed instruments at two music shops in DuPage County. A drum player since the age of 2, Jannotti is also drummer for SempleBand and has played drums for contestants on American Idol and The Voice.
"My parents bought our house in 1979 in West Chicago's unincorporated Oak Meadows neighborhood," Jannotti said. "This was a unique place to grow up, not known to many unless you lived in this area.
"The entire neighborhood was placed along the Illinois Prairie Path and next to what would become new parts of Pratt's Wayne Woods Forest Preserve in Wayne," he said. "This is the time and place where my love for the preserves was cultivated."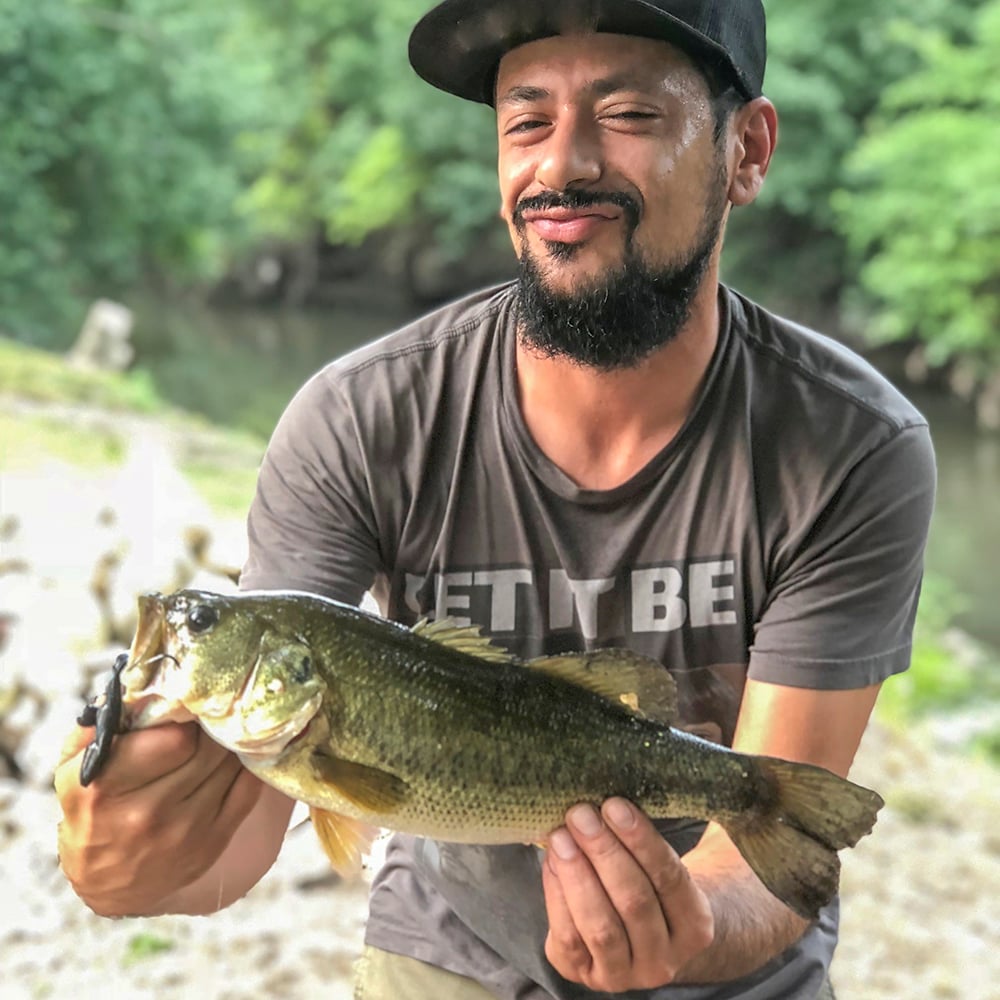 Jannotti with a largemouth bass he caught on the East Branch DuPage River in Glen Ellyn. (Photo courtesy of Johnny Jannotti)
Jannotti remembers his father taking him fishing at Pratt's Wayne Woods, Silver Lake at Blackwell Forest Preserve in Warrenville and Bass Lake at West Branch Forest Preserve in Bartlett when he was a boy. "It was really tough fishing back then and we would not catch many, if any at all," he said.
"Fishing requires a ton of science and understanding animal behavior to get a fish to eat artificial bait, which most people don't realize," Jannotti said. "I feel like I'm tapping into the ancient human hunter-gatherer urge and it seems to give me the endorphins I need."
Jannotti fondly recalls exploring the preserves as a child. "I think at the time, my circle of friends had more fun using our mountain bikes to fly around all the narrow paths along these lakes," Jannotti said. "This was all at my doorstep. I'm still very grateful to have had that experience in my childhood."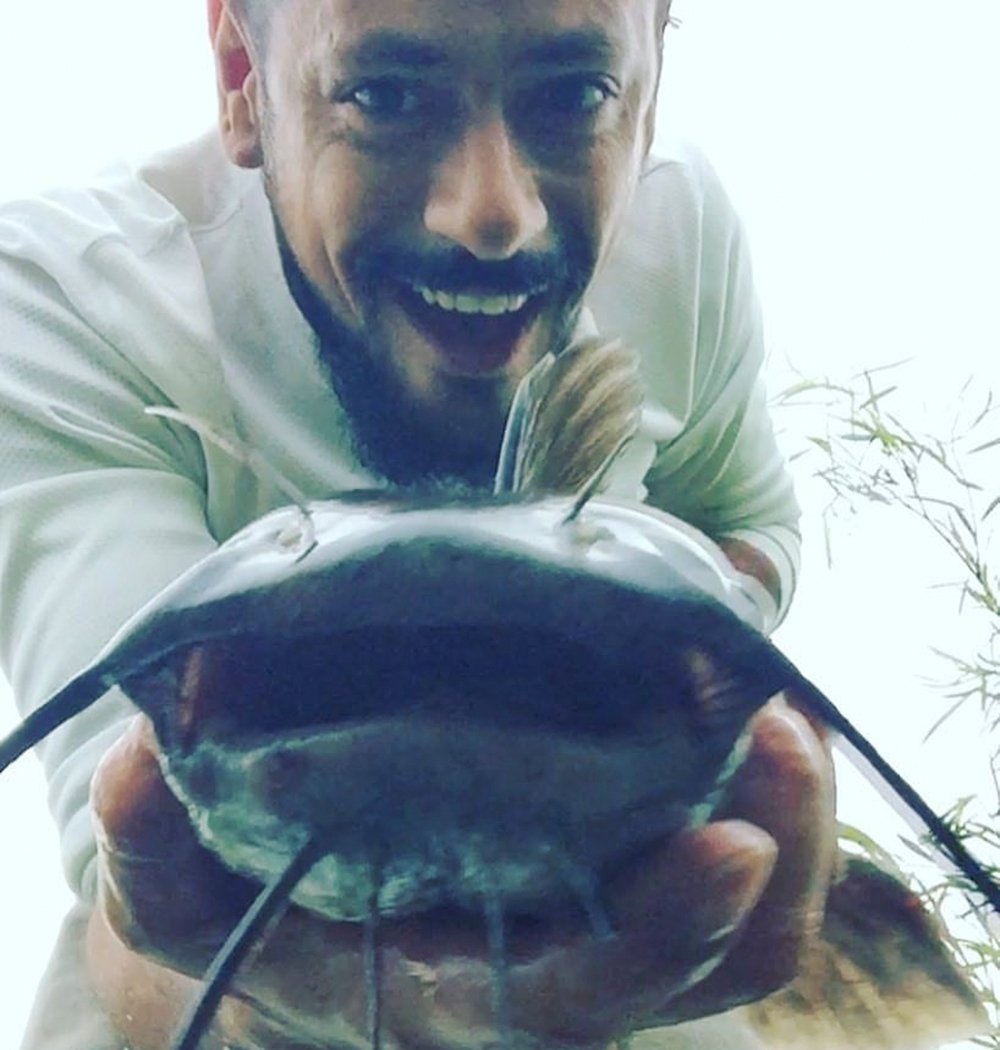 Jannotti shows off a catfish he caught at Spring Creek Reservoir in Bloomingdale. (Photo courtesy of Johnny Jannotti)
As an adult, Jannotti especially likes to fish DuPage forest preserve lakes and rivers when he's not working in the music business. "The DuPage forest preserves have a great variety of lakes, rivers and gamefish to choose from," he said.
"My favorite place for largemouth bass is Spring Creek Reservoir. Pickerel Lake at Pratt's Wayne Woods has some big northern pike to be caught if you bring some heavy tackle to conquer this toothed beast," Jannotti said. "Mallard Lake has become a great muskie fishery, with many fish recorded in the +40-inch range."
"I seem to find my 'center' when I'm out in nature. I'm usually alone most of the time and the phone is on silent, so distractions are minimal." Jannotti said. "I have seen nothing but improvement when it comes to managing the DuPage forest preserves. Enjoy the nature!"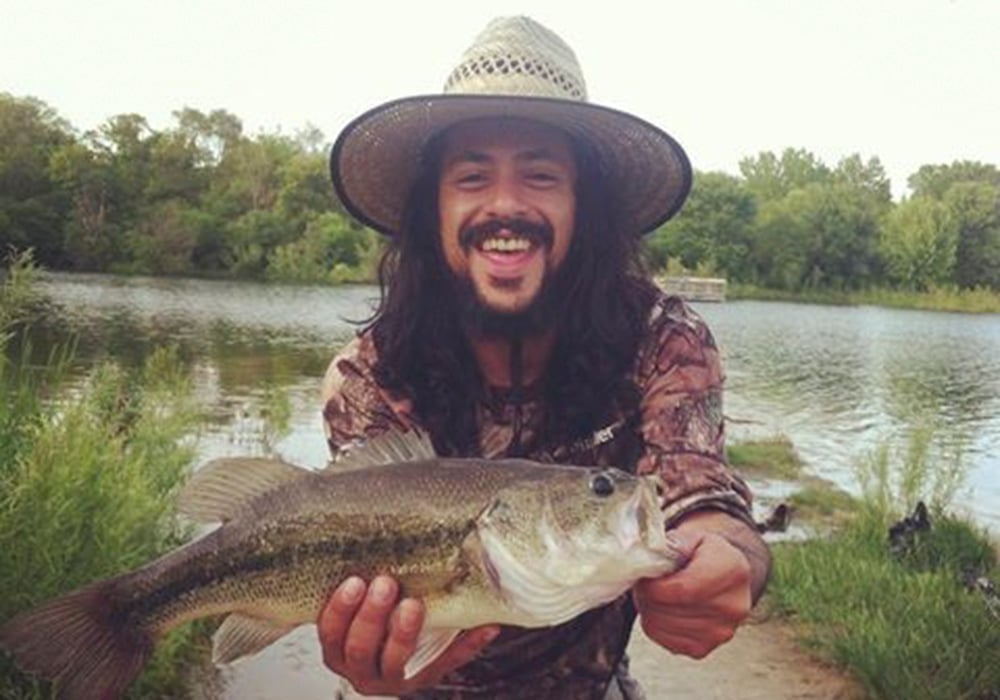 Jannotti with a bass he caught at Deep Quarry Lake at West Branch Forest Preserve in Bartlett. (Photo courtesy of Johnny Jannotti)
If you have a fun or unique way of catching nature in our preserves and would like to be featured in a "Catching Nature" blog, please contact Deb Humiston at dhumiston@dupageforest.org.