Nina Hulet is changing her world. She's got an old soul and a bright future, and her enthusiasm for life and nature are infectious.
A junior biology major at Villanova University in Pennsylvania, Nina has been involved with the DuPage forest preserves for most of her life. In fact, she first fell in love with Willowbrook Wildlife Center on an elementary school field trip and has transitioned over the years from visitor to volunteer to animal keeper intern there. It would be hard to say what has had a larger impact — the center on her or her on the center.
When it came time for Nina to earn her Girl Scout Gold Award — the highest award a Girl Scout can achieve — she knew she wanted to do it by working with the center to design an opossum release box to give the nocturnal animals an easier and safer transition back into the wild.
She then raised funds, bought supplies, and gathered volunteers to help her build 10 of the camouflaged and durable boxes.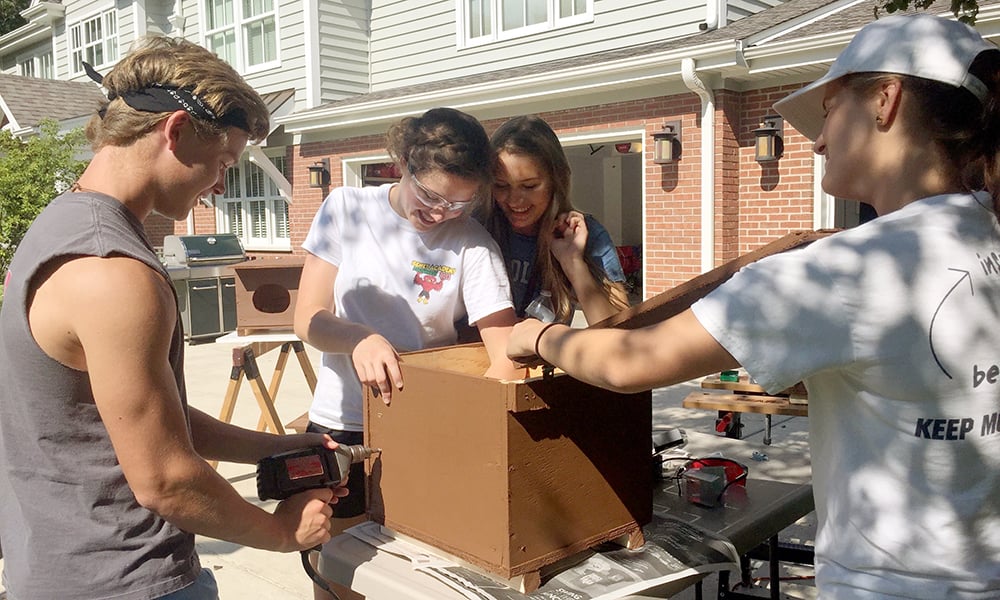 Nina and friends construct nest boxes in her Wheaton driveway. Photo provided by Nina Hulet
Passionate about conservation, Nina also loves music, horseback riding, photography/watercolor and yoga, which she credits with connecting her athletic, spiritual and emotional sides to the world around her. She uses photography and watercolor to express her love for and view of the world and focuses her work on nature and the outdoors.
Read more of this articulate student's own words about how nature brings her peace, and reap her succinct but spot-on advice about its benefits.
Discovering DuPage Forest Preserves
I was raised in a tight-knit family. My older brother, Ryan; dad, Mitch; and mom, Janet, are three of my best friends. In fact, they are the people who first got me outside and into nature, through family hikes at Herrick Lake and Blackwell forest preserves, camping weekends, long prairie-path bike rides, and everything in between.
Spending time outside was always one of our favorite things to do, and I quickly learned to call the outdoors a forever second home no matter where I am.
A History With Willowbrook
My first time falling in love with Willowbrook was in elementary school, when my Girl Scout troop took a trip to Willowbrook to learn about the native animals and walk through the forest preserve grounds. A few years later, when I was entering 7th grade, I decided that I would like to go back to Willowbrook and volunteer as a junior naturalist for that summer and the summer after.
I kept in touch Emily Milleville (administrative assistant at the center) throughout my time as a junior naturalist and actually contacted her first while planning my Gold Award.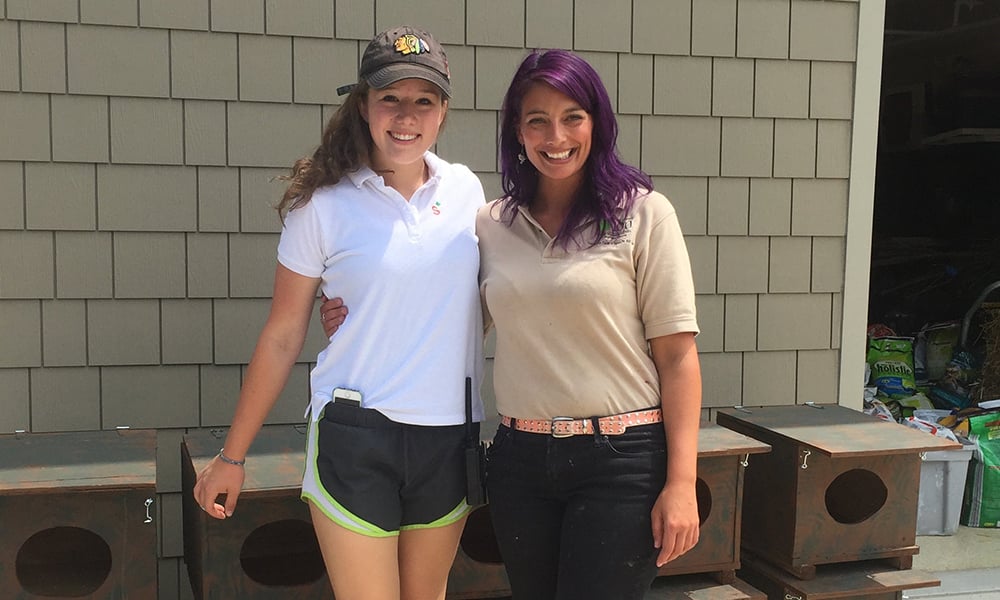 Nina and Willowbrook wildlife keeper Alicia Biewer pose with the opossum nest boxes. Photo provided by Nina Hulet
As I was entering my freshman year at Villanova, I felt drawn back to Willowbrook yet again. As a biology major interested in conservation research and veterinary science, the animal keeper internship seemed like the perfect fit. Emily helped me reintegrate into Willowbrook, and I felt welcomed back immediately. During my internship, I specialized in the bird nursery, where I helped prepare food for, feed, and vaccinate small birds that were getting R&R at Willowbrook.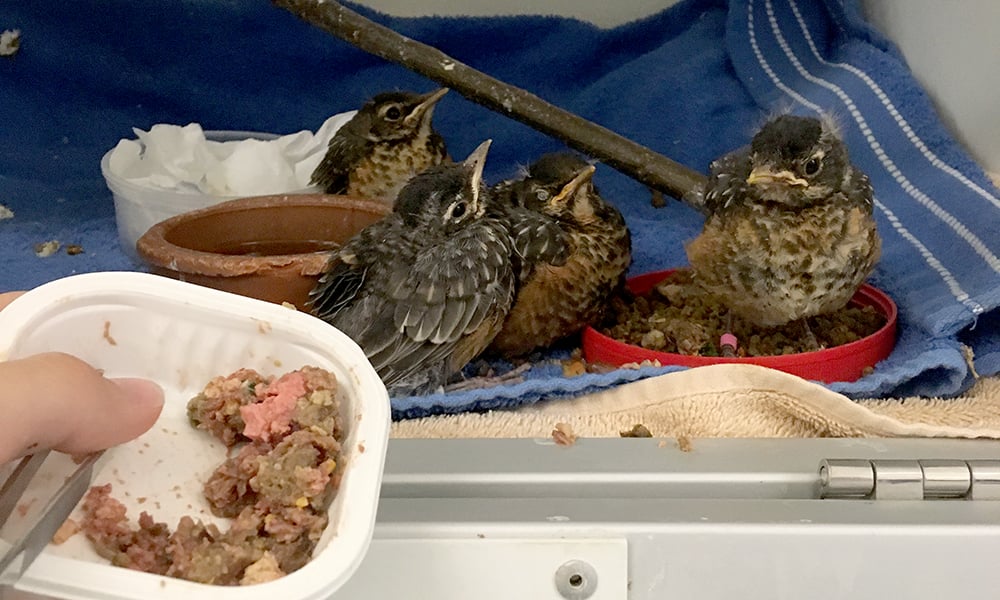 Nina feeding fledglings during her summer internship. Photo by Nina Hulet


Earning Her Gold Award By Helping Willowbrook
Because of my lifelong passion for animals and their conservation, I knew for a while that my Gold Award would be centered around their protection. I searched around for a while to find a project that I felt truly drawn to and found myself at Willowbrook Wildlife Center's doors. Willowbrook's mission and team that is dedicated to helping us live in harmony with the natural world around us has always spoken to me, and I knew that partnering with the Forest Preserve District would make my Gold Award project impactful and sustainable.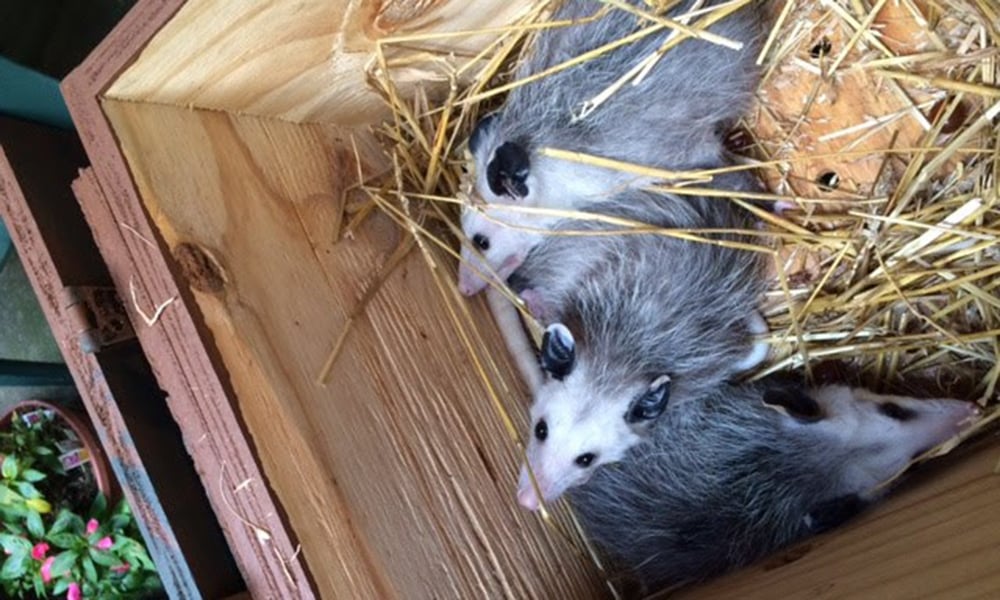 The first orphaned beneficiaries of one of Nina's opossum boxes were safely returned to the wild. Photo by Nina Hulet


What Brings Her Back Time and Time Again
Nature helps bring me back to myself. Whether I reconnect with nature by doing yoga outside, going for a hike at Herrick Lake, taking a camping trip, or hiking throughout Switzerland with my mom, I am brought back to my true peace and inner self.
Catching the Nature Bug
The nature bug hit me early on as a kid, through outdoor adventures and horseback riding. I quickly developed a strong love for animals and the outdoors and will never lose it.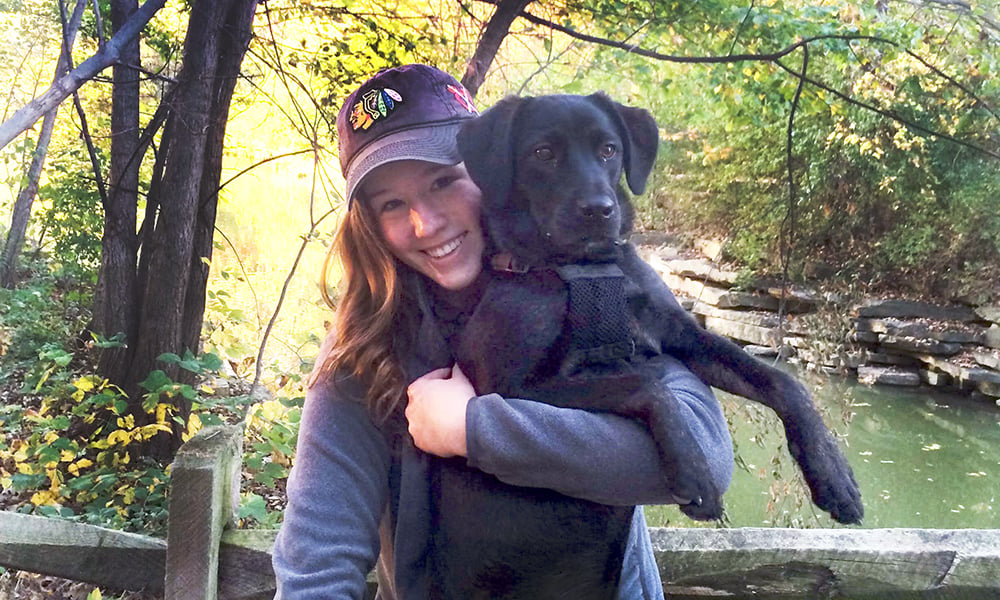 Nina and her dog, Tobi, at Herrick Lake Forest Preserve. Photo provided by Nina Hulet
Favorite Nature Activities
My favorite thing to do in the preserves is to hike, explore and learn. I love learning new things about our native plants and animals and how to help them out.
How Nature Inspires
Nature inspires me to flow through the world peacefully and lovingly. I know that I can make a positive difference in my life, and each time I'm outside I get inspired to do so and to continue pursuing and fighting for science. Even through challenges and struggles we may face, I believe that the world we live in is not only our home but also a place that we have a responsibility to care for and respect.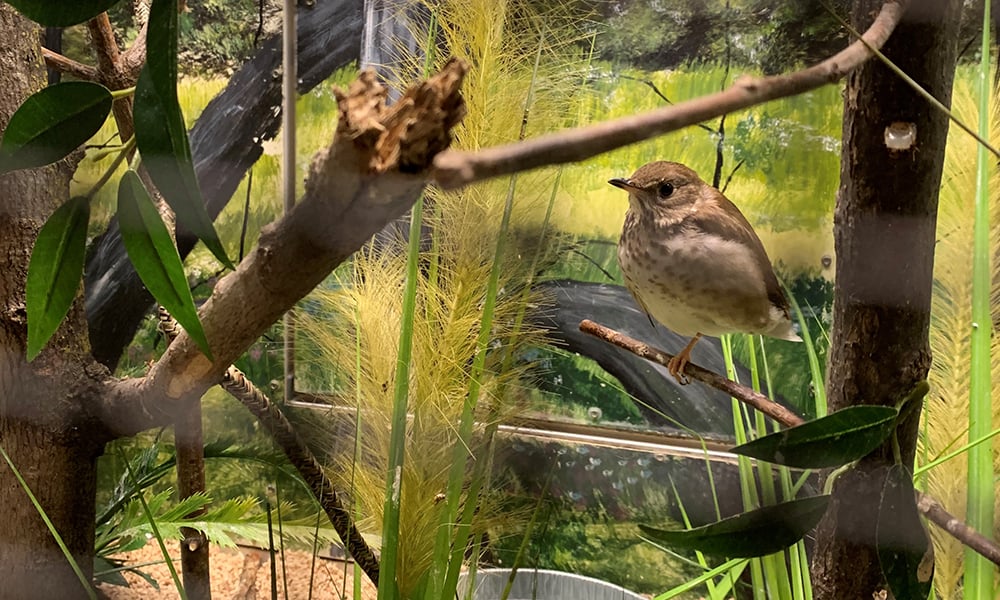 A snapshot of one of Willowbrook's permanent residents on display at the center. Photo by Nina Hulet

Nature's Lessons
Nature has taught me how to be independent and authentic. I have learned so many valuable life lessons outdoors, whether camping in mosquito swarms, hiking in thunderstorms or trying to start a fire with high winds. I have learned perseverance, strength, trust and, most importantly, that people can accomplish anything they set their minds to.
Advice to Others
Slow down. Our fast-paced everyday environment does a good job causing us to live in fast-forward. By taking an extra minute and looking around, taking deep breaths, and slowing down physically and mentally, I think you can learn so much about yourself and your surroundings.
If you have a fun or unique way of catching nature in our preserves and would like to be featured in a "Catching Nature" blog, please contact Deb Humiston at dhumiston@dupageforest.org.