After working for 45 years as an architect, Ratindra Das took up painting in retirement. He's now a nationally known artist, educator and juror who travels the world leading painting workshops and seminars.
"I enjoy traveling as a traveler and not as a tourist," Das said.
Das is an avid plein-air painter. When he's not traveling or painting in his studio, he likes to paint in DuPage forest preserves. He's also a Trail Watch volunteer with the Forest Preserve District, hiking forest preserve trails with another volunteer to provide info and safety tips to visitors. Das also volunteers for the People's Resource Center in Wheaton, a community-based organization that helps the community through shared personal resources.
He has published two books on painting, "Watercolor Beyond Obvious Reality," and "Watercolor with an Eye for Design."
Here's his story.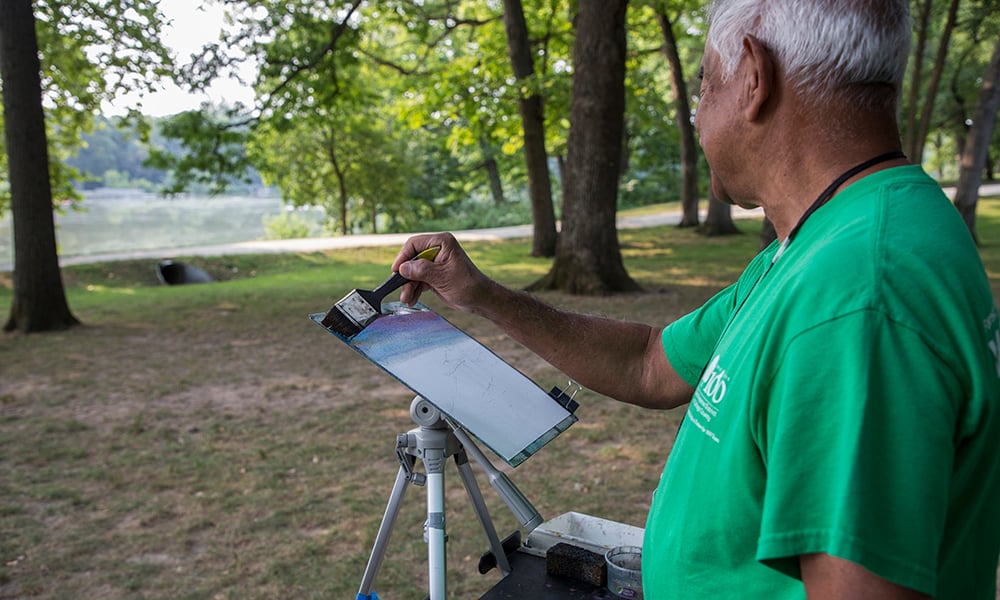 Das starts a water-color painting one morning at Herrick Lake Forest Preserve in Wheaton.
Catching the Nature Bug 
When I was a child, I used to take walks with my father in a small town in India where we lived. It had gentle rolling landscape with red soil not unlike New Mexico or Arizona. I have continued doing so since then and it almost became natural to join the Trail Watch walking patrol.
When I walk with volunteer partners it's just not my "eyes and ears" at work. All my senses are at work, which is essential for an artist. Nature has been there well before we came, and it's our obligation to preserve and revere.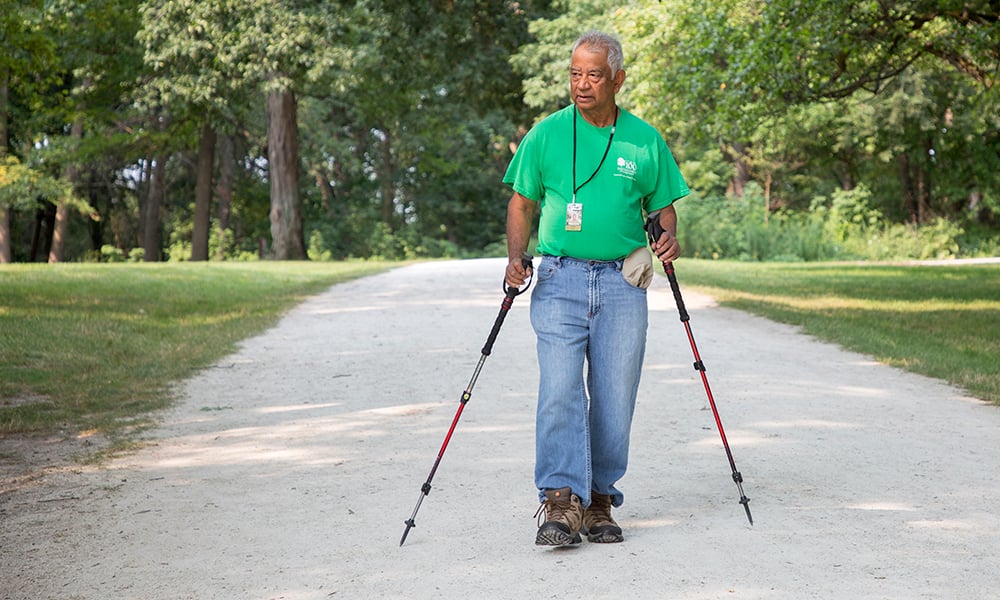 Discovering DuPage Forest Preserves
I first discovered DuPage forest preserves when I moved to Wheaton nearly 30 years ago.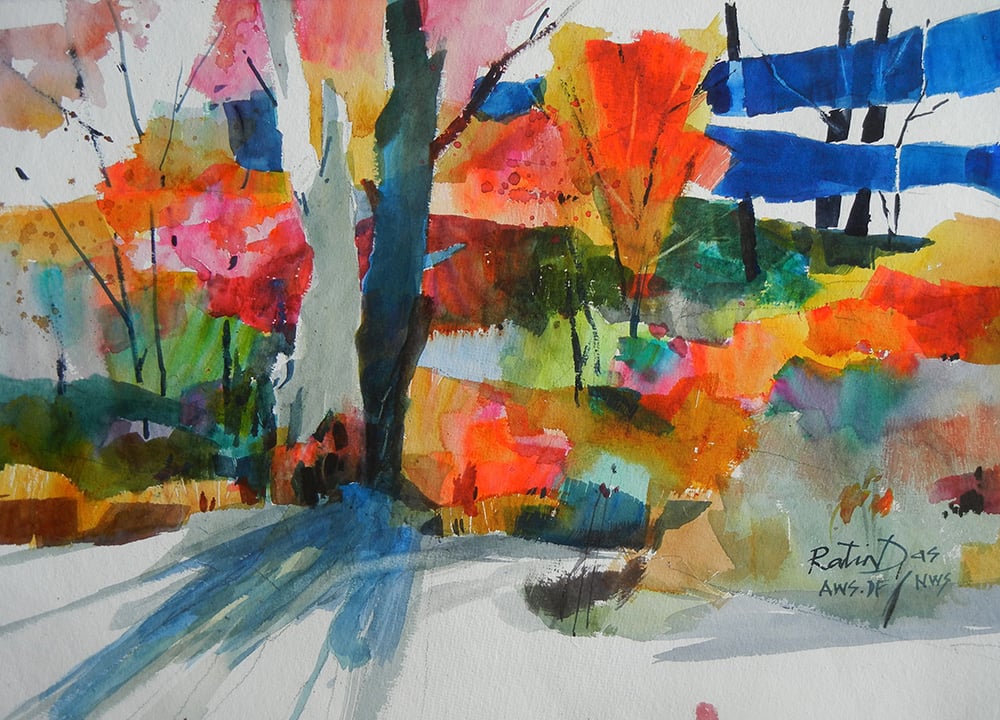 One of Das' water-color paintings of the Meadowlark Trail at the Danada-Herrick Regional Trail.

Favorite Preserve and Time to Visit
Of all the preserves Herrick Lake and Danada forest preserves are my favorites. I like it more in the fall and winter and always prefer the morning. I enjoy all four seasons and the transition periods. Nature is capricious and you have to experience her subtle beauty, whether it's hoarfrost in the fall or floating clouds in the spring.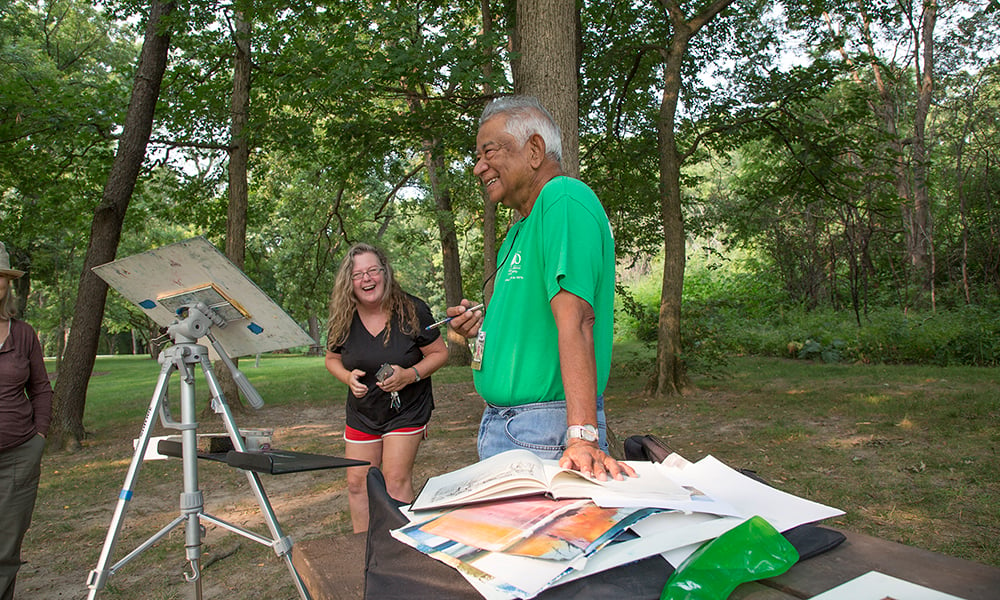 Das talks to some friends while painting at Herrick Lake Forest Preserve.
What Brings Him Back Time and Time Again 
Nature is not repetitive. When I'm not doing Trail Watch I enjoy going solo to many of these places where I find solace. It's meditative, poetic and therapeutic. Poetry and music touch our soul directly. Painting is a visual poem. There's no better reason to paint than just for the love of it.
I am fascinated by nature, whether it's the season, sights and sounds, trees, rocks and water, or the changing sky and light. I enjoy hearing the shrill alerts of the blue jays, whistling of the cardinals, and the rustling sounds of the fallen leaves on the trail. Following examples of poets Wordsworth and Coleridge, I have walked miles and miles. Positive energy flows, ideas begin to emerge.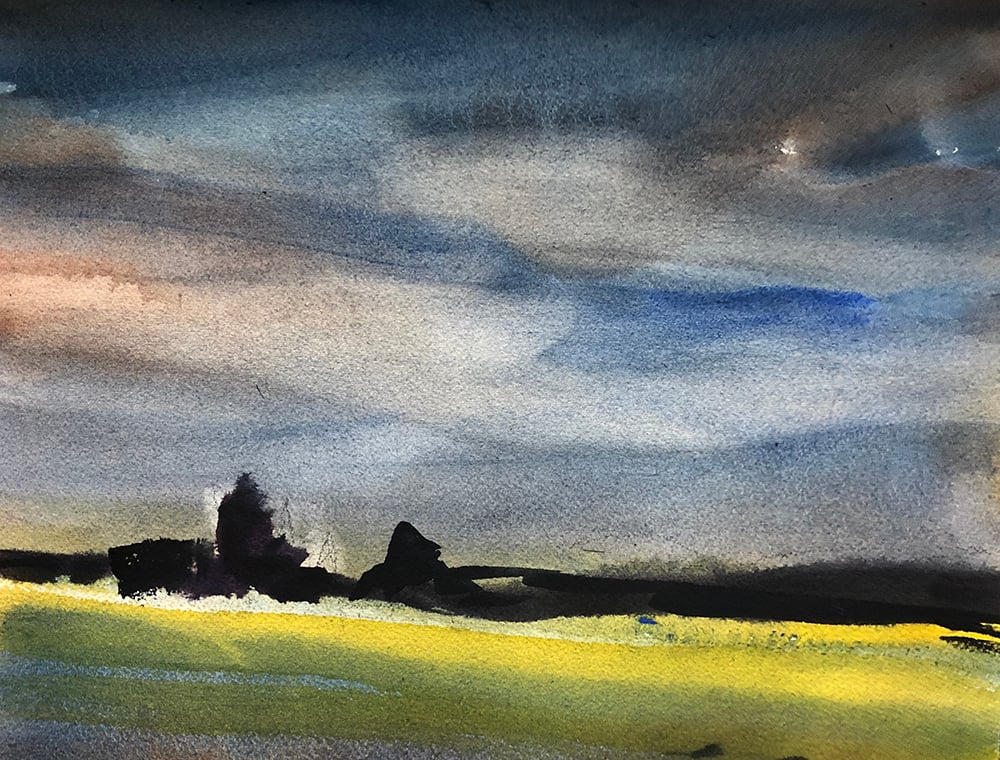 A cloudy skyscape watercolor of Danada by Das.
Favorite Things to Do in the Preserves  
This is my time for contemplation. Sometimes I'll set up an easel and paint or write poetry. Sometimes I'll sit and let my mind drift. Here's a little excerpt from one of my poems:

"What lies beyond the trees
Around the bend!
Been there a hundred times
Still I know not
Maybe a meadow, or a little pond
maybe another path with a twist and a little fork, I know not
Maybe it'll 
take me nowhere, but a place that doesn't exist except in my imagination
There's no end to the path
Hope has no dead end
My thoughts and imagination drift 
When I look through the
Narrow window between the trees."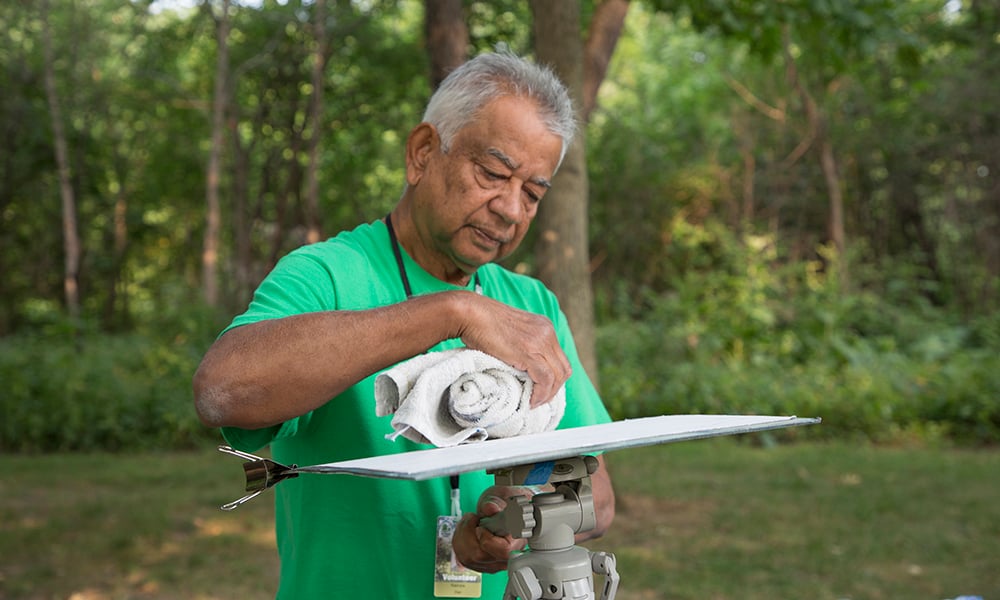 Das prepares the canvas before painting at Herrick Lake Forest Preserve.

Nature's Lesson
Beauty is the bridge between life and hope. We tread slowly and gently on that bridge.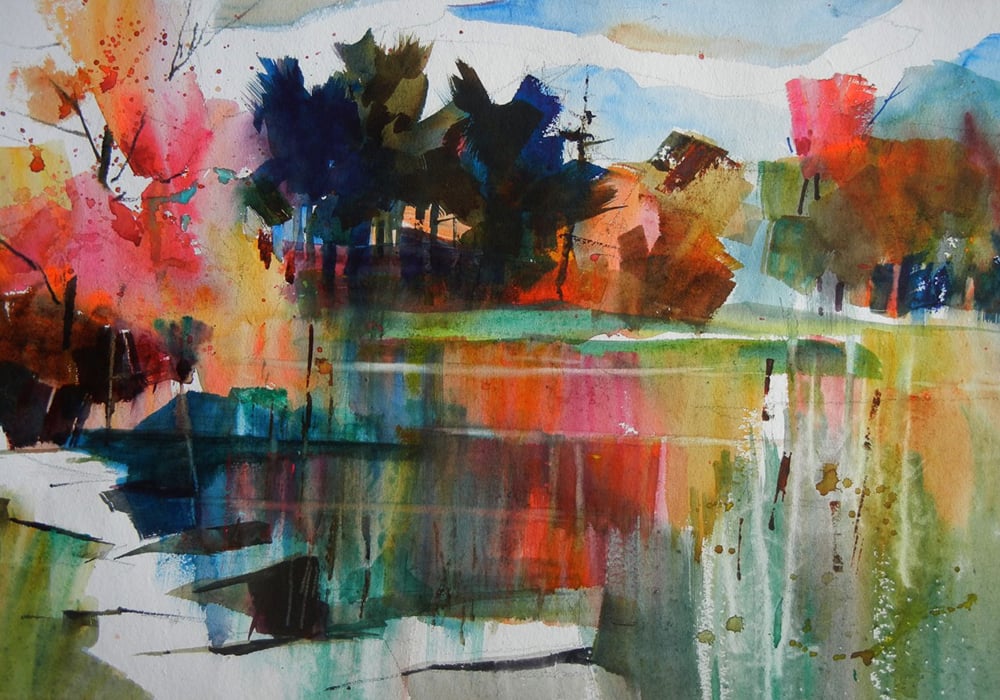 One of Das' watercolor paintings of Herrick Lake in the fall.
How Nature Inspires 
Nature does not discriminate. It teaches us endurance, resilience, patience. It will not come to you. You have to discover. A big oak tree is just as significant in the planet as a small persistent dandelion. We are all part of the big system.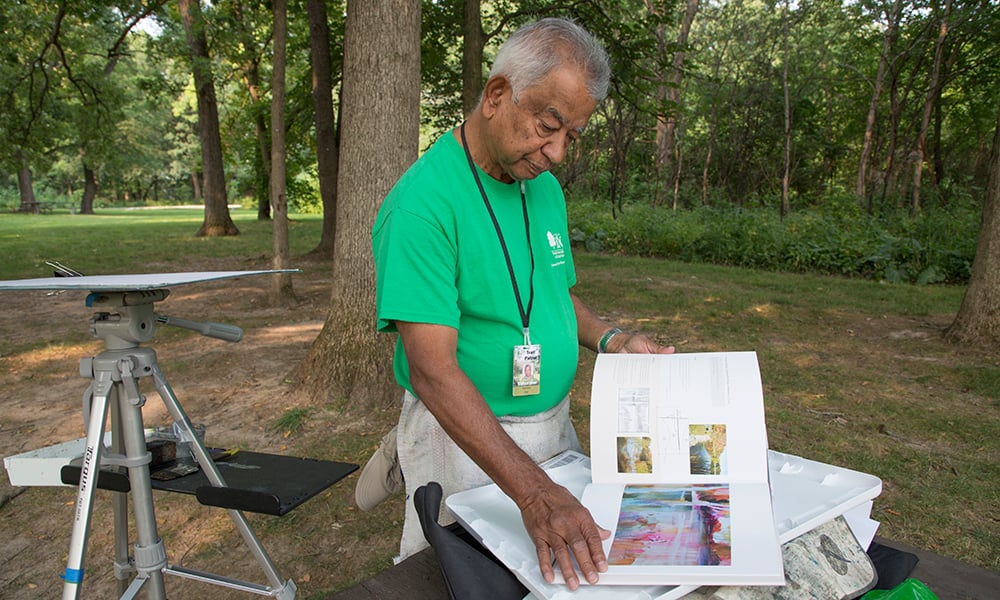 Das talks about his most recently published book, "Watercolor With an Eye for Design."
Favorite Nature Quote
"In every walk with nature one receives far more than he seeks." ~ John Muir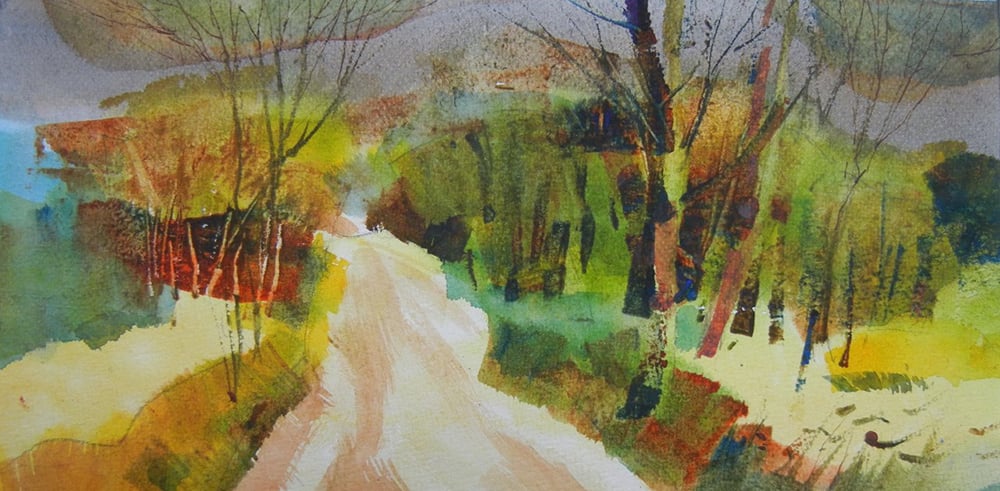 Advice to Others  
If you want to go there faster, go with others.
If you want to "be" there, go alone!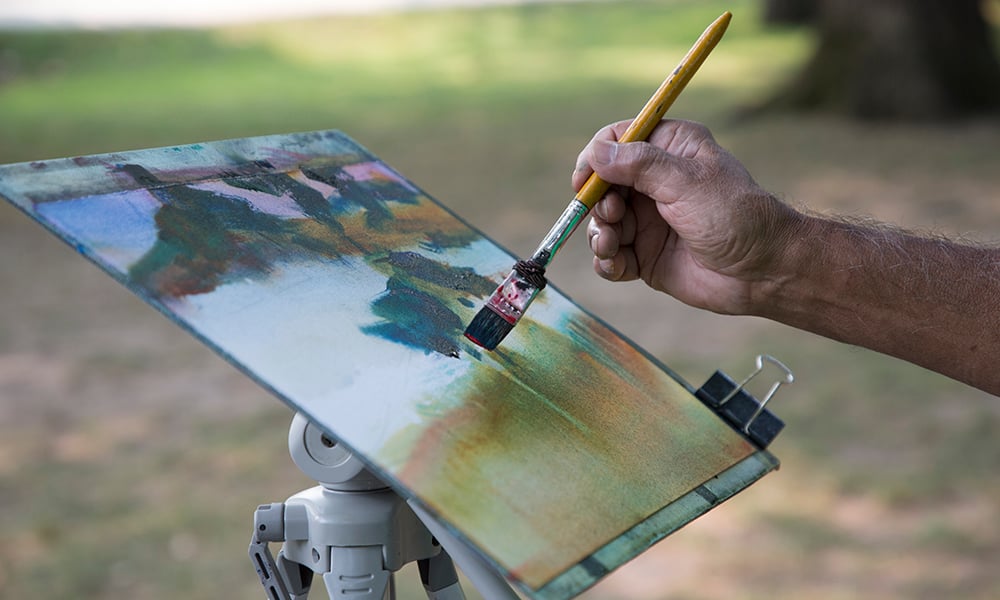 If you have a fun or unique way of catching nature in our preserves and would like to be featured in a "Catching Nature" blog, please contact Deb Humiston at dhumiston@dupageforest.org.