Update on Wildlife We Can Take In
Due to the COVID-19 outbreak, Willowbrook is working with minimum staff and no volunteers. This limits the number of orphaned wildlife we can safely care for.
At this time, we are unable to accept baby squirrels, raccoons, cottontails, and waterfowl (geese and ducks). We are still accepting all native adults and babies of other species.
Please call first (630-942-6200) so we can help you decide on the best course of action for babies you suspect need help. If we cannot accept an animal for care, we will try to help you locate another wildlife rehabilitator.
Thanks for your patience as we work through a very busy baby season during these tough times.
Below is a link to other licensed wildlife rehabilitators that may be able to help. Thanks for understanding.
Wildlife Rescue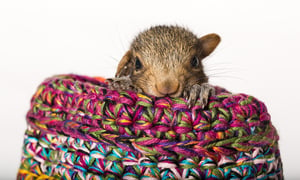 If you find a wild animal exhibiting signs it needs help or a baby of the species listed below, call Willowbrook Wildlife Center at 630-942-6200.
View a list of licensed wildlife rehabilitators in your area.

I Found a Wild Animal. What Should I Do?
Find the information you need to assess the animal's condition, determine if it needs help and then take action.