A red fox treated at Willowbrook Wildlife Center for mange regained his freedom after being released recently at McDowell Grove Forest Preserve in Naperville.
The red fox was admitted to Willowbrook on May 13 emaciated and with a severe case of mange. Initial treatment was started at the Wildlife Medical Clinic at University of Illinois and continued at Willowbrook.
The red fox after about two weeks of treatment at Willowbrook.
The fox had severe hair loss and crusting of the skin, classic signs of sarcoptic mange infection, according to Dr. Sarah Reich, Willowbrook staff veterinarian and wildlife rehabilitation and research manager. A skin scrape also determined it had mites.
The fox was treated with anti-parasitic medicine for the mange, antibiotics for secondary infections, anti-inflammatory medications and subcutaneous fluids. Once he was stabilized, he was sedated for a bath to remove a large amount of dead, crusted skin.
Anti-parasitic therapy (selamectin, the active ingredient in the common dog and cat flea medication Revolution) was continued every 2 weeks until the fox had 3 negative skins scrapes where no mites were found. During this time, all of the fox's hair grew back and he gained some much-need weight. The fox was at Willowbrook for a total of 60 days before being deemed ready for release.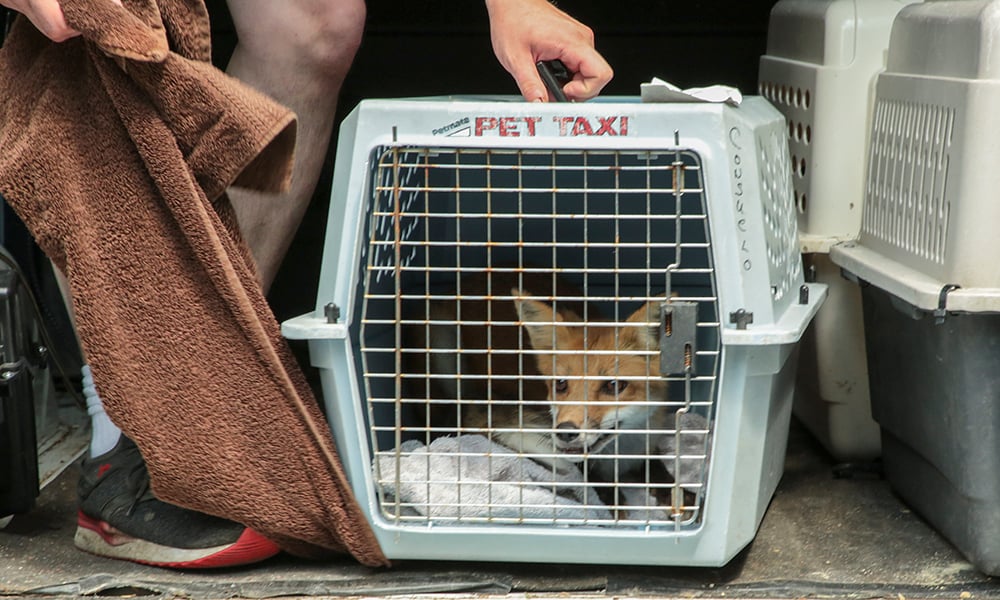 The red fox is unloaded from the truck by Willowbrook wildlife keeper Michael Wittman at McDowell Grove Forest Preserve in Naperville.

The Problem with Mange
Sarcoptic mange is common in foxes and coyotes; it is relatively easy to treat, but the difficulty lies in catching the animal to treat it. The skin disease is caused by infection with the Sarcoptes scabei mite. The microscopic female mites burrow under the animal's skin and leave a trail of eggs behind. This burrowing creates an inflammatory response in the skin similar to an allergic reaction.
The motion of the mite in and on the skin is extremely itchy, as is the hatching of the eggs. This creates a further allergic reaction and more itching, loss of sleep and reduced immune response.
Animals with mange suffer from loss of fur, scaly skin, and a general unhealthy appearance. The condition worsens as a skin infection sets in. The fox's immune system is even more compromised and internal parasites (tape, hook and roundworms) begin taking over and absorbing any nutrients the fox may find. Mangy foxes are usually starving in the late stages.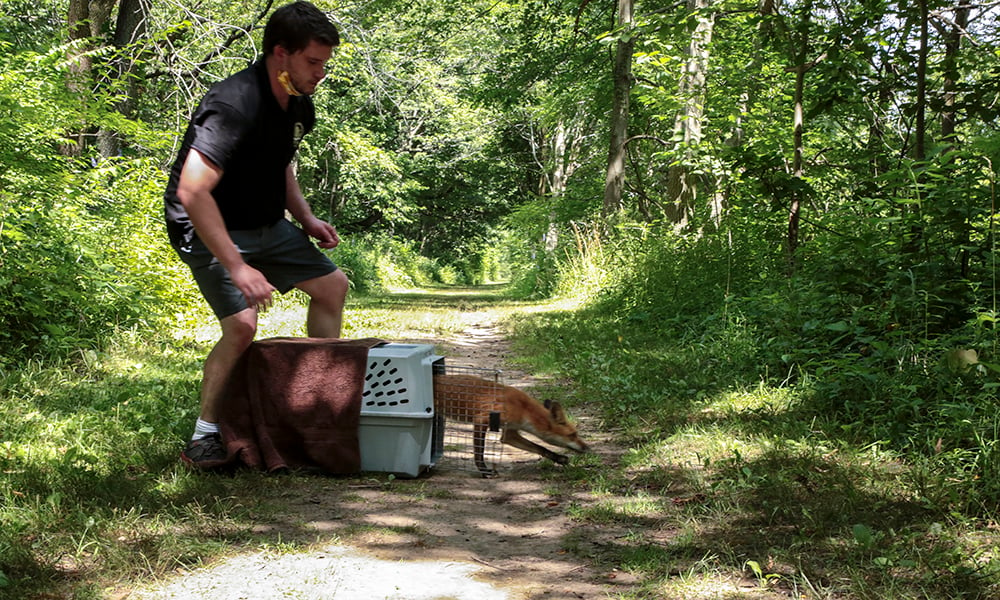 Willowbrook wildlife keeper Michael Wittman releases the red fox at McDowell Grove Forest Preserve in Naperville.
Help Us Help Wildlife
If you find a wild animal exhibiting signs it needs help, get the information you need to assess its condition at Willowbrook's wildlife rescue advice page. Determine if it needs help, and then take action.
Before you make a drive to Willowbrook, call 630-942-6200 to arrange for a no-contact curbside drop-off. The center accepts wildlife patients every day 9 a.m. – 3 p.m.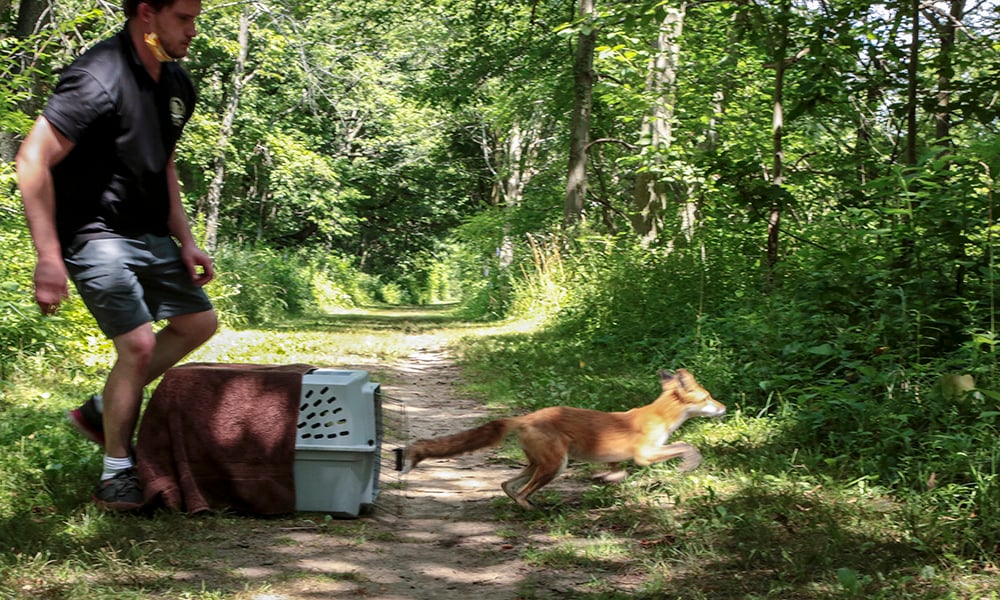 Wittman watches at the fox takes off into the woods at McDowell Grove Forest Preserve in Naperville.