Meet Shirlee, a rare yellow-colored or "xanthic" Blanding's turtle now on public display to help spread the word about the plight of the state-endangered Blanding's turtle. She's also a great example of how it takes a village to help save these creatures.
Forest Preserve District of DuPage County ecologist Dan Thompson recently transferred Shirlee from Peggy Notebaert Nature Museum in Chicago to a Blanding's turtle exhibit at Isle a la Cache Museum in Romeoville. Shirlee is a two year old juvenile hatched out in 2017.

"I personally adopted this turtle in honor of my late mother-in-law, and named it after her since she was particularly fond of these xanthic/yellow turtles," Thompson said.

Peggy Notebaert and the Forest Preserve District of Will County's Isle a la Cache are partners in the Forest Preserve District of DuPage County's Blanding's turtle "head-start" program, which has released 3,000 Blanding's turtles into the wild since 1996.

Shirlee's unusually bright coloring makes her a poor candidate for release into the wild because she would be an easy target for predators and poachers, Thompson said.

Blanding's turtles are typically dark with a yellow throat and small yellow specks on their carapace, or upper shell, and some yellow scales on their front legs. Shirlee is exhibiting a genetic condition, likely a mutation, that occurs in healthy populations, Thompson said. As she ages, her upper shell will darken.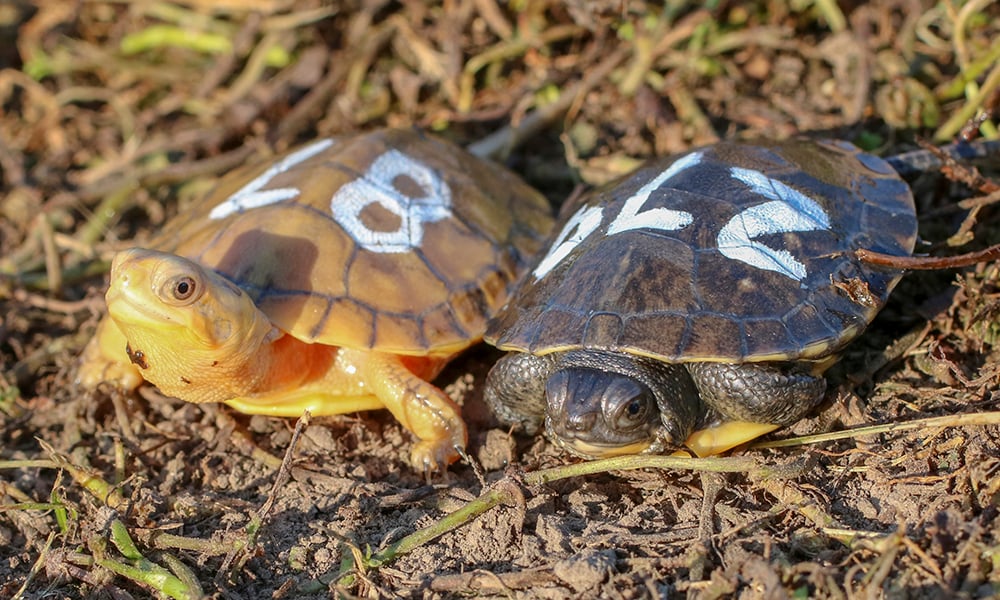 Shirlee (left) as a new hatchling next to a normal-colored Blanding's turtle.
"We also don't know about her genetics or whether she can produce normal young," Thompson said.
"We don't know how often this occurs in the wild," Thompson said. "We don't know what the normal mutation rates are."
Since the program began, there have only been 9 Blanding's turtles born with this genetic condition, Thompson said. Of those 9, only three survived more than a year, he said.
"Mutations are nature's way of changing and potentially improving a species chance of survival. If the mutation is favorable, the animal will thrive and pass along the gene," Thompson said. "If it's not a favorable adaptation, the animal will struggle and likely not survive and the gene will not persist."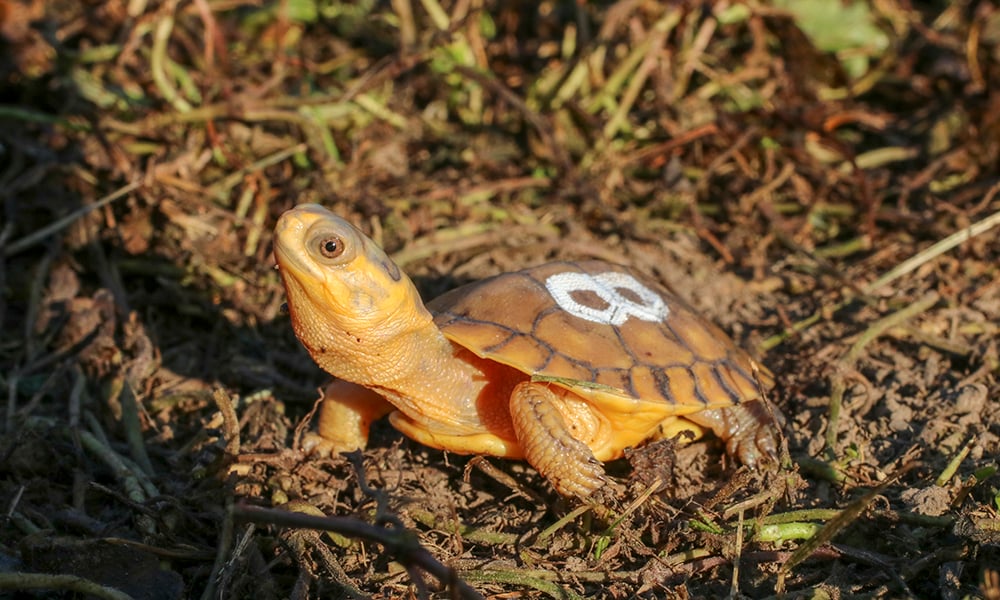 Shirlee as a new hatchling.
There's another older Blanding's turtle at Isle a la Cache with the yellow coloring and two normal-colored Blanding's turtles on display at Isle a la Cache Museum. Will County Forest Preserve District is also raising 40 other Blanding's turtle hatchlings for eventual release into the wild, and will get another batch of hatchlings to raise once these are released later this year.
"Shirlee may take a little time to come out of her shell (pardon the pun) before she is settled and comfortable in the display," Thompson said. "She may spend a lot of time hiding until she adjusts."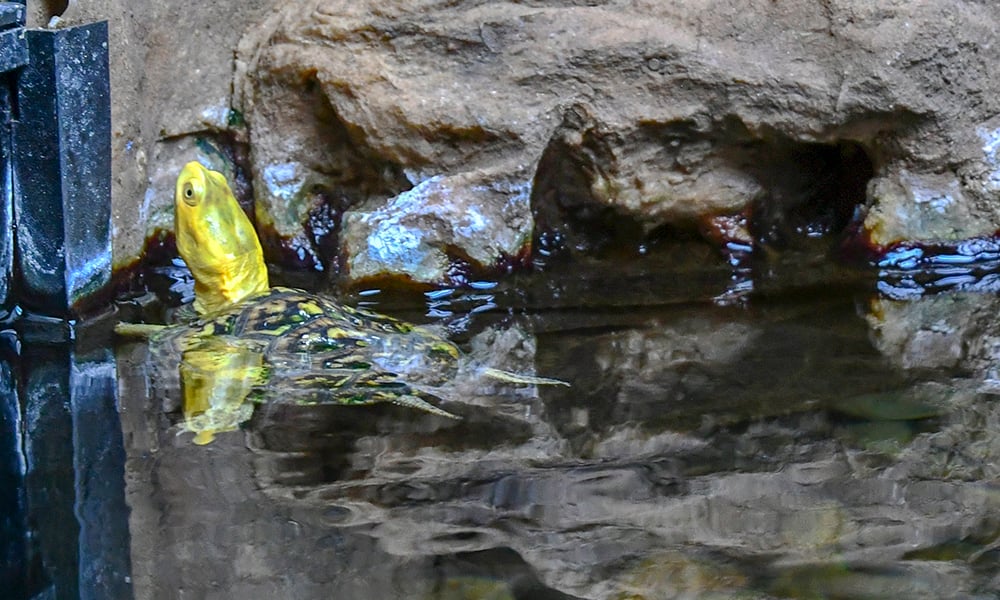 Shirlee at her new home at the Isle a la Cache Museum in Romeoville. (Photo courtesy of the Forest Preserve District of Will County)
The Forest Preserve District of DuPage County started the Blanding's turtle head-start program after staff noticed they were only finding adult Blanding's turtles in the preserves and no juveniles or young adults, indicating that Blanding's turtles were dying off faster than they could repopulate.
One of the biggest threats to Blanding's turtles is predators eating their eggs in the nest. During their 60-day incubation period, at least 90 percent of turtle nests are destroyed by predators each year.
The head-start program improves their odds by collecting pregnant female Blanding's turtles from wetlands and marshes in DuPage forest preserves before they lay their eggs in the spring, collecting their eggs and incubating them at the District's Urban Stream Research Center in Warrenville. After the eggs hatch, they are kept and reared for about a year before being released back into the preserves.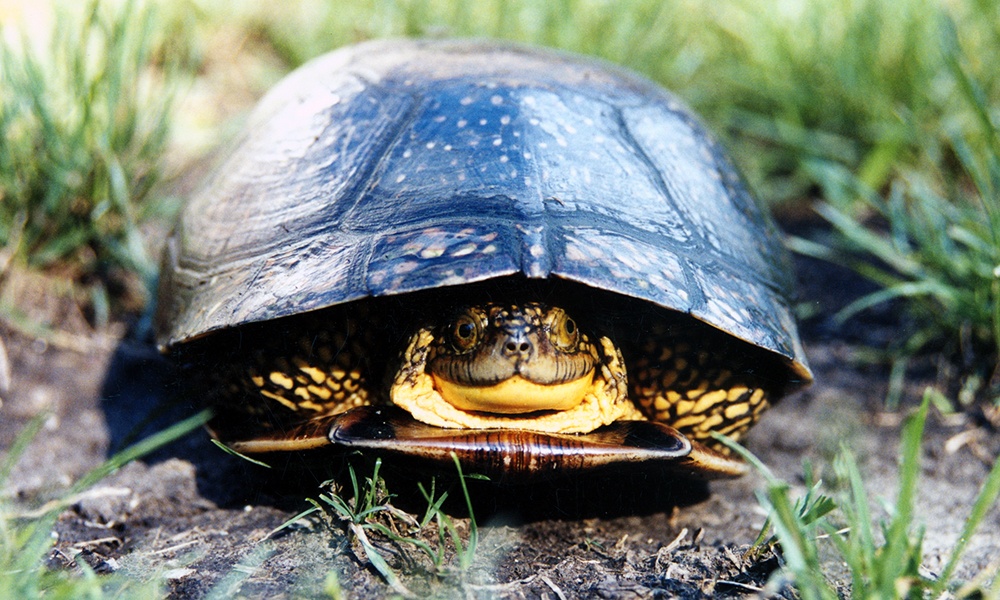 A normal colored adult Blanding's turtle.
The District has been able to expand and improve the program with help from partners such as Peggy Notebaert Nature Museum, Forest Preserve District of Will County, Wheaton Park District's Cosley Zoo, Brookfield Zoo, St. Charles Park District and Shedd Aquarium.
"It's a monumental undertaking to bring a species back from the brink of extinction," Thompson said. "We've been able to do so much more with our partnerships, something we could not do on our own."
The public can adopt a Blanding's turtle hatchling under a program started by the Friends of the Forest Preserve of DuPage County, a 501 (c)(3) nonprofit organization.