Winter is a great time to go exploring in the DuPage forest preserves.
In addition to the many health benefits of getting outside, the preserves in winter can offer a fresh perspective on the woods different than other seasons. For example, animal tracks are more visible in the snow, and the quietness makes it easier to hear the birds and squirrels chattering among the trees.
As an added bonus, there are no mosquitos! And while cross-country skiing and ice fishing are popular activities, one of the easiest ways to get outside is by just taking a walk on one of the DuPage forest preserve trails.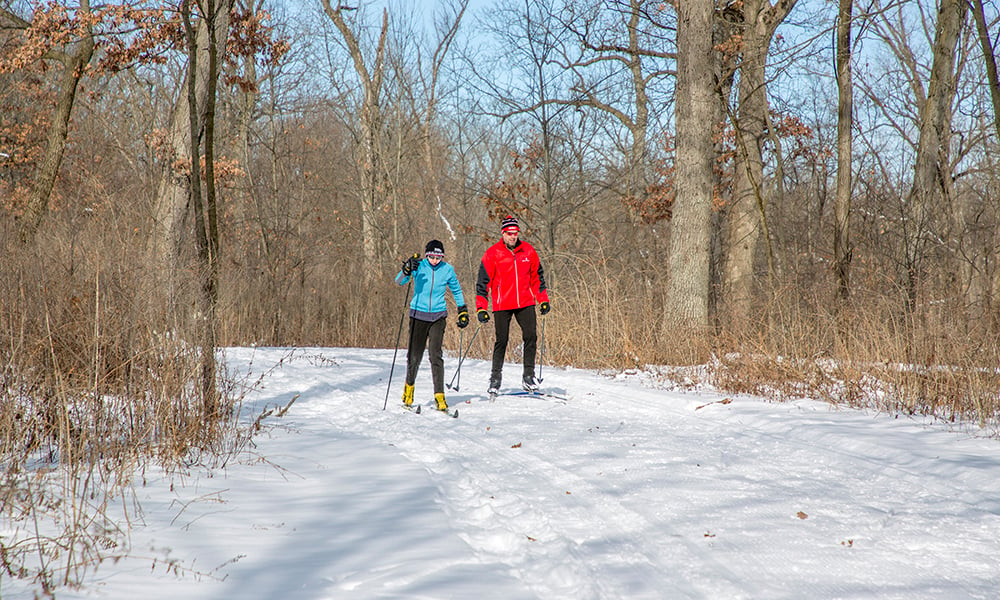 Groomed Trails
District crews groom more than 80 miles of trails for cross-country skiing, making it easier to walk on as well as setting track for skiers. Visitors at these preserves who are not skiing should stay in the center of the trail and avoid walking on the set tracks.
Snowshoeing has become more popular in recent years, and the District offers snowshoe rentals at Fullersburg Woods Nature Education Center in Oak Brook and the Mt. Hoy tubing hill at Blackwell Forest Preserve in Warrenville.
Snowshoes spread out the user's weight over a large footprint, packing a layer of snow between them and the ground and allowing the user to travel on top of the snow instead of through it. Snowshoes make it easier to walk on fresh snow and allow access to otherwise hard to reach areas. Crampons or ice cleats, on the other hand, are attached to boots to provide traction on icy or very steep terrain. The District recommends visitors to wear cleats on icy trails.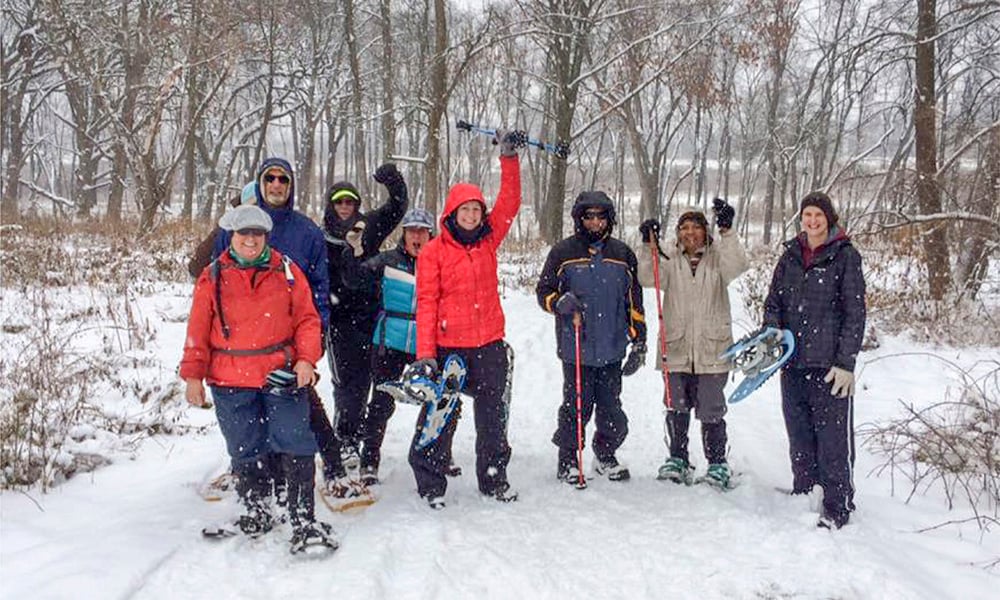 Ungroomed Trails for Hikers
If you're looking for a place to hike that is a little off the beaten path and free of cross-country skiers, the following preserves have beautiful trails that are not groomed by the District.
The main trail at Cricket Creek Forest Preserve in Addison connects to the 30-mile Salt Creek Greenway Trail. Additional trails around the three ponds provide visitors with almost four miles of trail. Its main parking lot on Fullerton Avenue.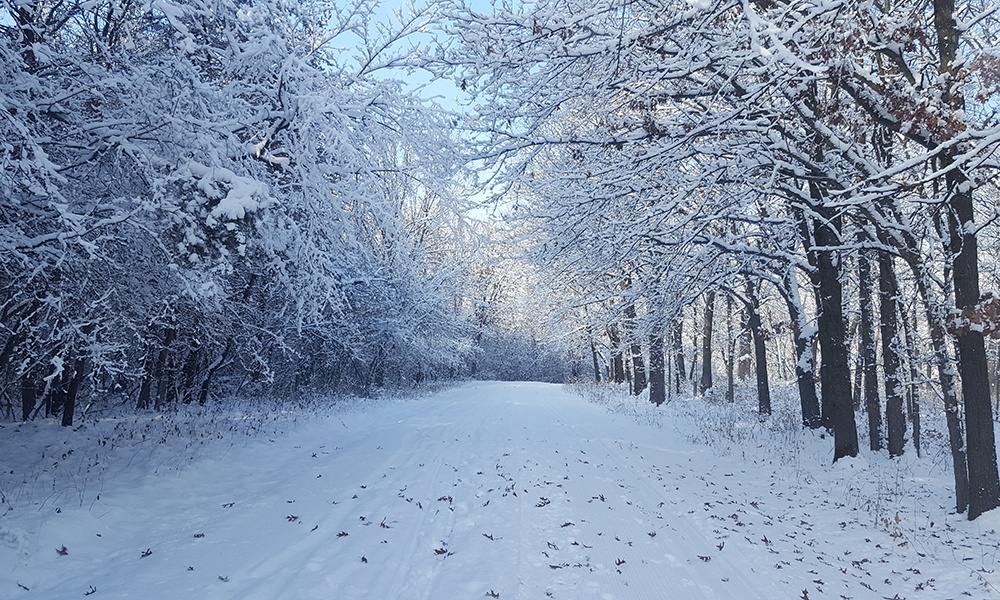 Maple Grove Forest Preserve in Downers Grove has a one-mile trail system that winds thru a vast maple forest with plenty of established footpaths to explore. The entrance is on Maple Avenue.
McDowell Grove Forest Preserve in Naperville has over six miles of trails that take visitors through mature woodlands and open fields. It also connects to the West Branch DuPage River Trail. The preserve entrance is on Raymond Drive.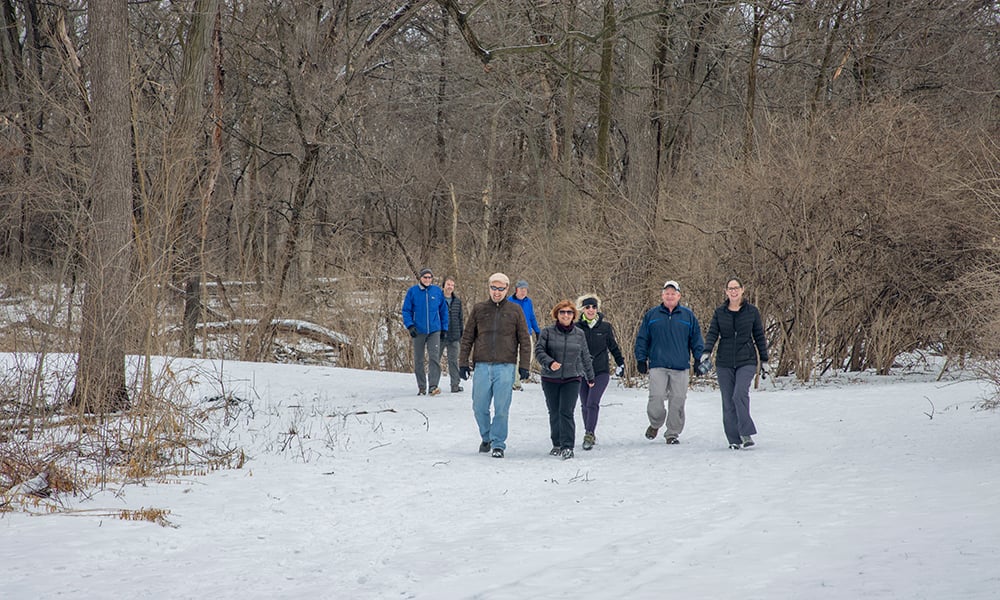 Spring Creek Reservoir in Bloomingdale off Lake Street has a 1.1-mile asphalt trail around a reservoir. Since DuPage County needs access to the spillway, it is also the only trail system that the District plows, so it's a great trail for anyone who wants to avoid ice and snow on trails or use a stroller.
West DuPage Woods Forest Preserve in West Chicago has two parking lots. The main lot off Route 59 has a 1.0-mile loop that connects to the West Branch DuPage River Trail. The second lot off Gary's Mill Road has more than 2 miles of trails that provide great views of wetlands along the West Branch DuPage River.
As always, please be courteous to other visitors by announcing your approach, using the trash and recycling receptacles, keeping dogs leashed, cleaning up after your pet and respecting the wildlife.