Lorinda Sorensen
Naturopathic Doctor
I'm originally from Washington state, having lived in both a rural area, near the hills and rivers of the Cascade Mountains, and urban Seattle. I moved to the Chicago region for work.
I'm an acupuncturist, naturopathic doctor, and professor at National University of Health Sciences in Lombard. One of my teaching topics is botanical medicine, which is directly related to my love of plants.
I also have a part-time practice in Joliet. My hobbies range from gardening, art and literature, health-related habits like quality foods, yoga, exercise, hiking, and my pets, currently a Border collie rescue. I also like to travel and often take road trips to hike in southern Illinois, but I've also been overseas to India, Australia, Italy, and New Zealand, where I lived for a few years.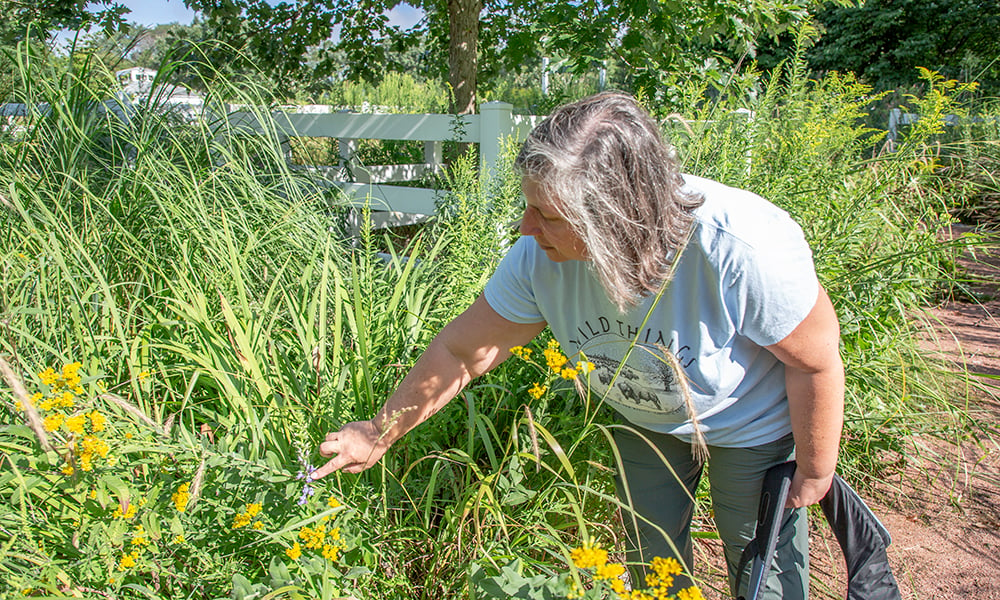 Lorinda Sorensen checks out some late summer blooms at the Visitor Garden at Danada Equestrian Center in Wheaton.

Discovering DuPage Forest Preserves
When I got a dog many years ago, I brought him to Fullersburg Woods Forest Preserve in Oak Brook for walks. The path along Salt Creek reminded me a little of the area where I grew up. At this preserve they have a Wildflower Walk with medicinal herbs that I knew, but several others I needed to learn about. I made a point to go back often. A few years later, I started jogging at this same preserve, and on my first run all the other joggers gave me words of encouragement. I also like running at Danada Forest Preserve in Wheaton along the prairie, and I like to think the summer flowers are cheering me on. You can't find that on a treadmill!

What Brings Her Back Time and Time Again
The forest preserves are a great way to see the different seasons, so I come back to view spring ephemeral wildflowers in the woodlands, visit the summer wildflowers in the prairies, try to learn new mushrooms in the fall. It was during my winter visits to the preserves that I came to really appreciate the oak savannas we have.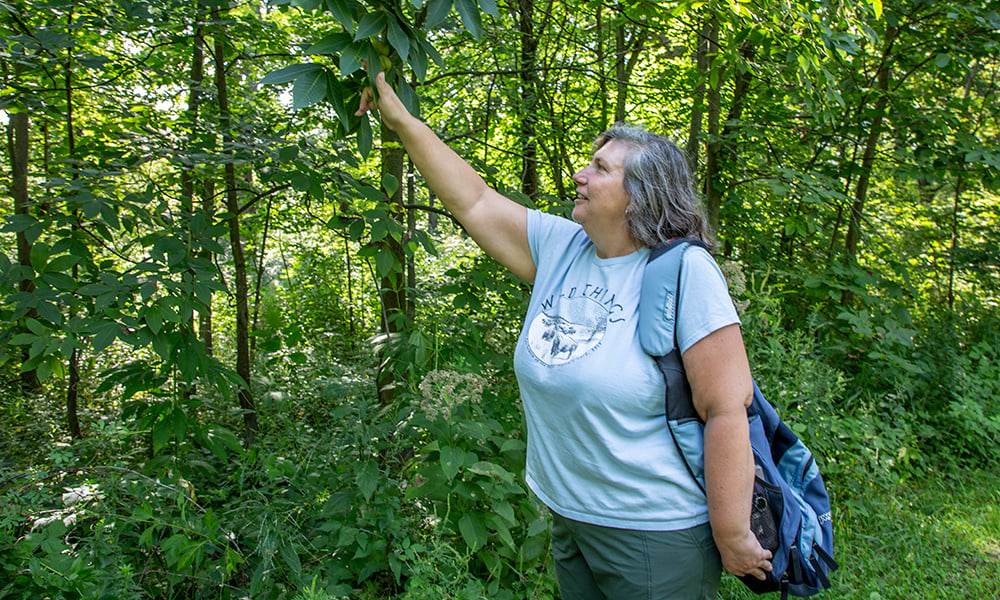 Sorensen checks out the leaves of a hickory tree at Danada Equestrian Center in Wheaton.
I also know that exposure to nature has health benefits. It's what some people — myself included — call Vitamin N. A growing body of evidence in medical research supports the positive health outcomes of exposure to greenspace such as parks, trees and street trees, and bluespace such as creeks, rivers, and oceans, including lowering stress hormones. I try to bring this into my life, as well as patients and those around me. I take many photos while out in nature, and have posted some of my favorites to Instagram.

Catching the Nature Bug
As a child I loved animals and spent time outside with family pets and also livestock. Growing up I noticed I felt better when I spent time in nature, most of the time in play, but sometimes just observing. When I started gardening, I decided to make plants a big part of my life and learned about medicinal plants, leading me to study, then teach, botanical medicine. My interests still focus on plants, as they are a big part of my professional and personal life.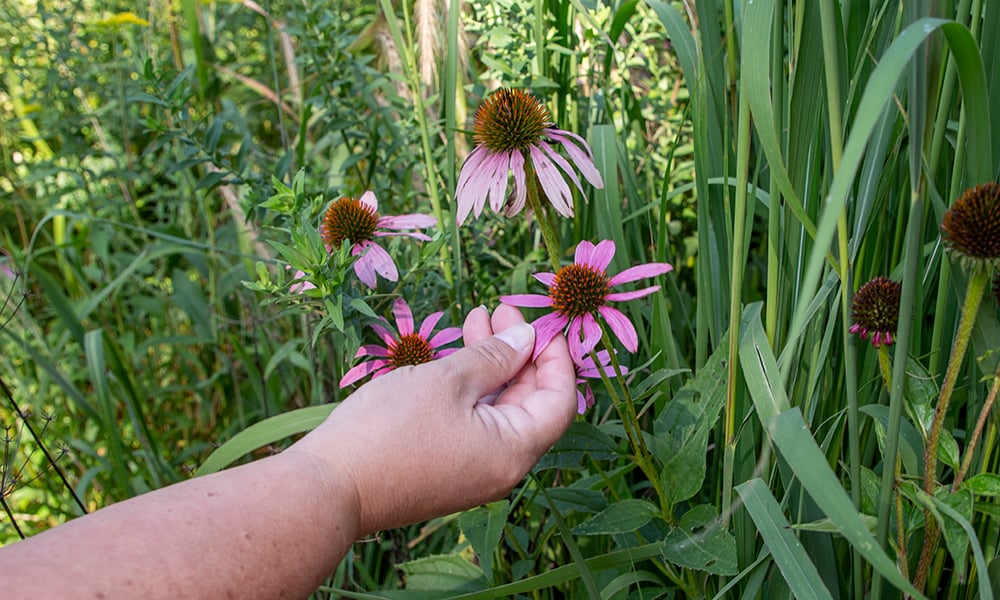 Sorensen discusses the medicinal uses for purple coneflower.

Favorite Nature Activities
My favorite thing to do in the preserves is to look at flowers! When I see a plant I've never seen before I try to identify it, then learn about it. This has taken my knowledge about native plants, and by extension issues in the environment, further because my favorite thing to do is learn.
Lorinda Sorensen takes a photo of a flower to help identify it on her iNaturalist app at Danada Forest Preserve in Wheaton.

How Nature Inspires
Nature is inspiring by its awesome beauty, from the grand scenes of mountains to small insects to the parts of a flower. Also, I find trees inspirational and a symbol for life. Some grow tall and some not so tall, but they coexist in the sunlight. Trees in this region are resilient enough to deal with extreme temperatures, like last winter's bitter cold, and sometimes little rain in the summers. Most trees have large, deep roots to ground them, supporting them with branches reaching for the sky. Thinking of the tree roots sometimes settles my mind when I need to decide on something. I think about the branches when I'm looking for inspiration.
Sorensen checks out the fruit on an elderberry bush during a walk at Danada Forest Preserve.

Advice to Others
The first thing to do is to get outside and look around. Or listen, if there are birds. Letting go of devices is helpful. But some apps can help people focus, like the iNaturalist app. Groups like the Illinois Native Plant Society and the Illinois Mycological Association use the app, and citizen science observations can be add to their projects.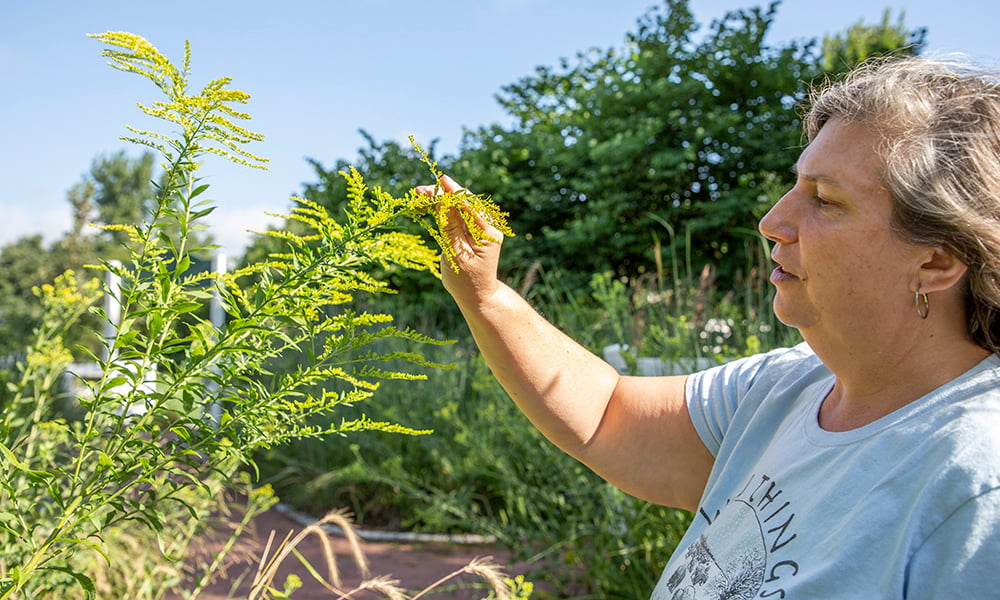 Sorensen checks out goldenrod blooms, which are often confused with ragweed.
If you have a fun or unique way of catching nature in our preserves and would like to be featured in a "Catching Nature" blog, please contact Deb Humiston at dhumiston@dupageforest.org.