Marian Pezdek has loved gardening ever since she was a little girl planting alongside her mother in her gardens.
So she was delighted to discover a group of volunteer gardeners who tend the Mayslake Peabody Estate heritage garden. She promptly joined the group four years ago and has been tending to the Mayslake gardens as a volunteer ever since.
Pezdek retired in 2011 as a nursing professor at Joliet Junior College, where she taught advanced medical surgical nursing in the nursing program for 20 years.
Pezdek is single and very close to her brother and sister, nieces and nephews and their children, along with friends. Her brother taught her how to scuba dive, and her sister has joined her on many adventures and travels.
Here's her story.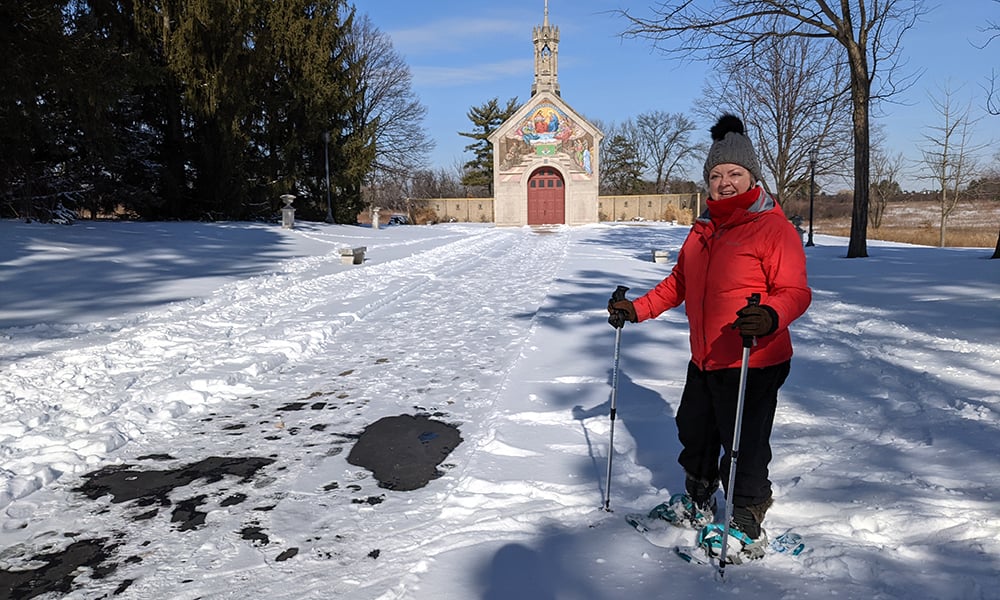 Catching the Nature Bug
I attended a Becoming an Outdoors Woman retreat in 1992 at Pere Marquette State Park in southern Illinois. This program is put on by the DNR and teaches women various outdoor activities such as archery, canoeing and hiking. It really inspired me to look into more outdoor nature types of activities.
Gardening has been an interest of mine since I was a little girl planning and planting alongside my Mom in her gardens.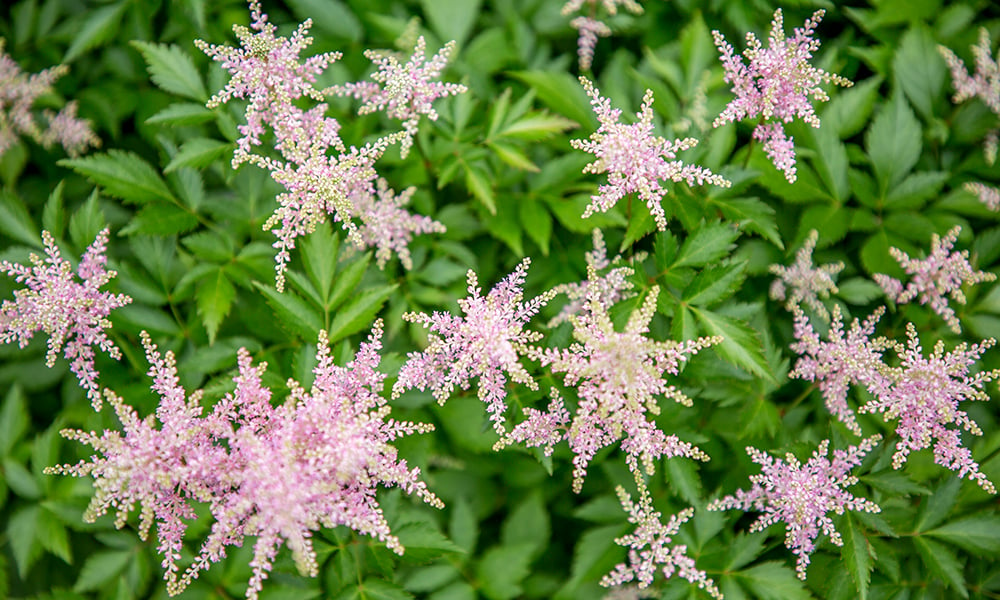 Astilbe put on a fireworks show of their own at the heritage gardens surrounding Mayslake Peabody Estate in Oak Brook. Pezdek and other volunteer gardeners tend to the garden.
Discovering DuPage Forest Preserves
At a Mayslake open house showcasing its various programs, I met some volunteer Mayslake gardeners who were providing tours of the gardens. As I spoke with them they encouraged me to volunteer as a gardener.
Soon I met the welcoming Mayslake staff, fellow gardeners and the summer student apprentices. These people are very friendly and knowledgeable. They were able to provide historical information about Mayslake Peabody Estate and point out different areas of interest.
Joining the Mayslake book club was a great experience and I would highly recommend it. It was especially fun having outdoor book club meetings in the warmer weather.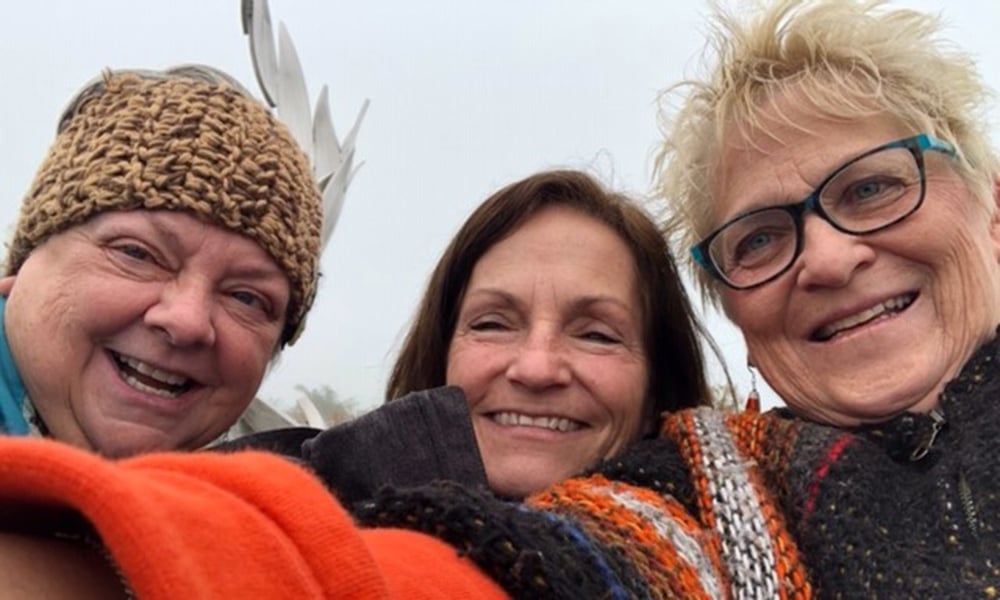 Marian Pezdek (left) and her two friends on a recent outdoor adventure. Photo provided by Marian Pezdek
Favorite things to do in the preserves
My favorite thing to do is garden around Mayslake Hall and the Portiuncula Chapel. Also high on my list are the book club, biking, hiking, and attending moonlight tours of the Mayslake mansion in October. I loved attending the First Folio plays and look forward to their return.
I've also enjoyed searching for owls with my friends on the Mayslake grounds. And a group of gardeners and I went out to Kline Creek Farm in West Chicago to see what a farm looked like years ago and see sheep in the barn.
I would love to go to see a sheep shearing the next time that activity is available at Kline Creek Farm. It was also a great way to see the 1890s living history farm and learn about the contributions that were made to this area by people in the past.
In the summer I enjoy riding my bike through the cool tree-lined paths on DuPage bike trails.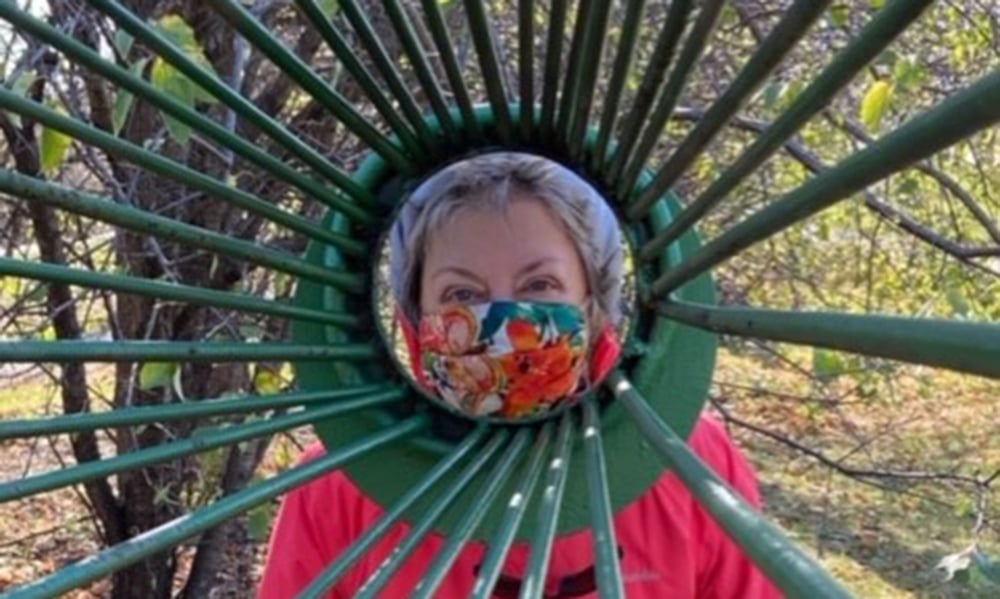 Marian Pezdek on one of her adventures to the Skokie Sculpture Park. Photo provided by Marian Pezdek
What Brings Her Back Time and Time Again
I love the beautiful grounds in DuPage forest preserves. I've seen various wildlife such as coyote, owls, red-tailed hawks, herons and migrating birds. I also enjoy beautiful spring flowers in the preserves.
Each time I visit DuPage forest preserves I see and enjoy something different. Many times I encounter other people who will share the path and it is always a pleasure to stop and chat with visitors.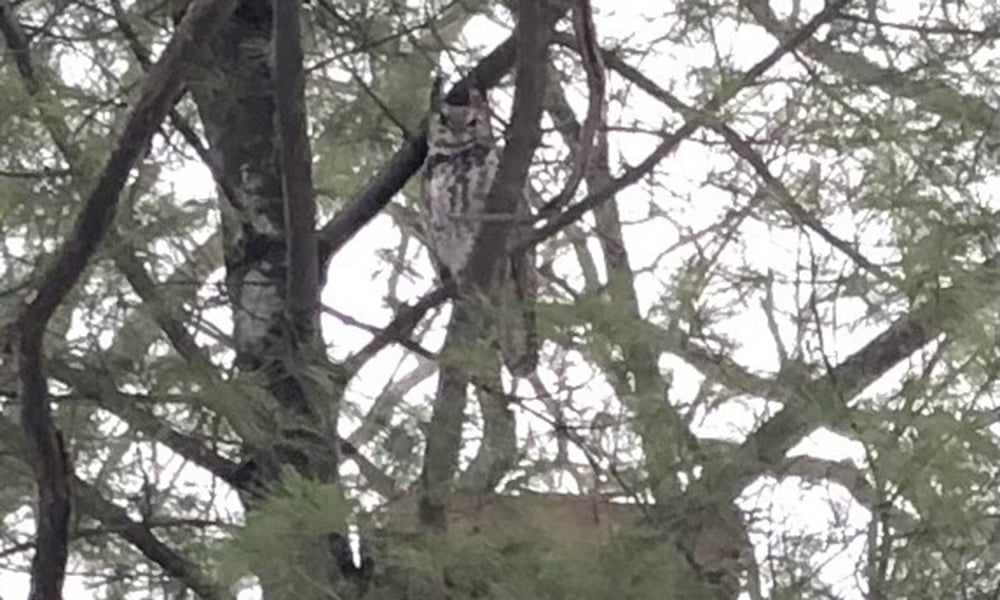 An owl at Mayslake Forest Preserve in Oak Brook photographed by Marian Pezdek's friends Jayne Finger and Marlou Jonston.
Favorite Forest Preserve and Time to Visit
My favorite destination is Mayslake Peabody Estate. During this last year I biked and hiked the trail there.
My favorite season is summer when I volunteer in the garden and we work in the morning around Mayslake and the mansion. It's a fun activity with many intelligent kind people to work with.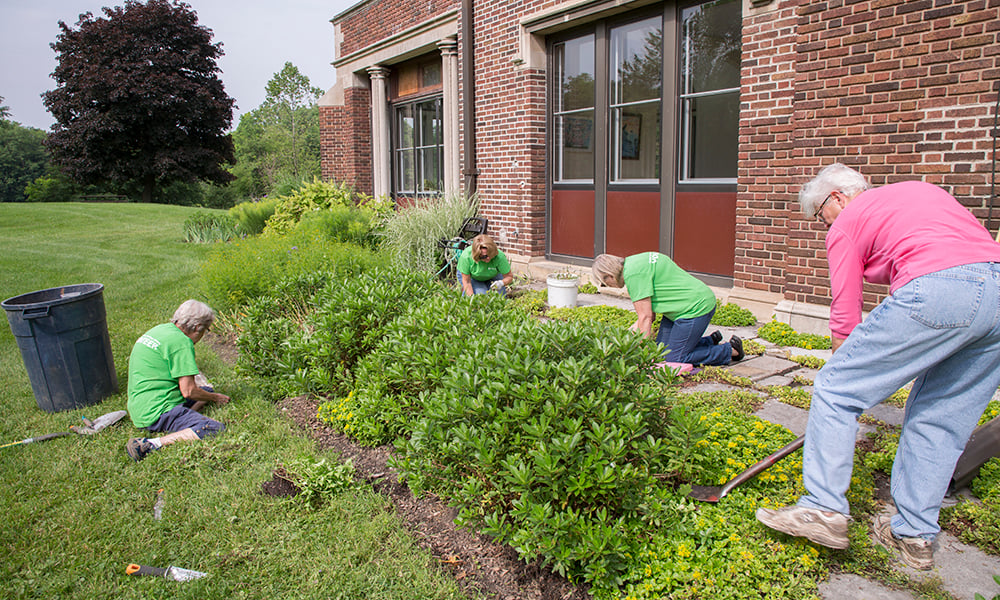 Marian Pezdek is one of the volunteer gardeners who work in the spring, summer and fall on the heritage gardens around Mayslake Peabody Estate in Oak Brook.
Nature's Lessons
Nature has taught me about the ebb and flow of life. Each year we see the change of seasons. Over centuries we see how glaciers contributed to the land formations and riverbeds that we now see in the forest preserves such as Fullersburg Woods Forest Preserve in Oak Brook.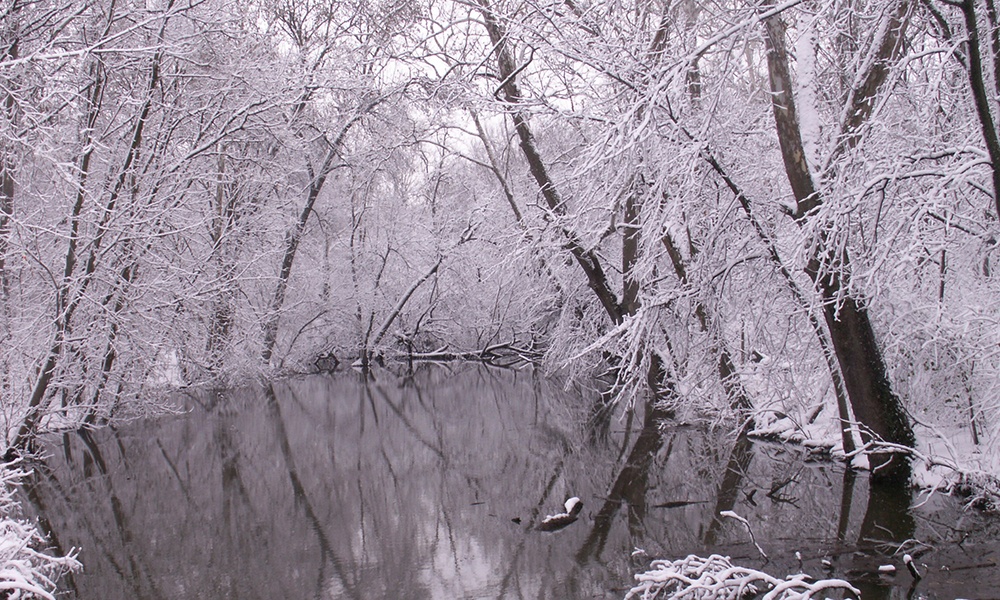 A view of snow-covered trees along Salt Creek at Fullersburg Woods Forest Preserve in Oak Brook.
How Nature Inspires
Nature inspires me because it demonstrates the circle of life. In winter everything looks dark and dreary, then the snow hits and its quiet and clean and just lovely. In spring comes we get beautiful flowers popping up and green grass and trees. Summer has the growth of beautiful flowers, then in fall we get the lovely colored leaves as nature goes to sleep.
Advice to Others
I recommend people join the book club to discover what to look for in nature; go for a walk along the paths and observe nature up close; go for a bike ride; and check out the Forest Preserve District's programs and see what interests you.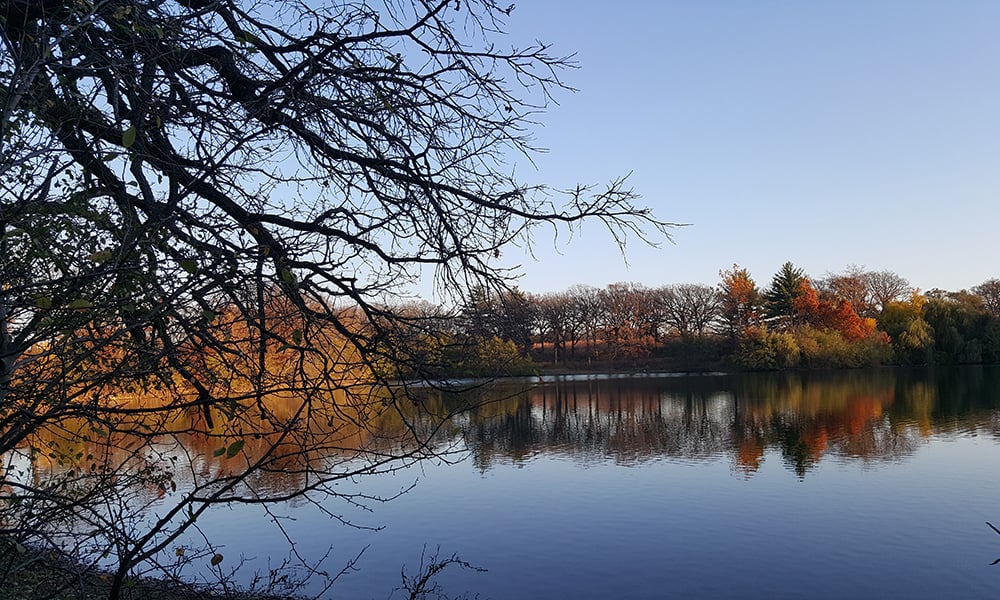 Favorite Nature Quote
My favorite quote is from Louis Armstrong's "What a Wonderful World." I used to listen to this on my way to work to remind myself to appreciate what a beautiful, wonderful world we live in. We sometimes have to look for hidden beauty but it's there somewhere.

What a Wonderful World
I see trees so green, red roses too
I see them bloom for me and you.
And I think to myself what a wonderful world.
I see skies so blue and clouds so white.
The bright blessed day, the dark sacred night.
And I think to myself what a wonderful world.
The colors of the rainbow so pretty in the sky
Are also on the faces of people going by.
I see friends shaking hands saying how do you do.
They're really saying I love you.
I hear babies crying, I watch them grow.
They'll learn much more than I'll ever know.
And I think to myself what a wonderful world.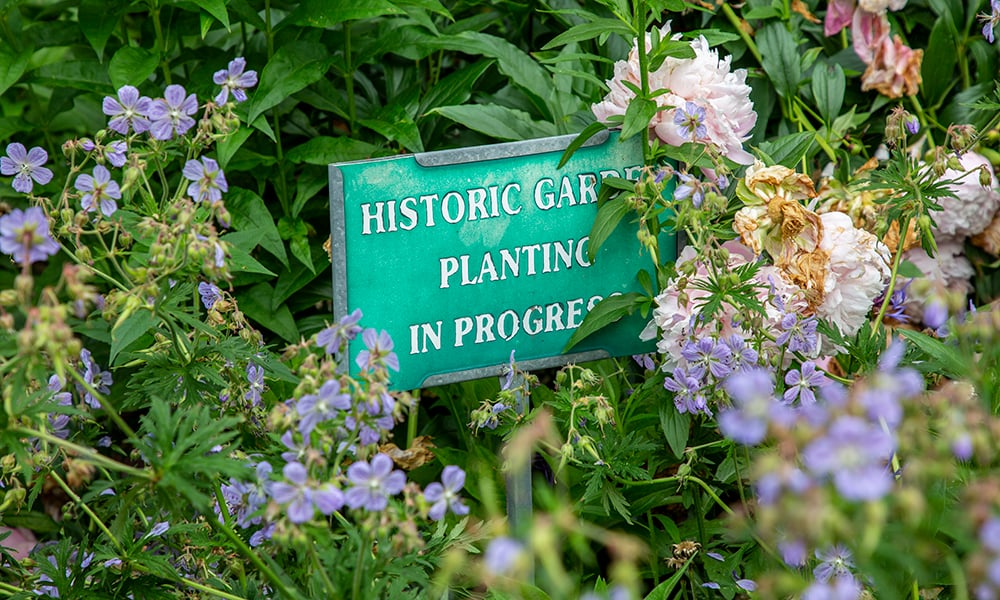 A sign in the heritage gardens surrounding Mayslake Peabody Estate in Oak Brook.
If you have a fun or unique way of catching nature in our preserves and would like to be featured in a "Catching Nature" blog, please contact Deb Humiston at dhumiston@dupageforest.org.