Growing up in Minnesota, Marie Biemesderfer has always been drawn to water and nature. She remembers discovering how things came to life after in the spring after a long winter while working on a high school field biology project.
She grew up as the middle child of three kids raised by a single mom, and now lives in Downers Grove with her husband of 33 years, Brad. Their 29-year-old son lives in Virginia, where he is a teacher. Biemesderfer's other interests are architecture, astronomy and looking at maps. Her three favorite bands are Kansas, Yes and Joe Satriani.
Discovering DuPage Forest Preserves
I'm not sure of the exact date I first went to the preserves, but I think it was around 1994 or 1995. I think the first one I went to was Maple Grove Forest Preserve in Downers Grove.

What Brings her Back Time and Time Again
I like the exercise. It feels so good to accomplish a 2- to 4-mile walk. I like the limestone paths; they are the best walking surface ever. They are the Goldilocks of paths — not too hard and not too soft. I like seeing the trees and flowers (I like small flowers the most) and the water. I like the adventure of seeing different kinds of environments, such as forests, rivers, prairies and savannas. I mostly like the forests. It's like being inside and outside at the same time. Sometimes you get to have a little history lesson at the preserves, too.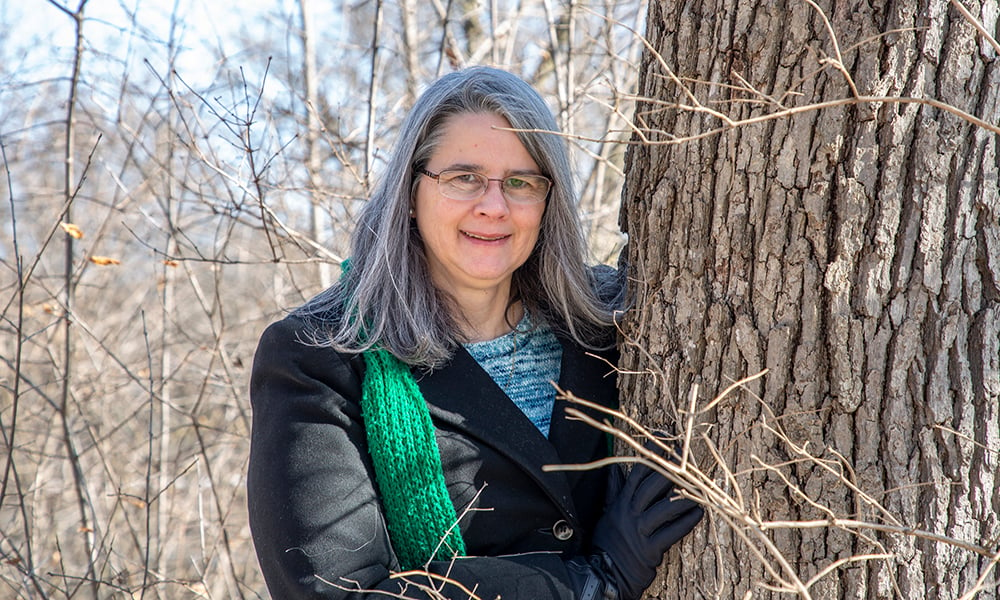 Catching the Nature Bug
I remember taking a field biology class in high school. We had a spring project where I discovered how things came to life after the winter. I so like noticing things come to life now. The forest preserves are ideal to observe seasonal changes like that. The other seasons have much to offer as well.

Favorite Things to Do in the Preserves
My saying is "Always stop for water." I like seeing water from streams and rivers rush or go quietly by. I especially like to see the rivers and streams after a large rain event. I love to see the rivers full and rushing and powerful. Sometimes I can find fish and turtles and in those waters.
There's a very low bridge at Waterfall Glen Forest Preserve in Darien. I like to call it the "Fish Bridge." I often see fish about the size of your pinky, and I've seen crayfish too in the water by that bridge.

Growing up in Minnesota there were all these lakes with paths around them. I love walking around a lake. You can see frogs and turtles in marshes etc. I often get to hear a frog choir on my walks.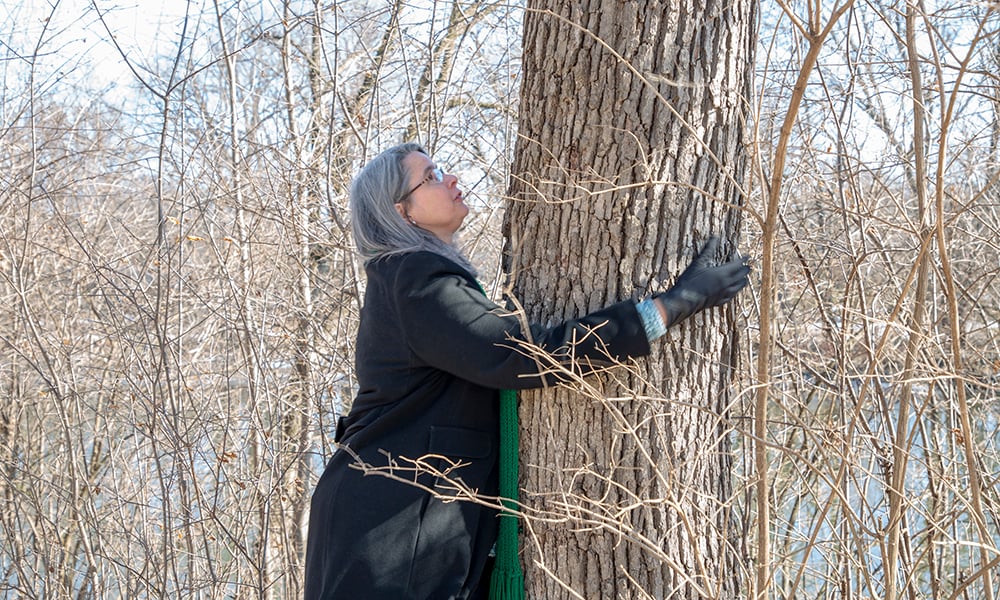 Biemesderfer hugs a tree at Fullersburg Woods Forest Preserve in Oak Brook.

How Nature Inspires
I couldn't predict how important forest preserves would be in my life. But over the last several years I've discovered so much and have been everywhere in DuPage County exploring forest preserves. I keep my forest preserve information next to my couch. I guess nature inspires me to get up and do something. There's life beyond that couch.

Advice to Others
I see nature as an escape that's not too far away. Like the Forest Preserve District saying, "There's a forest preserve within 10 minutes of every home and business in DuPage County." So get out there and escape to low-stress nature. Waterfall Glen feels like a vacation to me. It often amazes me that busy Chicagoland is right outside the preserves, yet inside the preserves you're enveloped in lush green serenity.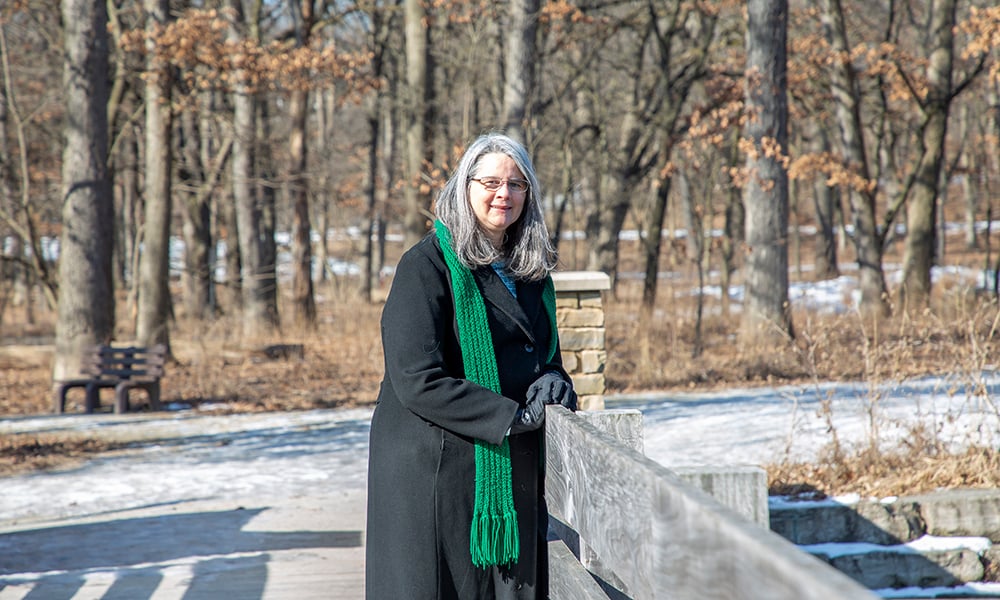 If you have a fun or unique way of catching nature in our preserves and would like to be featured in a "Catching Nature" blog, please contact Deb Humiston at dhumiston@dupageforest.org.