Melissa Koenig spent hours exploring the woods and Lake Michigan growing up in Door County in northern Wisconsin. As a grownup, she likes hiking, dogsledding, skijoring, cross-country skiing and bikejoring.
"When there are five people living in a 1,000-square-foot two-bedroom house, you spend most of you time outside," Koenig said. "I love being outdoors."
She now lives in Glen Ellyn, is married and has a 24-year-old son. She's the director of instructional technology in the Center for Teaching and Learning at DePaul University. When she's not working and there's enough snow on the ground, you might find her out at McKee Marsh mushing with her Siberian husky dog, Rollo.
Here's her story.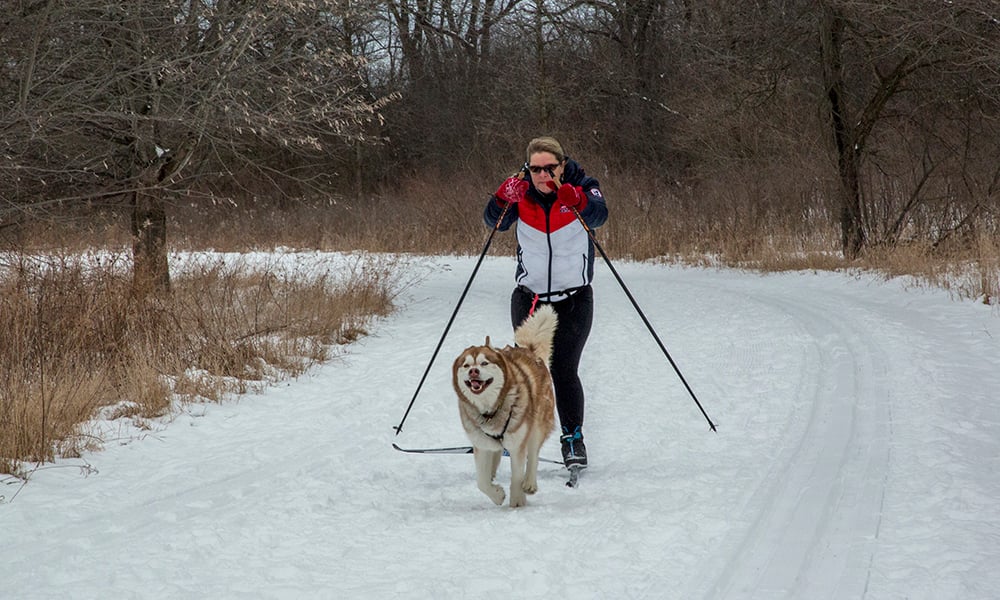 Koenig skijores with her dog, Rollo, at McKee Marsh at Blackwell Forest Preserve.
Catching the Nature Bug
My maternal grandfather was a plant pathologist and professor. We would often spend time in the woods looking at plants and visiting the experiment station in Door County. My maternal grandmother was an artist, and I would spend time drawing and painting wildlife with her. I still have the book of birds my paternal grandmother gave me as she was an avid bird watcher.
My mom is an avid gardener and my dad is a photographer. So nature was just something we did. If we weren't cross-country skiing in the winter in the state parks or on the lake, we were skating on the ponds or spending our summers sailing and swimming.
At one point in my life I thought I wanted to be a naturalist. My fifth-grade teacher spent time volunteering at the Ridges Sanctuary in Bailey's Harbor, WI. I was lucky enough to be able to spend a summer there as an intern when I was in high school. While I learned I didn't want to be a naturalist, I had a great time learning about the natural spaces and gained a new appreciation for all things natural.
Koenig (right) dogsleds with Annie Milne at McKee Marsh at Blackwell Forest Preserve.
Discovering DuPage Forest Preserves
We moved to DuPage a little over 10 years ago, and at first I mostly spent time biking in the preserves. My son was training as a competitive speedskater, and his training group would practice on Mondays in the summer at Blackwell (to take advantage of the tubing hill). I would bike the surrounding preserves while he was training.
Almost four years ago we got a Husky puppy. It was then that I started exploring more of the preserves including the dog parks. I also knew that I wanted to find a place to mush with him. As a child we had a Samoyed who ran on a dog team in Madison, WI.
I initially connected with some folks from the Green Valley Dog Drivers, who introduced me to the sport of mushing. I quickly realized besides sleds there was a whole world of dog sports (running, cycling, skiing, carts and of course sleds) as well as opportunities to race. Through this group I also connected with the Windy City Mushers and have developed a nice group of folks who get together to run dogs at least a few times a week when the weather is cool enough.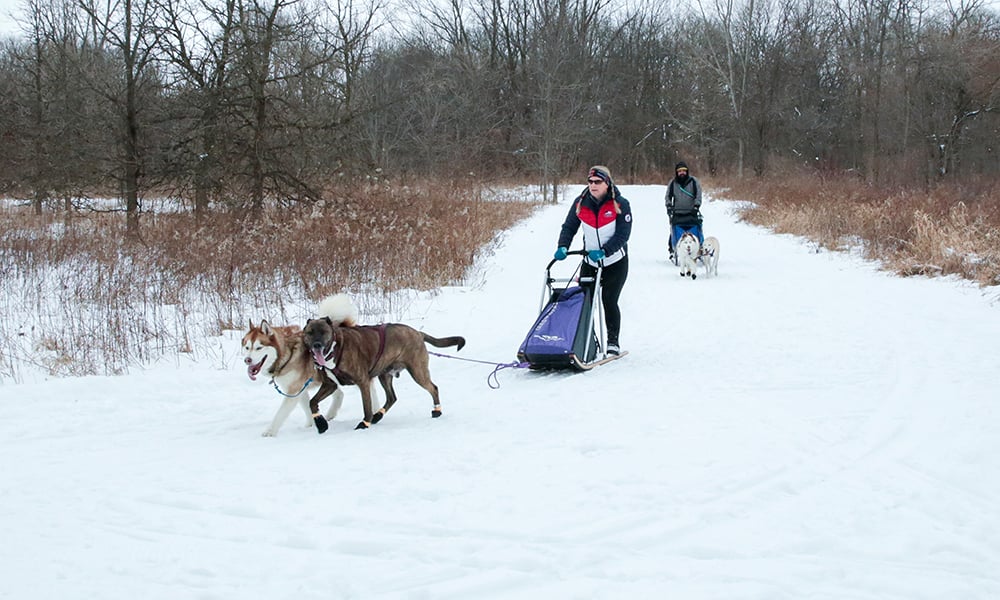 Favorite Preserve and Time to Visit
Fall is by far my favorite time of year in the preserves, and I love early morning or dusk. We live a block from Willowbrook Wildlife Center in Glen Ellyn, and I love hiking the trails there (I am not sure most people know there are trails outside of the wildlife center portion). The dog loves the wooded trail at Willowbrook. A few years ago the local coyotes at Willowbrook had two puppies who liked to follow us around, clearly curious about this creature that looked a little like them (their mom was not too happy, and we avoided walking there until they grew up some).
Herrick Lake Forest Preserve in Wheaton is another favorite spot, as are the wooded trails near Danada Forest Preserve in Wheaton (a little off the beaten path). East Branch Forest Preserve off-leash dog area is our very favorite dog park — so many places for a dog to swim and explore. Just be prepared to go directly to the self-service dog bath afterwards!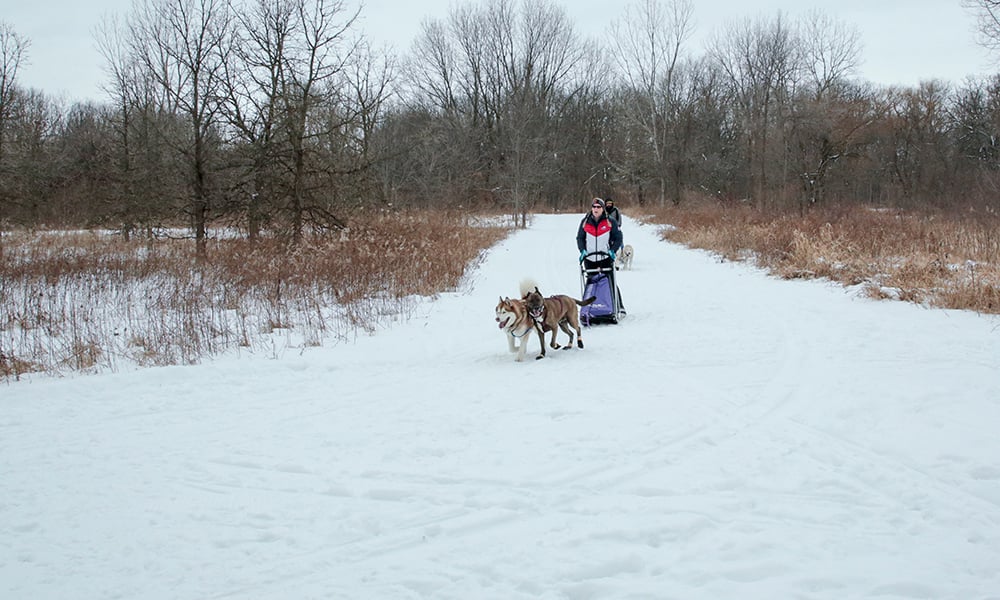 What Brings Her Back Time and Time Again
I love that the forest preserves are so close and you can get lost in nature. For such an urban area it is such a blessing to have so many amazing wild places to visit. Until recently I had no idea that we are also blessed to get groomed trails in the winter for cross-country skiing.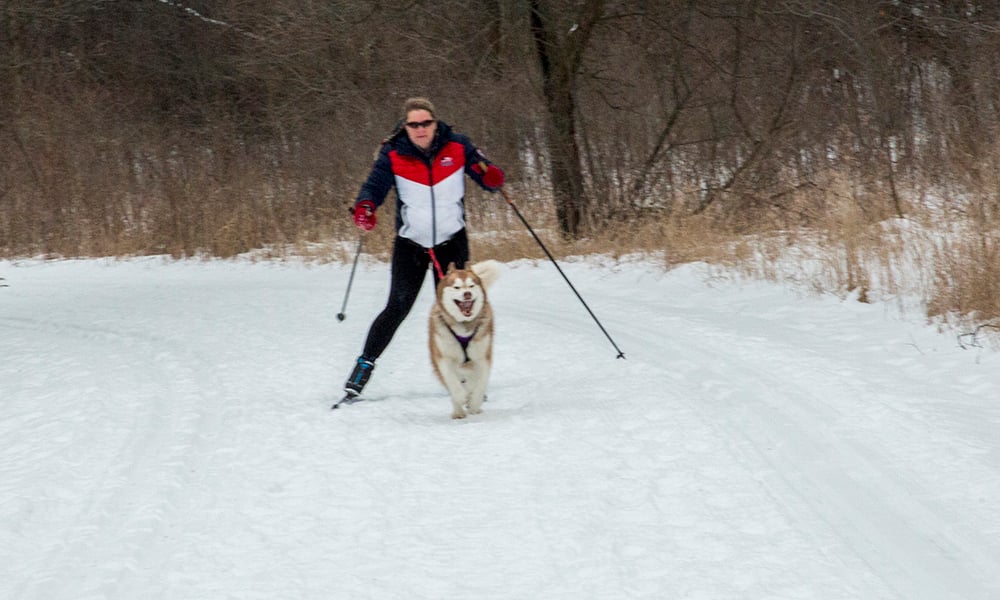 Favorite Thing to Do in the Preserves
Hiking, running, skiing and most of all mushing. Most people think you need to have a whole team of dogs to mush, but all you need is a little training and a single dog. We love to bike (bikejoring), run (canicross) and ski (skijoring).
When we can we meet up with others to practice in a group. Just like people, dogs love running with others. McKee Marsh at Blackwell, Greene Valley Forest Preserve in Naperville, and Springbrook Prairie Forest Preserve in Naperville are the places we frequent the most.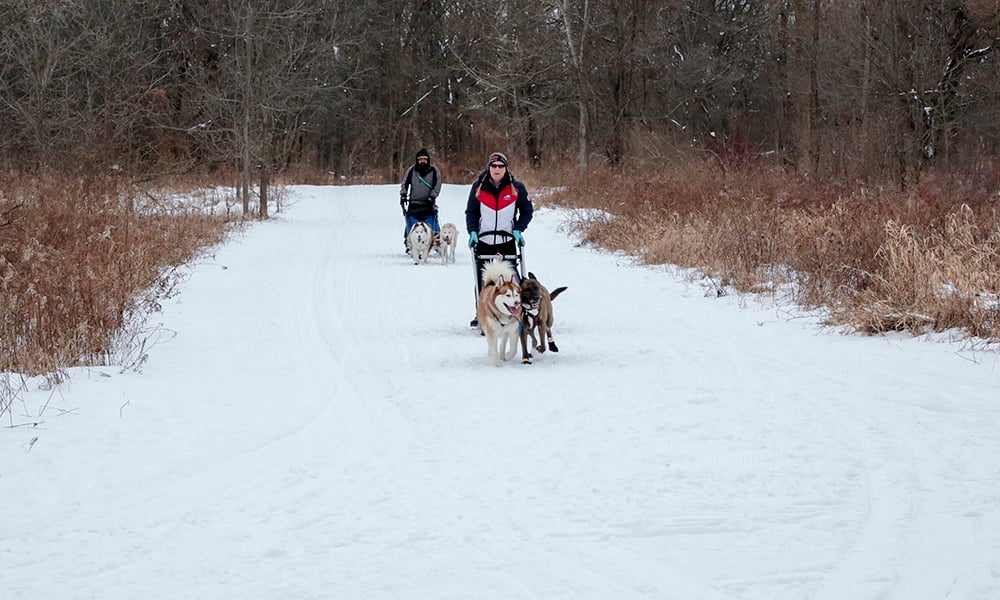 Nature's Lesson
There is such simplicity and beauty in nature. Taking a walk is such an easy way to de-stress and literally see the forest for the trees.
How Nature Inspires
I love to look for patterns in the natural world and love to document these with photographs.
Advice to Others
Take the time to slow down and take a walk in the woods. You never know what you will see or hear.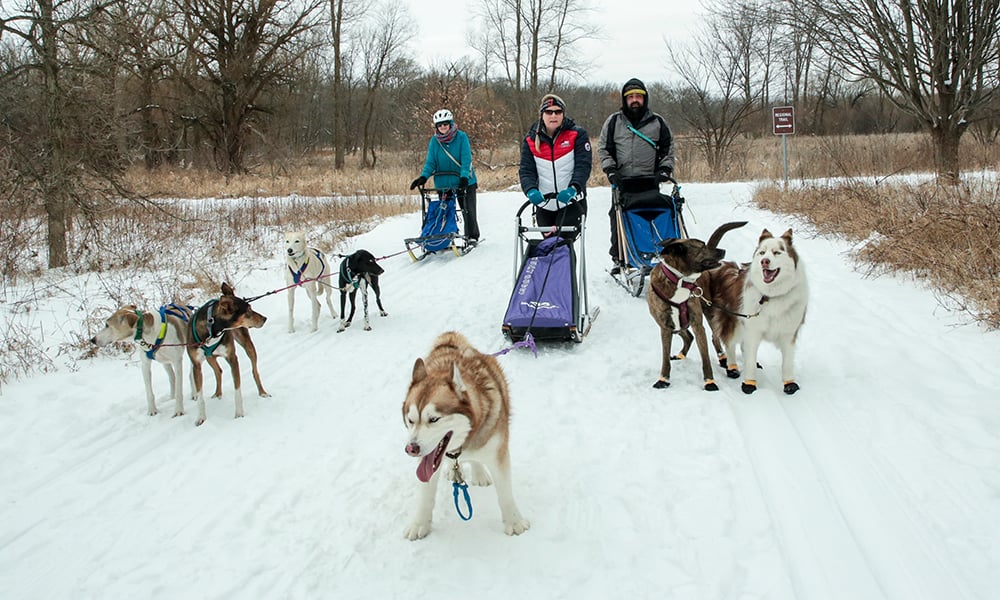 Koenig (middle) with fellow dogsledders Annie Milne (left) and Derek Sutty and their dogs.
If you have a fun or unique way of catching nature in our preserves and would like to be featured in a "Catching Nature" blog, please contact Deb Humiston at dhumiston@dupageforest.org.