A barred owl injured after being struck by a vehicle was one of many birds released on a recent sunny day at McDowell Grove Forest Preserve after being treated at Willowbrook Wildlife Center in Glen Ellyn.
In addition to the owl, 14 mallard ducks, 12 house finches, 9 American robins and 3 mourning doves were released.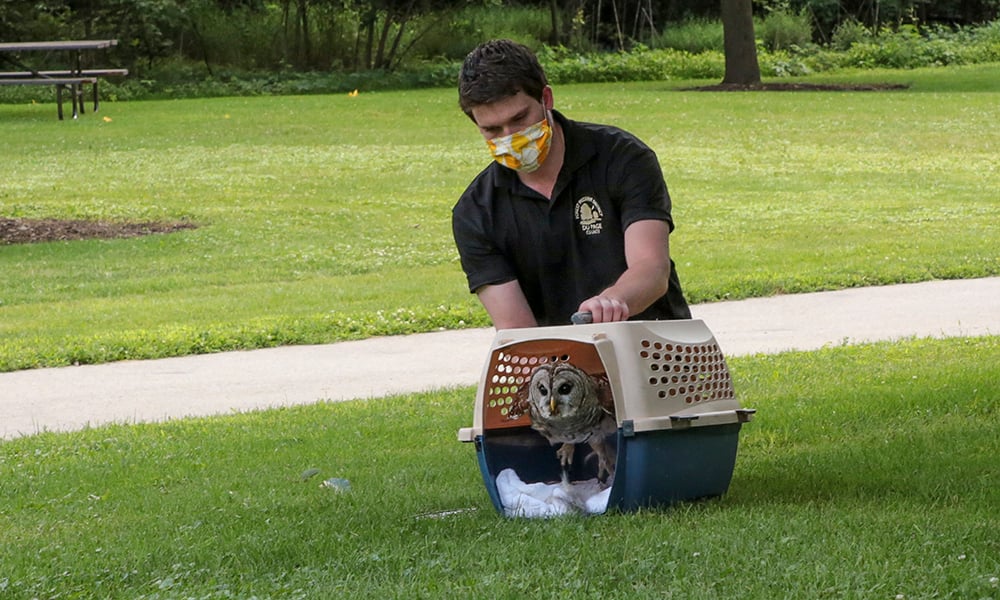 The barred owl was admitted to Willowbrook Wildlife Center on May 31 after being found in the middle of the road in Riverwoods, apparently after it was involved in a car collision. It presented with significant head trauma and ocular trauma that resulted in visual impairment.
There was a moderate amount of blood in its left eye as well as a corneal ulcer and slowed nerve function. Willowbrook staff was unsure the owl would regain full vision in the eye. It took one week for the owl to start eating on its own and two weeks before he regained the normal sassy attitude of a barred owl. He then spent a few weeks in flight reconditioning outside before his release.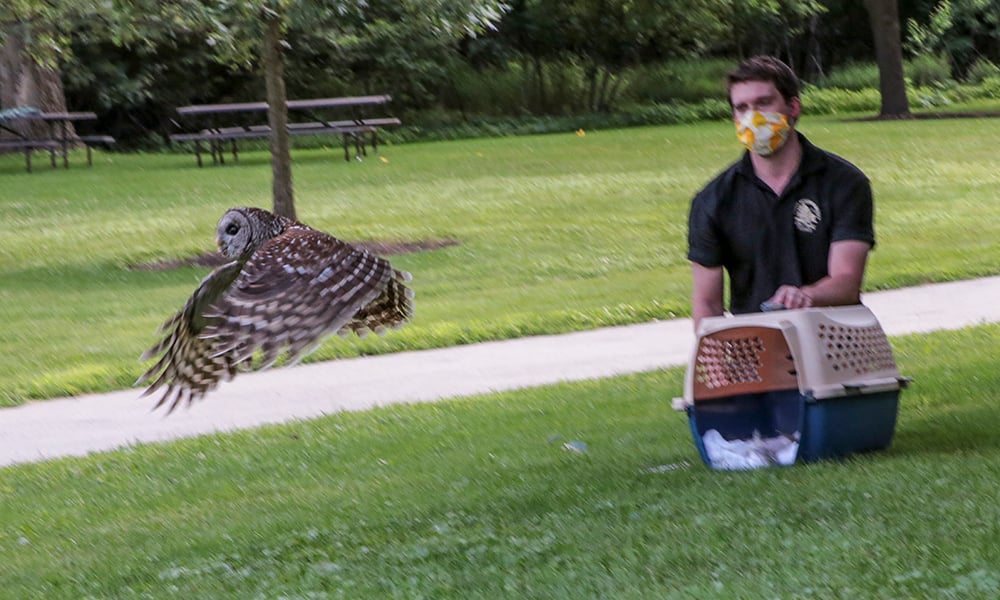 Barred owls are common, permanent residents statewide in Illinois. They live in upland woods, conifers, bottomland forests or swamps. These birds consume mostly mice but also eat amphibians, birds, crayfish, fishes, insects, mammals and reptiles.

Mallard Ducklings and Young Songbirds
The mallard ducklings and young songbirds were all brought to Willowbrook as orphans from various locations. Young hatchlings require a lot of attention and care. The songbirds were handfed every 30 minutes for 2 – 4 weeks until they were able to feed themselves. Once they could feed themselves, they were moved into flight areas for flight conditioning prior to release.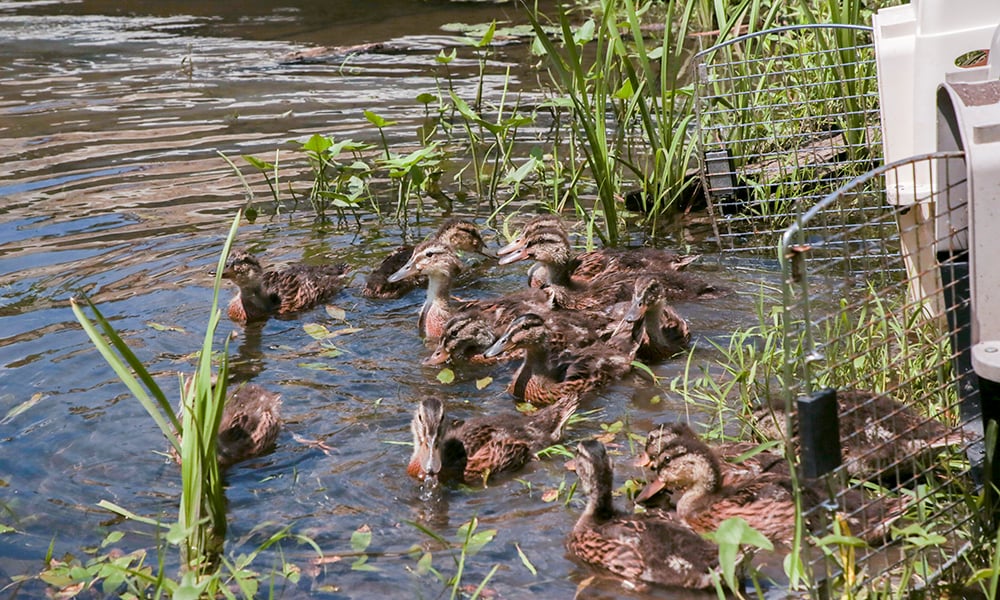 Mallard ducklings enjoy their new home in the West Branch DuPage River at McDowell Grove after being released from Willowbrook Wildlife Center in Glen Ellyn.
The young mallards were a little less labor intensive as they begin self-feeding soon after hatching. However, they still have special needs, including providing proper diet for such a fast-growing species and access to fresh, clean water to maintain good feather quality and necessary waterproofing.
Baby songbirds often get orphaned when their nests fall down during storms. Baby ducks often run into trouble when they become separated from their mom.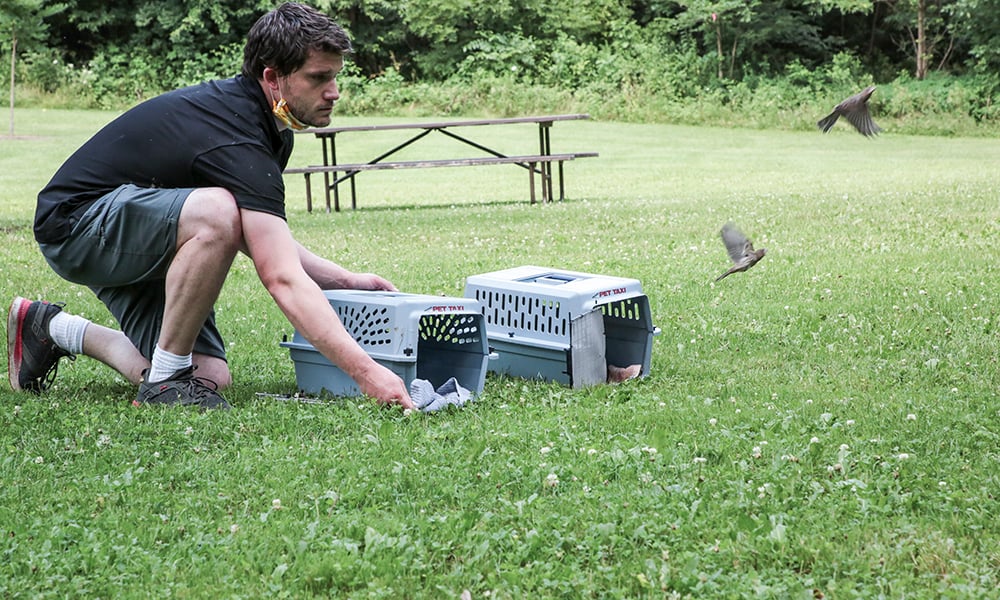 Willowbrook wildlife keeper Michael Wittman release house finches at McDowell Grove Forest Preserve in Naperville.

If You Find an Injured or Orphaned Animal
If you find a wild animal exhibiting signs it needs help, get the information you need to assess its condition at Willowbrook's wildlife rescue advice page. Determine if it needs help, and then take action.
Before you make a drive to Willowbrook, call 630-942-6200 to arrange for a no-contact curbside drop-off. The center accepts wildlife patients every day 9 a.m. – 3 p.m.

More information and related links:
When Waterfowl Run Afoul with Nests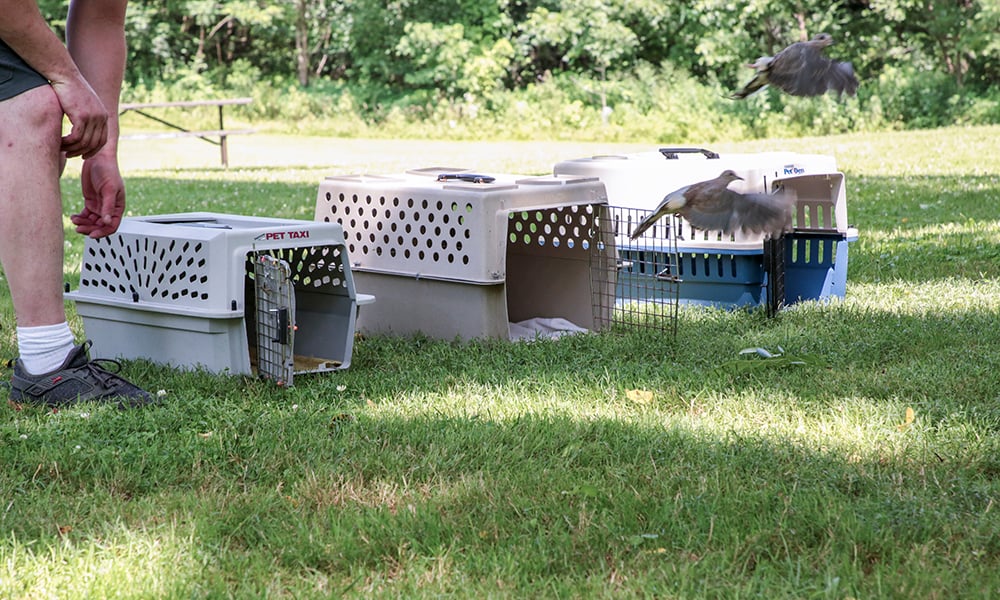 Two mourning doves fly from their cage during a release at McDowell Grove Forest Preserve.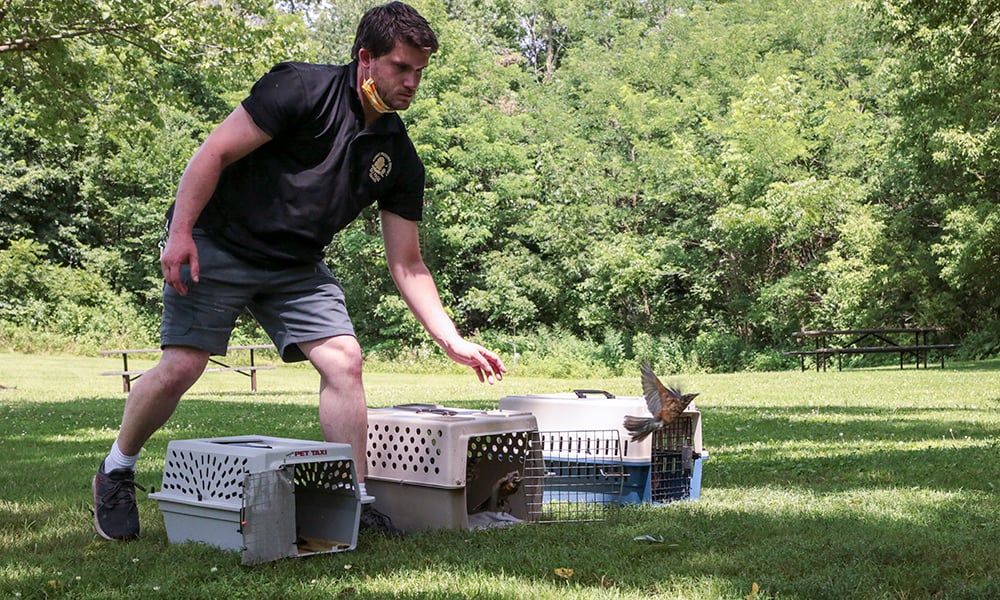 Willowbrook wildlife keeper Michael Wittman releases robins at McDowell Grove Forest Preserve.