Watching butterflies in DuPage forest preserves is a favorite summer pastime for some insect enthusiasts. But even the lesser experienced bug lover in you can find butterflying a rewarding hobby with some patience and a little know-how. If you don't know where to begin, our top 10 observation tips will get you started butterflying this summer in the preserves.
1. Watch the forecast first, then plan your butterflying excursion.
Look for butterflies on warm, sunny days. Butterflies take flight when temperatures are warmer than 65 degrees, sunny and wind conditions are still (wind blowing less than 15 miles per hour).
2. Know when to look for butterflies.
Butterfly activity generally peaks between 9 a.m. and 5 p.m. Butterflies typically take cover during the hottest hours of the afternoon but will resume flight when the heat subsides later in the day.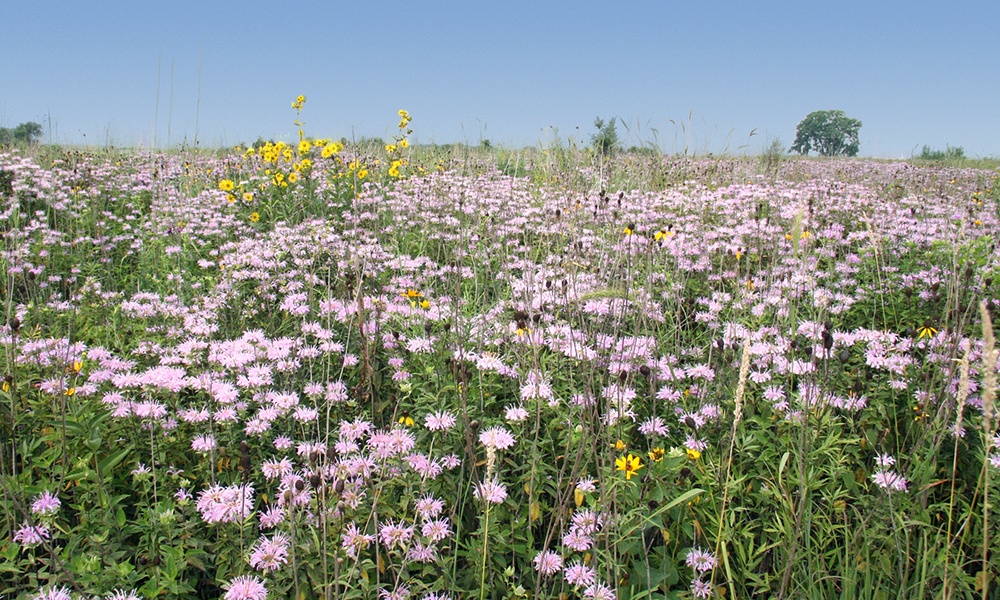 James "Pate" Philip State Park in Bartlett

3. Go slow, be quiet and stay low.
When watching for butterflies in natural areas, walk slowly, move quietly and stay low. Many butterflies will flush with your presence and movements. If a butterfly flushes to avoid you or your shadow, do not be discouraged. It often will return to the same nectar source, so be patient.
4. Equip yourself with some gear.
Carry a pair of close-focus binoculars to bring a butterfly into view for identification.

5. Get to know butterfly habitat and plant hosts.
Nearly one-third of all butterfly species are remnant-dependent, meaning they rely on specific host plants that only grow in particular habitats. Look for butterflies in natural areas where these particular host plants grow plentiful. Research a butterfly's host plant upon which it feeds as a caterpillar, then locate that plant to find an adult female depositing her eggs or a metamorphosis from caterpillar to chrysalis a short time later.
The pipevine swallowtail — for example — lives and breeds at Waterfall Glen Forest Preserve in Darien. The pipevine swallowtail caterpillar feeds only on Virginia snakeroot that grows in this savanna's herbaceous layer. The Virginia snakeroot is rare in the Chicago region, but its presence at this forest preserve supports one of the rarest northernmost pipevine swallowtail colonies in Illinois.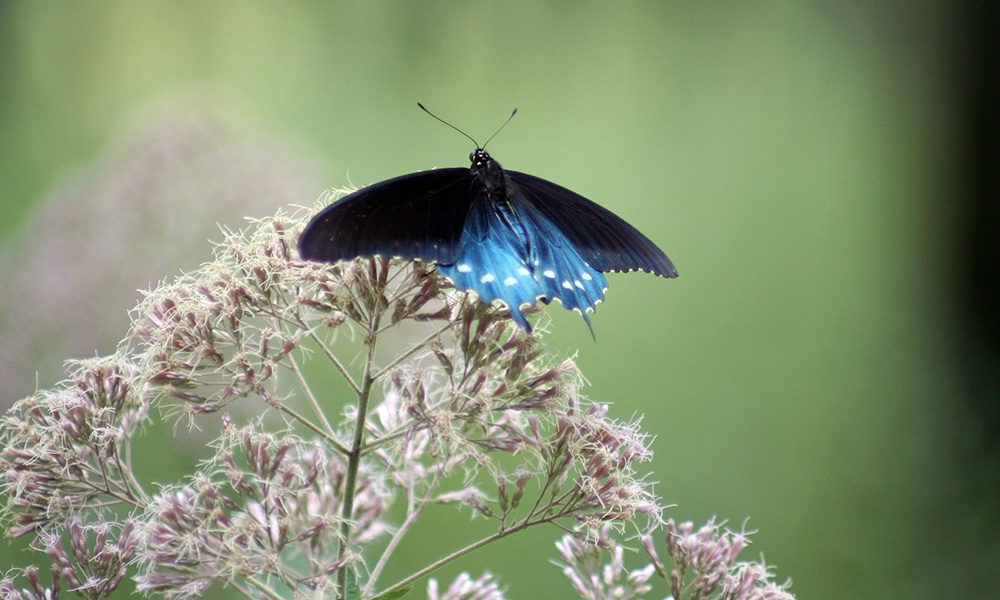 Pipevine swallowtail (Battus philenor)
6. Get to know butterfly nectar sources.
Look for butterflies where their nectar sources bloom in forest preserves. A prairie near Brewster Creek Marsh at Pratt's Wayne Woods Forest Preserve in Wayne blooms plentiful with turtlehead, fen betony and mullein foxglove; these plants attract the Baltimore checkerspot. The Baltimore checkerspot is univoltine, meaning it produces only one generation per year. This butterfly flies in June and July so the opportunity to view it is somewhat limited. Look for the female who is slightly larger than her male counterpart as she flies lazily just above the vegetation.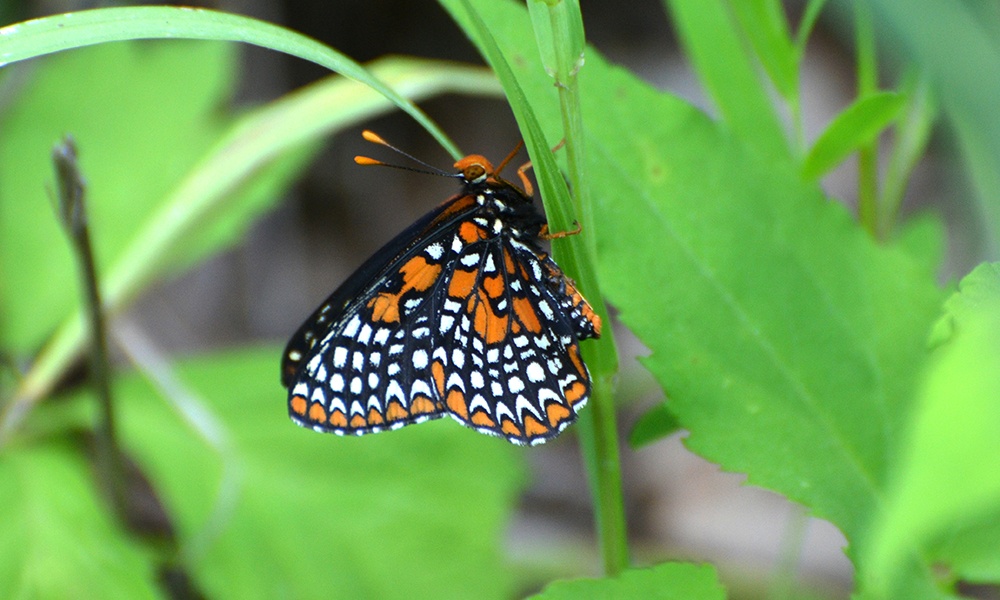 Baltimore checkerspot (Euphydryas phaeton) Image by Andy Reago & Chrissy McClarren/CC BY 2.0
7. Go where the plants are.
You can always search for butterflies where a variety of plants are abundant. Visit the gardens at the Danada House at Danada Forest Preserve in Wheaton where purple coneflower and milkweeds provide a nectaring source for the red admiral butterfly. This beautiful butterfly is mottled black, and its forewings and hindwings are bordered by bright orange-red bars. Its forewing tips are marked by white spots, and a blue patch appears on its lower hindwings.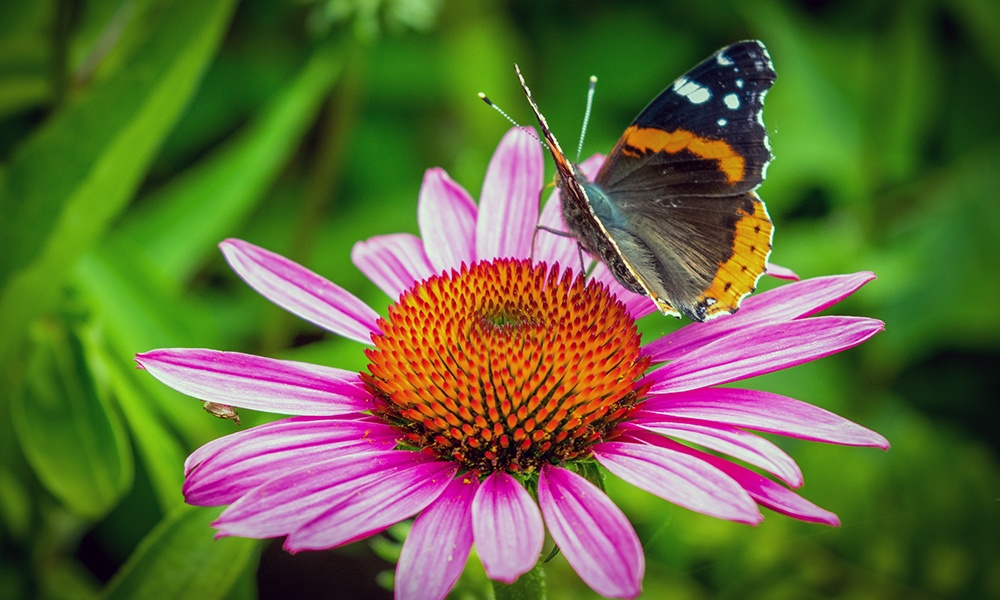 Red admiral (Vanessa atalanta)

8. Arm yourself with knowledge.
Carry a field guide to help identify butterflies. Take a book with you to serve as a reference for the variety of species you'll encounter, or read up on butterflies and look at pictures before you head out. The half-acre butterfly garden at Willowbrook Wildlife Center in Glen Ellyn is planted not only with native perennials but also with colorful annuals, making it a great spot for butterflying. The abundance and diversity of its flowers attracts the showy Eastern tiger swallowtail, which nectars on a variety of plants, including wild bergamot. Several other species come to nectar at the garden, including the monarch, summer azure and hummingbird clearwing moth.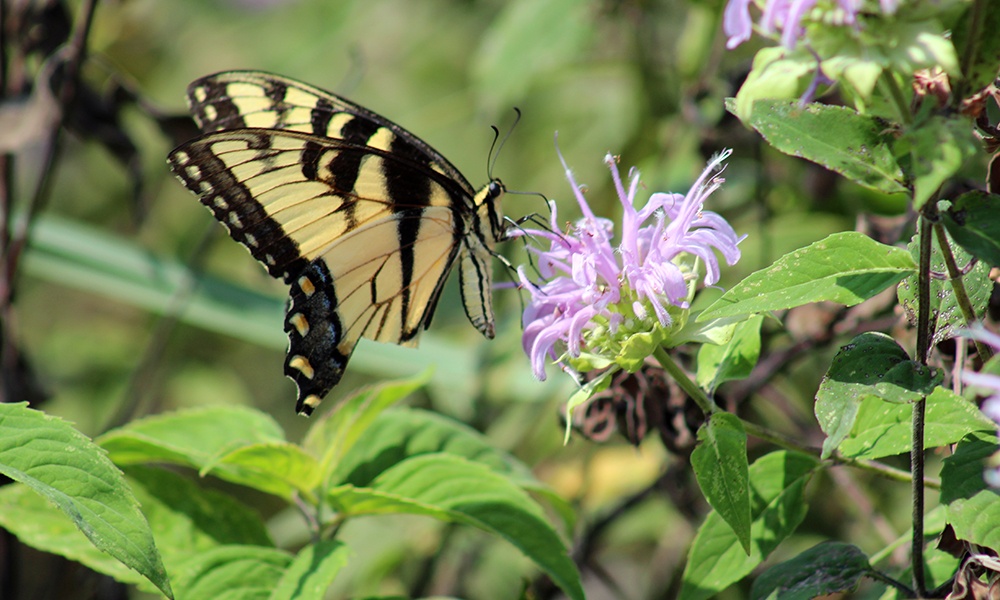 Eastern tiger swallowtail (Papilio glaucus)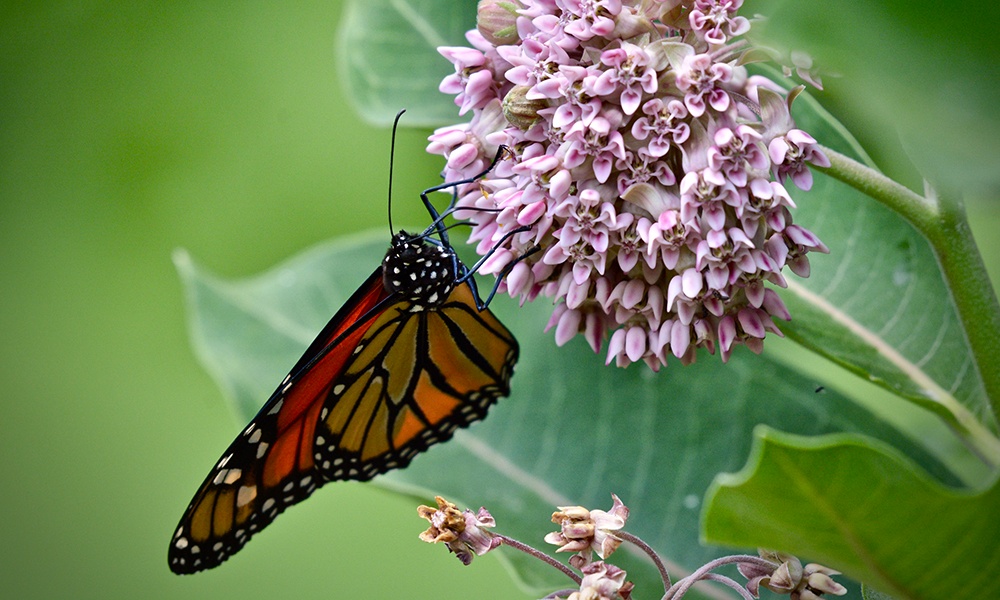 Monarch (Danaus plexippus)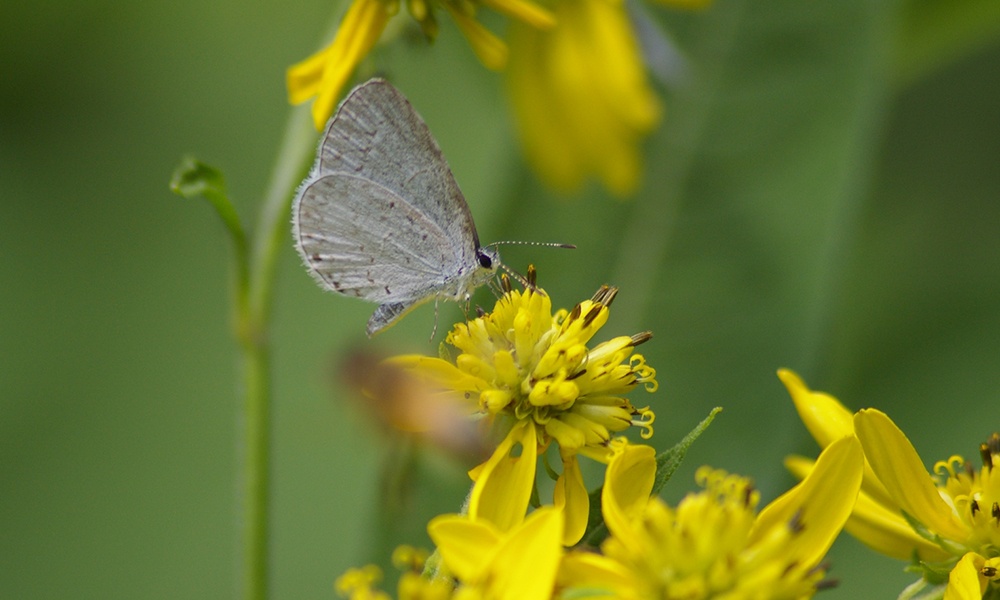 Summer azure (Celastrina neglecta)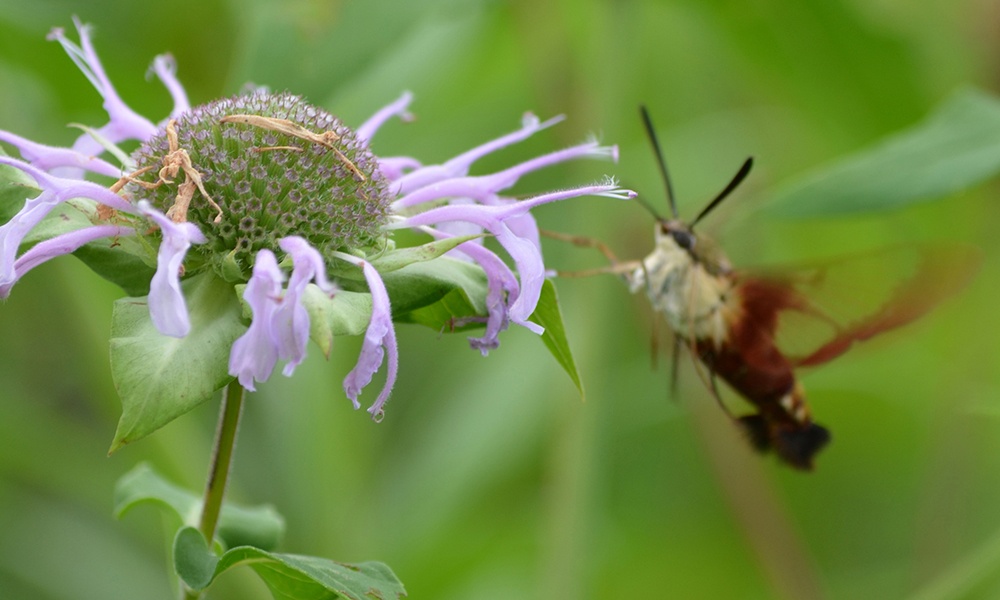 Hummingbird clearwing moth (Hemaris thysbe)

9. Take a photo. It will last longer.
Carry a camera to take photos of your butterfly encounter for keepsake purposes. When you make it home, review your photos and log the species and locations in a journal to preserve your summertime memories.
10. If you care, leave it there.
Remember: The Forest Preserve District does not allow temporary collection of plants or animals from the forest preserves. Even with good intentions, if you remove any animal from its natural habitat, it may subject it to a disease-causing virus or bacteria or cause it to suffer an injury. It also will not be able to tolerate changes to its living conditions.