Scientists are hoping old-growth timber from the Greene Farm Barn and Graue Mill will help them determine how to help future trees withstand adversity in the form of fires, pest outbreaks and extreme weather conditions.
Scientists Dr. Christine Rollinson, Ph.D., a forest ecologist at Morton Arboretum in Lisle, and Dr. M. Ross Alexander, Ph.D., of Midwest Dendro LLC, recently gathered tree-ring samples from timbers inside the Greene Farm Barn and support beams and millstone from the original Graue Mill to help piece together the history of oak trees and their response to stressors. Both the barn and Graue Mill were built in the mid-1800s.

By studying the impact of stressors on tree growth, Rollinson and Alexander hope to benchmark current forest vulnerability compared to pre-settlement conditions. Their work will form the basis for an expanded proposal to investigate forest vulnerability across multiple forest types in the Midwest. Their findings are due out in summer 2019.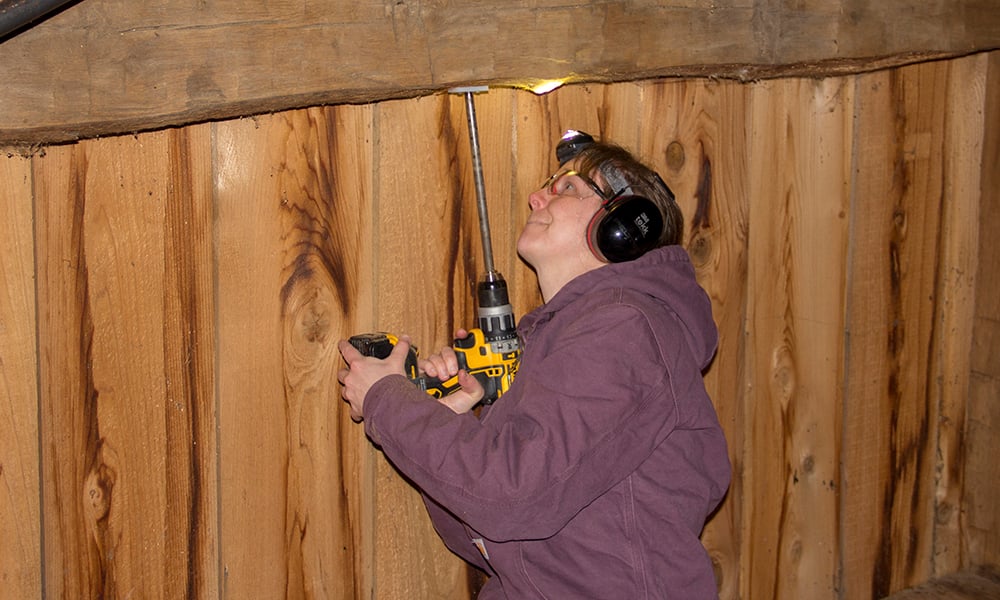 Dr. Christine Rollinson, PhD., a forest ecologist at Morton Arboretum in Lisle, drills a core sample from an old-growth timber at the Greene Farm Barn.
Because there aren't too many old-growth forests still around, Rollinson and Alexander have taken to examining wood used to build historic structures in the area, including the Greene Farm barn at Greene Valley Forest Preserve in Naperville/Woodridge, and wood from Graue Mill, located at Fullersburg Woods Forest Preserve in Oak Brook. They've also collected core samples from the historic Gaylord and Norton buildings in Lockport and are using tree core samples from various DuPage forest preserves collected by Forest Preserve District staff over the years.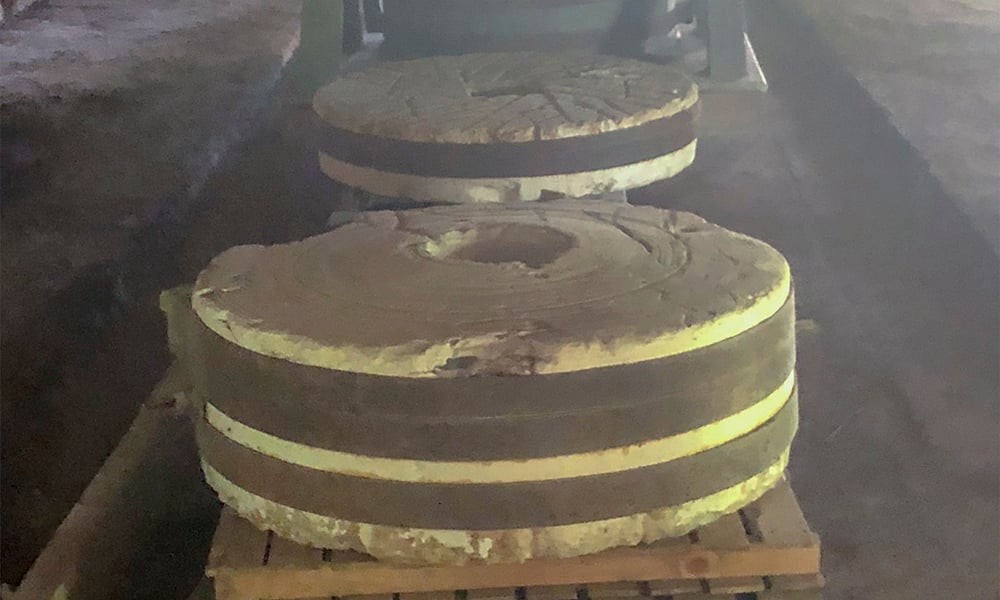 The original Graue Mill millstones, which are stored in the Greene Farm Barn. (Photo courtesy of Dr. Christine Rollinson, Ph.D.)
By looking at how trees reacted to disturbances and extreme climate in the past, the scientists can determine how to best help today's trees withstand disturbances and extreme climate events.

In Illinois, the mean temperature increased nearly 1 degree Celsius from 1950 – 2009 and the state's climate is shifting to more sporadic but intense precipitation events, according to 2010 paper titled "Regional Climate Change Projections for Chicago and the U.S. Great Lakes" published in the Journal of Great Lakes Research. These changes have resulted in more frequent and exaggerated heat waves, floods and droughts than forests have experienced in the past. These short-lived, extreme events have had a significant impact on tree growth and overall forest health that show up in trees' annual rings, Rollinson and Alexander said.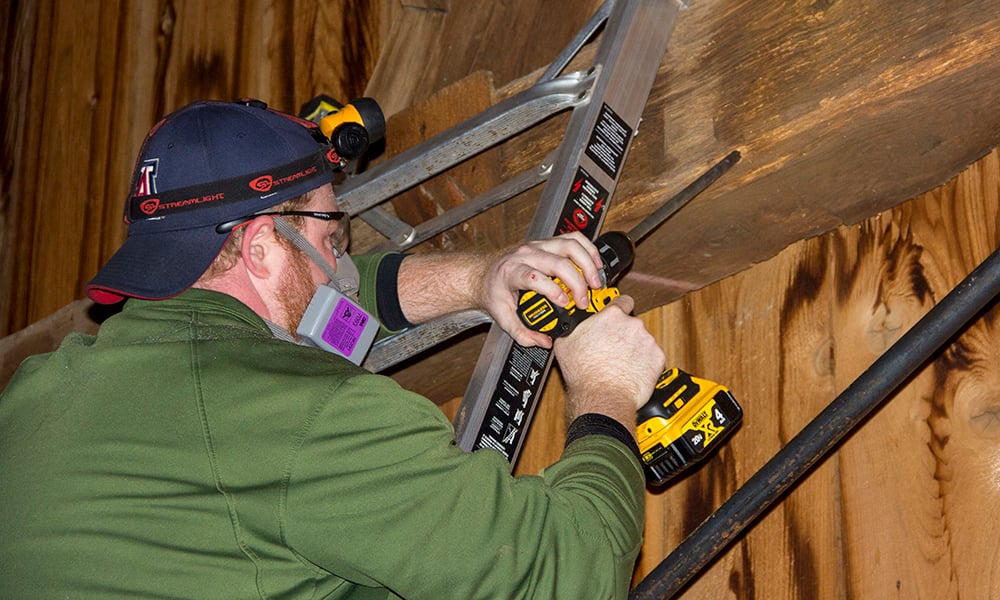 Dr. Ross Alexander, Ph.D., of Midwest Dendro LLC, drills a core sample from an old-growth timber at the Greene Farm Barn.
The scientists will compare old-growth tree response to such disturbances and climate to modern tree growth in a variety of landscapes to determine whether restoring forests to pre-settlement conditions will create a healthier, more resilient landscape or if alternative arrangements would be better.

Forest Preserve District plant ecologist Scott Kobal and ecology coordinator Tom Velat provided them with more than 400 tree core samples from oaks taken throughout DuPage County as well as some wedge sections from trees that were cut for the Winfield Road entrance to St. James Farm in Warrenville. The District also provided them with core samples taken from Hinterlong Woods in the adjacent Greene Valley Forest Preserve, known as a priority area for oak ecosystem recovery efforts with Chicago Wilderness.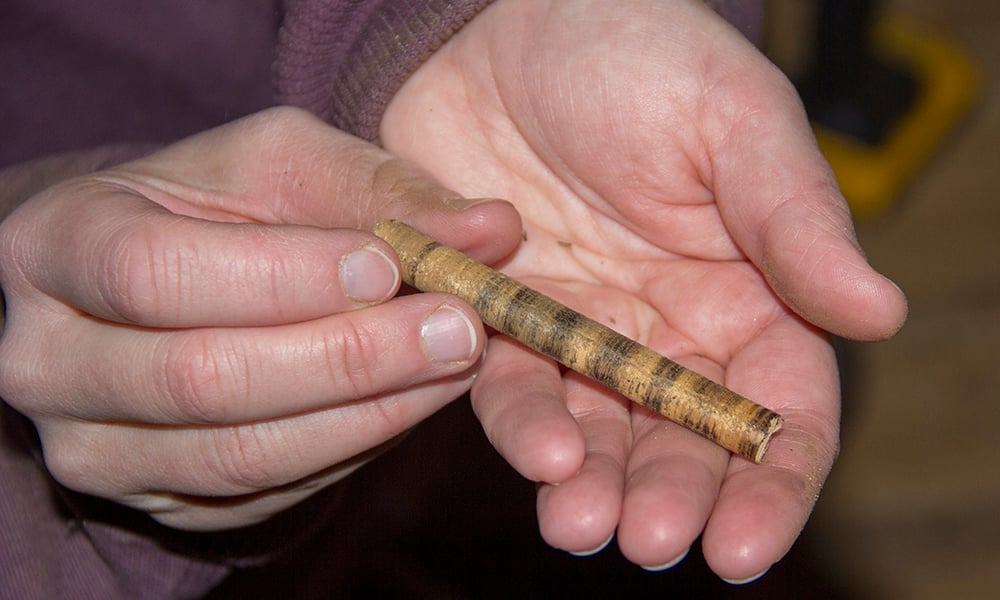 One of the core samples Rollinson drilled from an oak support beam at the Greene Farm Barn.
"Our goal is to use historical trees … to evaluate how vulnerable these trees and ecosystems would likely be to current and future climate change," Rollinson and Alexander said.

They also hope the core samples will help them determine the age of the Greene Farm Barn, which the Greene family purchased the land at the southeast corner of Greene and Hobson roads in the 1840s and built a home and barn.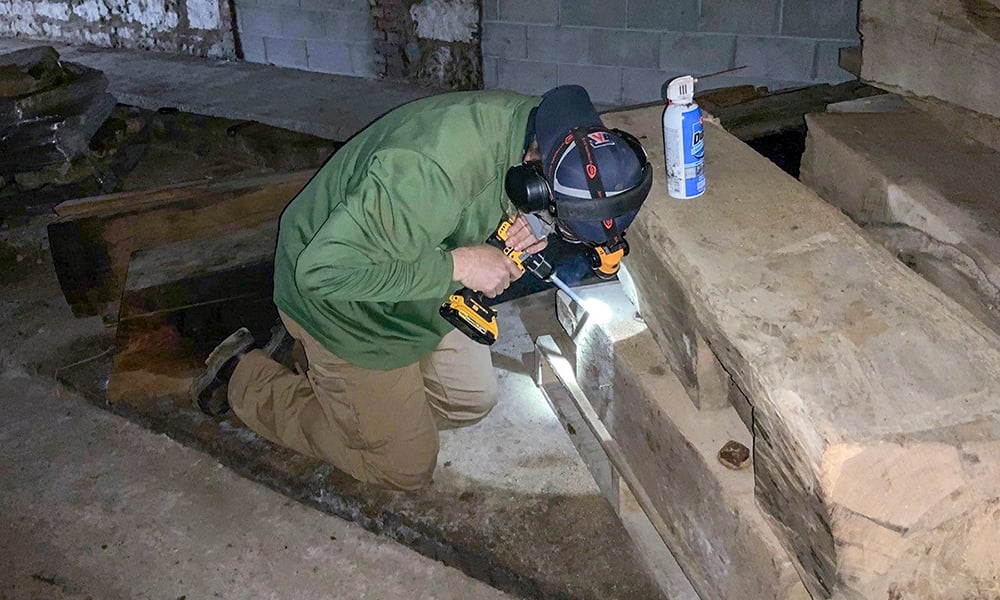 Alexander drills a core sample from one of the original Graue Mill support beams being stored in the Greene Farm Barn. (Photo courtesy of Dr. Christine Rollinson, Ph.D.)