Science and social-studies teachers from across DuPage County joined the Forest Preserve District's "Teacher-Institute Day: Magic School Bus Tour" on March 1, which was hosted by the Community Services & Education department. Teachers began their days at one of two education centers — Fullersburg Woods Nature Education Center in Oak Brook or Kline Creek Farm in West Chicago — to not only tour the sites but also get an exclusive scoop about the variety of signature programs available to students from grades 1 through 8 at the Forest Preserve District.

Teachers at Kline Creek Farm were introduced to the evolution of agriculture in DuPage County; while there, they explored changes in farming technology over the past 125 years and discussed some of the environmental influences affecting farming practices, crop production and yields through the last century. Teachers at Fullersburg Woods learned about the dollar value of a tree, the science of sap through tree identification and tapping native maple trees for the production of maple syrup. They also looked at how advancements in technology have changed the processes of gathering this natural resource for human consumption, mass production and distribution.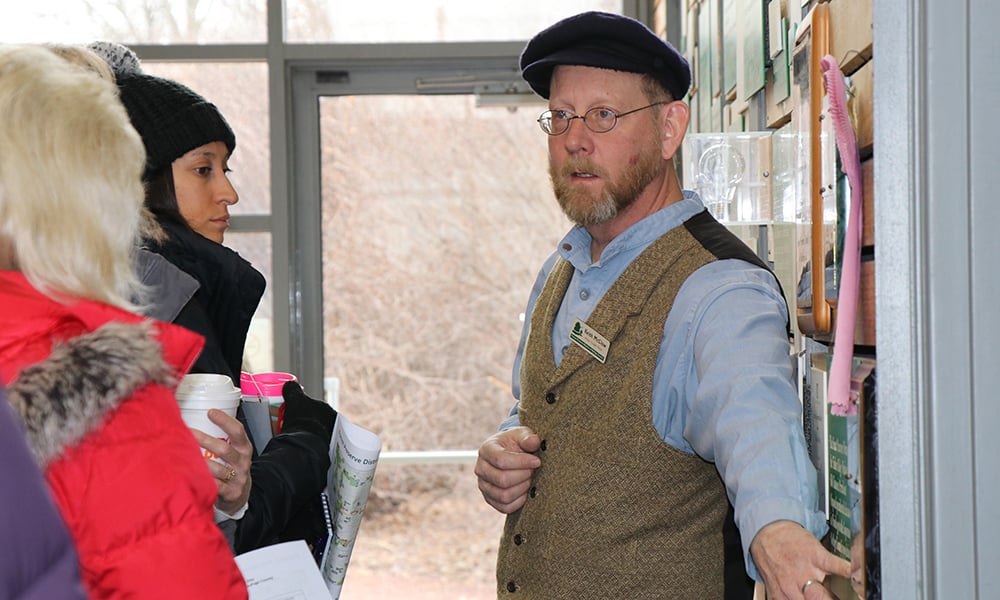 Heritage Education Manager Keith McClow provides a brief history of agriculture in DuPage County at the Kline Creek Farm Visitor Center.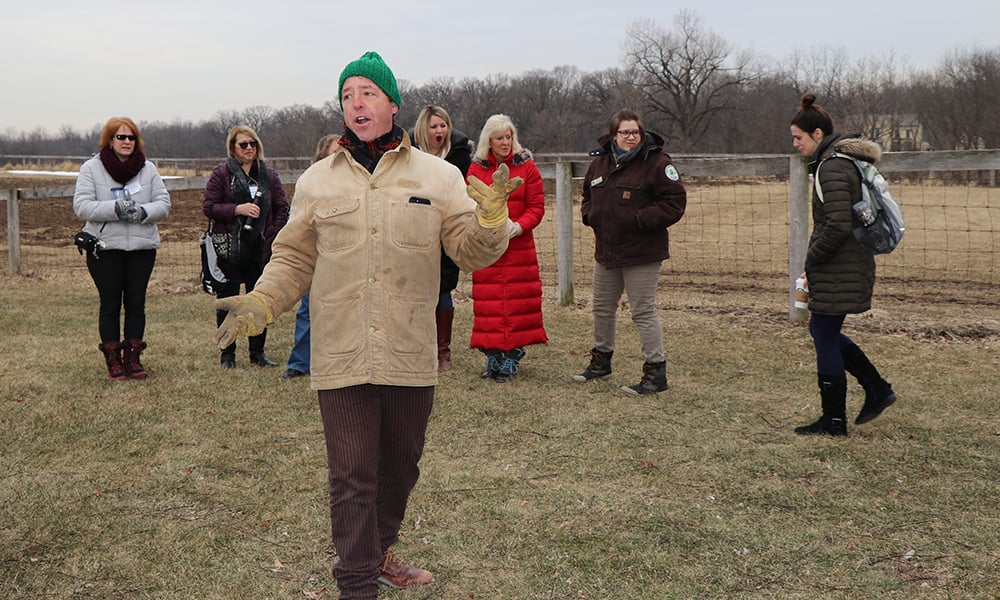 Heritage Interpreter Dennis Buck discusses how farm numbers decreased over the last century in the county.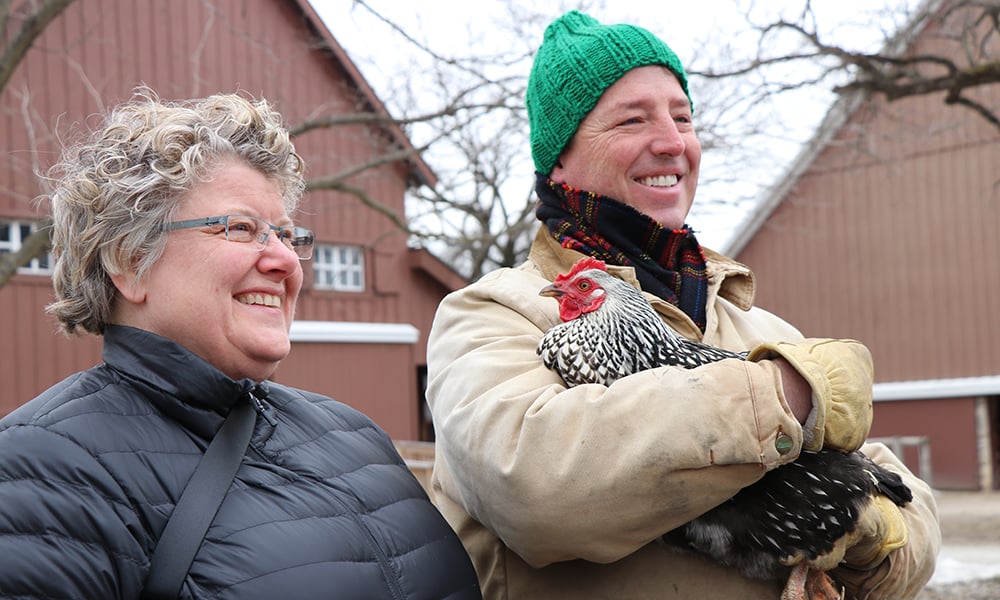 A teacher and Heritage Interpreter Dennis Buck stop for a quick pic with a domestic chicken.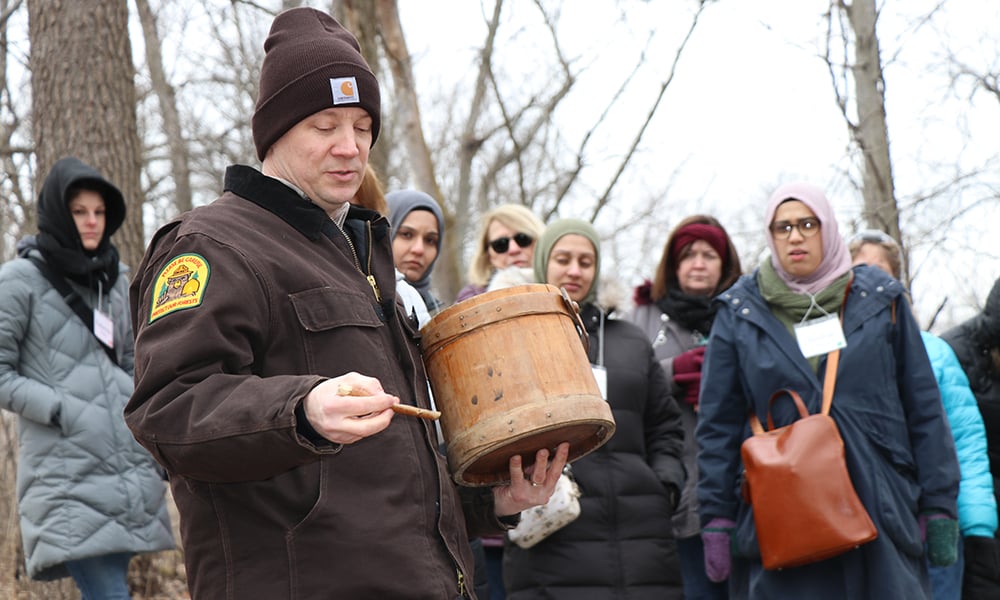 Naturalist Dave Andrusyk demonstrates the collection of sap from a tree with a spile and bucket at Fullersburg Woods.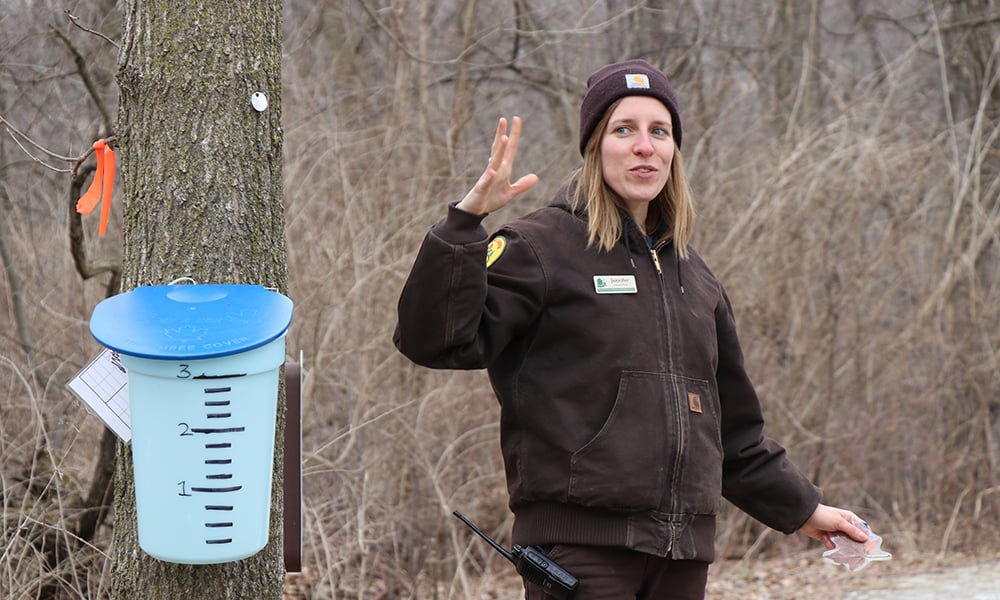 Naturalist Jennifer Rydzewski talks about tree identification after they have lost their leaves.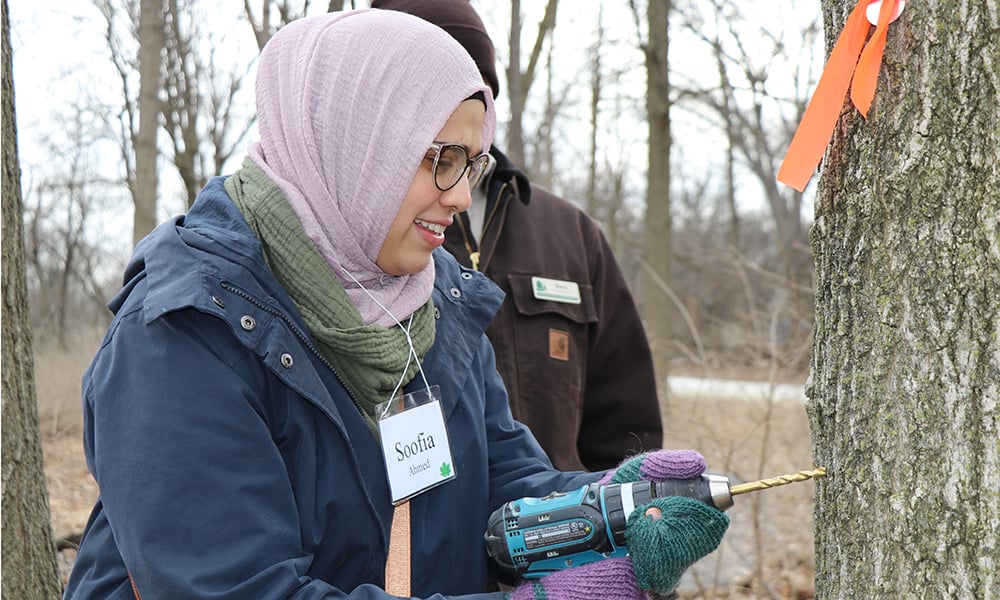 A teacher drills a hole into a native map tree to collect its sap.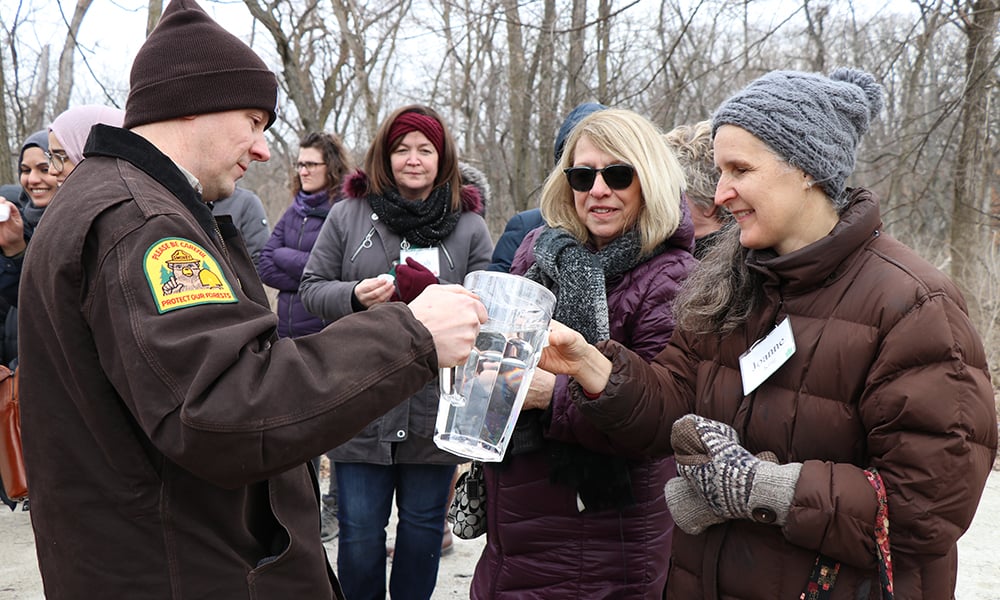 Naturalist Dave Andrusyk pours freshly gathered sap into cups for the teachers.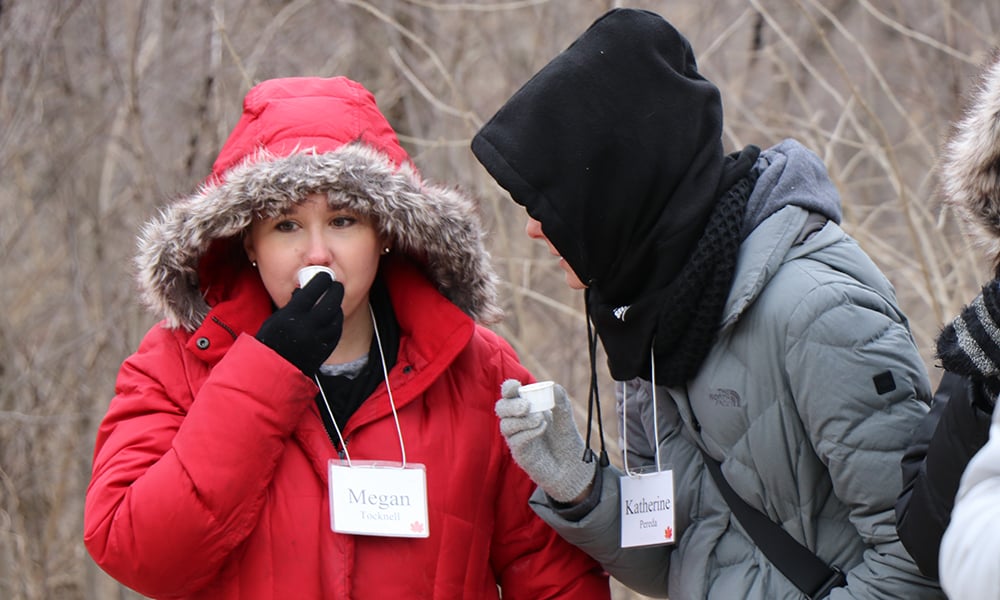 Two teachers stop to taste unprocessed sap, just collected from a nearby tree.

Teachers then hopped on school buses and traveled to two additional education centers, including Danada Equestrian Center in Wheaton and Willowbrook Wildlife Center in Glen Ellyn. They toured the Kentucky-style barn at Danada that houses horses used for recreational horseback-riding lessons and educational summer camps and unraveled mysteries between birds, mammals and reptiles while handling native animal bones for identification at Willowbrook. The buses rotated their stops throughout the day to provide for greater-quality, focused touring opportunities for the teachers.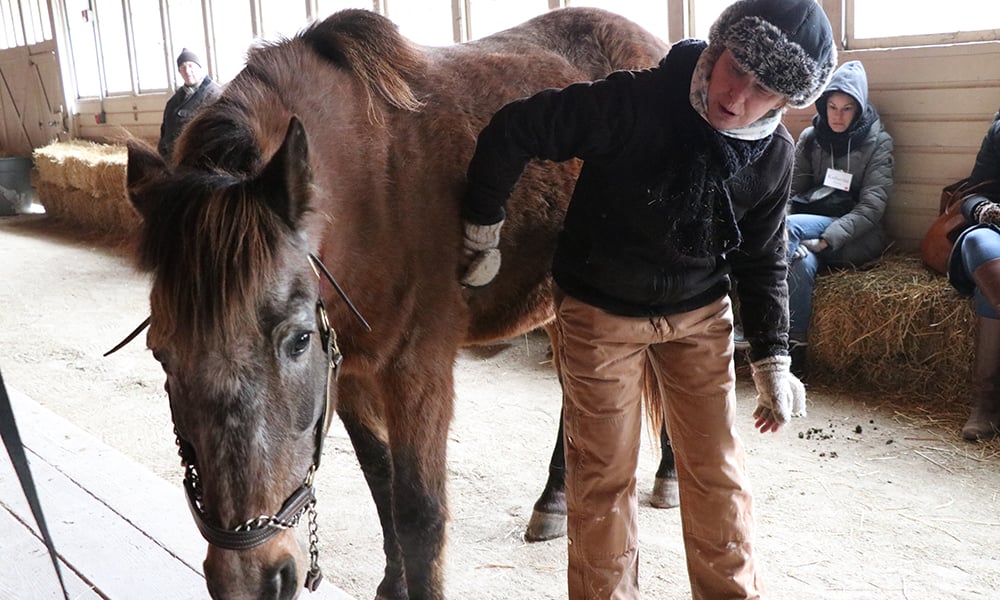 Danada Equestrian Center volunteer Sheila Rutledge demonstrates how to groom Quazar, an appaloosa.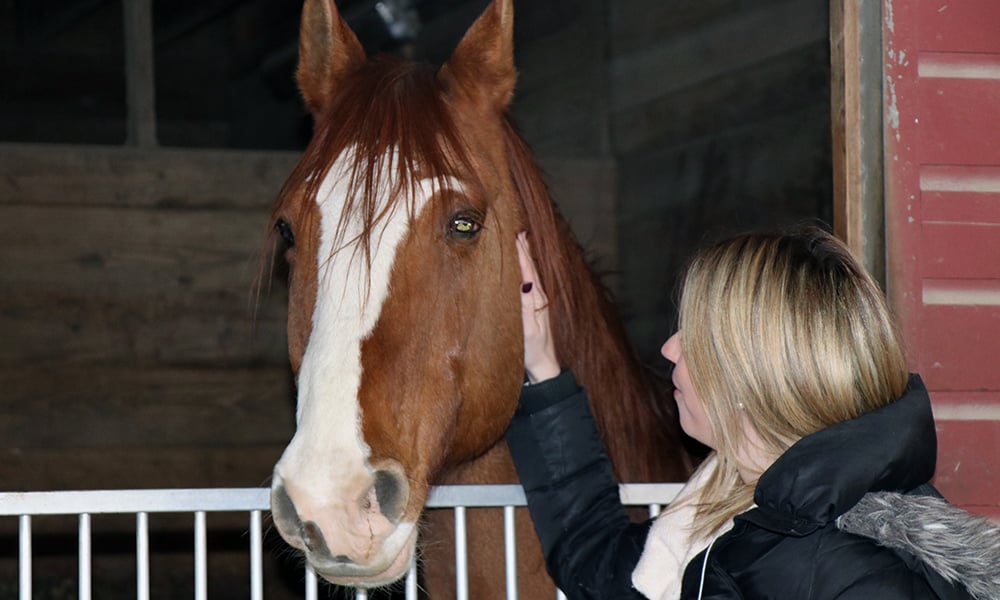 A teacher stops to pet Tobey in his Danada Equestrian Center stall.

Naturalists Kerrian Dubina. Leigh Korreck and Susan Urasky and heritage interpreter Wayne Hill served as tour guides and accompanied the teachers on the bus routes. They introduced the "Downstate Illinois Forest Preserve Act" and the creation of the county forest preserve districts to conserve natural areas and provide places for recreation. A brief history about our own forest preserve agency showcased the formation of a greenway corridor that connects one green parcel (or forest preserve) to another along a river.
Along the travel route, teachers caught brief glimpses of the West Branch DuPage River that runs through the preserves as one such example. The Forest Preserve District's restoration of this river and its upland habitats at West DuPage Woods, Blackwell, Warrenville Grove and McDowell Grove forest preserves emphasized some of the agency's best conservation-based work to date in the county. The tour discussion captured our work with partner agencies to not only restore the waterway but also replenish the function of the river, its habitat and health of its wildlife species. This topic was timely for their exploration; many of the school programs planned for the upcoming year will highlight this work and make science-, technology- and problem-based learning opportunities plentiful and readily available in the local area.
"The Forest Preserve District offers a great variety of school programs that teachers can use to enhance students' education," said Heritage Education Manager Keith McClow. "The 'Magic School Bus Tour' provided a chance for teachers to become familiar with our education centers that offer school programs, resources available for their classroom and the work our organization is doing to restore rivers and streams in DuPage County."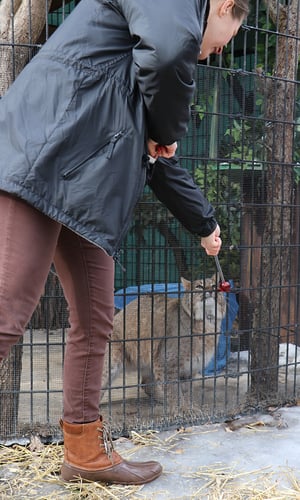 Natural Sciences Education Manger Debbi Gayon said the opportunity also provided teachers with insight about school programs' alignment to common core and Next Generation Science Standards in the state. "Because the Forest Preserve District's school programs meet standards for advancing students' learning, teachers can be assured that interactive field trips and other problem-based opportunities at DuPage forest preserves support their curriculum and essential work and build rapport with a renowned conservation resource," she said. "The District plans to market these school programs and teacher resources on its website, just in time for teachers to begin planning their curriculum for the 2019 – 2020 school year."




Naturalist Krystle Piwowar demonstrated the use of positive conditioning while training a native resident bobcat at Willowbrook Wildlife Center.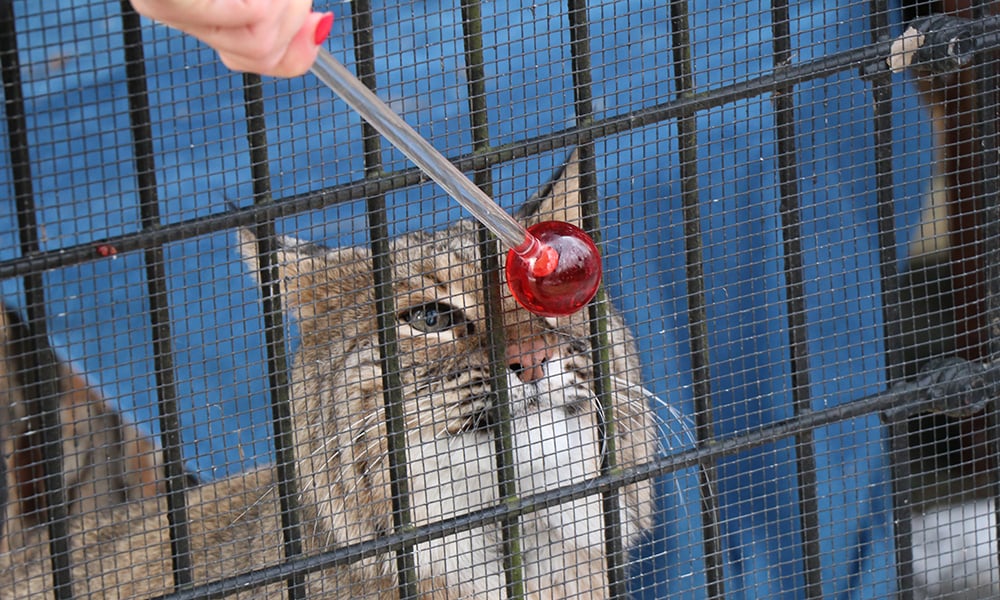 The Friends of the Forest Preserve District of DuPage County funded $770 towards expenses for teachers' travel in school buses for the day. "What better way to help science and social-studies teachers connect to nature than to drive them to forest preserves?" said Friends of the Forest Preserve District President Karyn Charvat. "The 'Magic School Bus Tour' gave these teachers not only an extraordinarily fun peek into four of our most popular education sites but also the District's mission. We hope these very same individuals return to discover more of the preserves with their families and friends — and perhaps even support one of the priority projects in need of funding."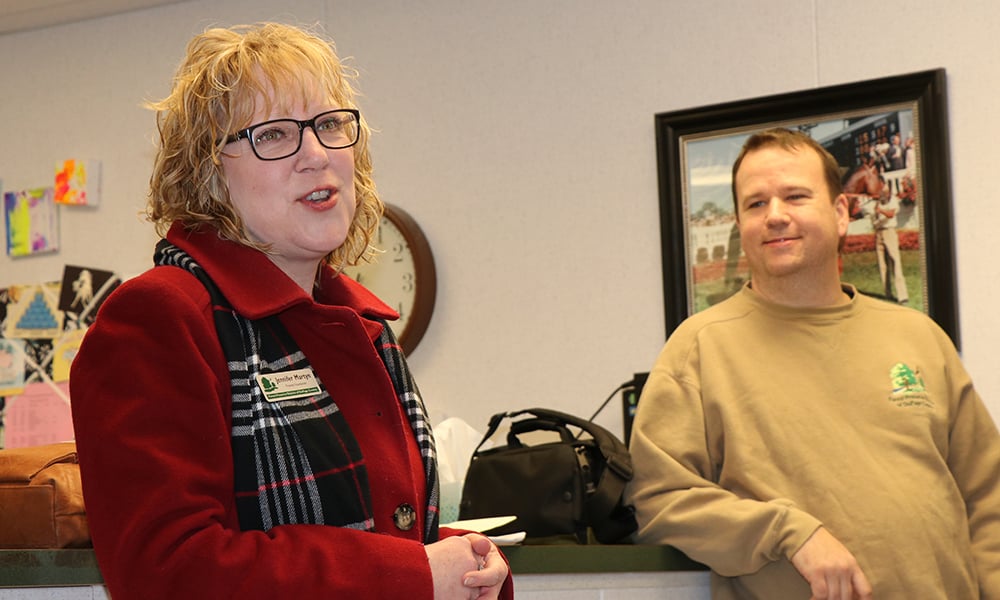 Friends of the Forest Preserve District of DuPage County Vice-Chair Jennifer Martyn (left) introduced the teachers to a few of its conservation efforts after Forest Preserve District of DuPage County President Dan Hebreard (right) welcomed them to the Danada Equestrian Center.


The DuPage Regional Office of Education organized the teacher-institute day. Teachers attended a variety of local organizations on this day of learning to advance their knowledge and earn continuing-education credit required to maintain their teaching certification.