Growing up, Nick Papineau got well-acquainted with nature thanks to his parents, who took him hiking, camping and hunting. The COVID-19 pandemic last year prompted Papineau to start doing the same with his two children, Zander, 4, and Talia, 2.
"We have loved being a part of DuPage and exploring all of the amazing areas around us. We are an active family, mostly because the kids need us to be. There isn't a lot of downtime in our family," Papineau said.
"We love exploring all of the natural areas around us. My wife and I have really gotten into running since we moved down here, thanks in part to the amazing trails and the great help from the Naperville Running Company in Wheaton," he said.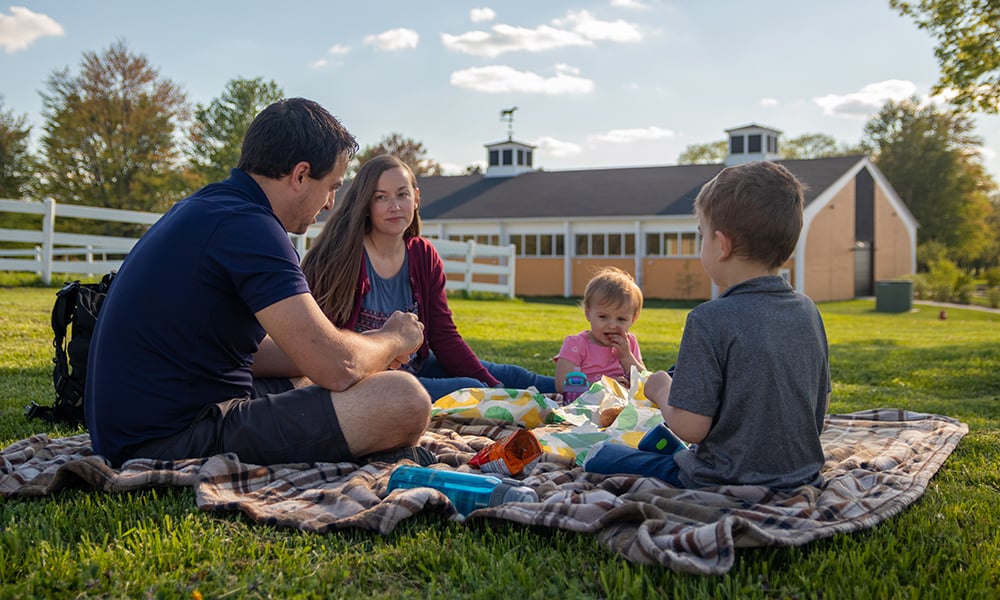 The Papineau family enjoys a picnic at St. James Farm in Warrenville.
Papineau and his wife, Melanie moved their family to DuPage County two years ago. Melanie grew up in Darien and was familiar with DuPage forest preserves, especially Waterfall Glen in Darien. Papineau works as an inquiry instructional coach for Glen Ellyn School District 41, where he helps bring real-world problems to students in classrooms. Kids then partner with community organizations to develop a solution to the problem.
Papineau is also currently enrolled in a graduate program in teaching biological sciences through a partnership with Brookfield Zoo and Miami University of Ohio. This has fostered a love for trees and conservation.
Here's his story.
Catching the Nature Bug
My father's parents owned about 11 acres of woodland in Herscher, IL in Kankakee County, and we would go into the woods to hunt and walk. My parents did a great job taking me out into nature when I was young, from camping to hikes on trails.
When I was young, my dad operated a tree service part-time with my uncle and grandfather. I would be responsible for picking up branches and hauling manageable logs to the trailer. My dad used that as an opportunity to teach me about the trees. From that point on, I have always loved getting out in nature in any capacity.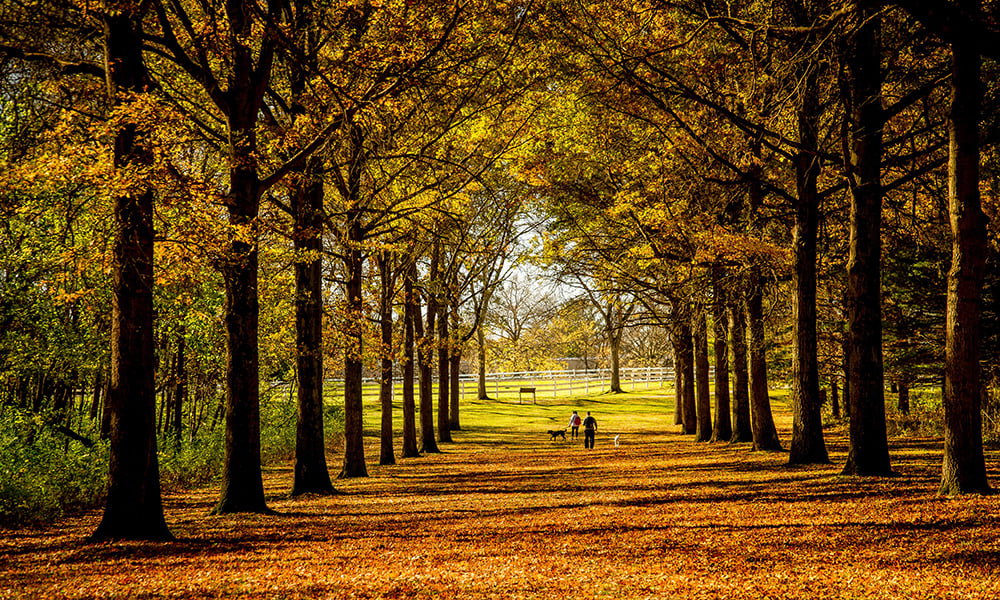 Discovering DuPage Forest Preserves
My first experience with the forest preserve was getting wedding photos by the lake at Blackwell Forest Preserve. There were so many beautiful areas to have pictures taken in October. Then about 6 years later we moved to Warrenville and would drive past the signs. We kept saying we should visit them. Not long after that, COVID hit and we were stuck inside for what seemed like forever. We had started running in our neighborhood for a while, and I slowly started to run through McKee Marsh and then through Blackwell. About halfway through that summer, I remember saying to my wife, "We need to get out." It was a rainy day, we got Chick-Fil-A and blasted Queen's "I Want to Break Free" all the way to the empty parking lot by the lake at Blackwell. We ended up having a picnic in the back of the van with the hatch open. We then made it a weekly practice to visit the different forest preserves for a while.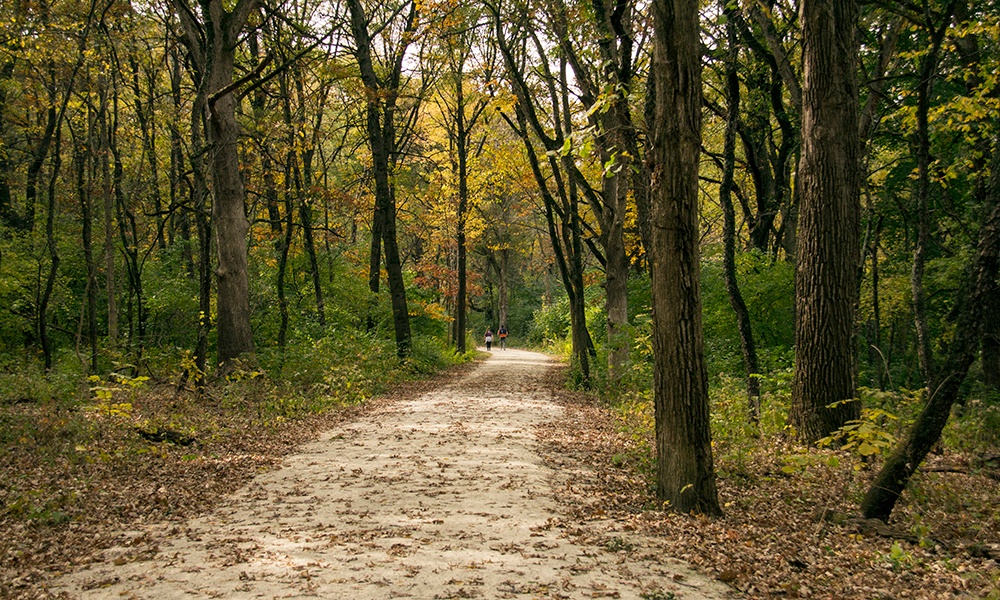 Favorite Preserve and Time to Visit
Our favorite preserve is St. James Farm in Warrenville. It has so much to offer every time we go. With kids, it is the perfect distance to walk a big or small loop based on their energy levels. They love seeing the different parts of the preserve too.
Our daughter loves seeing the horse statues, and our son loves going over the bridge at the pond and looking for fish swimming. The whole preserve has a lot of local history that you can read about and beautiful arboreal features. My wife and I love taking turns running and our kids have started asking questions about nature and what they see.
We love to do dinner picnics after we pick our kids up from daycare. We usually grab Subway or Chick-Fil-A and find a place to eat and then explore. We love visiting any day that is warm enough to be out and walking.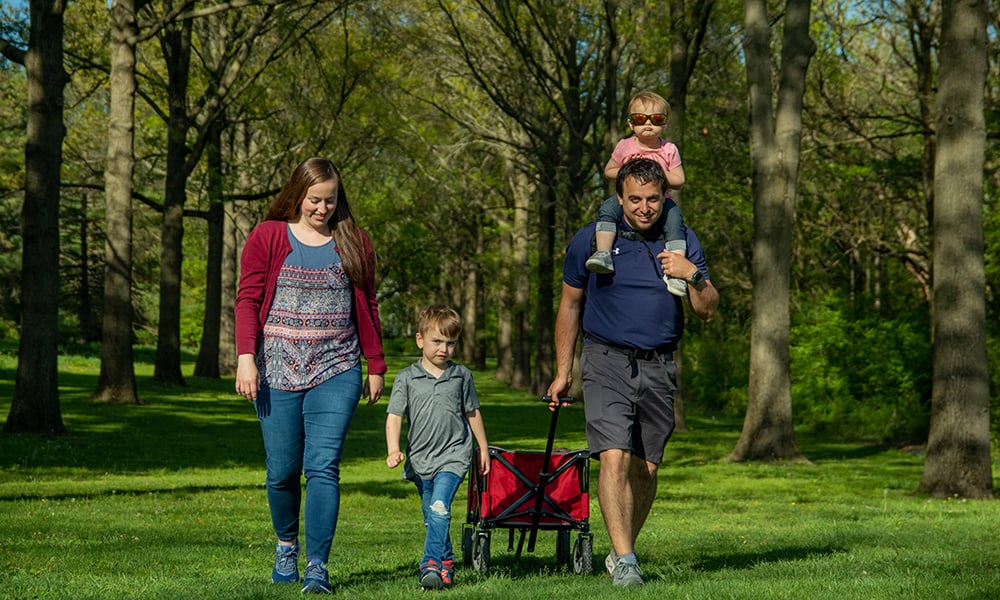 What Brings Him Back Time and Time Again
All the preserves we visit are clean and make us feel safe as we walk. The paths are wide enough to still see people and not feel like we are on top of each other. At times we get to see horses walking the trails, and that is particularly exciting for the kids. There are also so many benefits to being outside. We noticed a behavior difference in our kids when we started getting them outside and walking trails. They seemed happier and we got less "bored" behaviors. They also sleep amazingly well after our visits, which is a present to us as parents.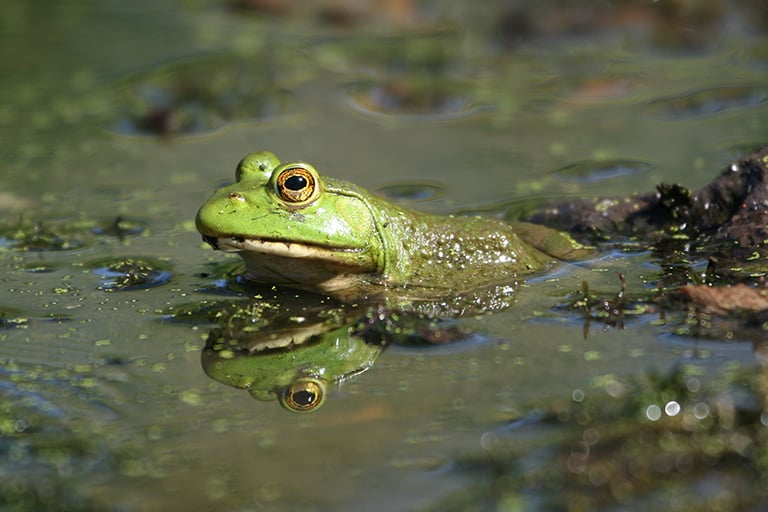 Favorite Things to Do in the Preserves
I love to go running through the preserves. People are very respectful and the trails are kept up super well. I always look forward to the amazing wildlife that I get to see on my runs, from deer to the St. James Farm wild turkeys.
Nature's Lesson
I think the most important lesson I've learned from nature is to just think about our impact and how we are all connected and interdependent on each other. When you see how our activities impact the environment and see how the environment impacts us, it gives you a greater understanding of part of our purpose.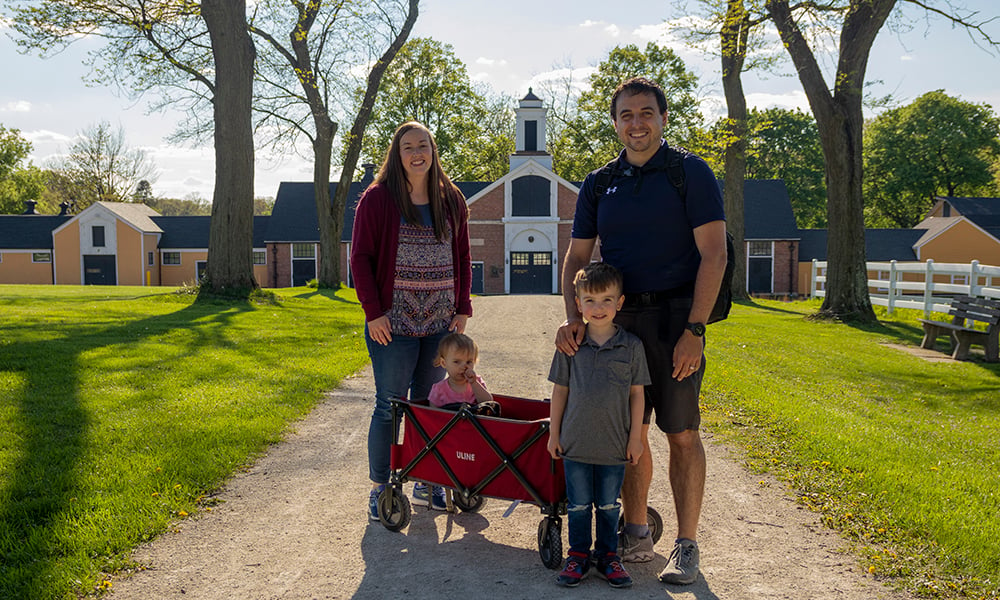 The Papineau family — Melanie, Talia, Zander and Nick — ready for another fun adventure at St. James Farm in Warrenville.
Favorite Nature Quote
"God saw all that he had made, and it was very good" (Genesis 1:31). Throughout the Bible it talks about the beauty of nature and the balance that exists. It brings me a great sense of calm when I go out in nature, and I get to see how amazingly well the plants and animals interact with each other.
The God that cared enough to create those amazing things also had me in mind and has a plan for my life as well. With all of the crazy things that happen in life, nature also reminds me of the verse, "Be still and know that I am God" (Psalm 46:10).

How Nature Inspires
Walking in nature inspires me to want to protect the beauty around us. It inspires me to work with teachers on the importance of teaching science at an early age. The more time we spend in nature, the more we realize how nature impacts our lives. It makes me want to create resources that make natural experiences more enjoyable and engaging for kids. I want to get them excited to learn more and keep pursuing their interest in the environment.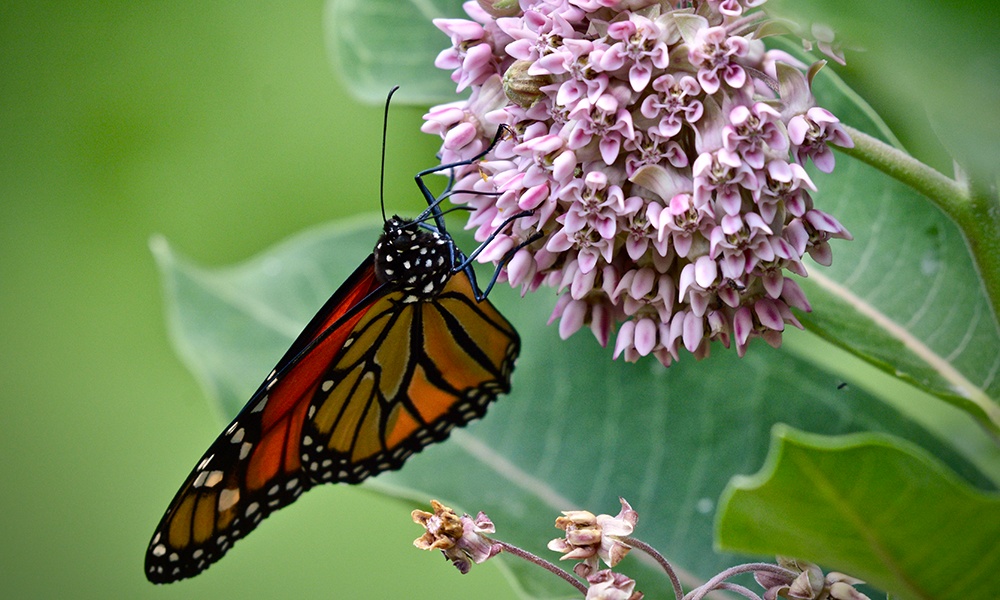 Advice to Others
We can only grow in the relationships we put time into, including our relationship with our environment and nature. We can only understand our impact and have ownership in our half of the relationship if we truly understand how we are impacting and being impacted by nature. There are many ways that nature can inspire you through arts, activities, or by setting aside time to build into personal relationships while spending time outdoors. You won't know how it inspires you until you experience it.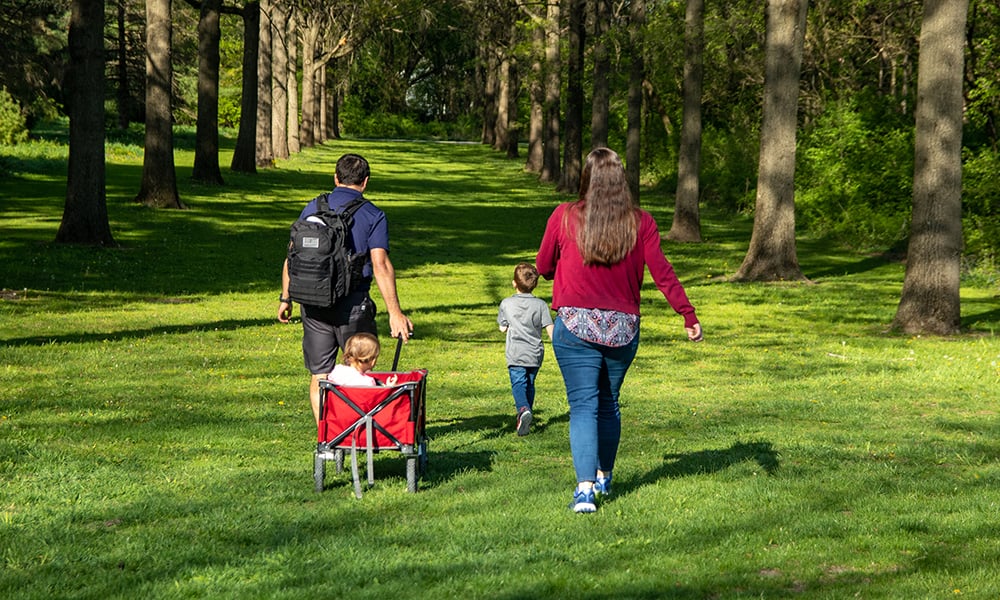 The Papineau family hikes home after another fun adventure and picnic at St. James Farm in Warrenville.
If you have a fun or unique way of catching nature in our preserves and would like to be featured in a "Catching Nature" blog, please contact Deb Humiston at dhumiston@dupageforest.org.