Danada Equestrian Center recently welcomed two new additions to the herd, Percheron-quarter horses named Daisy (age 6) and Babe (age 5). The two mares' arrival to the center were made possible by a generous $10,000 gift from Danada volunteer Jan Yong and husband Jack to the Friends of the Forest Preserve District of DuPage County, a 501(c)(3).

Jan is not only a long-time volunteer of Danada but also of St. James Farm Forest Preserve and Kline Creek Farm. Her passion for horses and her connection to the Forest Preserve District's draft teams — who she calls "gentle giants" and even learned how to harness and drive — in our programs are the reasons behind the couple's gift.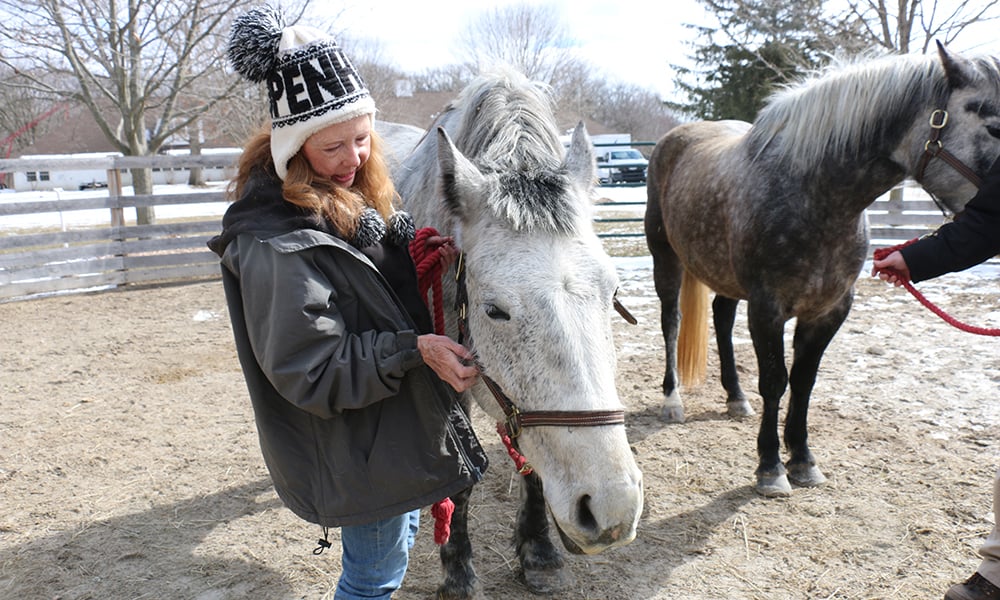 "I believe being around horses is not only educational but therapeutic, too," said Jan, giving Daisy a comforting scratch. "They provide a glimpse into ourselves and our emotions by interacting with them on a regular basis."


The Forest Preserve District formerly offered horse-drawn wagon and sleigh rides not only at Danada but also at various special-events throughout the year. When Danada's draft team transitioned to Kline Creek Farm for working purposes a few years ago, it occasionally loaned one of its teams to the center for seasonal horse-drawn wagon rides. However, when the farm retired another of its teams in 2018, it became too much for the remaining drafts to split their resources and consequentially difficult for the program to continue at Danada.
The center improvised and began to pull its wagon instead by a tractor through the Danada Forest Preserve.
As a volunteer docent who leads interpretive tours — often aboard wagons — Jan was always aware of the special bond between our horses and visiting public, who often inquired about the former draft team. She also recognized the horse-related experience that is so unique to Danada was just missing from the newly offered tractor-drawn wagon rides.
Danada staff revisited the wagon ride program in early 2019 and considered bringing back a team. "Rather than a full draft-horse team," said Equestrian Education Manager Wayne Zaininger, "Staff were interested in purchasing a ride-and-drive team for the equestrian program."
Jan was elated to hear about management's plan to explore a team with twofold disciplines — driving and riding. "I talked to Wayne about the possibility of making a donation with the express purpose of helping Danada acquire a team with the skillset desired," said Jan. "I wanted to be sure a donation was enough to make it happen." The couple made a contribution to support Danada's search for two horses to both pull a wagon and be comfortable under saddle in March 2019.

Daisy and Babe are suitable for both purposes, and they will help the center to remain mission-focused and generate revenue. Both horses have been ridden lightly and pulled sleighs during their former careers in Wisconsin. They are fairly new to one another, however, having been paired for only about three months before their arrival at Danada. Daisy and Babe will continue to be schooled and conditioned to not only pull the wagon but also for horseback riding lessons.
Danada's equestrian program coordinators Brad Doweidt and Michelle Dobosz have already begun to work with the horses. They are learning about the horses' temperaments and behaviors, and the horses are getting used to their new home, handlers and routine. "We are starting slow, and work includes a lot of groundwork such as grooming, driving from the ground, working loose in the round pen and walking in-hand around the Danada property," said Brad.
Brad will begin to drive them singly at first and later as a team. "Driving single allows the driver to concentrate on each horse's development and conditioning," he said. "They will eventually be driven as a pair and learn to cooperate, trust one another and pull their own weight, so to speak. The two will travel the forest preserve and see all there is to see around the barn and along the trail before they are ever introduced to our large red covered wagon and harnessed to pull it."
Danada does not intend to place the horses' preparedness for the wagon or riding programs on a deadline and forewarns the public it will not rush their progress too soon.
Between all of this work on the ground, while driving and under saddle, Daisy is expected to deliver a foal in late May!
Once the foal arrives at the center, much of Daisy's resources will go towards raising it. The new mother and her baby will then provide the center with additional horse-related learning opportunities and public experiences. "The birth of a foal will be an exciting time for Danada and its staff, volunteers and visitors," said Wayne. "Our equestrian program coordinators Brad and Michelle plan to work with the foal and incorporate its training from an early age into our program."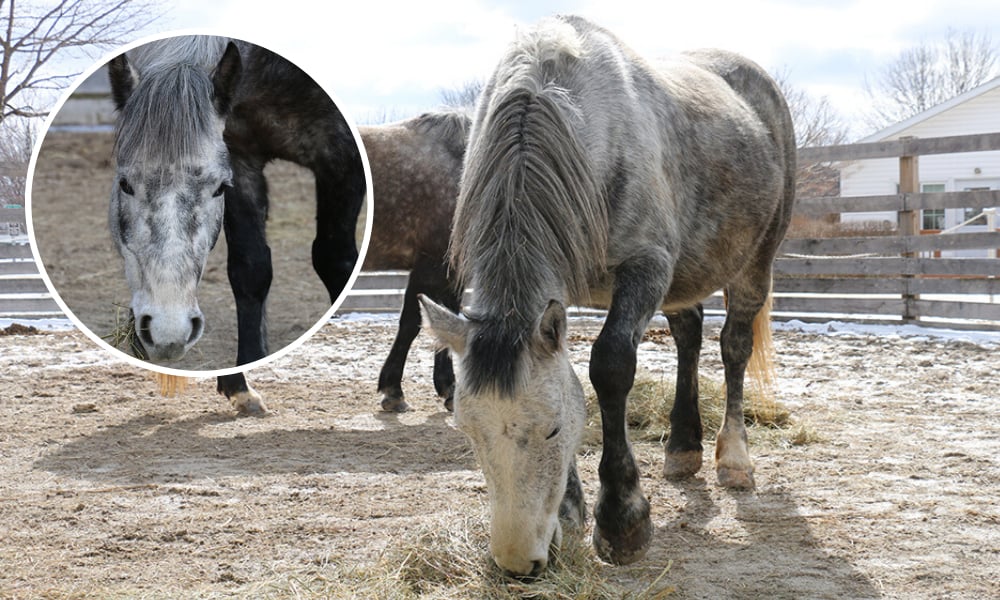 Babe (inset) and Daisy (right) settled in for the first two weeks in the round pen and will soon be turned out in the front paddock, just adjacent to the barn.


"The pairs' possibilities are endless," said Jan, "From observing a foal enter this world, to learning how to harness a horse for a wagon or sleigh ride, to even teaching others how to drive a draft team. I am eager to see what staff has in mind for them, and I know this new team will be an asset to DuPage County for many years to come."
"What an incredible gift the Yongs have given the residents of DuPage County, and one that truly will continue giving with the anticipated delivery of a new foal later this spring!" said Friends Chair Karyn Charvat. "The Friends are so excited to welcome both Babe and Daisy to Danada and we are humbled to have been a part of stewarding this most meaningful gift of life."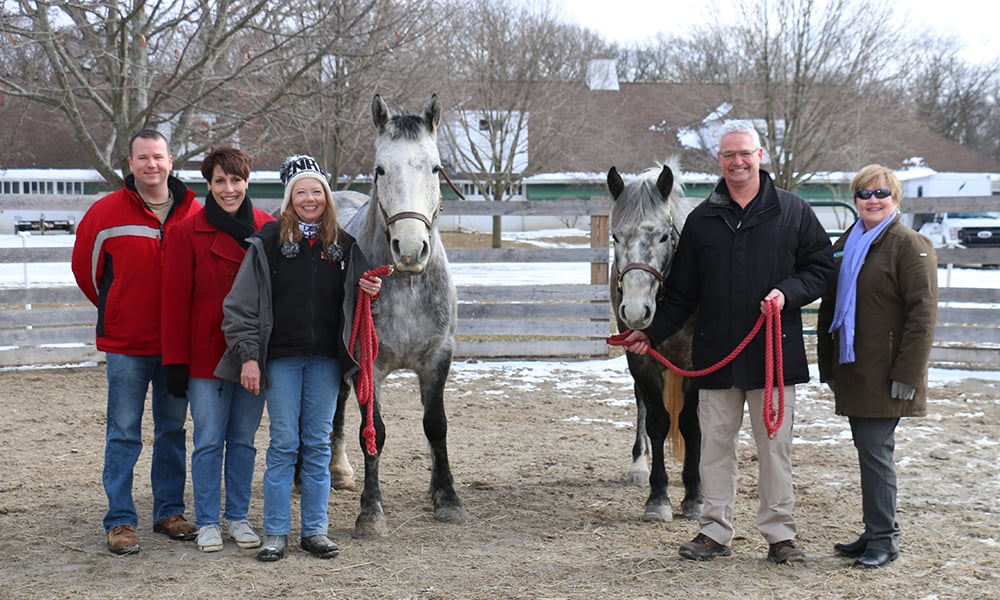 Forest Preserve District President Dan Hebreard, Friends Chair Karyn Charvat, Jan Yong, Equestrian Education Manager Wayne Zaininger and Friends Vice Chair Diane Addante (left to right) welcome the horses to the center.


Jan's commitment to making DuPage a better place for others is not only apparent in this gift but also in the service she devotes as a volunteer. "Volunteers make a difference in this world, and I know from experience you get back more than you give by helping others," she said. "I've taught my children and others this throughout my life and hope my generosity is an example for others to follow."
The Friends raises funds to support the Forest Preserve District through private, corporate and civic philanthropy to accelerate the restoration of habitats, safeguard the protection of native plants and animals, and provide nature-based opportunities for people in perpetuity. If you would like to make a donation, contact the development office at 630-871-6400 or fundraising@dupageforest.org. Or make a donation online by visiting our donation page.