Help your child unplug from video games and connect to nature with our fun outdoor day camps for kids and teens.
We recognize the importance of youth development and offer opportunities to continue learning during the summer months. Our summer camps, including 13 focused on science, technology, engineering and math (STEM), provide hands-on experiences, professional facilitation and immersion in the natural environment to support youth engagement and learning. STEM programming provides students with effective skills and experiences that will prepare them for academic and professional success.
In addition to STEM camps, we offer camps for kids interested in exploring history, experiencing farm life or learning outdoor recreational skills. The camps listed below still have space available, and each one-of-a-kind camp provides opportunities for discovery, creativity and problem solving.
New this year, the District is offering supervised lunch breaks and playtime before and after some camps. Programs with a B offer playtime before camps 8 – 9 a.m. for $45; those with an L offer supervised lunch break 12 – 12:30 p.m. for $15, and programs with an A offer playtime after camps 3 – 5:30 p.m. Unless noted, camps are $150 for DuPage residents and $175 for nonresidents. Questions? Call 630-933-7247.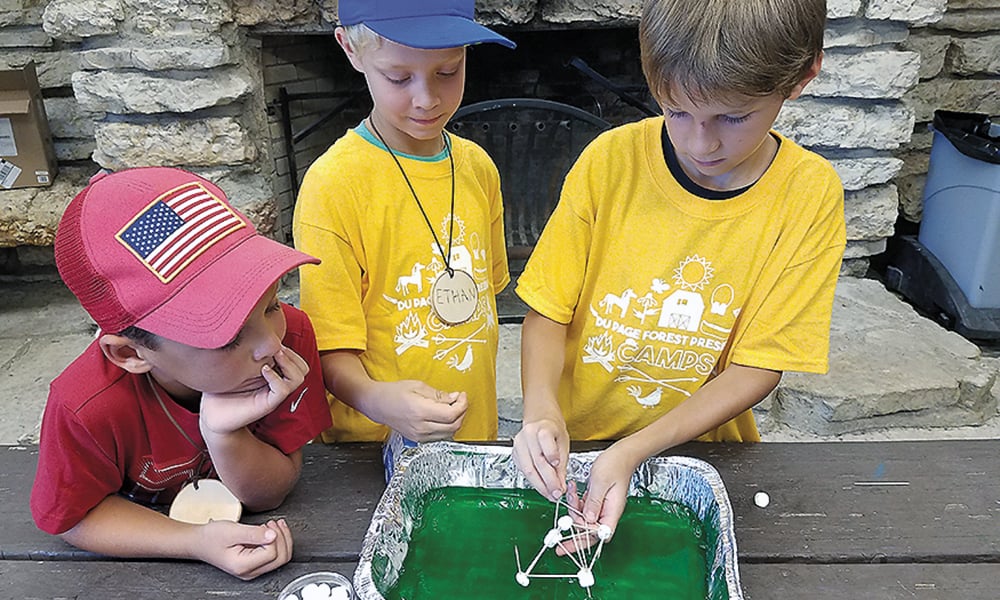 Entering Grades 1 & 2
Cold-Blooded Critter Camp (STEM Camp)
Become a junior herpetologist as you learn about the frogs, toads, snakes and turtles that live in our area. This camp introduces kids to the unique adaptations of cold-blooded animals. Most of the camp focuses on herptiles, or reptiles and amphibians. However, cold-blooded critters also include fish and insects. Kids will engage in different hands-on activities, games and exploration. They will have opportunities to interact with live animals and explore the natural habitats of these fascinating critters. Expect to get wet, as many native cold-blooded critters live near or in water.
Monday – Friday, Aug. 5 – 9, 9 a.m. – noon
Willowbrook Wildlife Center, Glen Ellyn

Entering Grades 3 & 4
Farmhands
Experience how kids lived in the 1890s with games and barnyard and farmhouse chores. Call Winfield Park District at 630-653-3811 for details and fees for supervised care before and after Farmhands and for Tuesday and Wednesday camps.
Monday, Thursday & Friday, 9 a.m. – 3 p.m., starting June 10, 17 or 24 or July 8, 15, 22, or 29
Kline Creek Farm, West Chicago

NEW! Junior Ranger Camp (B, A)
Learn conservation and stewardship through nature play, crafts and outdoor games.
Monday – Friday, 9 a.m. – 3 p.m.
July 8 – 12, Herrick Lake, Wheaton
July 15 – 19, Mayslake Peabody Estate, Oak Brook
$250 DuPage resident, $290 nonresident

Time Travel Detectives
Spend each day exploring a different historic site, meeting characters from the past, solving puzzles, cracking codes and searching for clues to unravel a mystery and save the day!
Monday – Thursday, July 8 – 11, 9 a.m. – noon
Kline Creek Farm, West Chicago
St. James Farm, Warrenville
Mayslake Peabody Estate, Oak Brook
Danada Equestrian Center, Wheaton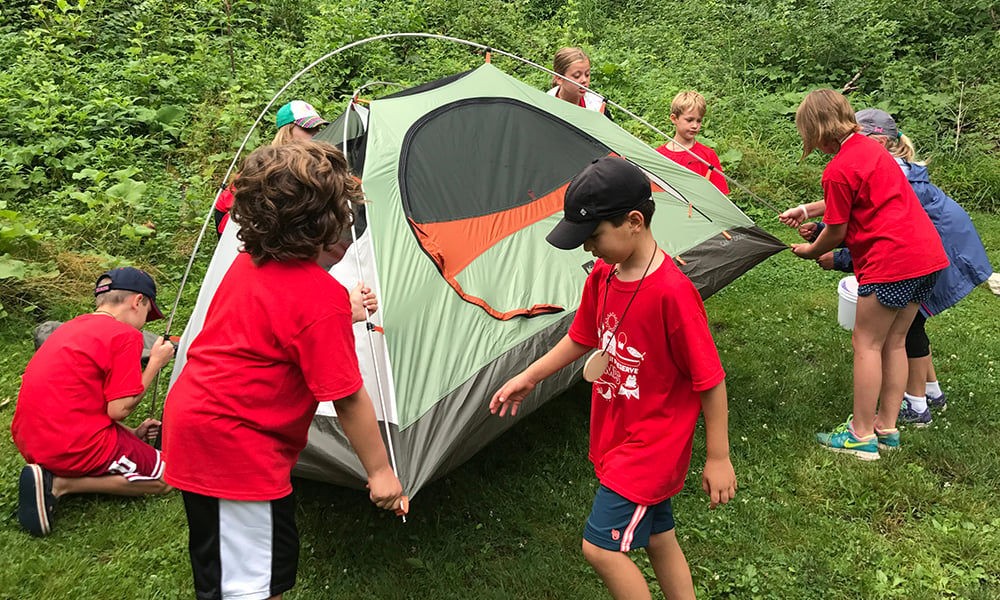 Entering Grades 5 & 6
Archery Camp
Get closer to the bullseye by learning safety techniques, practicing proper shooting and participating in friendly competitions and games.
Monday – Friday, July 15 – 19, 9 a.m. – noon
Blackwell, Warrenville

Farmhands
Experience how kids lived in the 1890s with games and barnyard and farmhouse chores. Call Winfield Park District at 630-653-3881 for details and fees for supervised care before and after Farmhands and for Tuesday and Wednesday camps.
Monday, Thursday & Friday, 9 a.m. – 3 p.m., Starting June 10, 17 or 24 or July 8, 15, 22, or 29
Kline Creek Farm, West Chicago

Horse Sense (B, A)
Enjoy hands-on experiences with horses and the daily activities of a working barn as well as lead-line rides, stable chores, games, crafts and Friday Family Day.
Monday – Friday, 9 a.m. – 3 p.m., starting June 3 or 17, July 8 or 22, or August 5
Danada Equestrian Center, Wheaton
$250 DuPage resident, $290 nonresident

Kayaking Camp
Learn about safety, gear, paddling strokes, navigation and handling a kayak on lakes and rivers.
Monday – Friday, July 8 – 12, 9 a.m. – noon
Hidden Lake, Downers Grove

Outdoor Adventures (B, L)
Climb to the treetops with skilled foresters, learn to shoot a bow and arrow, fish Salt Creek and try geocaching with GPS.
Monday – Friday, July 29 – August 2, 9 a.m. – noon
Fullersburg Woods, Oak Brook

Ranger Adventure Camp (B, A)
Choose a camp location and try archery, boating, fishing and hiking while improving your team-building and wilderness survival skills.
Monday – Friday, 9 a.m. – 3 p.m.
June 17 – 21 or July 22 – 26, Herrick Lake, Wheaton
June 24 – 28 or July 29 – August 2, Mayslake Peabody Estate, Oak Brook
$250 DuPage resident, $290 nonresident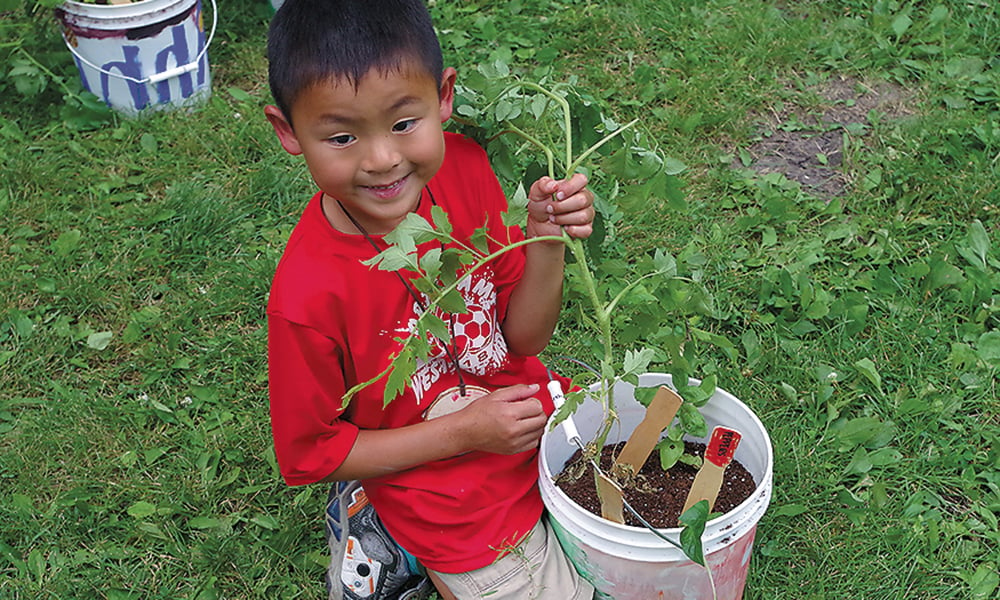 Entering Grades 7 & 8
Riding Sense (B, A)
Enjoy all the fun of Horse Sense Camp (see above) with the wonders and challenges of a daily riding lesson with a Danada instructor.
Monday – Friday, 9 a.m. – 3 p.m., starting June 10 or 24, July 15 or 29, or Aug. 12
Danada Equestrian Center, Wheaton
$400 DuPage resident, $460 nonresident

Dirty Jobs (STEM Camp)
Meet at different preserves to become a field scientist by helping with hands-on projects that protect local species and habitats. Be ready to get dirty. Work with District naturalists, ecologists and stewards actively participating in field research methods. Learn about the science and research needed to study our natural environment. Scour the waters for aquatic invertebrates to determine water quality in our streams and ponds. Monitor and trap turtles to gather information on local turtle populations. Help restore the natural environment we all love, by removing invasive species and planting natives within our forest preserve.
Monday – Friday, June 17 – 21, 9 a.m. – noon
Blackwell, Warrenville
Willowbrook Wildlife Center, Glen Ellyn