Background
Willowbrook Wildlife Center is a nationally recognized wildlife rehabilitation center that serves DuPage County. Its educational programs have introduced tens of thousands of schoolchildren and other visitors to the wild animals that share their backyards.
Over the decades the center has seen a dramatic increase in the number of injured and orphaned animals it cares for each year, and the aging visitor center has been unable to keep up with the growing needs of visitors, patients and programs. The District has operated Willowbrook as a wildlife rehabilitation and education center since 1956.
In 1981 the center's operations were expanded to include exhibits of non-releasable wildlife to support the center's education mission. In 1982 the National Wildlife Rehabilitator Association (NWRA) was born at Willowbrook.
Over the past 40 years, Willowbrook has adapted to changes in wildlife rehabilitation best practices. As a result, changes have also been made to the diversity of and demand for Willowbrook's program offerings.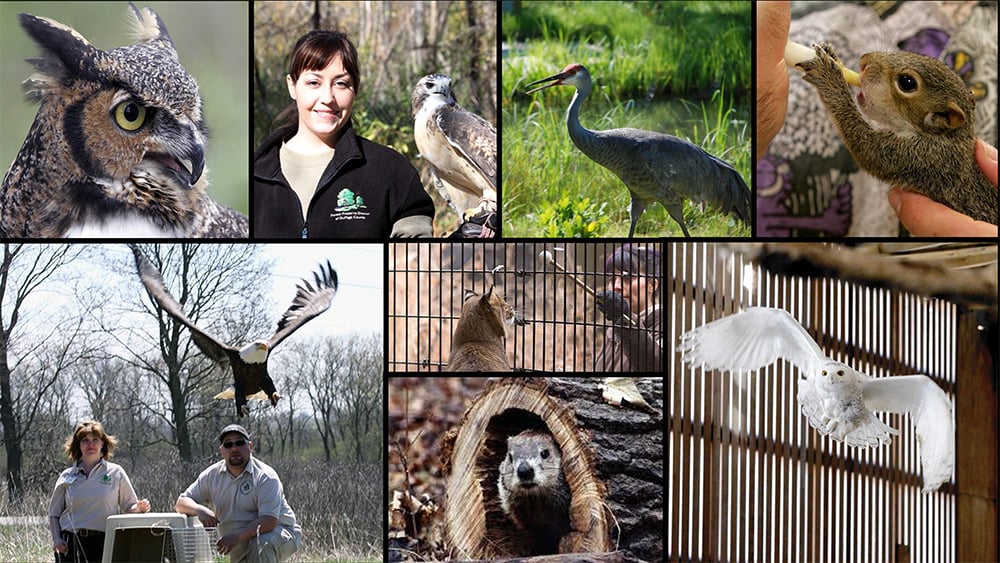 In 2011 the District adopted a new master plan for Willowbrook Wildlife Center. Public input was previously solicited for the master plan through a public open house and survey. While much of the data collected is helpful and relevant to future facility development, the NWRA and International Wildlife Rehabilitation Council (IWRC) have made some significant changes in wildlife rehabilitation guidelines for housing and exhibiting wildlife that impact how Willowbrook will operate in the future.
Willowbrook will still provide a variety of opportunities for the public to learn about wildlife rehabilitation and the District's captive-rearing programs for endangered species. In addition, the public will also have opportunities to see wildlife in their natural habitats in a way that is less stressful and harmful to the animals.
The District began implementing Willowbrook's master plan in 2013. Over the last 8 years, a new parking lot that improves public access was built, a new species recovery building for wildlife rehabilitation was built, and a 72.2-kilowatt solar array was installed for sustainability. All of these projects address several goals and objectives identified in that master plan.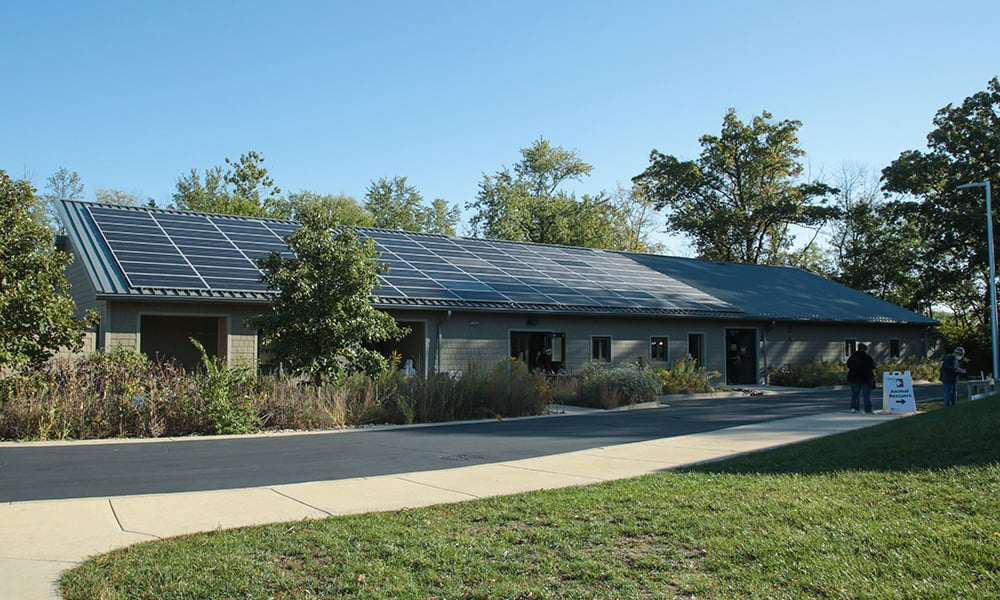 However, much work remains as Phase II of the master plan begins. Phase II Improvements include a new wildlife rehabilitation clinic, visitor center, expanded naturalized outdoor wildlife rehabilitation areas, trail improvements, and indoor and outdoor public activity spaces.
The District has developed the following vision and goals in an effort to reimagine Willowbrook for the future by applying what has been learned over the past 65 years; incorporating new guidelines and best practices for wildlife rehabilitation; taking into consideration public concerns and community needs; and making an effort to remain true to the District's and Willowbrook's missions.
Project Description
As part of the second phase of Willowbrook Wildlife Center's 2011 master plan, the project will construct an approximately 27,000-square-foot new wildlife rehabilitation clinic and visitor center that will include expanded naturalized outdoor and indoor rehabilitation areas, interactive learning exhibits about the wildlife rehabilitation process, a welcome plaza, an outdoor classroom, an interpretive trail with wildlife observation areas, and outdoor activity spaces that demonstrates how to attract and live in harmony with wildlife.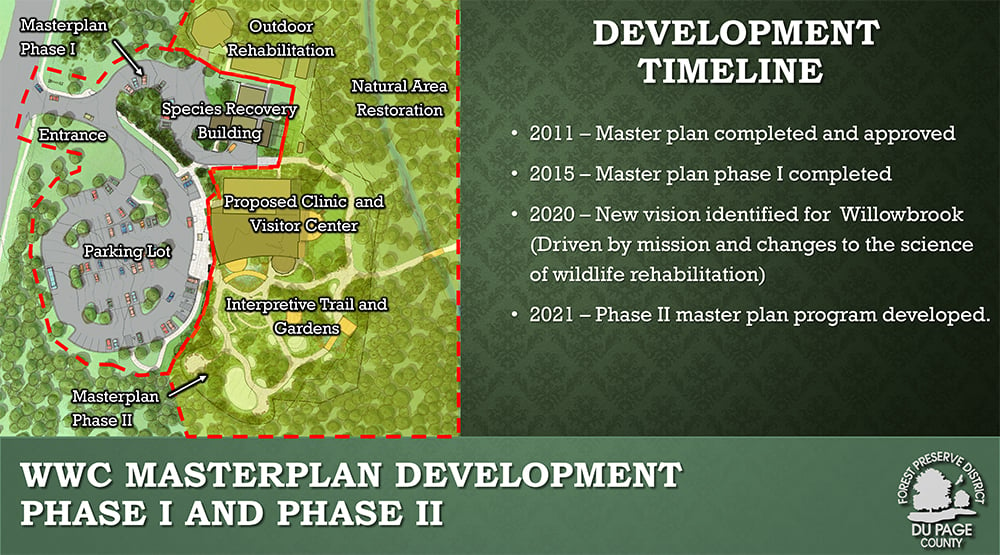 Status
The District is beginning the schematic design phase of planning for Phase II master plan improvements at Willowbrook Wildlife Center in Glen Ellyn. The District solicited input from the public over summer 2021 via public surveys, an online comment form, stakeholder input meetings, and three public open houses. See the results (PDF) of the public feedback.
The public feedback gathered is being used to shape the project's design. The project will be in the design phase through 2022. Construction is tentatively expected to start in 2022 and be completed by the end of 2024.
Cost and Funding
Based on preliminary projections, this project may cost approximately $24 million. As the project becomes more defined, a combination of funding strategies will be evaluated, including debt issuance, yearly budgeted construction and development funds, private donations, and grants. It should be noted, the Forest Preserve District of DuPage County has sufficient bonding capacity to issue debt and fund this project without causing a net increase in property taxes for DuPage residents. Funding is expected to be finalized by the end of 2021.
July 29, 2021 public information session on Willowbrook plans
Links to Documents
Results of Public Feedback on Plan
Willowbrook Project Board Presentation 9/14/21
2021-08-17 Public Feedback on Plan
2021-08-17 Wight Co. presentation to Board
2011 Willowbrook Master Plan
Previous Willowbrook Master Public Input
Willowbrook Masterplan Phase II Improvements Design Program
Presentation to Board April 13, 2021


Reference Links
District's Mission and Vision
District's 2019 Master Plan
National Wildlife Rehabilitators Association
International Wildlife Rehabilitators Council