Sheila Liss was looking for new pastimes after retiring from her job as a high school special education teacher. She and her husband had raised their family and lived and worked in Lisle for more than 30 years.
"In early 2021 I decided I would visit as many DuPage forest preserves as possible in 2021," Liss said. "I was able to travel all over the county and enjoyed the variety of paths, trails, lakes, forests and meadows.
"I particularly enjoyed biking through Waterfall Glen, the art on display at Mayslake Peabody Estate, the paths along the DuPage River, having a hawk fly overhead while biking through Hawk Hollow, and using the Illinois Prairie Path to see four forest preserve in one bike ride."
Liss now works part-time and enjoys gardening.
Here's her story.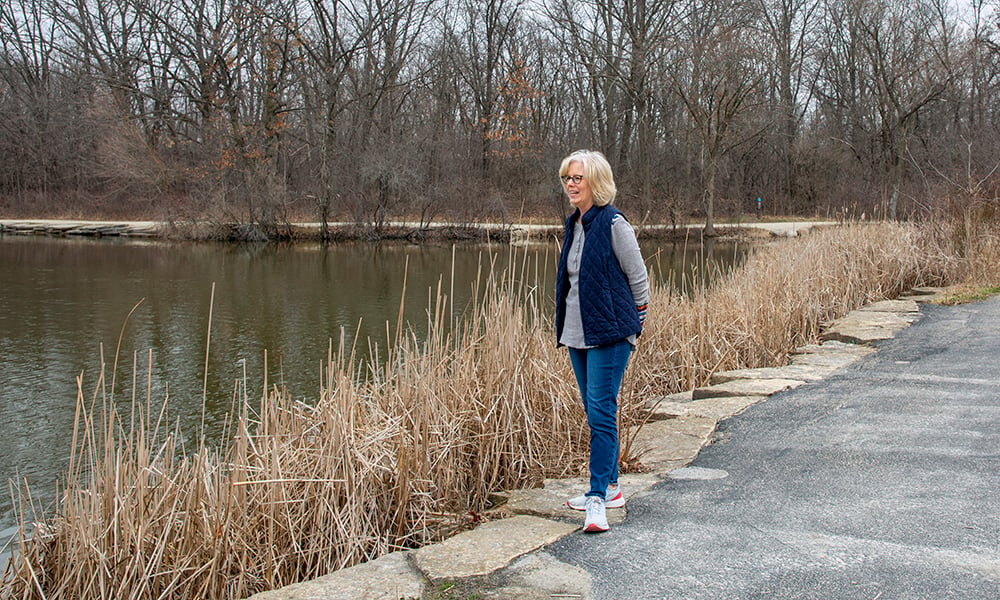 Catching the Nature Bug
After college I lived near Starved Rock State Park in Utica and was able to visit it easily. Later, with our children and neighbors we would occasionally camp there or at other state parks. My husband's family lived near there, so we continue to visit after all these years.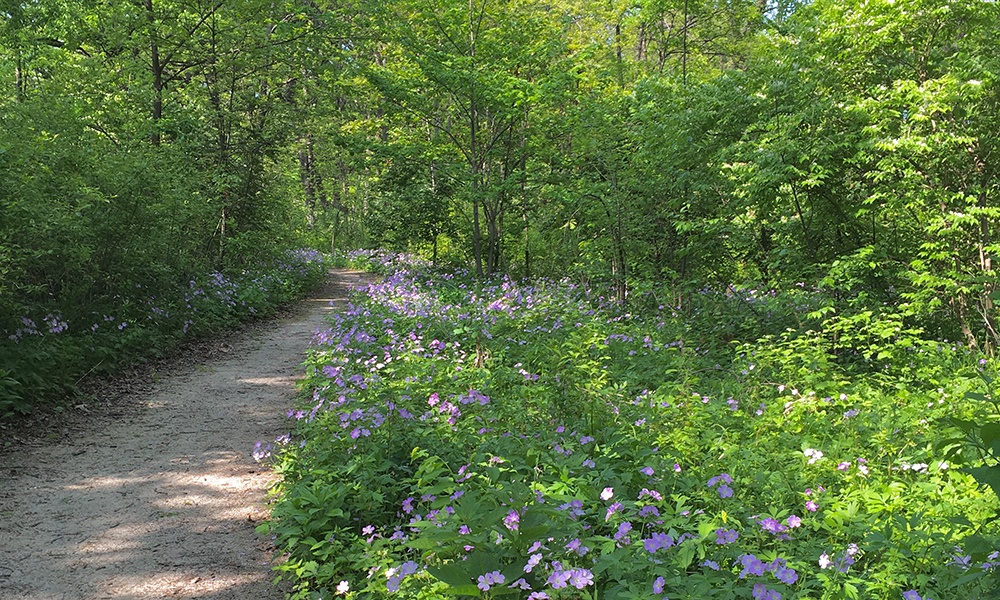 Discovering DuPage Forest Preserves
I'm not sure when I first started visiting DuPage forest preserves, but I began using them more regularly when I helped my second son's Scout troop complete their bicycling merit badge.
The boys were encouraged to have a parent come with, and I helped our son complete this merit badge. The leader of this badge used a lot of forest preserve trails as well as the Illinois Prairie Path and the Great Western Trail. A couple years later the troop needed adults to help out another Scout group get their bicycling merit badge, so I "earned" it a second time. From then on I was interested in exploring more of them.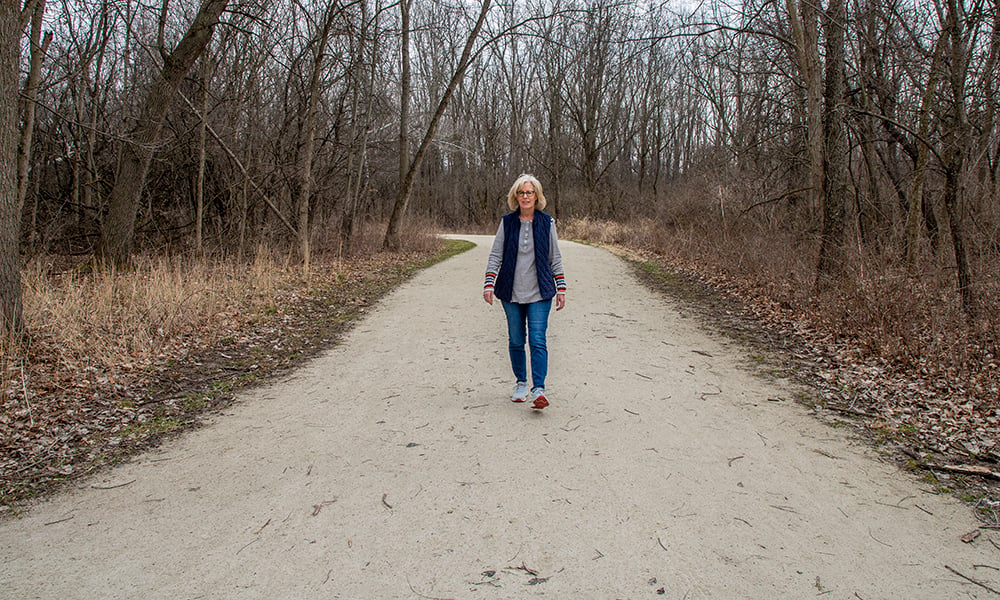 Favorite Preserve and Time to Visit
I ride my bike frequently at Greene Valley, Danada and Herrick Lake since I can get to those from my home. I don't have to load my bike into the car, get directions or figure out where the parking lot is located.
I enjoy spotting deer when I am out for an early morning ride. In the summer I try to find indigo buntings in the prairie areas. In the fall I enjoy the colors of the leaves. Waterfall Glen is a scenic ride, and it has some hills to give the ride some variety. I also enjoy Mayslake Peabody Estate. The grounds are scenic, and I enjoy the art and photography on display inside.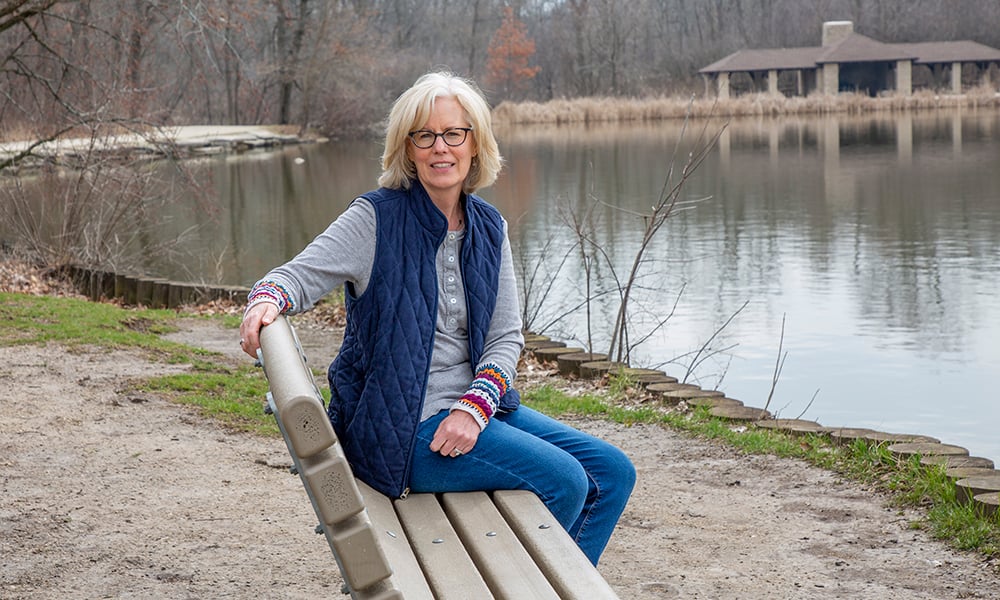 What Brings Her Back Time and Time Again
In January 2021 I decided to try to visit as many DuPage forest preserves as I could. My job takes me all over the county and surrounding area so I realized that I could stop by some after work. Others I visited on my days off. I kept track of my visits on the Strava app.
I enjoyed trying to find ways to visit multiple forest preserves in an area by biking from one to another or driving to them to go on hikes. On one trip I rode my bike from Herrick Lake to St. James Farm to Blackwell to Warrenville Grove and back to Herrick Lake. Another day I rode from West Branch to Hawk Hollow to Mallard Lake and back.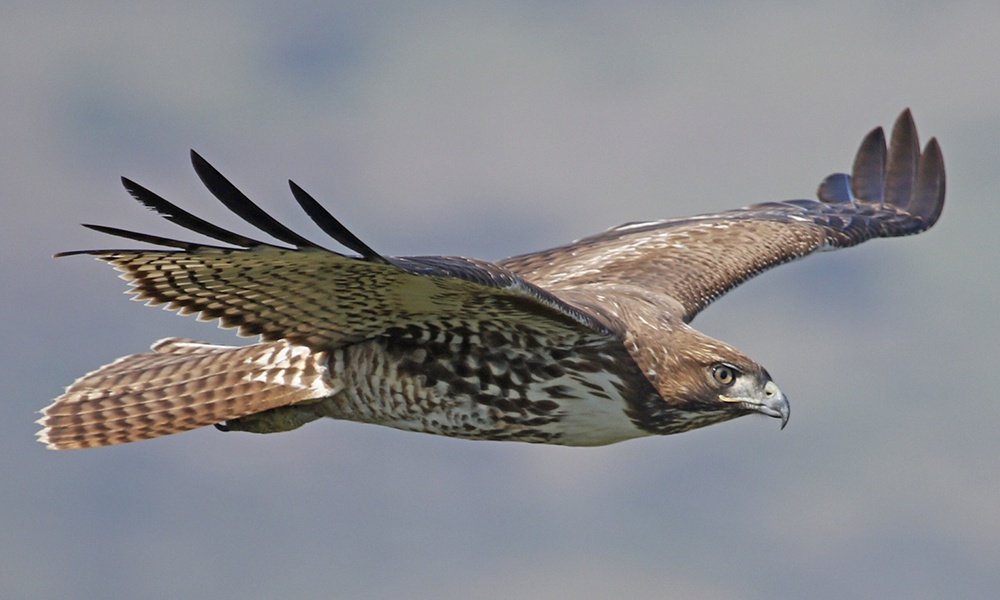 I saw hawks overhead at Hawk Hollow and mallards in the lake at Mallard Lake. On a visit to Lincoln Marsh in the fall there were elementary schoolchildren on a field trip. It was good to see them out in nature; it also was nice to see a regular school activity taking place after so much disruption from the pandemic.
Being outside in nature was an activity I could count on despite the changes brought by the pandemic. At the beginning of December, I had visited 50 different DuPage forest preserves so I decided my goal would be 55. On December 28, 2021, I walked at Big Woods Forest Preserve for my 55th preserve visit of the year.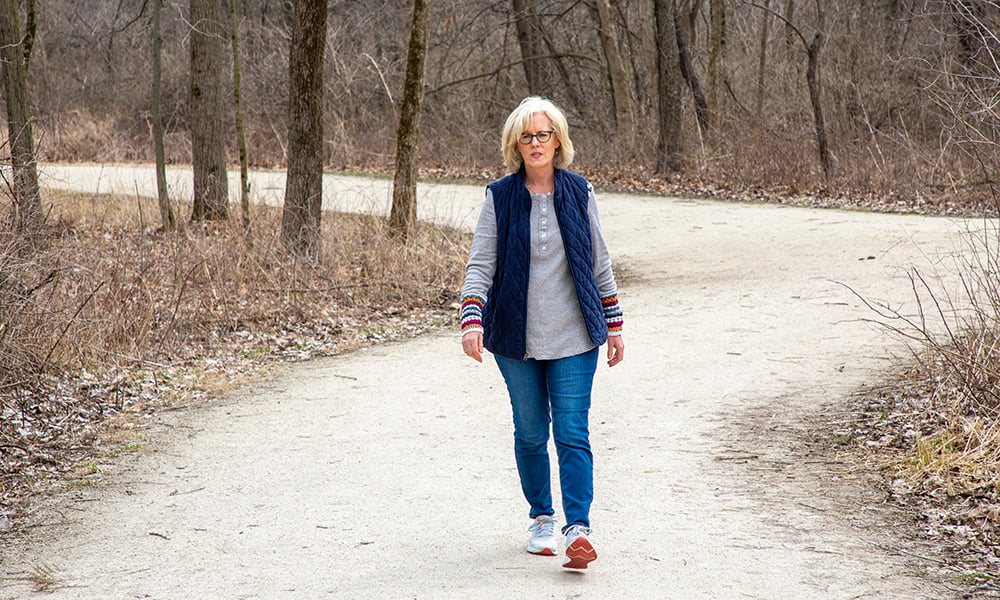 Favorite Thing to Do in the Preserves
I mostly enjoy hiking or biking in DuPage forest preserves. Along the way I like to stop and take pictures of the birds, deer and scenery. Although I have been to 55 preserves, I need to revisit some and explore trails I did not try on my first visit or go at a time of year when the wildlife is more active.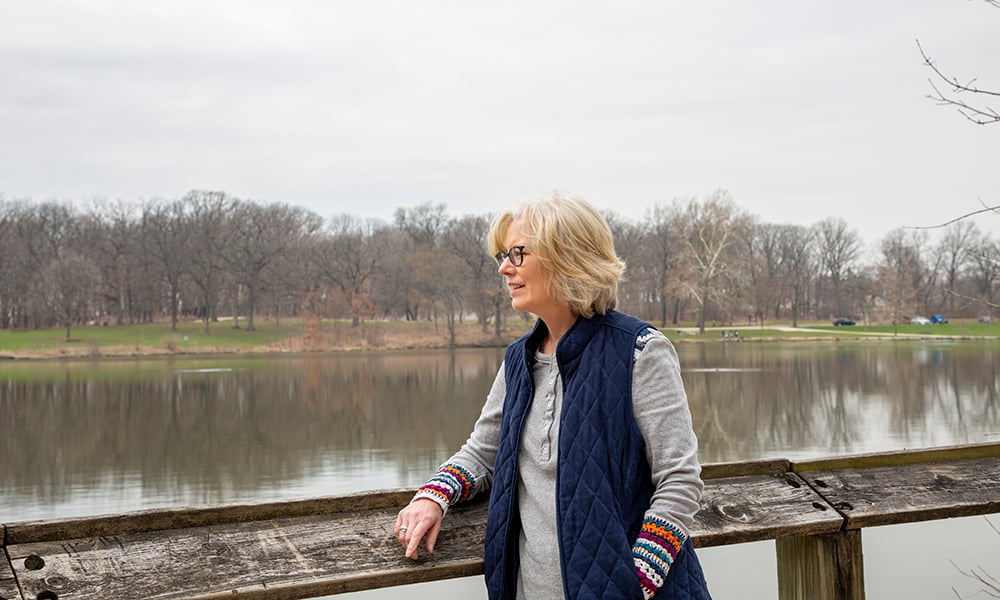 Nature's Lesson
I like being able to stop and take in my surroundings. After the tornado in June 2021, I rode through Greene Valley. In the prairie area I saw a rowboat that had been deposited there. On another part of the trail several large trees were knocked down. I saw a door wrapped around a tree. The power of the storm was evident here.
The forest preserve and nearby homes and businesses had taken a beating. Eventually new trees will grow where others once stood and it will begin to heal. Nature helps when people need to heal. Taking a walk in nature can clear your head, calm you down and help reduce stress.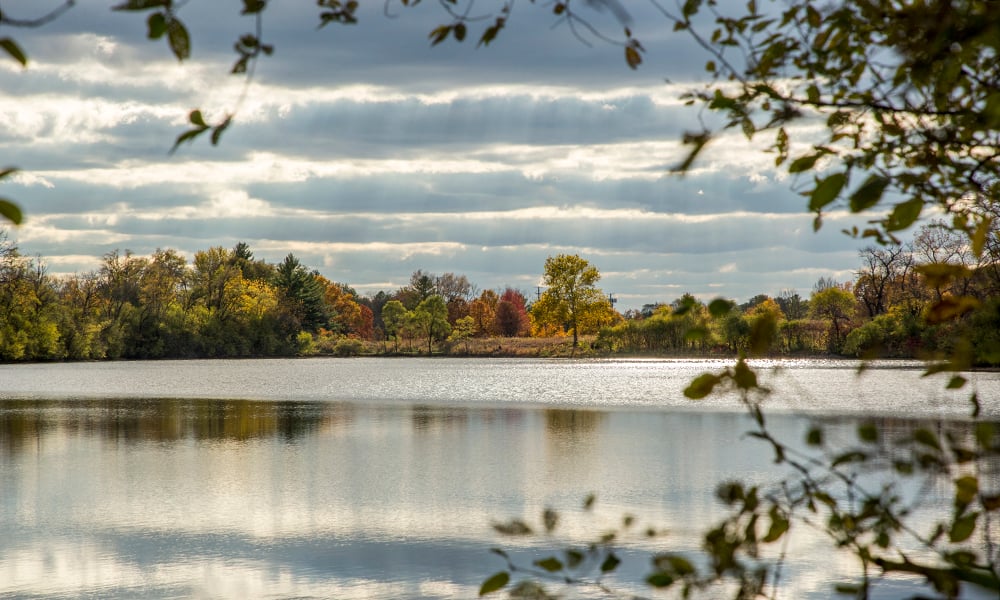 Advice to Others
There are so many different ways to enjoy nature in DuPage forest preserves. Try taking a walk or find a nearby preserve that is not part of your usual routine. With off-leash dog areas, a living history farm, riverside trails, waterfalls, prairies, lakes, rivers and marshes, there is so much variety to experience in nature in DuPage County.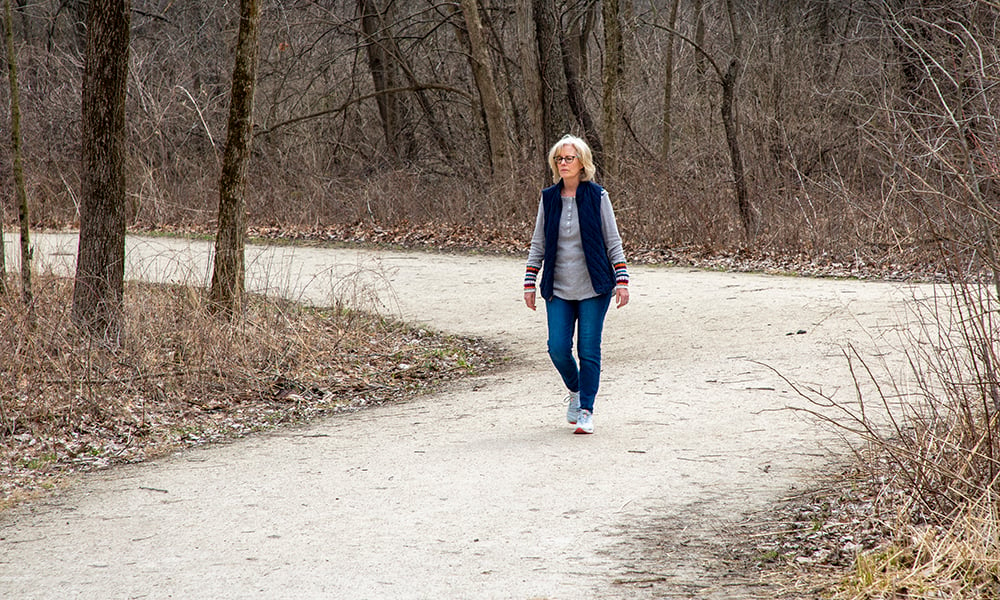 If you have a fun or unique way of catching nature in our preserves and would like to be featured in a "Catching Nature" blog, please contact Deb Humiston at dhumiston@dupageforest.org.