Between the Thanksgiving dinner prep and holiday shopping, get outdoors to experience the physical, emotional and spiritual rewards of spending time in nature. Today an ever-growing body of scientific research finds that nature is good for the body, mind and spirit. Nature makes us healthier, sharper and even happier, too!

Our DuPage forest preserves offer just the thing for some well-deserved outdoor time. Whether you choose to slip on those hiking boots, watch wildlife or take your dog for a chilly romp, there's more than one way to #OptOutside.
This year we're once again heralding the #OptOutstide rally cry! We'll even get you started with 10 of our favorite #OptOutside activities for Nov. 26 in the forest preserves.

1. Walk a National Trail
Take a leisurely 3-mile walk on the Danada-Herrick Lake Regional Trail, a U.S.-designated National Recreation Trail, at Danada Forest Preserve in Wheaton. Park at the preserve's main parking lot off Naperville Road near the Danada Equestrian Center, and start at the trailhead to travel west (under Naperville Road) through a prairie and onto Herrick Lake Forest Preserve, also in Wheaton. Or, head northeast, where you'll see a mix of oak savanna and prairie habitats as you near Rice Lake onto Butterfield Road.

2. Take a Trail Less Traveled
This #optoutside must-do is senior ranger Dave Sima's recommendation: Hike a less-traveled trail at West DuPage Woods Forest Preserve in West Chicago. A figure-eight 1-mile looped trail through woodland habitat can be accessed from the main parking lot off Route 59. An even lesser-traveled 2-mile looped trail is just off the preserve's parking lot on Gary's Mill Road. There, you can explore mowed paths through upland woods, open meadow and riparian habitats along the West Branch of the DuPage River. Ranger Sima tells us this Elsen's Hill area may just be the best trail for seclusion. "Not only is this trail unfamiliar to most but it's also less frequented by visitors, which equates to more solitude for you!" he says.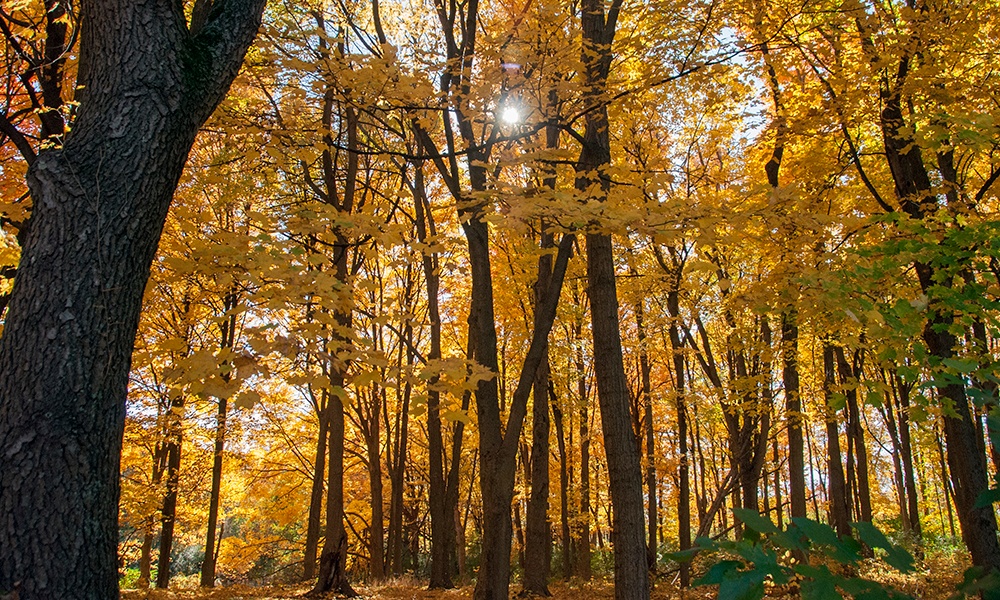 3. Bird a Preserve
Grab your binoculars, pack your bird guide and head out to Springbrook Prairie Forest Preserve in Naperville for some birding. Plan to hike for the better part of the day on nearly 7 miles of multipurpose trail. But if you want to get in the best birding experience, explore 2 miles of narrow, mowed trails on the east side of Plainfield/Naperville Road. (Lucky you! Some of these trail segments are closed during the key bird-breeding season to protect critical nesting habitats. But you'll find them open this time of year.)
This forest preserve hosts one of three significant grassland bird communities in Illinois.
You can usually spot the state-endangered northern harrier from afar. It flies low and slow with its wings spread in a V-shaped pattern as it hunts for rodents and small birds over the prairie's grasses. Moving into winter, the bird will roost on the ground not only with others of its kind but also with short-eared owls.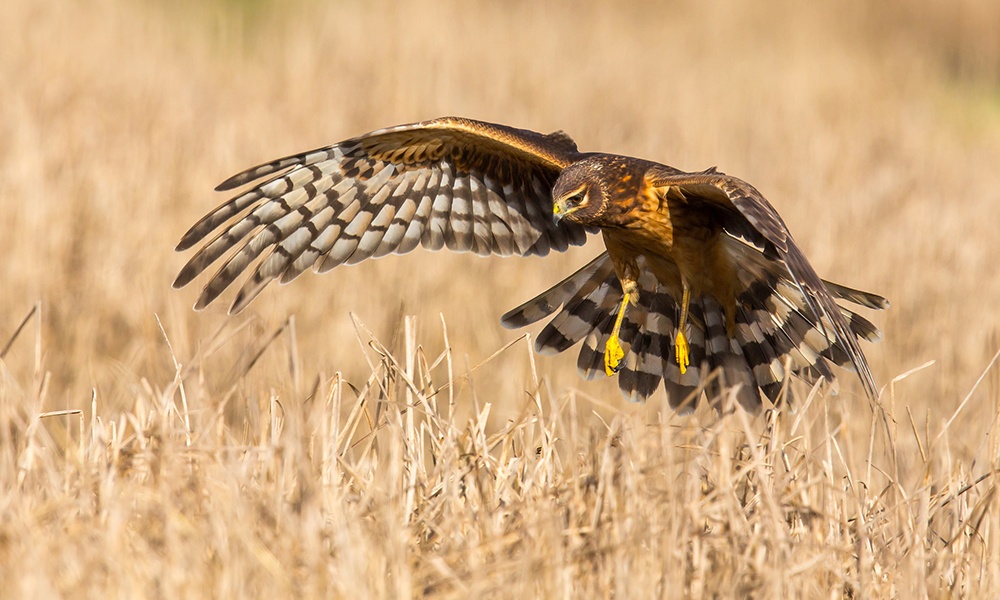 Northern harrier Image by Mick Thompson/CC BY-NC 2.0

4. Climb It
Climb to the top of Mount Hoy at Blackwell Forest Preserve in Warrenville to catch the views from the third highest point in DuPage County! (Get in the last of your hill climbing for the fall season now. Once December hits, this hill is closed for winter fun and snow tubing.) Take in a view of Silver Lake, the Urban Stream Research Center and the archery range from this vantage point. If the sky is clear, you may even see the Chicago skyline!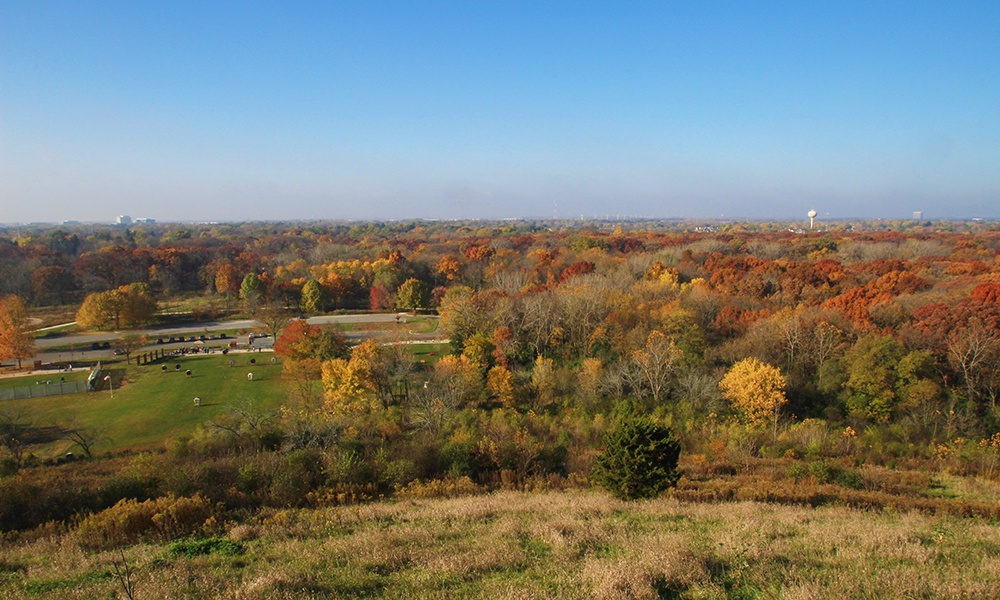 5. Bike It
Get in one last bike ride before the second snowfall hits. Go for a bike ride on more than 145 miles of trails in the DuPage forest preserves. Our Trails Guide contains maps of the 24 most popular forest preserves, including Greene Valley, McDowell Grove and Timber Ridge forest preserves.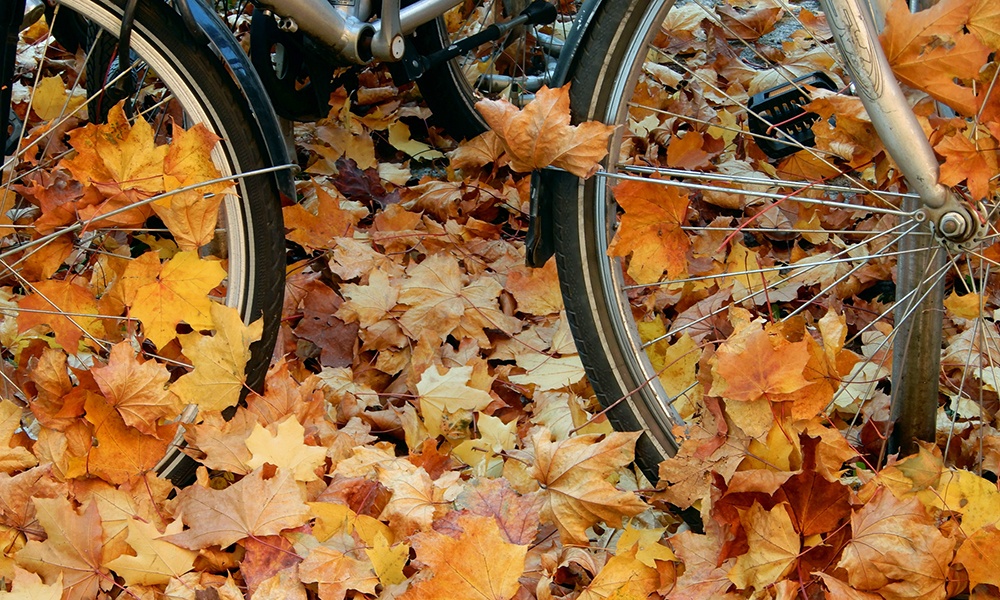 Image by Mirabelka Szuszu/CC BY-SA 2.0

6. Go on a Scavenger Hunt
Even as things start to cool off in fall there's still a lot going on in the wild. How many items on this Fall Scavenger Hunt list (PDF) can you find in DuPage forest preserves, or your own backyard? Test your skills while getting some fresh air and exploring nature.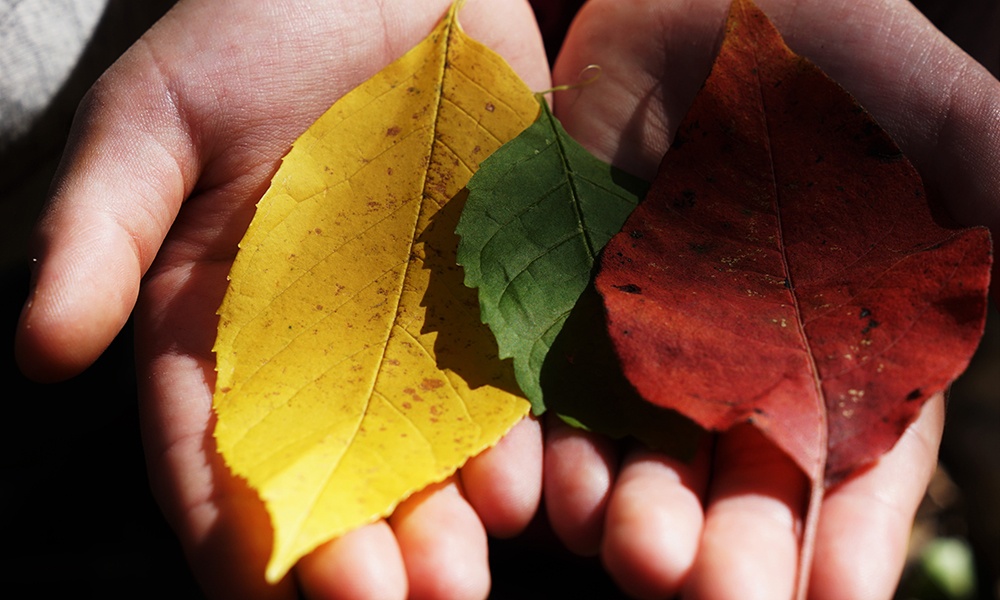 7.

Go For a Picnic

Make the most of leftover turkey, and pack a picnic lunch to enjoy at Herrick Lake Forest Preserve. Four shelters — east, west, north and south — are available by reservation. Picnic tables and grassy areas offer additional picnicking opportunities, especially on a low-key kinda day.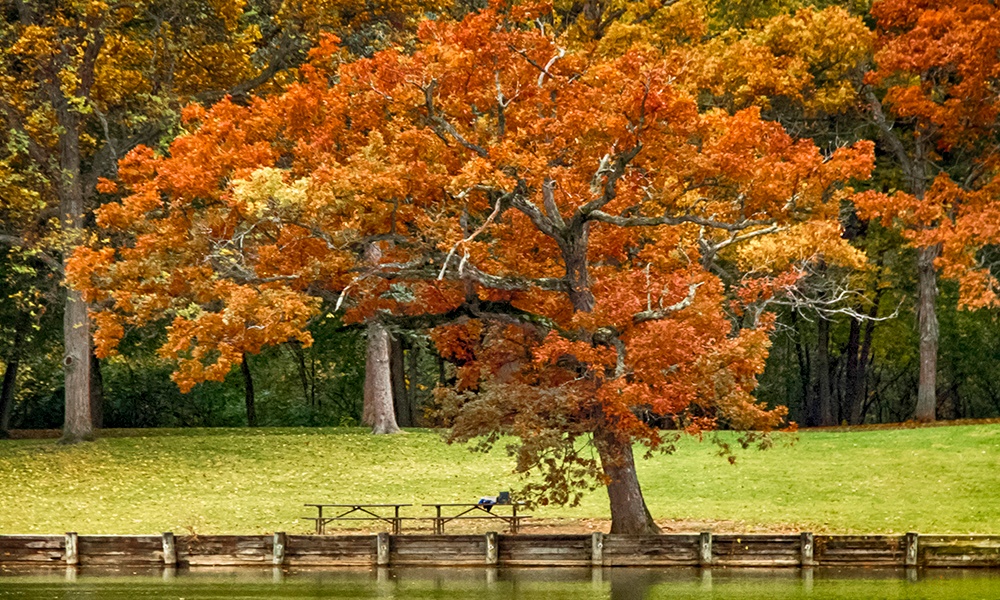 8. Play With Your Dog
Our off-leash dog areas are great places to spend time with your four-legged canine friend in DuPage forest preserves. Visit the off-leash areas at Blackwell, East Branch, Greene Valley, Hawk Hollow, Mayslake, Oldfield Oaks or Springbrook Prairie. Owners must have a valid off-leash dog area permit in their possession when visiting any of the off-leash areas. If you don't already have one, purchase a daily permit online. You can also walk your dog on-leash in most preserves.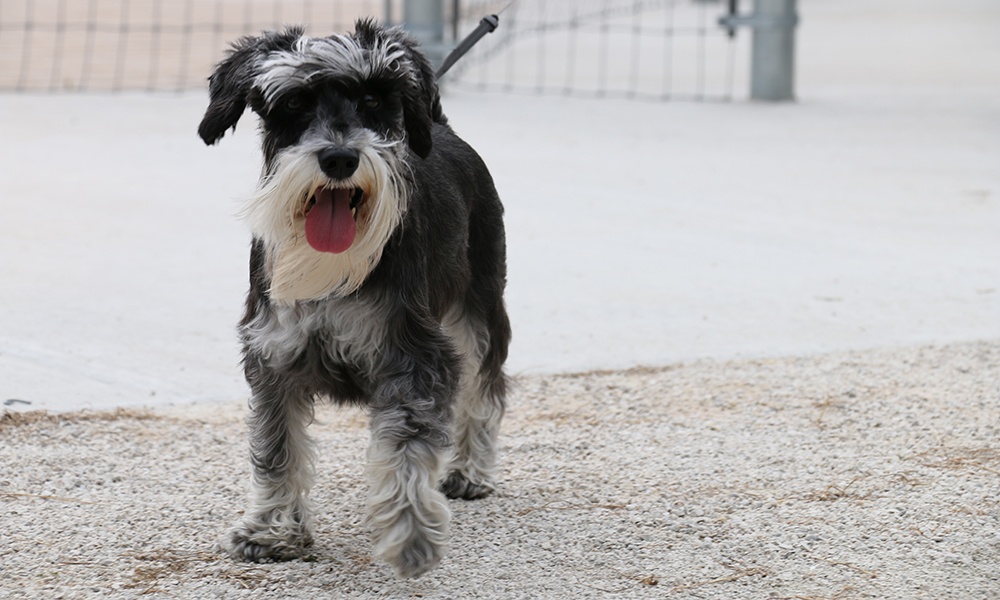 9. Explore History
Venture to see remnants of some of the earliest settlers in DuPage at Winfield Mounds Forest Preserve in Winfield. Take a short hike to see the three dome-shaped mounds that remain from early Native Americans who once lived along the West Branch DuPage River. These mounds are quite small, having been vandalized and excavated over the years, but still a must-see if history is your thing. This preserve has no parking lot, and most visitors hike in from Geneva Road between Winfield and Indian Knoll roads.


10. Pause and Reflect
Walk slowly. Breathe it in. Take time to reflect. If you're looking for peace and tranquility, you'll find it at St. James Farm Forest Preserve in Warrenville. The preserve's main 1.6-mile trail travels through more than 100 acres of restored woodlands, prairies and wetlands. Along the way take in the tree-lined promenades — known as alleés — some made up entirely of maples, river birch or pines. Be charmed by the exterior of the dairy barn, show and block stables, and riding arena that beam a yellowish hue — even on an overcast day! Absorb the beauty of various sculptures and other art throughout the preserve. Watch for white-breasted nuthatches, and listen for red-bellied woodpeckers in a mature oak savanna. Then, be soothed by the sounds of slowly moving water flowing in Spring Brook, a tributary of the West Branch DuPage River.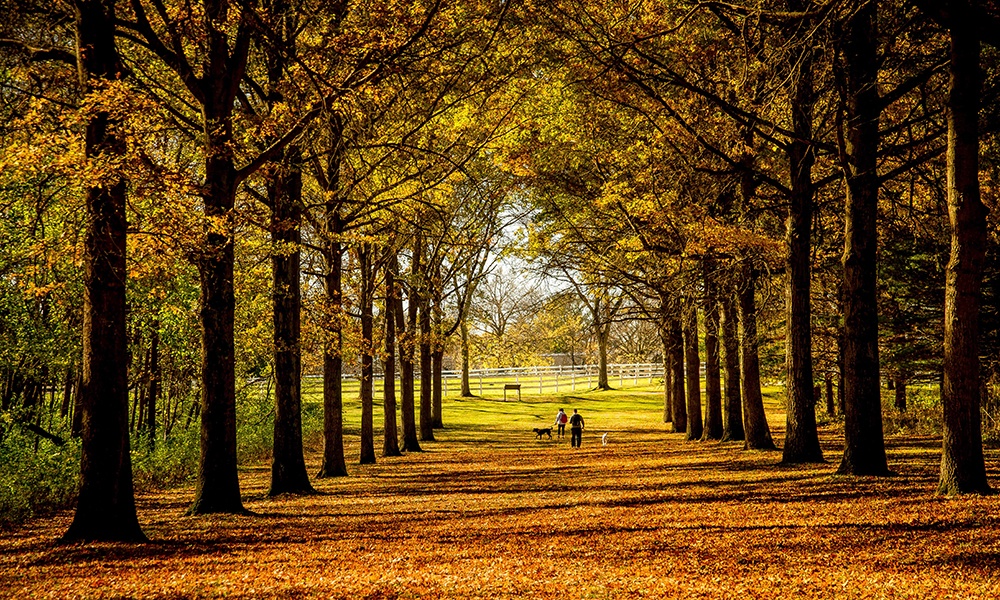 Tell It, Share It
Thinking you'll take advantage of one of these #OptOutside activities the day after Thanksgiving or over the long weekend? Post it on our Facebook page, tweet it with our handle @dupageforest, or tag it #dupageforest on Instagram.
Looking for even more outdoor inspiration? Visit our DuPage forest preserves page to find the best outdoor spots near you.