Fundraiser to support other Danada Equestrian Center horses as wel
l
(July 16, 2020) — Celebrate the birth of
Danada Equestrian Center's
new colt, Duke, and his mother, Daisy, by contributing to a virtual baby shower fundraiser Aug. 1 – Sept. 7.
Danada staff learned Daisy was pregnant during the pre-purchase exam, and Duke's costs were not part of the center's budget for the coming year.
Any revenue over $3,000 will support Danada's 13 lesson horses, whose veterinary, emergency and routine care exceed $18,500 annually.
People can donate at
dupageforest.org/oh-baby-shower
. Each donor who contributes $20 or more will receive a hand-drawn portrait of Duke or a Danada horse of choice created by Danada staff and volunteers. At this time, Danada is only accepting monetary donations.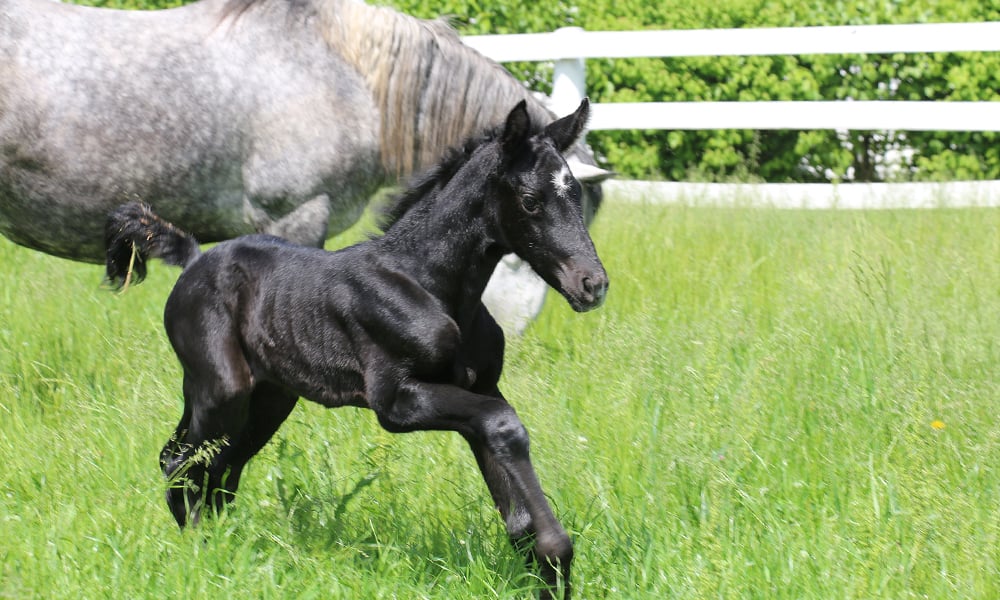 "Duke symbolizes the great love our visitors, volunteers and equestrians have for the horse in our DuPage community," said Friends Board Chair Karyn Charvat. "Help us give this sweet colt a head start in life, and join in on the celebration."
Born May 25
, Duke is the first horse born at Danada Equestrian Center in 10 years. The center acquired Duke's mom, Daisy, and her driving partner, Babe, thanks to a generous
donation from Jan and Jack Yong
. Jan Yong is a longtime volunteer at Danada as well as
St. James Farm Forest Preserve
and
Kline Creek Farm
. Danada will use the ride-and-drive team of Percheron-quarter horses for lessons and horse-drawn wagon rides.
Danada is publicly funded through DuPage County tax dollars and does not receive state or federal money. Because many of its lessons, camps and tours were canceled due to COVID-19, the center is not generating revenue from programming at this time.
Throughout the fundraising campaign, exclusive short videos and photos featuring Duke's growth, training and silly antics will be featured on
Danada's Facebook page
. Visitors may also stop by the center to see Duke and Daisy, but should not feed or touch the horses. They are turned out to pasture daily in one of the paddocks between 8 and 8:30 a.m. and usually stay out until around noon, weather permitting.