News Release
---
First Blanding's Turtles Bred at Brookfield Zoo Released in DuPage Forest Preserve

(Sept. 2, 2020) – For the first time in the 25-year history of DuPage Forest Preserve District's endangered Blanding's turtle "head-start" program, Blanding's turtles bred and hatched in managed care at Brookfield Zoo will be released to the wild.
For the past nine years, the Chicago Zoological Society (CZS), which manages the zoo, has been a partner in the program, which gives hatchlings a better chance at survival.
"The Brookfield Zoo turtles being released this year represent our first captive-bred head-start yearlings," said Dan Thompson, ecologist for the Forest Preserve District of DuPage County.
"This is a milestone for the program because most of the captive-bred population are the offspring of deceased adult wild turtles. The offspring we're releasing now are returning genetic information back to the wild population that may have been lost more than 20 years ago."
Recognizing the damaging effect that the loss of this species could have on the Illinois ecosystem, CZS committed to creating an off-exhibit breeding area to reflect the Blanding's turtle's natural habitat. The species is semi-aquatic and requires a marshy water area as its main habitat, as well as a nearby upland sandy area for females to lay their eggs. The pond at Brookfield Zoo provides both types of terrain to encourage successful breeding that safely mimics life in the wild.

"It has been remarkable to provide these turtles with a unique habitat suitable to their survival. The dedication from the animal care staff to this program is now coming to fruition as these year-old turtles are released to the wild," said Andy Snider, curator of herps and aquatics for the Chicago Zoological Society. "We're proud to be investing resources, time, and effort on this important native species that resides in our own backyards."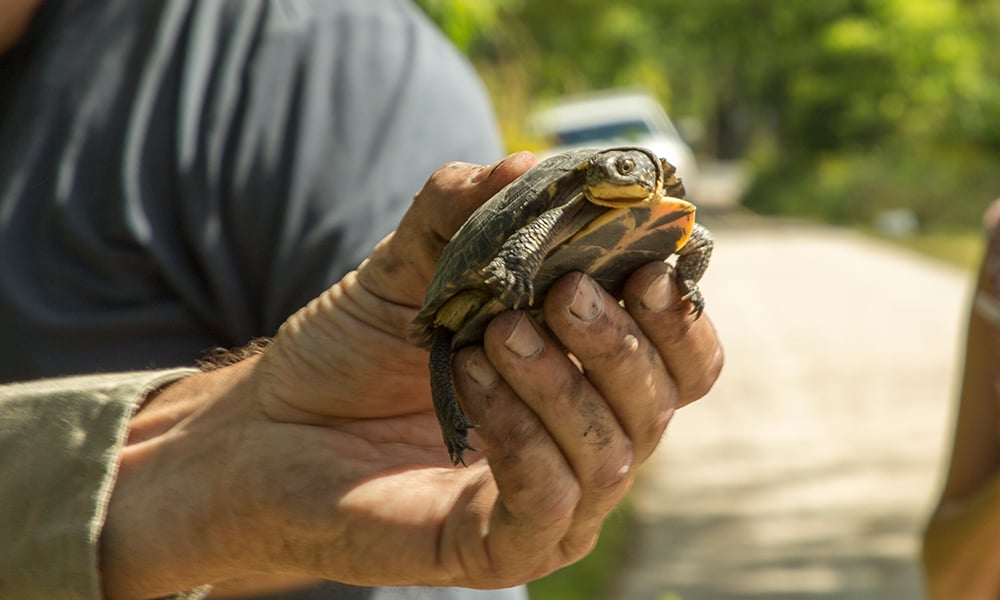 Since 2011, Brookfield Zoo has received wild-born juvenile turtles from the District that are placed in the zoo's predator-proof rearing pond. Because it takes female Blanding's turtles 14 to 20 years to reach reproductive maturity, it wasn't until last year that some of the nearly 25 females in the pond successfully bred with the two males and laid fertile eggs. It is this group of hatchlings that are being released to the wild.

Once common throughout the Midwest, the Blanding's turtle is now endangered in Illinois. Fostering a sustainable population is an important step in helping to increase the species' population locally to allow it not only to survive, but also to begin to thrive.

The Blanding's turtle (Emydoidea blandingii) is a medium-size turtle that can live upwards of 80 years in grassy marsh habitats. Yet many people across the region have never laid eyes on a Blanding's turtle, which are known for their bright yellow chin and throat and upturned mouth that resembles a smile. In addition to being endangered in Illinois, the once thriving turtle population is threatened nationwide due to habitat loss and fragmentation, predators, and illegal collection.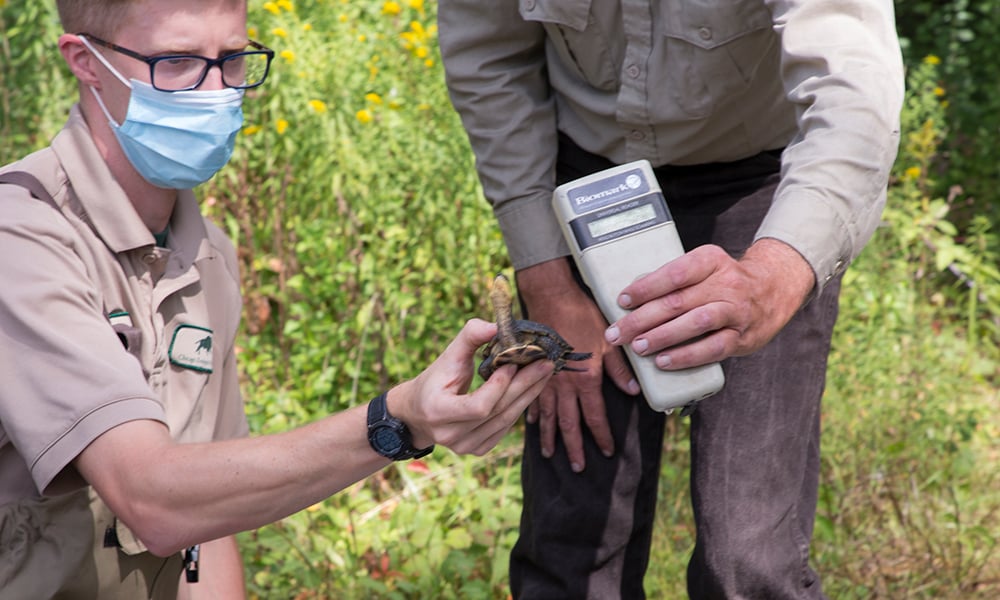 Jeff Bocek, senior animal care specialist for the Chicago Zoological Society, check the microchip placed on a Blanding's turtle hatchling before it's released in a DuPage forest preserve.
Blanding's turtles can be found in parts of the United States, including Illinois, and Canada—from Nebraska north to Nova Scotia. The core of the population's range surrounds the Great Lakes. They have large home territories, and female Blanding's turtles are known to travel up to two miles to find appropriate nesting locations. Like many turtles who reside in Illinois, the Blanding's turtle survives the winter by burying itself in the mud or silt at the bottom of a pond and entering a state of dormancy that is somewhat like hibernation.

In the wild, Blanding's turtles have only about a 2 percent chance of reaching breeding maturation due to dangers like the increase of raccoons and other predators. During their 60-day incubation period, 90 percent of turtle nests are destroyed by predators every year. 

To address this issue, the Forest Preserve District began the region's first Blanding's turtle "head-start" program in 1996, which collects Blanding's turtle eggs from pregnant females found in the wild and gives them a "head-start" on survival by caring for them at its facility or placing them with one of the partner institutions, including Brookfield Zoo.

In early spring, ecologists from the District bring between one and two dozen Blanding's turtle hatchlings to Brookfield Zoo that are placed in outdoor pens at its Dragonfly Marsh. There, they are able to get a "head-start" and grow without the worries of predation. Over the summer, the hatchings grow enough to give them a better chance of survival. In late summer or early fall, the ecologists pick up yearlings and release them back to the wild. Since the head-start program's inception, the District has released more than 3,000 microchipped Blanding's turtles from its facility and partner institutions back into their natural habitats.

In addition to the Chicago Zoological Society, other partners of the Forest Preserve District of DuPage County's Blanding's turtle head-start program include Cosley Zoo, Shedd Aquarium, Peggy Notebaert Nature Museum, St. Charles Park District, Forest Preserve District of Will County and the Illinois Department of Natural Resources.

# # #

About the Chicago Zoological Society
The mission of the Chicago Zoological Society is to inspire conservation leadership by engaging people and communities with wildlife and nature. The Chicago Zoological Society is a private nonprofit organization that operates Brookfield Zoo on land owned by the Forest Preserves of Cook County. The Society is known throughout the world for its international role in animal population management and wildlife conservation. Its Center for the Science of Animal Care and Welfare is at the forefront of animal care that strives to discover and implement innovative approaches to zoo animal management. Brookfield Zoo is the first zoo in the world to be awarded the Humane Certified™ certification mark for the care and welfare of its animals, meeting American Humane Association's rigorous certification standards. Open every day of the year, the zoo is located at 8400 31st Street in Brookfield, Illinois, between the Stevenson (I-55) and Eisenhower (I-290) expressways and also is accessible via the Tri-State Tollway (I-294), Metra commuter line, CTA and PACE bus service. For further information, visit CZS.org.

About the Forest Preserve District of DuPage County
A nationally recognized conservation agency that envisions a community in which all citizens share a connection with nature and an appreciation for cultural history, the Forest Preserve District of DuPage County encompasses 26,000 acres of prairies, woods and wetlands that are home to more than 5,000 species of native plants and animals.