News Release
---
District Honors Volunteers at Annual Awards Banquet
Individuals recognized for outstanding efforts

(May 6, 2019) — The Forest Preserve District of DuPage County recently honored its corps of dedicated volunteers at its annual volunteer appreciation celebration.
Nearly 900 long-term volunteers assist staff in 10 volunteer programs throughout DuPage County. Together, the collective efforts of these volunteers and more than 2,600 one-time volunteers amount to an in-kind donation of almost $1.5 million.
"Our volunteer heroes pitch in to help when needed, take time to talk patiently to a child, assist someone lost on a trail, help injured wildlife, tell the history of our preserves, care for our animal residents, demonstrate how to hold a fishing pole and make sure our preserves are healthy," said Deborah Cuca Brooks, the District's Volunteer Services coordinator. "We are so grateful they choose to volunteer with us."
Volunteers assist staff in carrying out specialized tasks and interacting with visitors at
Danada Equestrian Center
in Wheaton,
Fullersburg Woods Nature Education Center
in Oak Brook,
Kline Creek Farm
in West Chicago,
Mayslake Peabody Estate
in Oak Brook,
St. James Farm Forest Preserve
in Warrenville, and
Willowbrook Wildlife Center
in Glen Ellyn. They bring history to life, care for wild and domestic animals and teach countless visitors about nature. Natural Resources volunteers assist in monitoring wildlife, native species and waterways and assist with restoration efforts, and
Golf Preserve volunteers assist in maintaining the turf and preparing for opening day at The Preserve at Oak Meadows.
Special Services volunteers pitch in at events throughout the District and assist behind the scenes with special projects. Trail Watch volunteers help visitors enjoy the trail system safely, and through the Volunteer Ranger Program, individuals introduce archery, fishing and kayaking to visitors of all ages.
In addition to acknowledging the efforts of all of its volunteers, the Forest Preserve District also recognized individuals who make exceptional contributions. Director's Award recipients for noteworthy commitment to their respective programs were Holly Ann Tyson (Special Services) and Jimmy Tyson Jr. (Trail Watch) of Lombard; Joe Suchecki (Natural Resources) and Don Giegerich (Volunteer Ranger), of Naperville; Jim Truesdale (Kline Creek Farm) and Jan Yong (St. James Farm) of Wheaton; Cathy A. Peterson of Bartlett (Natural Resources); Patricia Banaszak of Downers Grove (Willowbrook); Douglas Zimmer of Glen Ellyn (Mayslake); Sally Carr of Joliet (Danada); and Marcela Fanning of Woodridge (Fullersburg Woods).
This year's President's Award recipients, who made significant contributions to their programs, were Tad Matsuura (Danada), Lucho Patinos (Special Services), Bob Young (Volunteer Ranger Program), Connie I. Hill (St. James Farm), all of Wheaton; Paula LeBan of Aurora (Mayslake); Kathy Cox of Darien (Natural Resources); Beverly Rous of Glen Ellyn (Willowbrook); Barbara R. Greenberg of Hinsdale (Fullersburg Woods); Kara Higley-Kubik of Lombard (Natural Resources); Bill Smith of Naperville (Kline Creek Farm), Jane Halbur of Sugar Grove (Trail Watch); and Marti Edwards-Idtse of Warrenville (Danada).
Corporate Group Workday Award recipients were Bank of America/Merrill Edge in Rolling Meadows; Geocaching CITO, and College of DuPage-COD Cares in Glen Ellyn.
Partnership Group Award recipients were DRiFT (DuPage Rivers Fly Tyers) and Glen Crest Middle School in Glen Ellyn.
Area Scouts recognized for completing Eagle Scout projects with the District in 2018 were Thomas Butler and Miqdaad Pedhiwala of Aurora; Noah Bayer, Alex Burgher, Kevin Castillo, Ridge Dart, Gavin Johnson, Ryan Malloy, John Pohovery, all of Naperville; Kyle Cernik and Daniel Smith of Wheaton; Matthew Holmes and Brian Lingard of St. Charles, Payton Gryniewicz of West Chicago, and Jared Kinney of Elmhurst.
Support groups recognized for their volunteer work were The Conservation Foundation, DuPage Graue Mill Corporation, Friends of Danada, Friends of the Forest Preserve District of DuPage County, University of Illinois Extension, Wayne Area Conservancy Foundation and West Chicago Prairie Stewardship Group.
For more information on Forest Preserve District volunteer opportunities, visit dupageforest.org/get-involved/volunteer or call Volunteer Services at 630-933-7233.
The Forest Preserve District of DuPage County has been connecting people to nature for more than 100 years. More than 4 million people visit its 60+ forest preserves, 145 miles of trails, six education centers and scores of programs each year. For information, call 630-933-7200 or visit
dupageforest.org
, where you can also link to the District's e-newsletter, blog,
Facebook
,
Twitter
and
Instagram
pages.

###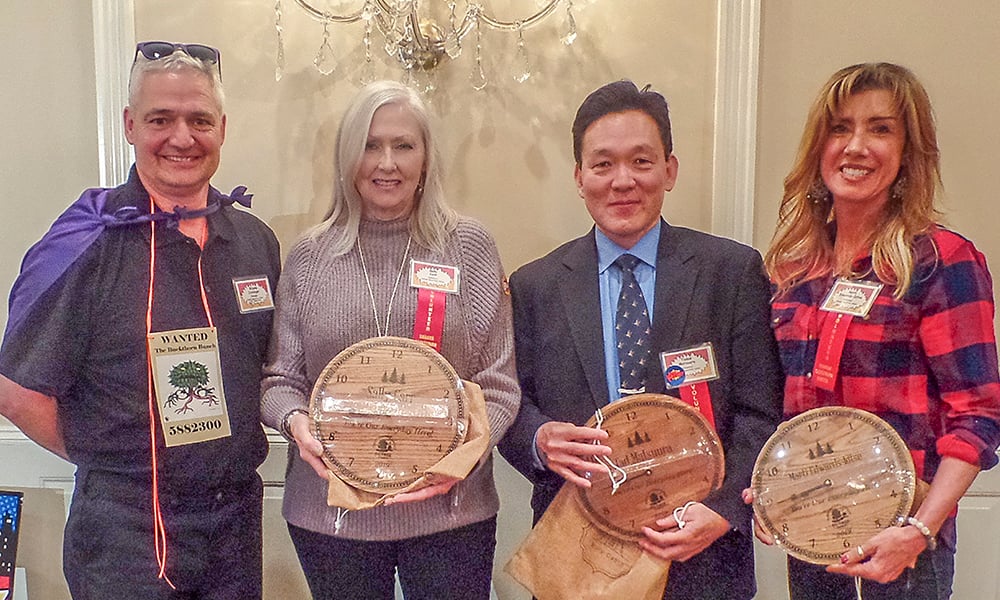 Danada site manager Wayne Zaininger (left) with Danada volunteer honorees Sally Carr (Director's Award), Tadao Matsuura (President's Award) and Marti Edwards-Idtse (President's Award).
Mayslake volunteers Paula LeBan (President's Award) and Douglas Zimmer (Director's Award) with Mayslake volunteer liaison Kathryn Leatherwood (middle).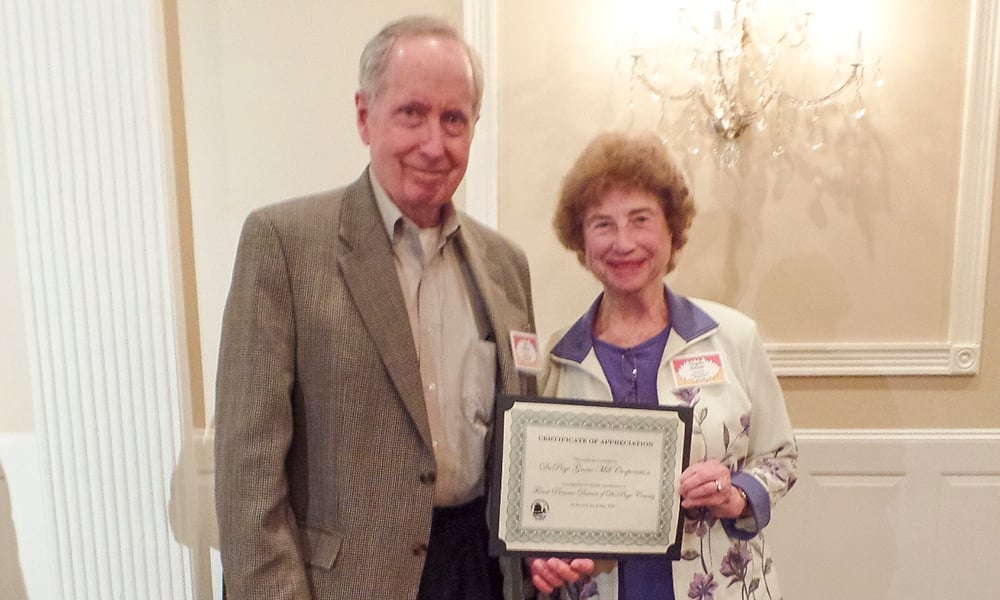 Jim Pulsifer and Virginia Reisner, both of the Graue Mill Corporation, were recognized for their volunteer work.