News Release
---
DuPage Couple Kicks Off Green Energy Fundraising Campaign For DuPage Forest Preserve District
Donors hope $100,000 pledge will inspire others
(Sept. 20, 2021) — Ann Boisclair and Jeff Jens of Glen Ellyn, who donated $25,000 to a solar power system at
Willowbrook Wildlife Center
in Glen Ellyn in 2020, are pledging an additional $100,000 to bring solar power to the DuPage Forest Preserve District's fleet management building and to inspire others to do the same.

At a ceremony at Willowbrook on Saturday, DuPage Forest Preserve District officials thanked the couple for their donations.

"We are very thankful for the donations from Ann and Jeff," DuPage Forest Preserve District President Daniel Hebreard said. "Generous donations like this help us reach our renewable energy goals sooner to the benefit of the environment and DuPage taxpayers."
The solar power project at the fleet management building at
Blackwell Forest Preserve
on Mack Road in West Chicago will feature a 330-kilowatt solar array with three inverters and 733 solar modules capable of producing 384-megawatt hours of electricity a year. It will offset 100% of the building's electrical energy consumption, said Forest Preserve District Planning manager Kevin Horsfall.
Annually, the array will save the District an estimated $22,000 and reduce greenhouse gas emissions equivalent to 272 metric tons of carbon dioxide. It should also allow the District to sell back another 29,000 kilowatt hours annually with ComEd's net metering program.

The project will also include a level II electric vehicle charging station under a solar canopy in the parking lot capable of charging two vehicles simultaneously. This will allow the District to expand alternative-fuel sources for its award-winning green fleet.

"The projected fleet management array will be an impressive producer of electricity, powerfully demonstrating that solar power and all other forms of alternate power are the future," Boisclair and Jens said. "And the future is now. We are so very pleased to be working with the Forest Preserve District in this all-important effort."

"It will be the District's most ambitious solar project to date, exceeding the sum total of all previous District solar developments," Hebreard said. "It will be a great benefit for the environment and to DuPage County taxpayers by helping us manage long-term operating costs."

In fall 2020 the District completed its largest solar array to date, the 72.2-kilowatt array at Willowbrook Wildlife Center's species recovery building. The panels are expected to offset 30% of the center's total electrical demand and save the District up to $8,000 annually for 25 years or more, Horsfall said.

In addition to the $25,000 donation from Boisclair and Jens, approximately $109,300 of the Willowbrook system's estimated $176,000 cost could be offset by available ComEd distributed generation rebates and the sale of energy credits through the state of Illinois.

"We know that climate change threatens much of life on earth; the signs of it are everywhere, including DuPage County," said Boisclair and Jens. "By financially encouraging the creation of solar arrays we want to help produce non-fossil fuel energy and show people that a different, far-better way of creating power is possible."

With their gift to Willowbrook, the couple asked that a plaque be installed at the center to honor Dorothy Hoger, who was hired in 1958 to be a resident caretaker at Willowbrook with her husband, Richard.

The Willowbrook and fleet management building projects join two previous Forest Preserve District solar array projects.

In 2020 the District's The Preserve at Oak Meadows in Addison installed solar panels on the cart storage building, making it the first in the nation to have a 100% solar-powered golf fleet.

In 2013, an 18.8-kilowatt solar power array went online at the Danada Equestrian Center in Wheaton. The array offsets 100% of the energy used at the equestrian center office, front barn, main parking lot lighting and four LED monitors in a digital visitor information kiosk. It has also prevented the release of around 90 tons of carbon into the atmosphere.
The Forest Preserve District of DuPage County has been connecting people to nature for more than 100 years. More than 6.2 million people visit its 60 forest preserves, 166 miles of trails, six education centers and scores of programs each year. For information, call 630-933-7200 or visit
dupageforest.org
, where you can also link to the District's e-newsletter, blog,
Facebook
,
Twitter
and
Instagram
pages.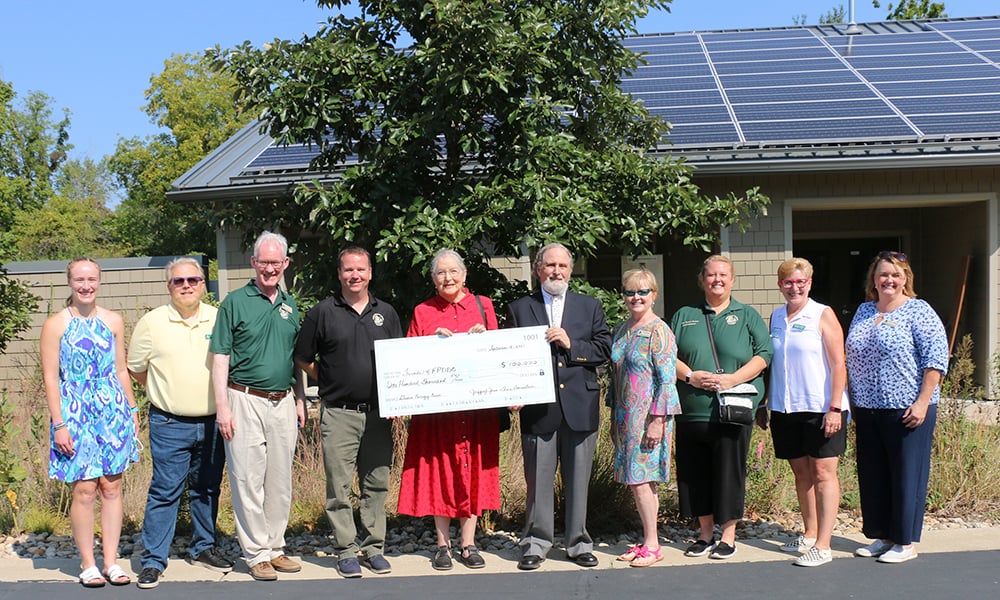 Officials from the DuPage Forest Preserve District and Friends of the Forest Preserve District of DuPage County accept a $100,000 donation from Ann Boisclair and Jeffrey Jens of Glen Ellyn. The donation will go toward bringing solar power to the District's fleet management building and to inspire others to donate as well. Pictured (left to right) is Friends board member Ashley Guest; Friends vice chair Larry Larson; Forest Preserve District Commissioner Jeff Gahris, District 4; Forest Preserve District President Daniel Hebreard; Ann Boisclair; Jeffrey Jens; Friends chair Diane Addante; Forest Preserve District Commissioners Tina Tyson-Dunne, District 2; Forest Preserve District Commissioner Barbara O'Meara, District 5; and Karie Friling, Forest Preserve District executive director.

###